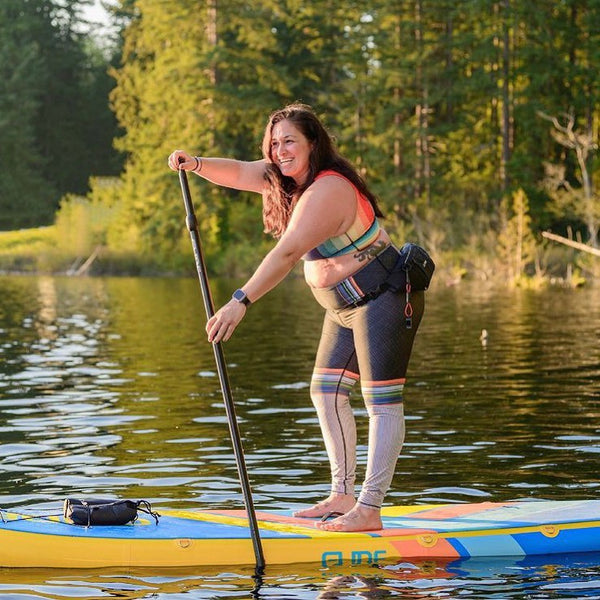 Basic Guide for What to Bring Paddle Boarding
Going Stand up Paddle Boarding for one of, if not the very first time, can be daunting trying to remember what gear you should take or what clothes would be most appropriate.
Look no further than this amazing check list made by our very own, Sam Tyler, the expert on SUP Safety.
This article goes over what to wear paddle boarding and what sort of gear to bring while paddle boarding.
Over the years I have met countless paddle boarders and each and every one of them has their own set of gear that they bring with them when they paddle board.
As you get more and more experience going paddle boarding you will certainly develop your own personal gear list that fits your style perfectly. If you're just starting out, though, it's nice to have a place to start from to build on yourself.
If you're new to paddle boarding and wondering what you should bring, here is what I would recommend from talking to others and years of paddle boarding myself.
Clothing
What to wear while paddle boarding is going to vary a bit by experience level and time of year. The first few times I went paddling I saw people wearing tennis shoes and hoodies while they paddled while I was still falling in if I lost balance for even a second. As you gain experience you can tailor your wardrobe and paddle board accessories to fit your needs exactly but here is what I recommend for a new paddler in the warmer months.
Swimsuit
A pair of board shorts, a bikini or a one piece will all work great, wear whatever swimsuit you're most comfortable in! Many people like to wear board shorts or light athletic shorts over their swim suit until they plan to get in for a little extra protection front he sun.
Light shirt
a nice, light, long sleeve shirt or rash guard is great for protecting you from the sun and will dry off fast if it happens to get wet.
Hat
A hat is an absolute essential for me for long days on the water to protect my face from the sun. I like a full brimmed hat for all around protection but your favorite ball cap will work great too!
Sunglasses
Even with a hat, light reflecting off of the surface of the water can still be irritating for your eyes. Polarized sunglasses are the best for this type of light and they come with the benefit of making it easier to see any fish swimming around below the surface.
Footwear
Always bring a pair of water shoes or sandals with you on your paddle board for carrying your gear to and from the water. They can clip right onto the storage bungees using a carabiner but some people even like to wear them while they paddle. 
Gear
It can be intimidating to plan out what to bring paddle boarding for the first time. Don't stress it too much, there really isn't a ton of absolutely essential gear.
As you gain experience you will get a good sense of what you do and don't like to take out on the water with you.
If it's your first time going paddle boarding this list is a great place to start to get an idea of the sort of gear that you will need to have a great day paddle boarding. 
Paddle board
This one is sort of obvious but if you're new to the hobby and looking to buy an inflatable SUP, make sure to get a board that is going to fit your personal style.
You may find you want an good all-around paddle board like the O2 Retro or you may be a more experienced paddler looking for something more specialized like The Angler, a fishing paddle board, or The Quest, a touring paddle board.
Don't forget your fin and paddle either!
SUP pump
Whether you're using an electric pump or a manual hand pump, this piece of gear is essential if you're going to be paddling an inflatable SUP. Remember that electric pumps can get pretty loud so if you're looking to avoid waking up the neighbors, a manual pump will probably be the best option.
Life jacket
Check your local laws to find out whether you need a paddle board life jacket. If you need help finding info, check out this helpful guide on SUP life jackets. If you're new, I absolutely recommend a life jacket.
Ankle leash
Your inflatable SUP will likely come with an ankle leash. If you are paddling on the ocean or a lake, use it. A paddle board can easily be swept away by waves if you fall off, leaving you scrambling to catch up to your board.
Cell phone
Whether it's for emergency calls, looking at a map or just for music and taking pictures, bringing a cell phone can make a fun paddle even better and can be a life saver in an emergency. Just make sure to keep it dry!
Waterproof bag
This can be a whole dry-bag or just a few zip lock bags for your phone and wallet. If you're paddle boarding for the first time, there's a good chance you will fall in once or twice and you don't want your valuables getting wet with you.
Sunscreen
More important than a hat or sunglasses, sunscreen is crucial to having a pleasant paddle. No one wants to go home looking like a lobster.
Bug spray
So many of my favorite places to paddle are on lakes and rivers that get swamped by bugs during the best months for paddling. Bringing some bug spray along with you means that you won't come home covered in bumps.
Water and snacks
Staying hydrated and bringing some food with you will ensure that you have the energy to paddle as long as you want and won't have to go back to shore until you've paddled to your heart's content. 
Whistle
Whistles are lightweight and take up almost no space in your pack but they can be a great way to signal for help in an emergency. Three blasts is internationally understood to be a call for help.
Rope
A small piece of rope (just ten feet or so will do) is a great way to tie up your board on shore so that it doesn't blow away or to tie yourself together with another paddle board so that you don't float away from each other while chilling on the water.
Conclusion
As you go out more, you'll find what gear and clothing works best for you personally. We strongly recommend you check out our blog post answering the question of How Hard is it to Learn to Stand Up Paddle Board if you are new here to the SUP world and need some expert advice.
Contact us with any questions you have on paddle boarding or how to get your hands on your very own Glide Inflatable Paddle Board at info@glidesup.com or at 888-927-9405.
Related Topics
Improving Fitness on Paddle Board
How Inflatable Paddle Board Technology Changed The SUP Industry
Your Comprehensive Guide to Inflatable Stand Up Paddle Boards