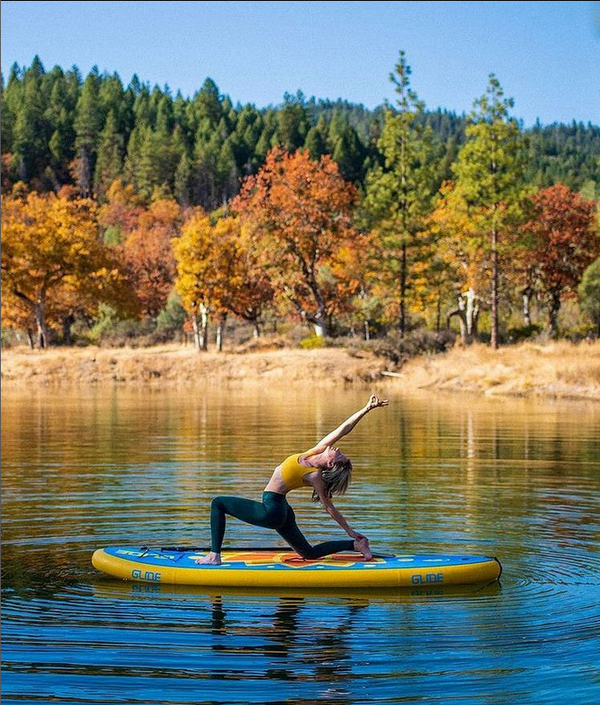 Fall Paddle Board Tips
The fall of 2022 is looking to be a very unique and special time to paddle! It is staying warm across most of the USA, and the leaves are starting to turn, this really is one of the best times of year to grab your inflatable paddle board and take it on a road trip.  Here are Glide's top 5 tips to make the most out paddle boarding in the fall.
Tip 1: Go During Sunrise/Sunset
The best time to enjoy paddle boarding in the fall is during sunrise or sunset. The golden hour, the hour just before sunrise/sunset is the most magical time to enjoy the fall colors. The light is soft, and it will make everything glow. Also an added bonus is there is a great chance you will have the water to yourself.  There is a reason photographers often call these times the magic hour, as I promise you it will be a magical time to be on your paddle board.
Tip 2: Share The Adventure With Friends
Ok I know what you are all thinking, you just said above that we will like have the water to ourselves. And yes that is true there is a very good chance you might be the only paddle board on the water during the golden hours, but hear me out, share it with friends. This is by far my favorite time of year to paddle, and I am a self proclaimed hermit, and I am a solo adventurer by nature, but it's worth sharing this time of year. I am not saying you need to take a group every time you grab your paddle board and head to the water in the fall, but make it a point to go with a group. The colors are amazing, and watching sunset or practicing paddle board yoga during the magic hour with friends or family is something you will remember for a very long time.
Tip 3: Safety First!
Now that summer is winding down and fall is here it is amazing how quickly the water turns chilly. Here in Utah it is like someone flips a switch on Labor Day from warm to cold.  With the shorter days and the lower angle of the sun the water will start to cool of quickly and you do have to take extra precautions to make sure you are prepared in-case you do happen to fall in. As always you should be wearing a PFD and a leash, but with the cooler temperatures you will also need to be wearing layers and clothing that if it gets wet it will wick away the moisture from your skin.  And if it is very cold you will want to be wearing a wetsuit or dry suit while you are on your paddle board.
And if we forget about Tip 2, you will most likely be paddle boarding by yourself so it is critical you have the proper saftey gear with you. And since you will be taking your inflatable paddle board on adventures to find the most remote and scenic places to enjoy the fall colors, you will want to notify someone of where you are going.  And just remember to let them know you made it home safe!
Get out there and enjoy my favorite time of year to paddle board, and make sure to take lots of photos and please tag us @glidesup so we can share along with you adventures.