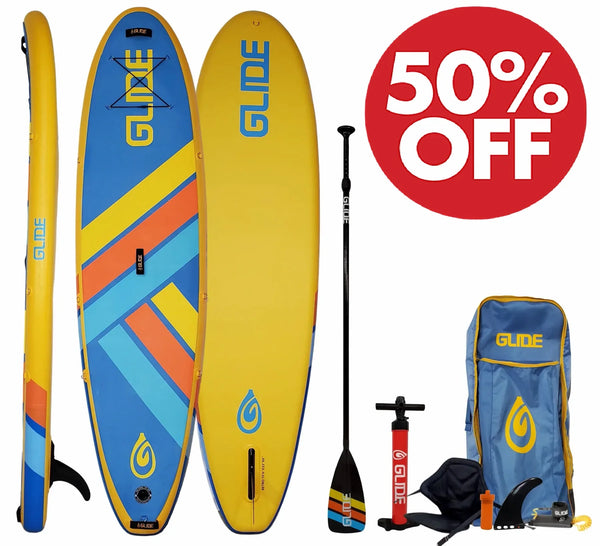 Glide paddle board sale, the biggest sale ever for the Glide o2 Retro.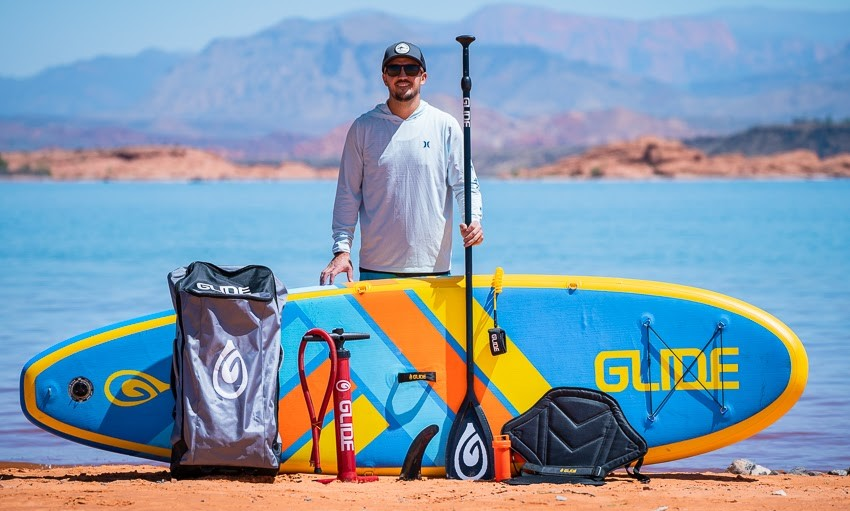 For the first time ever, the award-winning O2 Retro inflatable paddle board is 50% Off. Limited stock, while supplies last! The Glide O2 Retro is our all-around inflatable board. It is one that is beloved by advanced paddlers as well as being the best paddle board for a beginner paddler.
Glide O2 Retro, all around board.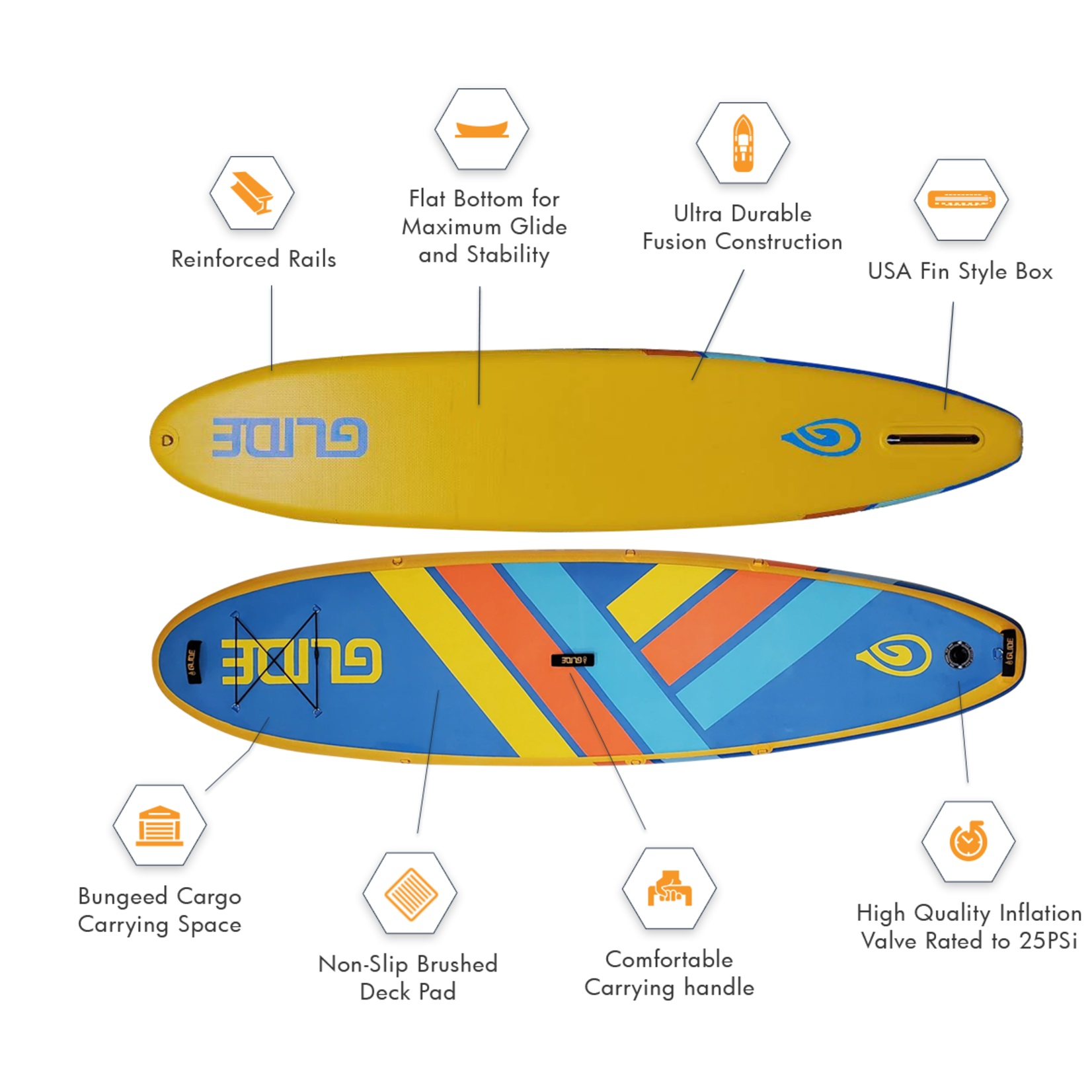 The Glide O2 retro inflatable paddle board is sold in a package that has everything you need to start paddle boarding. And being an isup it solves the storage and transport limitations often associated with paddle boards.
The Glide O2 retro has the following specifications.
The board length is 10'6"
The board width is 33"
The board thickness is 6"
The board weight is a mere 23lbs
The board capacity is an impressive 400lbs
The board has a full-length EVA deck pad.
The board has a tail width of 13"
The catchall shape of the retro 10'6 inflatable sup is suitable for any kind of paddle boarding. This is why it is the perfect board to start with, it will allow the paddle boarder to try multiple types of paddle boarding with ease. From catching ocean waves to running a river or going through a sup yoga routine. The solid build quality provides a stable platform for sup fishing, sup camping, and paddle boarding with dogs or kids.
Advanced paddle boarders often choose this as their daily paddle board since it provides so much flexibility on what kind of paddle boarding they can do and still have the board be fun and perform superbly.
Glide o2 retro inflatable paddle board package includes what?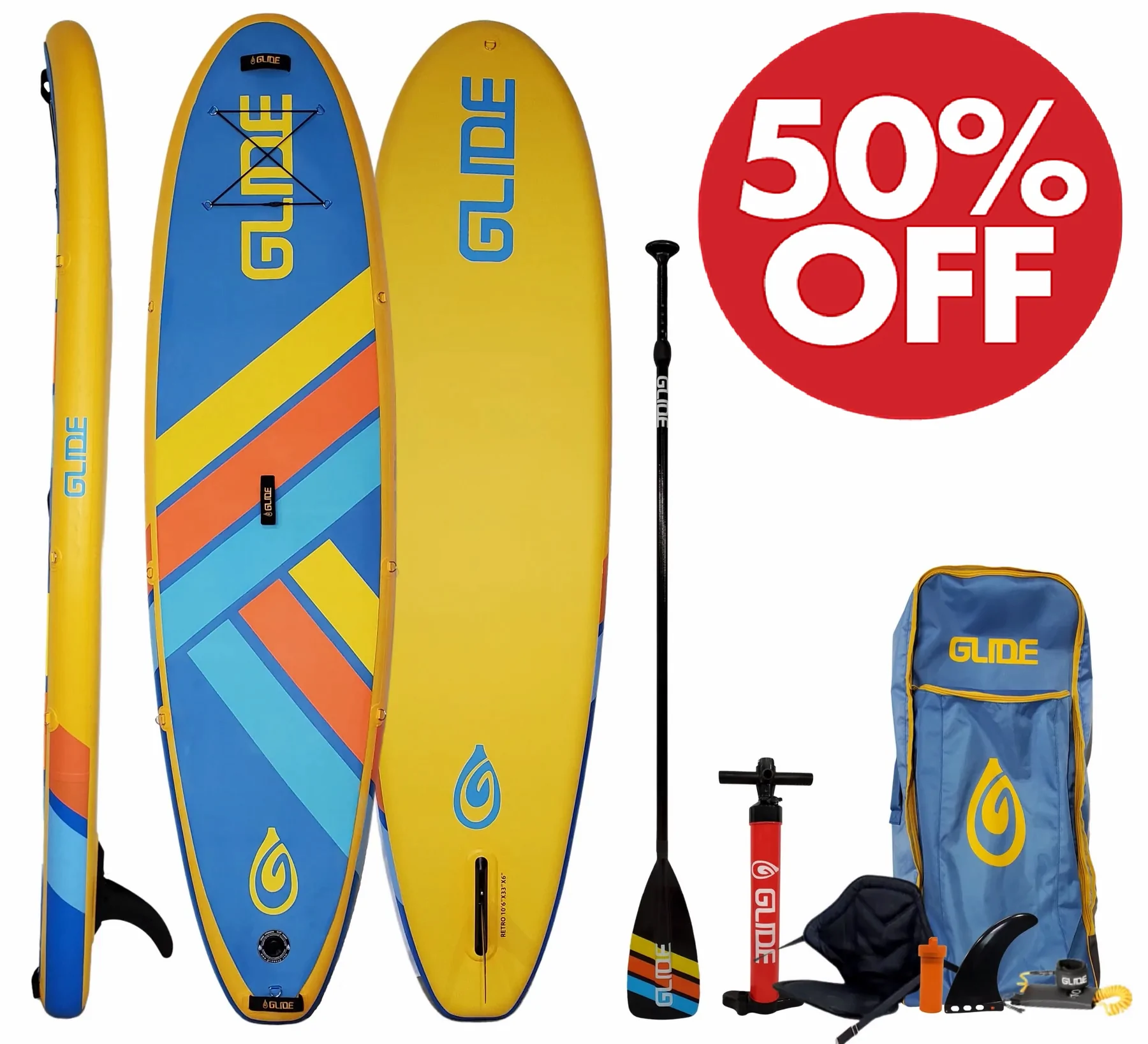 The sup package includes everything you need to start paddle boarding. Included with this amazing first-ever sale price are the following.
Backpack with rolling wheels for easy travel
Adjustable Paddle
Leash
High-capacity SUP pump
Fin
Repair Kit
Kayak Seat and Carry Strap
Glide o2 retro inflatable paddle board design.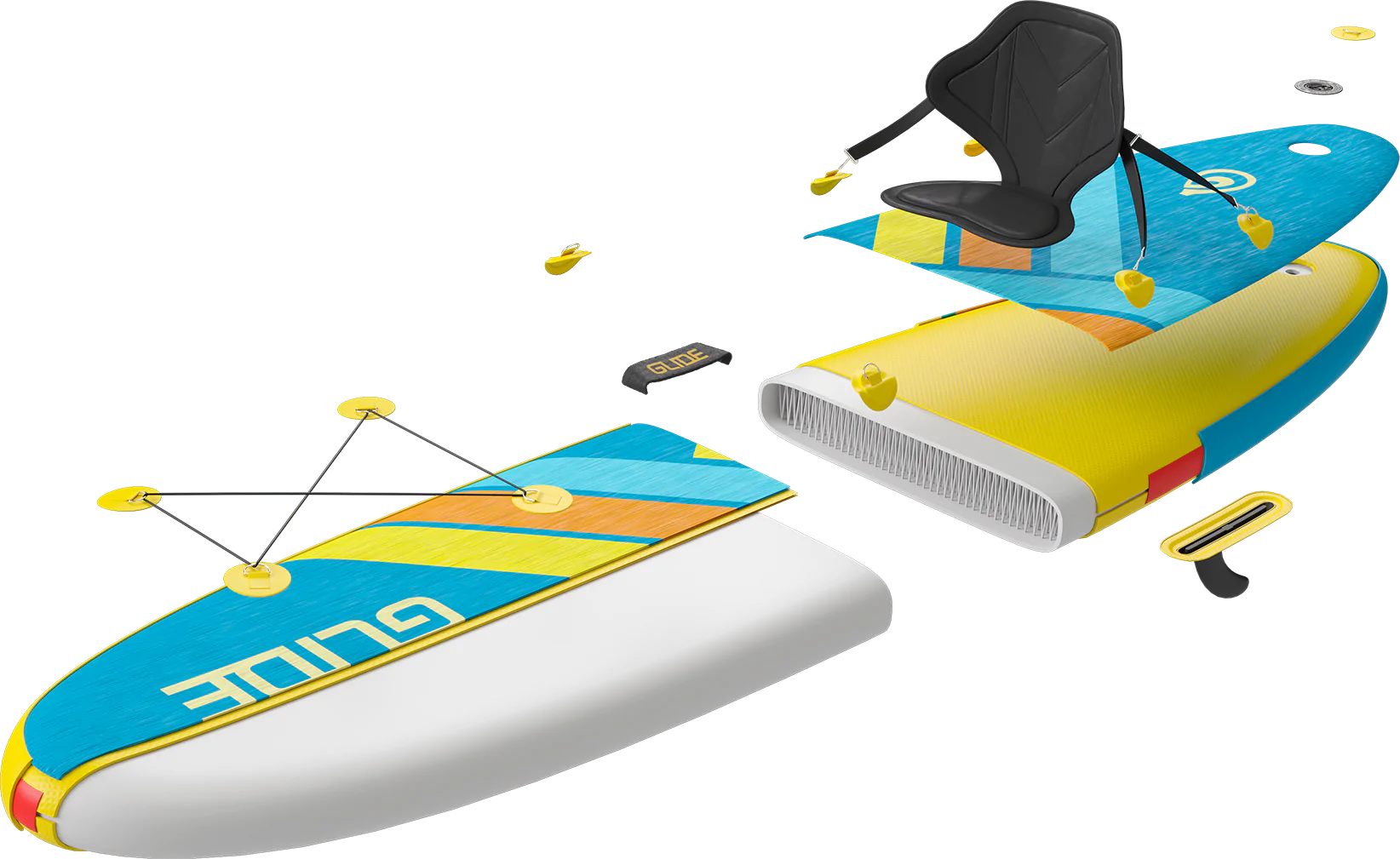 The design is that of our original catch-all, all-around board. It features a U.S style fin box with a removable fin. A full-length deck pad, that provides incredible purchase and durability gives this board the vote of one of the best paddle boards for dogs your furry friend will love this board. It has a front storage area, and while being an isup it solves the storage and transport limitations the o2 retro 10'6 and 11'6 can present.
The rails on the all-around board are reinforced, and it has a flat bottom to help with stability so you can feel confident no matter the water conditions.
The Glide o2 retro inflatable stand-up paddle board is made with a fusion technology, centered around a quadruple layer military grade PVC – woven drop stitch core. Glide's unique fusion technology lends stiffness and performance to the inflatable paddle board.
At the front of the board is a bungee cord storage area atop the full-length deckpad. Other brands lack the customer service, quality and innovative designs you will find with a Glide paddle board. Regardless of whether you are a seasoned pro or new to paddle boarding the Glide 02 Retro is the right choice.
Beginner paddlers will enjoy the extra stability and the ease at which this board will allow them to handle whatever they want to do. The inflatable sups are lightweight and easy to hike and travel with.
Don't forget to check out our optional accessories, such as an electric pump, the pump features set-and-go technology as well as an optional battery pack.
Confidently slide this best all-around board into the shopping cart today and take advantage of this amazing never-seen-before sale price. While the promotion is in effect you can purchase the Glide o2 Retro here.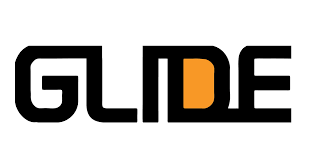 Here at Glide no matter what paddle boards you chose to go with we hope you are having the best times of your life out on the water. Be safe, and paddle on.