Stand Up Paddle Boarding with a Musical Twist: Concerts, Festivals, and Performances on the Water
A fun new twist for stand up paddle boarding enthusiasts are floating concerts and festivals.
Stand up paddle boarding (SUP) is an exciting and versatile water sport, loved by many for its combination of physical activity and peaceful time on the water. Recently, paddle boarding enthusiasts have found ways to combine their love for music with their favorite water activity, creating a unique experience of attending concerts, festivals, and performances on the water. In this article, we will explore how paddle boarding with a musical twist has become a new trend and provide some tips and advice for enjoying these events, inspired by insights from Glide SUP.
SUP Concerts and Festivals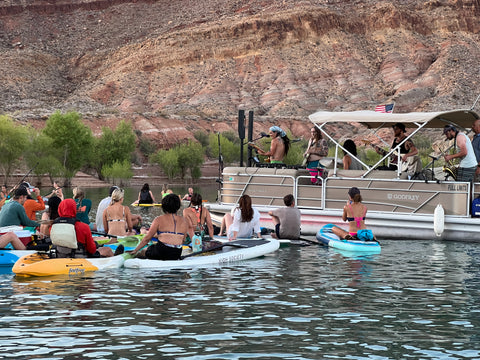 Floating Performances
Paddle boarders around the world have started organizing floating concerts and festivals, where musicians perform on floating stages, and the audience enjoys the show from their paddle boards. These events offer a unique way to experience live music while floating on the water, surrounded by stunning scenery. Glide SUP's blog offers a wealth of information on various paddle boarding experiences, including some related to music.
SUP Yoga with Live Music
Combining paddle boarding with yoga has already become popular, but adding live music takes the experience to a whole new level. SUP yoga sessions accompanied by live music are popping up in many locations, offering a truly immersive and relaxing experience for participants. Live music enhances the yoga practice, helping participants connect more deeply with their breath and movement. Stand up paddle board yoga events tend to be a lot more mellow than those put on by the International Surfing Association!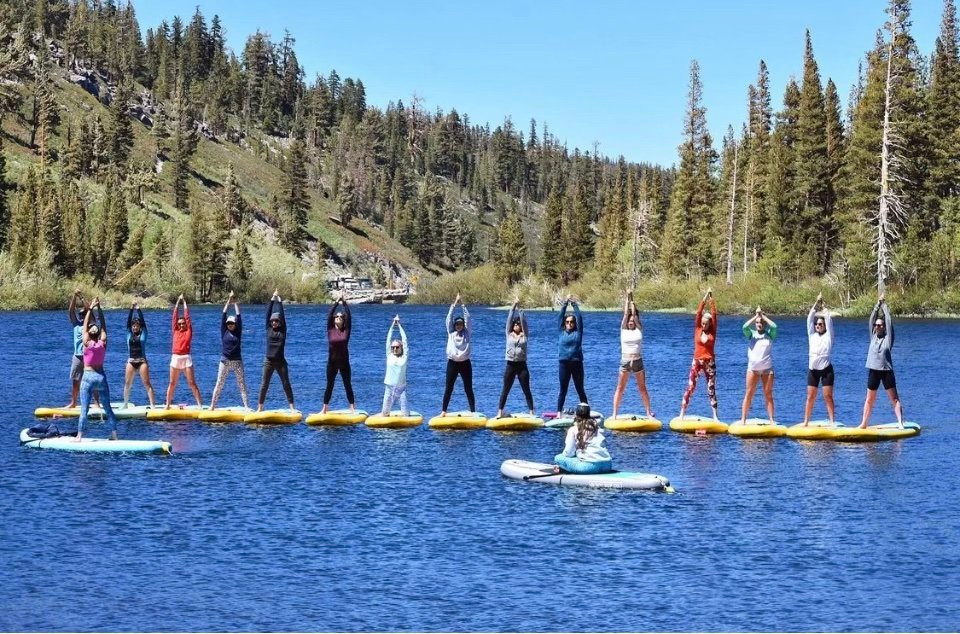 Tips for Attending SUP Concerts and Festivals
Choosing the Right Board
Selecting the appropriate stand up paddle board for a SUP concert or festival is crucial for a comfortable and enjoyable experience. Inflatable paddle boards are a popular choice for these events because they offer a more comfortable surface to sit or lie on during the performance. Additionally, they are easy to transport and store. Check out Glide's collection of inflatable SUPs to find a suitable board for your next SUP board musical adventure.
Bringing Essential Gear
When attending a SUP concert or festival, make sure to bring essential paddle board equipment, such as a personal flotation device, paddle, and leash. A dry bag is also crucial for keeping your belongings, such as your phone, wallet, and snacks, safe and dry during the event.
Don't forget to bring sunscreen and wear UV protective clothing, as you will likely be exposed to sunlight for an extended period. A hat and sunglasses are also recommended to protect your face and eyes from UV rays.
Proper Paddle Boarding Technique and Positioning
Since you'll likely be sitting or lying down on your board during the performance, it's essential to ensure you can maintain balance and stability. If you're new to paddle boarding, take some time to practice sitting or lying down on your board before the event. Make sure your feet are parallel, shoulder-width apart, and your knees slightly bent for the best balance and stability.
When positioning yourself at the concert or festival, make sure to consider the current and wind direction. This will help you maintain your position during the event and prevent you from drifting away from the stage.
Safety Considerations
Always prioritize safety when attending SUP concerts and festivals. Be aware of your surroundings, including other paddle boarders, swimmers, and marine life. Make sure you have a safety whistle on hand and follow any guidelines provided by the event organizers. It's also essential to know your skill level and limits, especially if you're attending an even in open water or challenging conditions. Be prepared to exit the water if the conditions become too difficult to manage.
Enjoying the Experience
Attending a SUP concert or festival is a unique and memorable experience, so make sure to savor the moment. Take time to appreciate the beauty of your surroundings, the music, and the community of fellow paddle boarders. Don't forget to take photos or videos to document the event and share your experience with friends and family.
Additional Resources for SUP Concerts and Festivals
If you're interested in attending a SUP concert, festival, or performance on the water, it's essential to stay informed about upcoming events and helpful tips. The following resources from Glide SUP provide valuable insights and information for paddle boarders looking to combine their love for music with their passion for paddle boarding:
Final Thoughts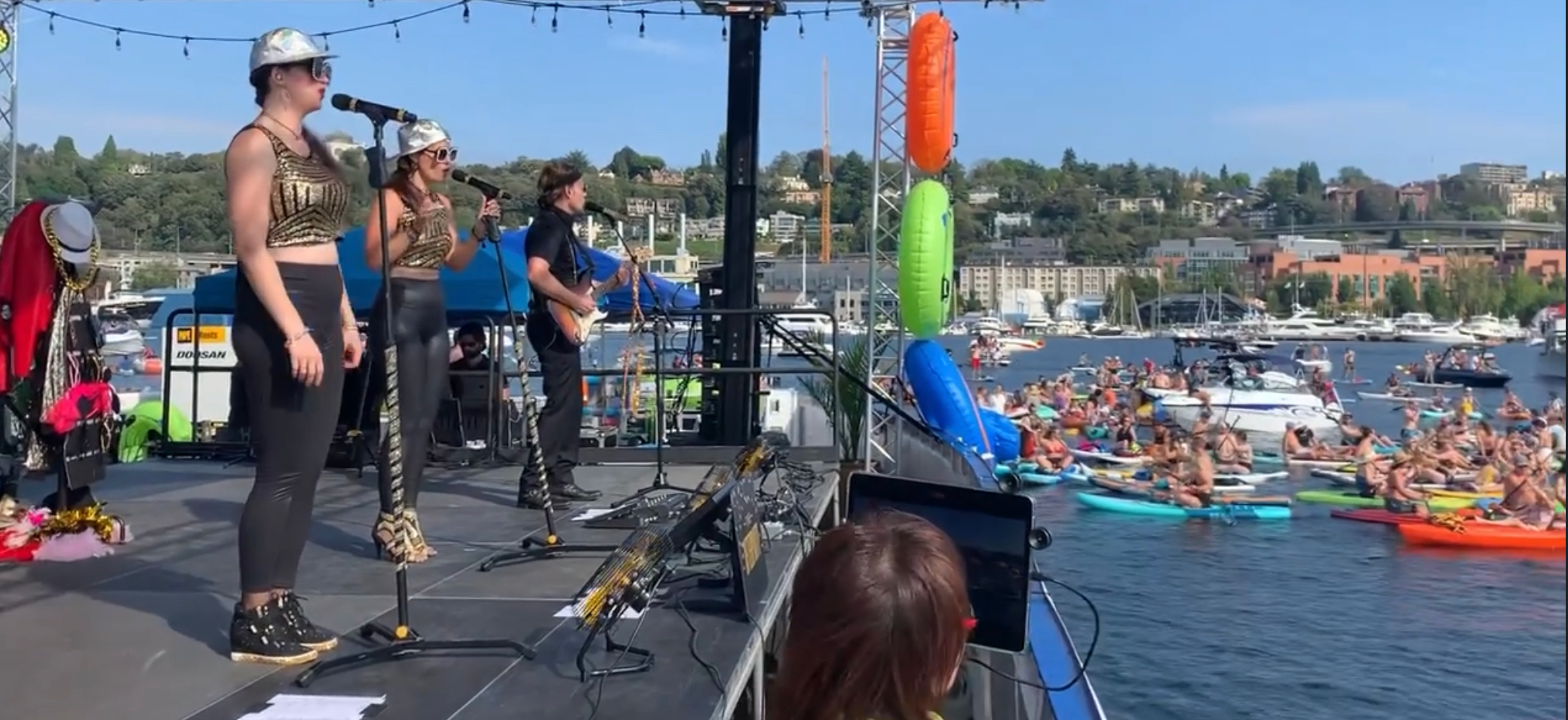 Stand up paddle boarding with a musical twist offers a unique and enjoyable way to experience live music, connect with fellow paddle boarders, and enjoy the beauty of nature. By choosing the right board, bringing essential gear, and prioritizing safety, you'll be well-prepared to have an unforgettable time at your next SUP concert, festival, or performance on the water. So, get ready to hit the water and enjoy the harmonious combination of music and paddle boarding!