White water paddle board, river sup?...yes you can!
Paddle boards are not limited to cruising on flat water or catching waves at the beach. Paddle boards from premier brands like Glide and our white water experts make our paddle boards the perfect whitewater paddle board. We have made our customers a custom whitewater paddle board for paddle boarding the White Nile. And with Ken's days as one of Riots pro whitewater paddlers and insight we are certain our whitewater inflatable paddle boards or hard stand up paddle boards will be the best choice for you when switching from flat water paddling to running river rapids to whitewater or river surfing.
Besides our expert construction and knowledge of whitewater paddling and river running, we create the best paddle boards around. With our sup boards you don't have to decide if you are going to be a river paddler or be limited to flat water paddling or stuck to whitewater or river surfing. We have the best inflatable sup and hard boards for you and your paddle boarding life style.
Best inflate sup board or hard boards? Yes we think so.
For us creating the best inflatable sup or hard boards starts with knowledge, quality materials and innovative designs like our ultra durable GSS construction. Down to the fin boxes we use. All provide for a stable board that is comfortable where ever you choose to take our sup boards. Every one of our sup boards and inflatable sups utilize USA style fin boxes. Using this style fin box makes our boards easy to find replacement fins and give you the fins setup that is right for you. Every one of our sups also have a removable center fin. With removable fins and our fin system you can paddle board in even shallow waters that would not be possible with other boards. This is just one of the reasons why we make the best sup for rivers and whitewater sups. Along with our stable board design, durable deck pad and quality materials it is no wonder we have long been regarded as having the best sups for whitewater paddle boarding. And the best paddle board one could ask for. All the difference is in our builds, quality materials and expertise in creating the best all around paddle board.
Do we have a specialized whitewater or river surfing sup board?
Would you locsha that why yes we do, let me introduce you to the O2 Locsha inflatable whitewater paddle board. This inflatable sup board will make river paddling a dream. From river surfing, or to ride whitewater rapids and playing on river waves this is without a doubt one of the best whitewater sup boards if not the best river paddle boards. With a full length eva deck pad and removable fins this sup board will quickly become your favorite whitewater sup. Suitble for shallow rivers or deep fast moving rivers and river rapids. The shorter board design features make this the best inflatable sup for river paddle boarding.
While it is clear we make the best whitewater sup you will need more when whitewater paddling. You are going to need a personal flotation device, and unlike being on stand up paddle boards on flat water a manually inflatable life jacket won't do. Even if you are using one of the best paddle boards, protective gear is required. A dedicated life jacket like the MTI Vibe is required. And when river surfing, whitewater paddle boarding or just river paddle boarding leasuirly with friends who are tube floating a white helmet is recommended as well. And lets not forget the leash or in this case forget the leash, a leash is not your friend when whitewater paddling. Do not use a leash on river boards. And a wetsuit can be your friend when river surfing in colder weather.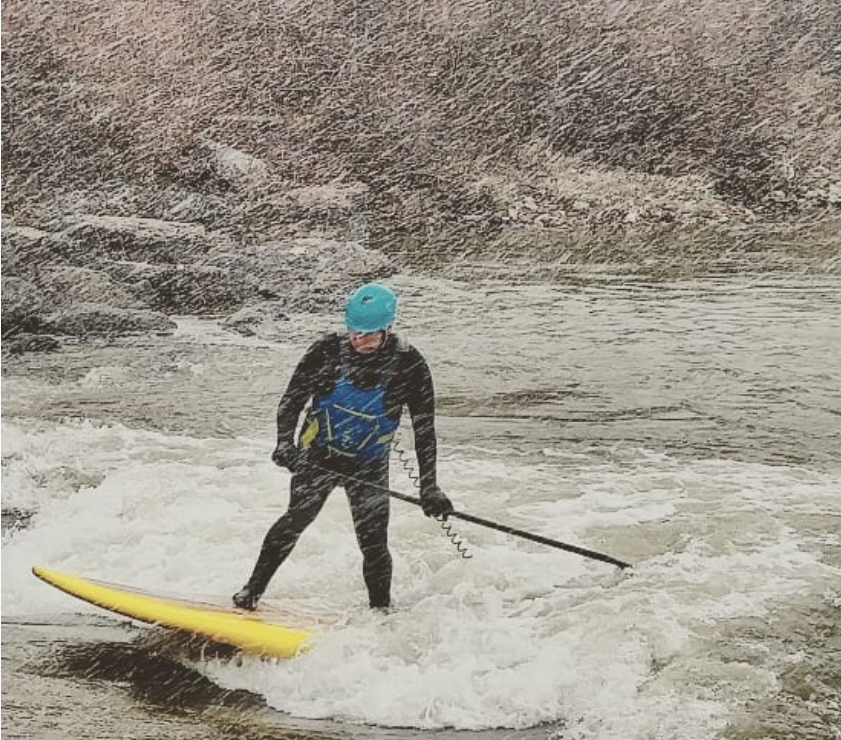 Where to go whitewater paddle boarding or river paddle boarding?
This depends on where you live although the best rule of thumb is where you told friends or loved one where you will be. Whitewater paddlers know or should know this simple rule for whitewater paddle boarding, paddle where you said you would be this is also a good rule for regular paddle board adventures.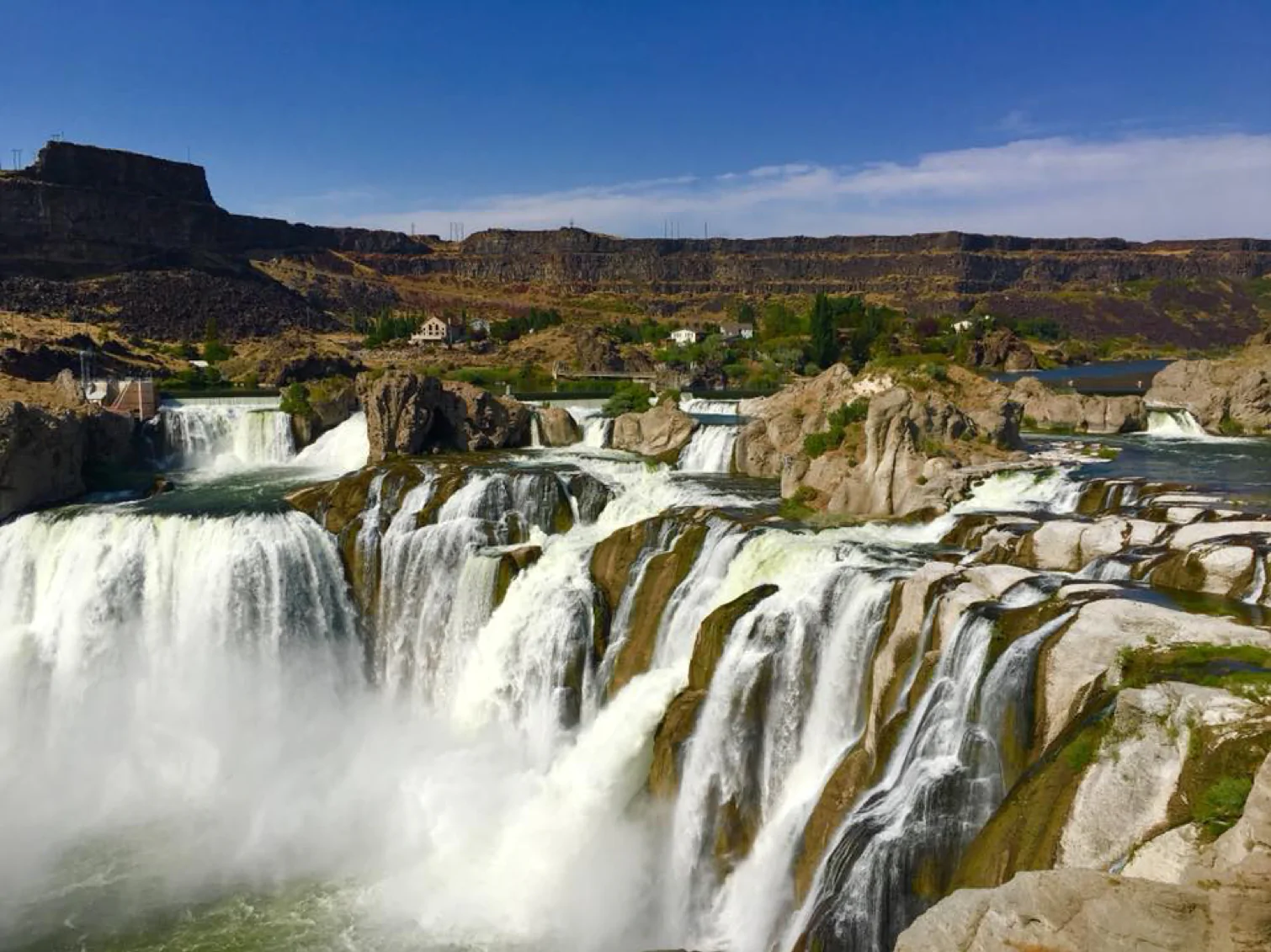 With 114 mountain ranges and 3.9 million acres of wilderness, this is the 3rd wildest state in America, Idaho has some incredible river paddle boarding. In Boise they have a great whitewater sup park perfect for whitewater paddling and catching river waves. And while in Boise why not do some river paddling on the Boise river? With its easy access this popular 6 mile route is a favorite with whitewater paddlers. And is a perfect spot for river paddling. And one should not miss the chance on river paddle boarding to Shoshone Falls. Other fun places to sup in Idaho.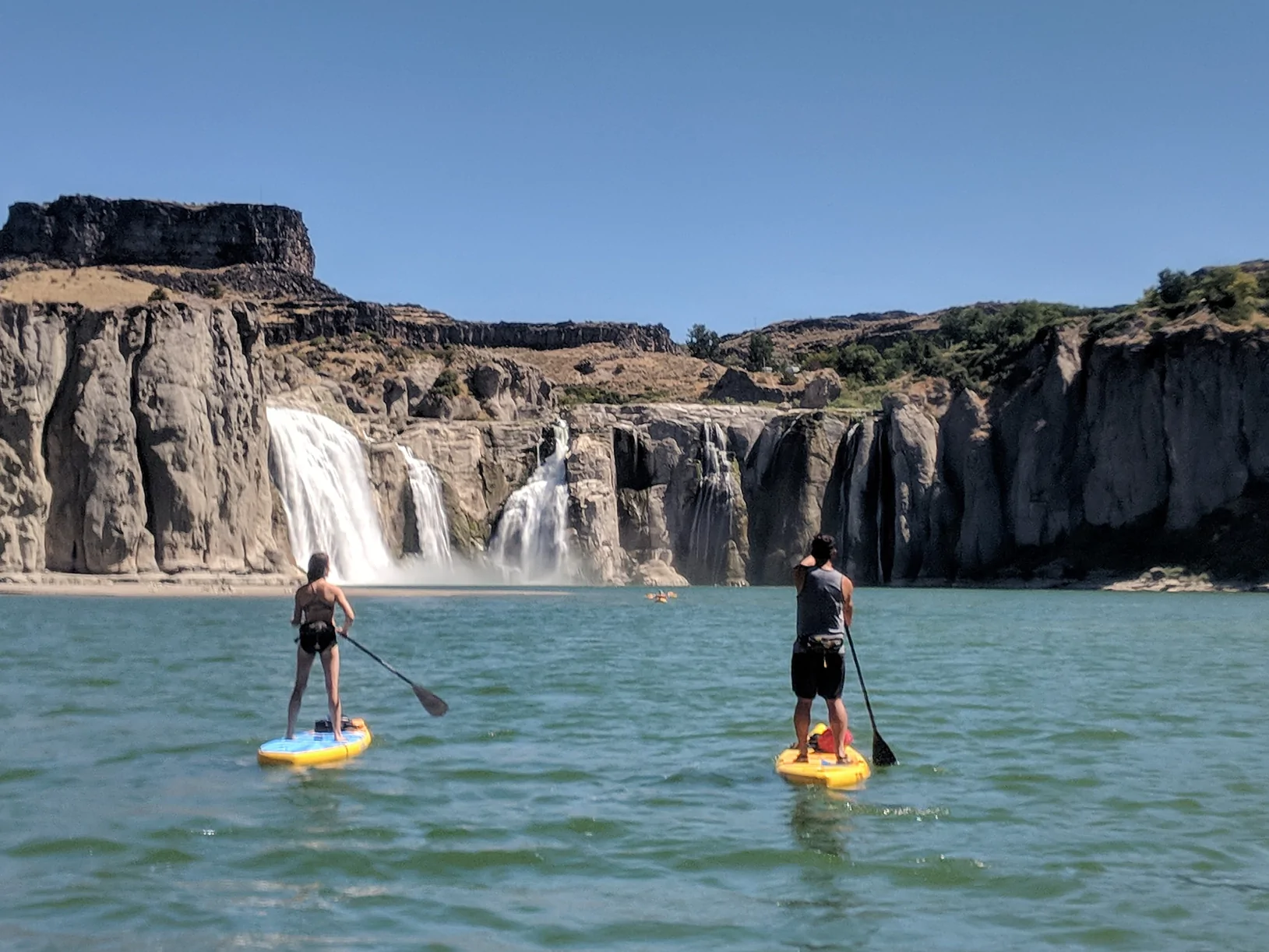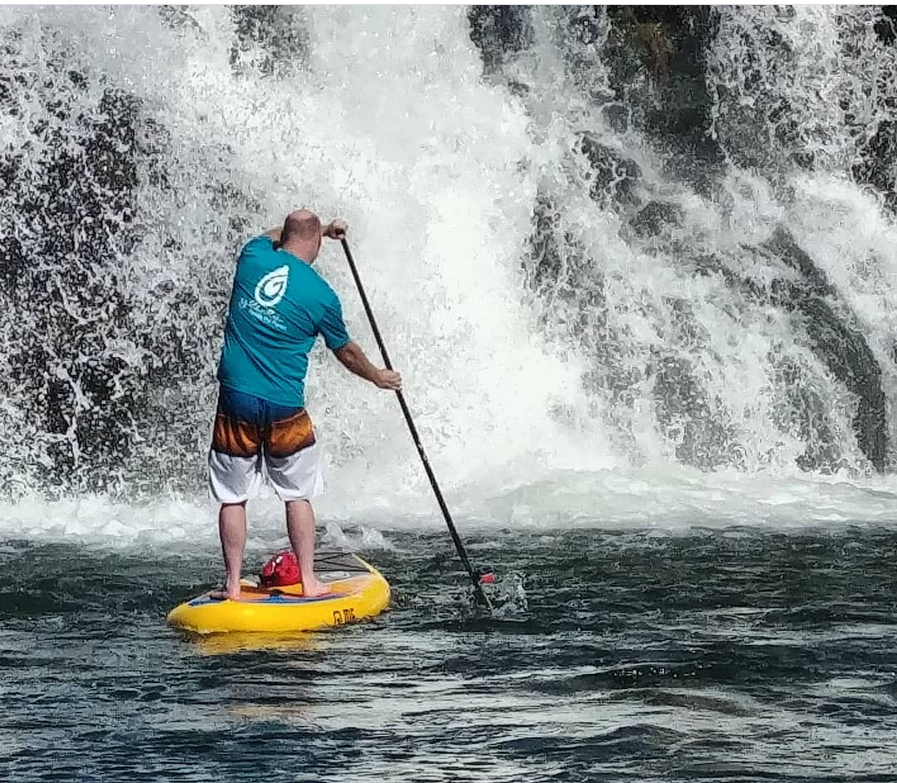 In Utah we have the Ogden whitewater park. With 3 different river waves this is a great place to practice river paddle boarding. Although the river surfing is best here wat 350cfs or better. An interesting place can be found on the Green river. The Nefertiti recreation area is calling you for some river paddle boarding. This section offers 8 river miles and has some great scenery from prehistoric petroglyphs, wild life and the rock formation this area was named after. River paddle boarding this area will make your river paddle boards happy.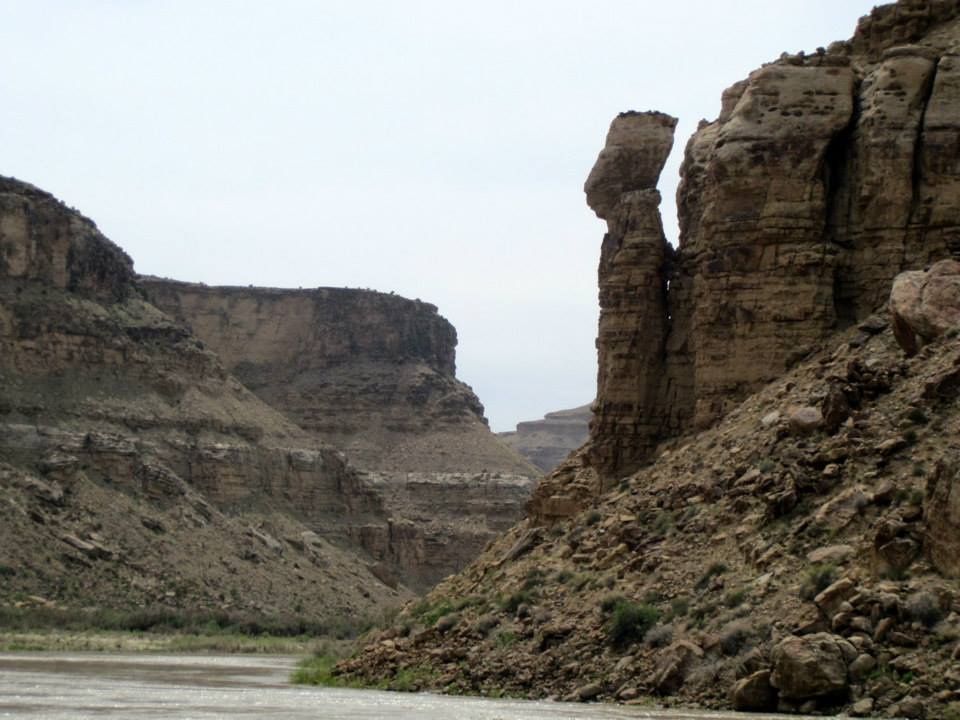 A short drive from our headquarters will find you and your river board at the Evaston whitewater park a perfect place to do some river surfing or to take your paddle board on some scenic river paddling. And if you do not want to end up paddling upstream run a shuttle with your sup boards. Less paddling upstream means more time on the river waves. If you want to keep heading north and want to run a calmer section of river then Oxbow bend is a perfect place to take your river paddle boards or any Glide board. It is a calm wide section of the Snake River with amazing views of mount Moran and with wildlife all around this is an incredible section for river paddle boarding.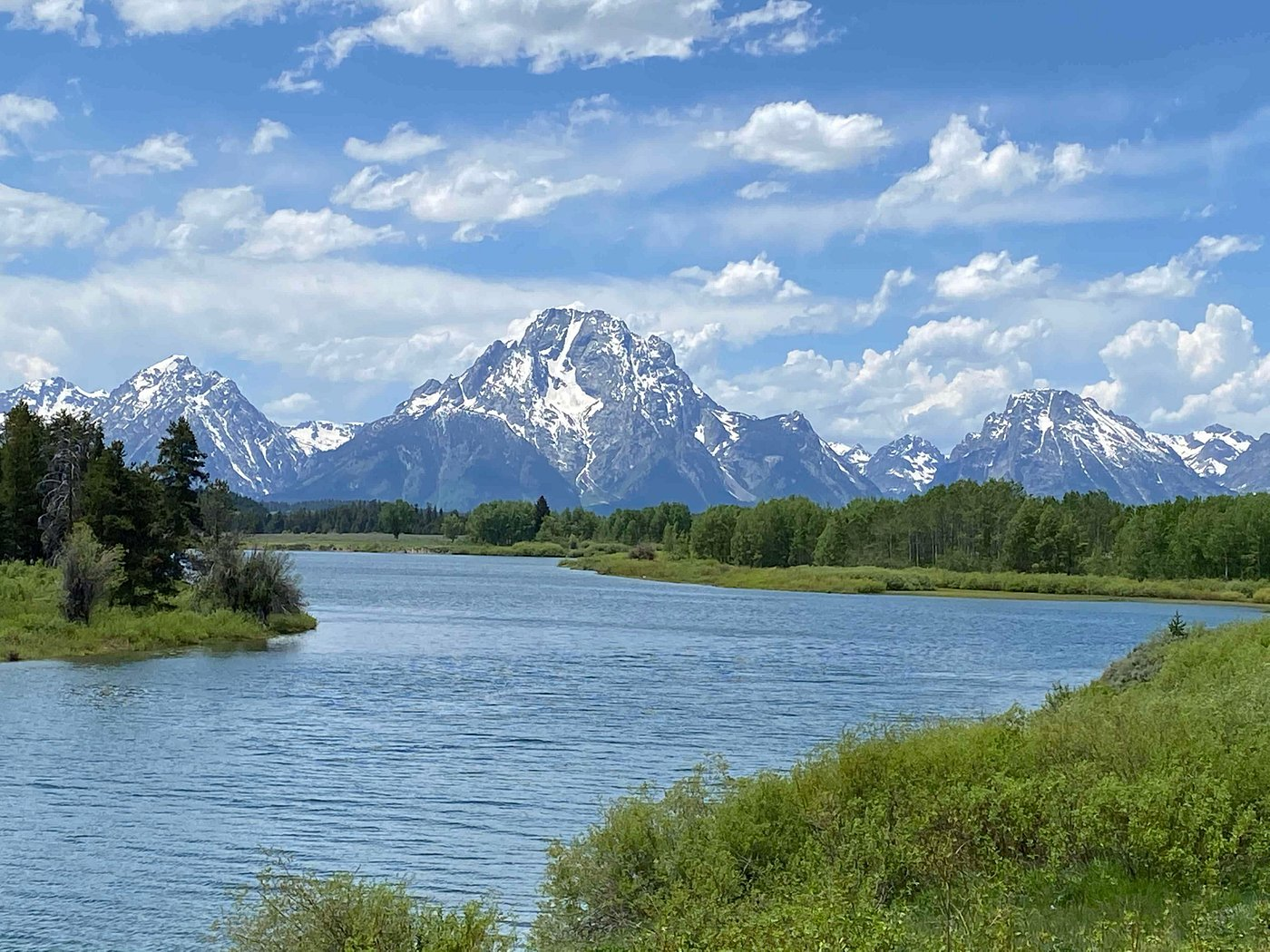 Where will your river board take you? Let us know where you paddle board this season #glidesup