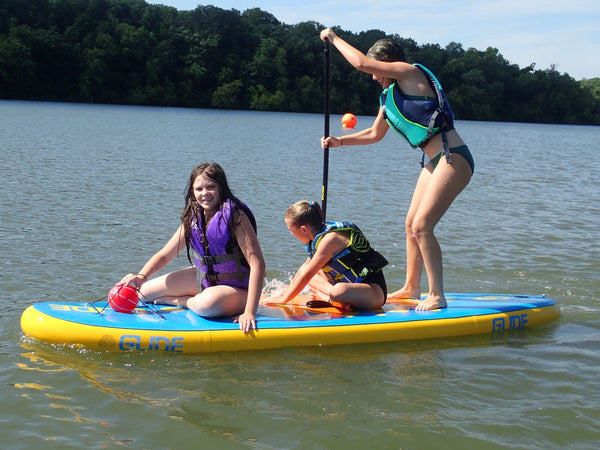 Is an Inflatable Paddleboard Worth It?
A very common question we get is "Are inflatable stand-up paddle boards worth the money or should I get a hardboard? Spoiler alert, YES! Inflatable paddle boards are worth it as long as you are getting a quality board.
Introduction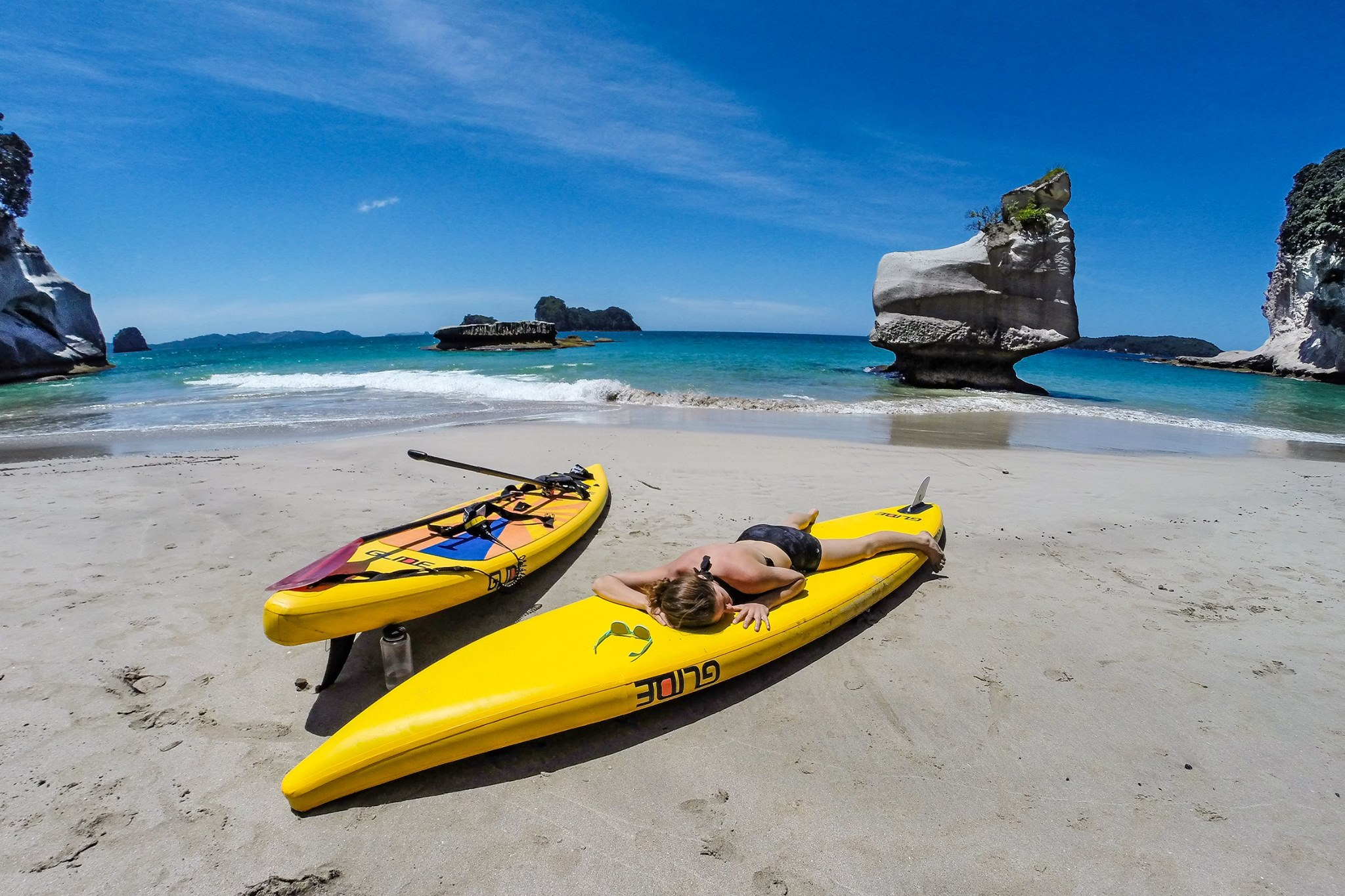 It can be overwhelming when you are just starting to look for an inflatable paddle board and seeing all of the "top paddle board brands" and trying to figure out which one is the best paddle board for the money. You are going to be hit with an overwhelming amount of paddle board brands and then throw in the boards sold at big box stores and the wild variation in prices and -well - there are a lot of choices.
The case for an inflatable paddleboard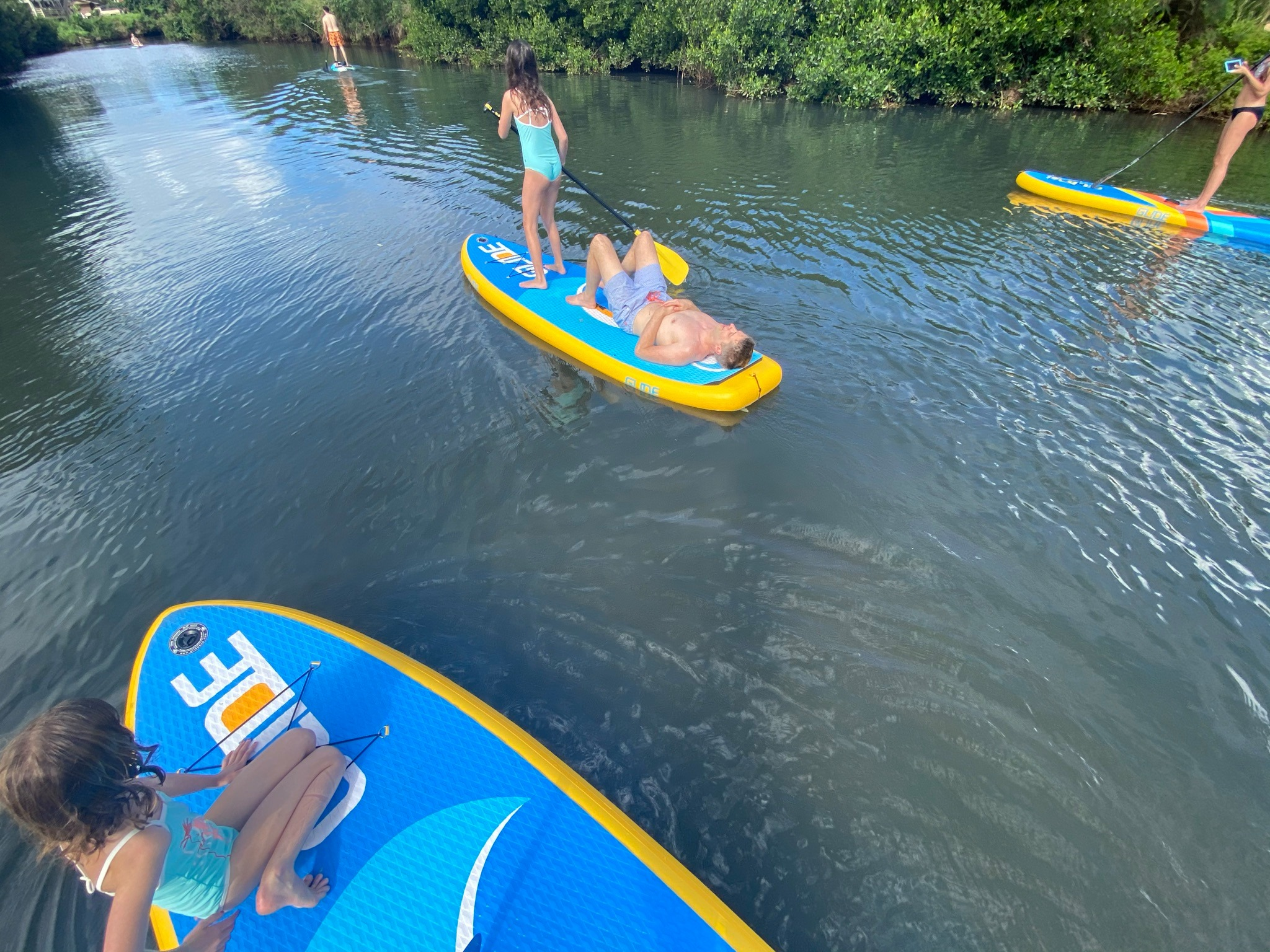 Before we start nerding out on all the details of what makes inflatable stand up paddle boards vary so widely in cost, let's talk about why they are worth it. Inflatable paddle boards have evolved greatly in the last few years and they are at a point where the performance of inflatable SUPs is on par with rigid boards.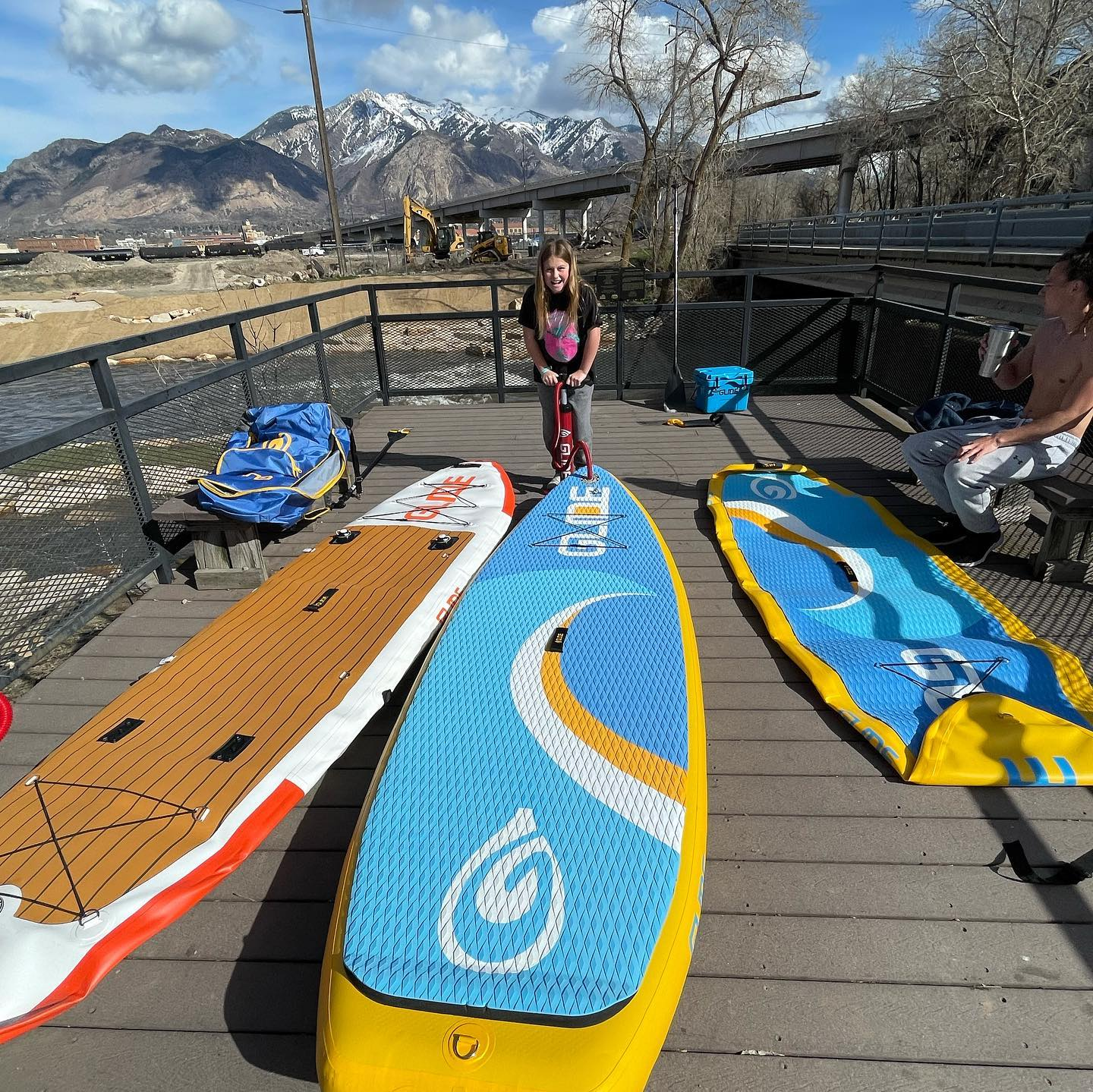 More transportable
The distinct advantage of inflatable paddle boards is that they can be rolled up and stored and transporting them is much easier than a hard board. You can also hike them into more remote places which would be quite a challenge with a solid boards. For storage and transportation reasons alone I feel that inflatable paddle boards are worth the money!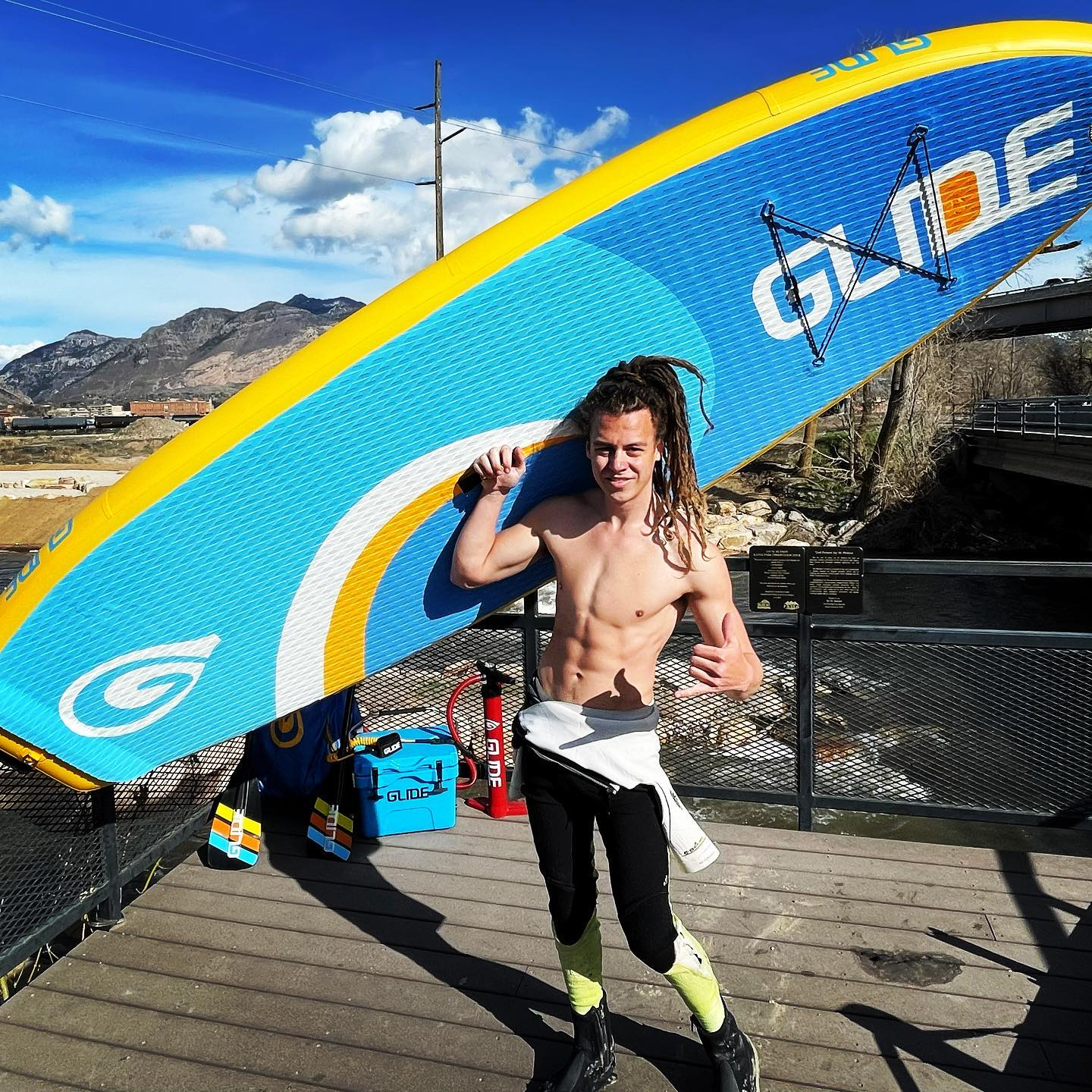 So with all the choices how do you make sure you are getting an inflatable paddle board that is worth the money are you are spending? Like most consumer products there are basically three tiers that you can buy, low-end, mid-level, and premium inflatable paddle boards. There is something to be said for the old saying "You get what you pay for". While that is true to an extent you can also pay a premium price for a low-quality inflatable paddle board with great marketing.
Low-End inflatable SUPs $199-$499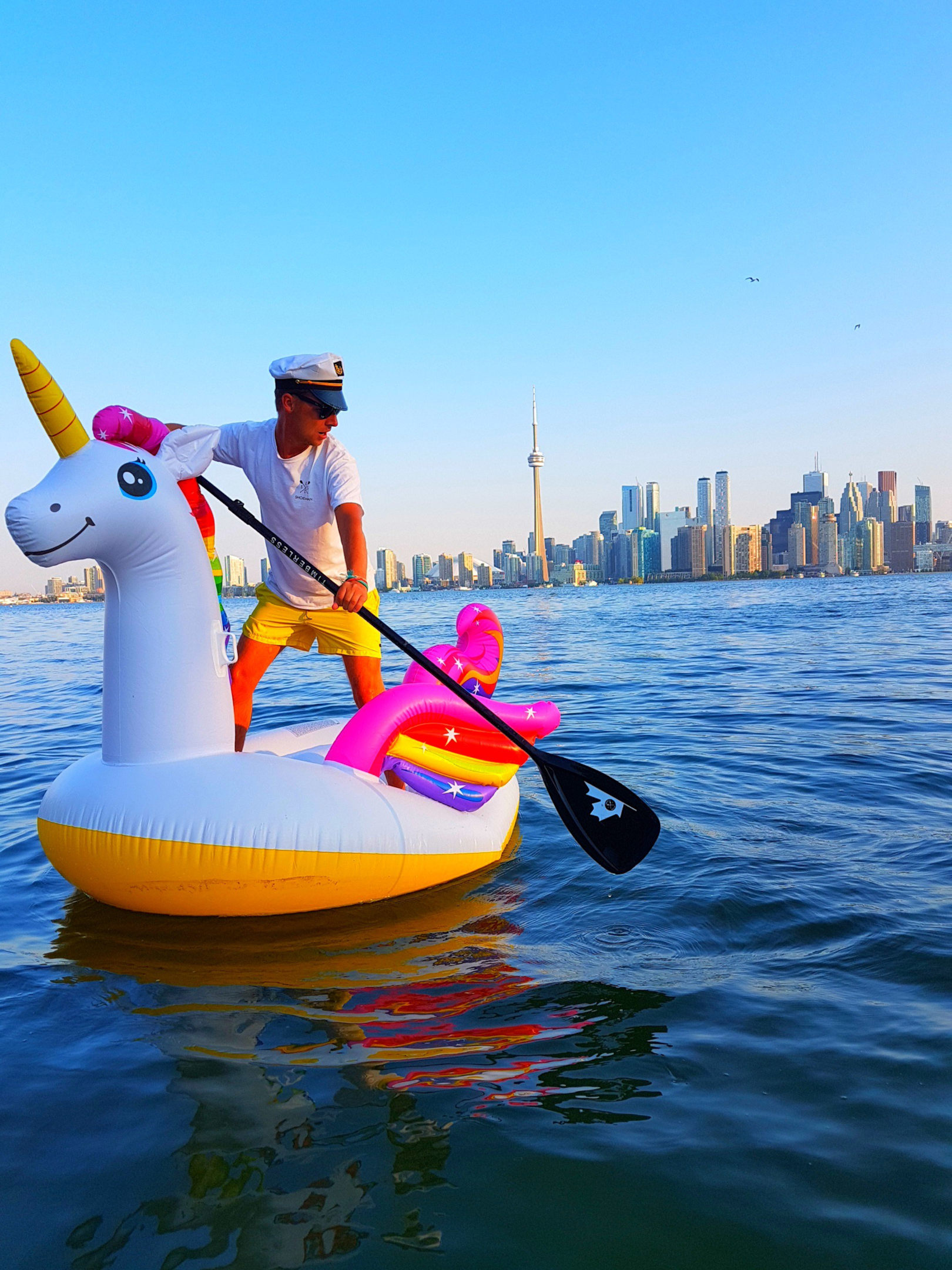 Budget boards are typically what you will find on Amazon, and the big box stores. These inflatable model paddle boards will get you out on the water for a great price, but the quality and performance will be lacking. These boards will usually last for one season and then start to have issues. The boards in this price range will be made of single-layer construction using low-quality PVC, low-quality drop stitch, and inferior valves. Cheaper boards will also not have a full deck pad and the inflatable paddle board will be a thinner board.
Other accessories aren't so great
They will also have very low-quality accessories included with the board. And quite often they use a proprietary fin setup which can make getting a replacement fin a real challenge.
PSI of a pool toy
In addition to the low price (typically $200-$499), you can spot a low quality inflatable paddle board by how much PSI the board can handle.
These inflatable sups will typically have a max PSI rating of around 12 PSI. This is typically not the making of a very stable board.
Are these cheap inflatable SUPs worth it?
So are these inflatable paddle boards worth the money? Honestly, they are not worth your hard-earned money. They are usually too light weight to stand up to heavy wind and their weight limit is usually pretty low.
While you will see hundreds of reviews on the products saying how great they are, if you were to follow up a few months later most would say they wished that they saved the money and bought the best inflatable SUP they could afford. Amazon and big box stores are in a race to the bottom of prices and to get there they are using the old technology and low-quality prices.
 Mid-Level Inflatable SUPs $499-$799
A mid-level paddle board is a great board that uses technology and designs that are a few years old but offer great value. These boards are typically dual-layer paddle boards with good quality drop stitch cores, and have a decent quality pad. You probably won't find a full pad in this price range, but the pad you get will be a good quality EVA deck pad.
Adequate accessories
The accessories you will get in this price range will be of much better quality and should last for quite some time. You will get an ok quality carrying bag to store your inflatable SUPs. You will also get an aluminum or fiberglass paddle and most likely your paddle board package will come with a fin, and a leash. Many of boards in this price range will still use a proprietary fin box which means you can only use that manufacturer's fins for you inflatable stand up paddle board in the future.
Decent air pressure
Inflatable SUP boards in this tier will have a max PSI around 12-15. This will be a good quality SUP board that should last you for a long time.
So are these inflatable paddle boards worth the money? Yes, if you aren't looking for a performance piece of recreational equipment.
If you are planning to spend a lot of time paddle boarding then this is a great price tier to get you going on the water and paddle boarding without breaking the bank. Inflatable SUP boards in this tier should be durable enough to paddle in lakes, oceans and on rivers with no issues.
Premium inflatable SUPs $799-$1499+
What makes a premium stand up paddle board? This is actually a tricky question because in this tier marketing goes crazy, and you may think you are getting the best inflatable SUP on the market but it's actually a single layer board with a great marketing program behind it.
So what should we look for when shopping for a high performance board? How the board is made is what will set a high end stand up paddle board apart from a well marketed paddle board brand.
Extra features of quality paddle boards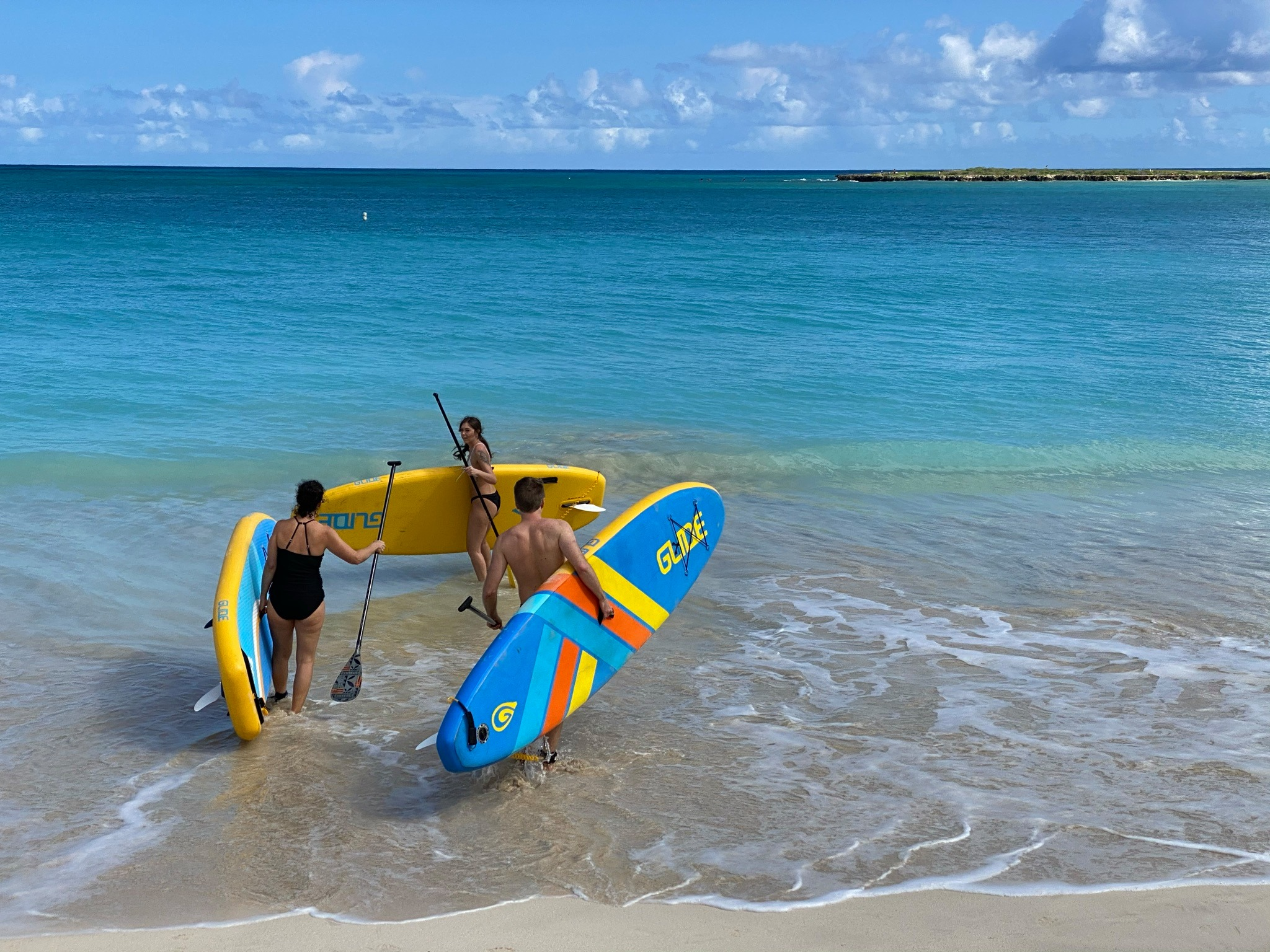 Glide inflatable SUPs are made using woven drop stitch cores, ultra durable PVC lamented with Fusion technology, and a full length, UV stable, plush deck pad. Learn more how our inflatable sup boards are made. Most recreational paddlers as well as advanced paddlers appreciate the quality that goes into our inflatable SUPs.
Most people are confused when we tell them there is a drop stitch core inside their inflatable stand up paddle board because the board will lay flat when its deflated and because it's such a lightweight board. This is because the drop stitch material is made up of thousands of very thin cords that collapse when the SUP board is deflated.
How much air pressure can your inflatable paddle board take?
Boards in this tier can be inflated up to 20+ PSI. Glide inflatable paddle boards can be inflated up to 25 PSI. A paddle board that can be inflated to 20+ PSI is going to have a premium core, fusion construction and reinforced rails. This is a board that will perform like a hard stand up paddle board but with all the benefits that come with inflatable sup boards.
Don't fall for the marketing hype of many inflatable paddle boards
If you are looking at a brand and it is in this price tier but can only be inflated to less than 20 PSI then you are paying for the marketing hype and not high quality materials to produce the board. Inflatable SUP boards in this price tier should last you for years to come and be able to go on all of your paddle boarding adventures without having to worry about the quality of your paddle board. You should be able to get a fantastic board in this price point range.
Boards in this tier are absolutely worth your investment whether you are a beginner paddle boarder or someone who goes paddle boarding almost every day.
U.S. Fin Box
A paddle board in this price range will have great sup accessories that are included with the board and should have a US standard center fin. The SUP board manufacturer should even use a US fin box on their entry level boards. This rule of thumb applies whether you have a large center fin or removable side fins.
Attachment points are key features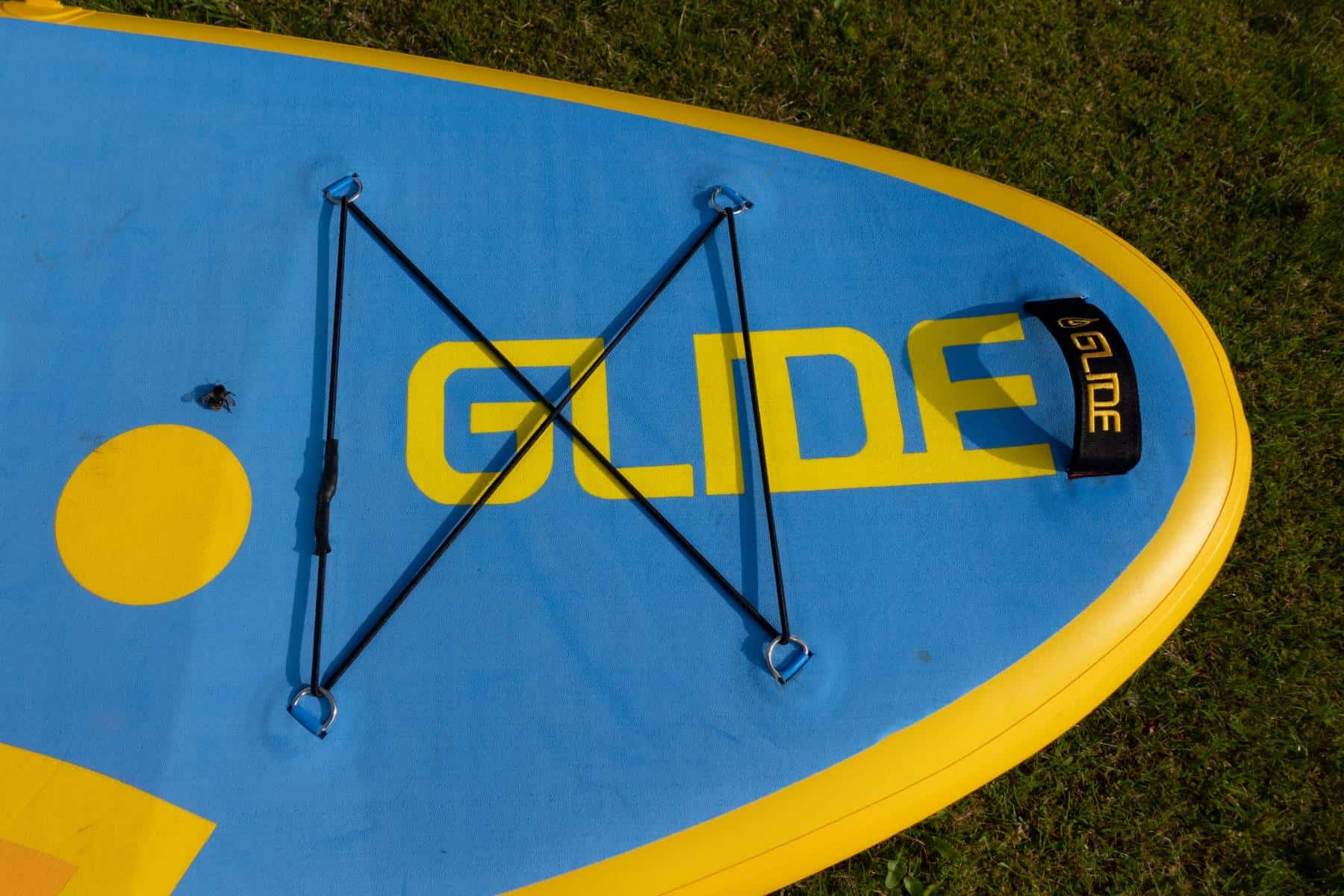 It will also have multiple attachment points, with these multiple attachment points you can have add ons like a kayak seat, or just a place to add more cargo. Glide inflatable paddle boards have an average of 20 attachment points.
Dual chamber pump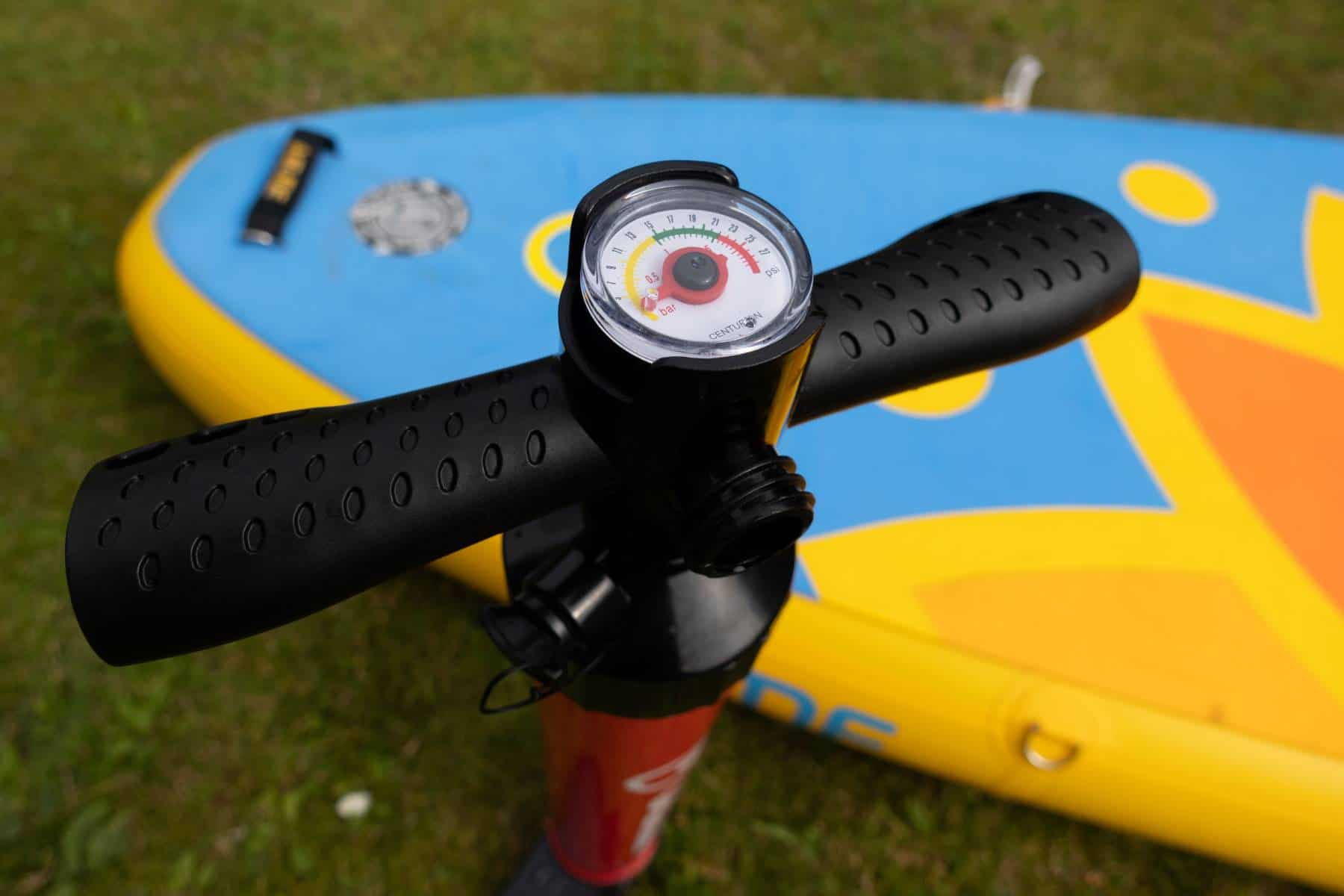 You should also be getting a very high quality hand pump at this price point. A dual chamber pump is preferable to a single chamber pump. With a dual chamber pump, the inflatable SUP is inflated on both the up and downstroke.
An electric pump is usually an option from most paddle board brands although you will pay extra for it. An electric pump does allow you to set the PSI and the pump will stop once it reaches that PSI.
Other accessories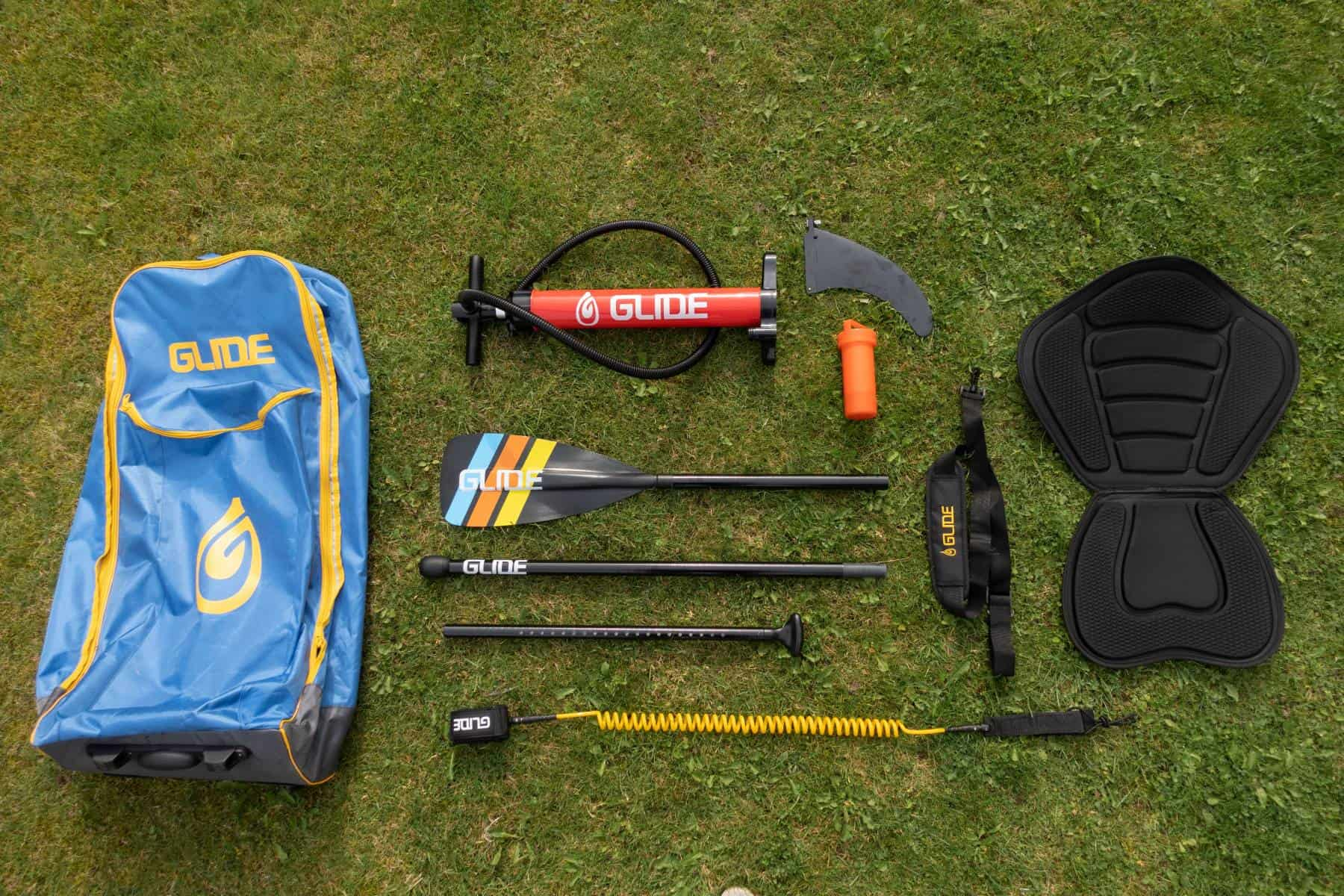 High end inflatable models should include a carrying bag - preferably a backpack with wheels. You definitely will want to make sure they are including a repair kit as well. The repair kit should contain patching materials as well as a tool to tighten up the air valve as the valve will come loose over time.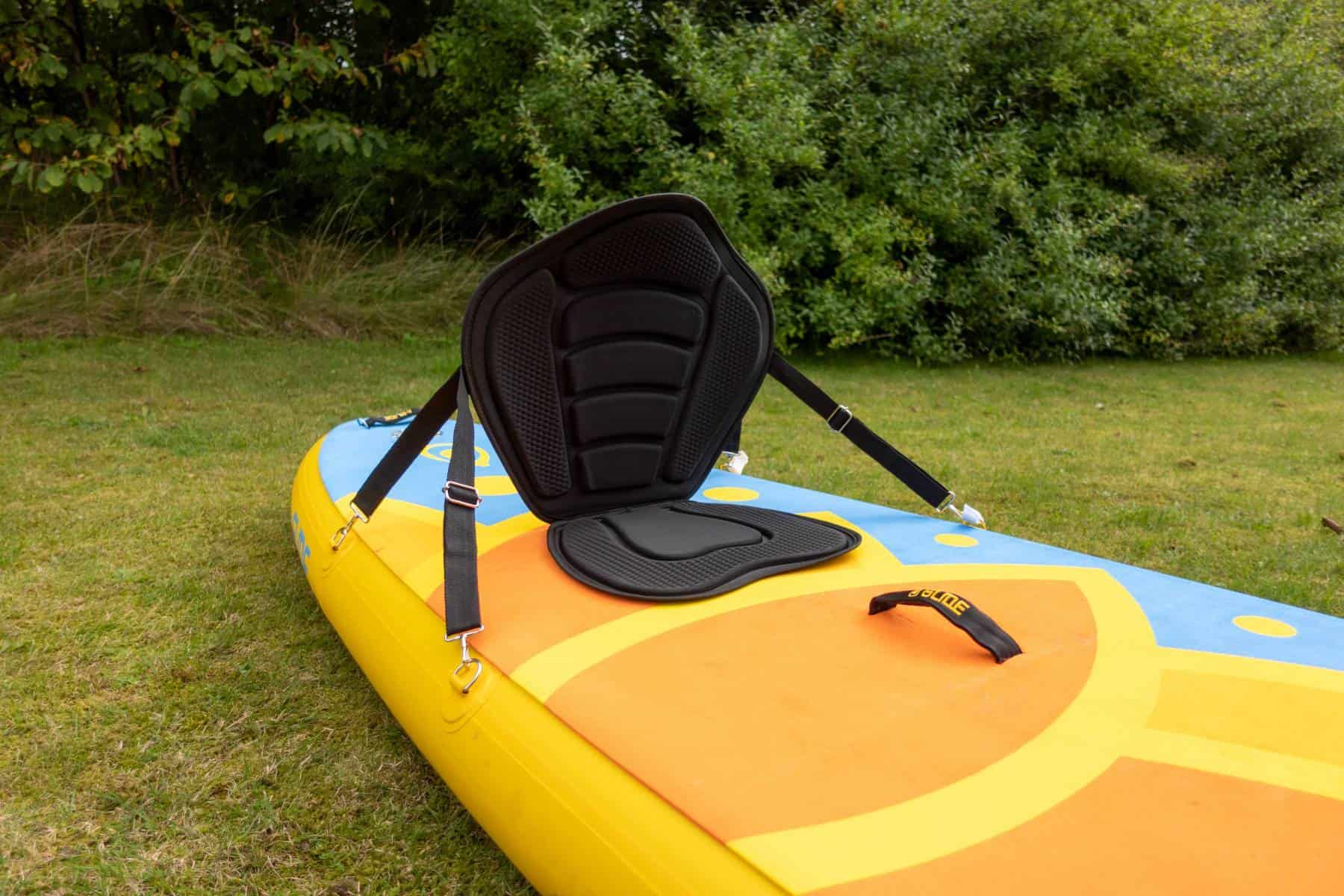 At Glide we also include a carrying strap (which does away with the need to use the center handle) and a kayak seat with our inflatable models. Kayak seats have become a hot accessory for inflatable SUPs in recent years. They are essentially a kayak conversion kit that allows you to let your inflatable stand up paddle board also function as an inflatable kayak.
When looking for a premium all around inflatable SUP board you will want to find a board that is beginner-friendly and has a high weight capacity, you can learn more about buying your first paddle board here.
Inflatable SUPs come in many shapes and sizes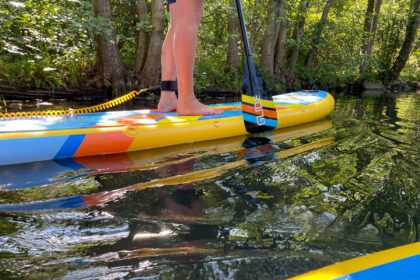 Once you determine what price range that you are comfortable with, it's time to decide what style of inflatable stand up paddle board you are looking for. Inflatable boards are made for all of the various SUP disciplines so your choice here will be based on what type of paddle boarding that you plan on doing.
All around SUP boards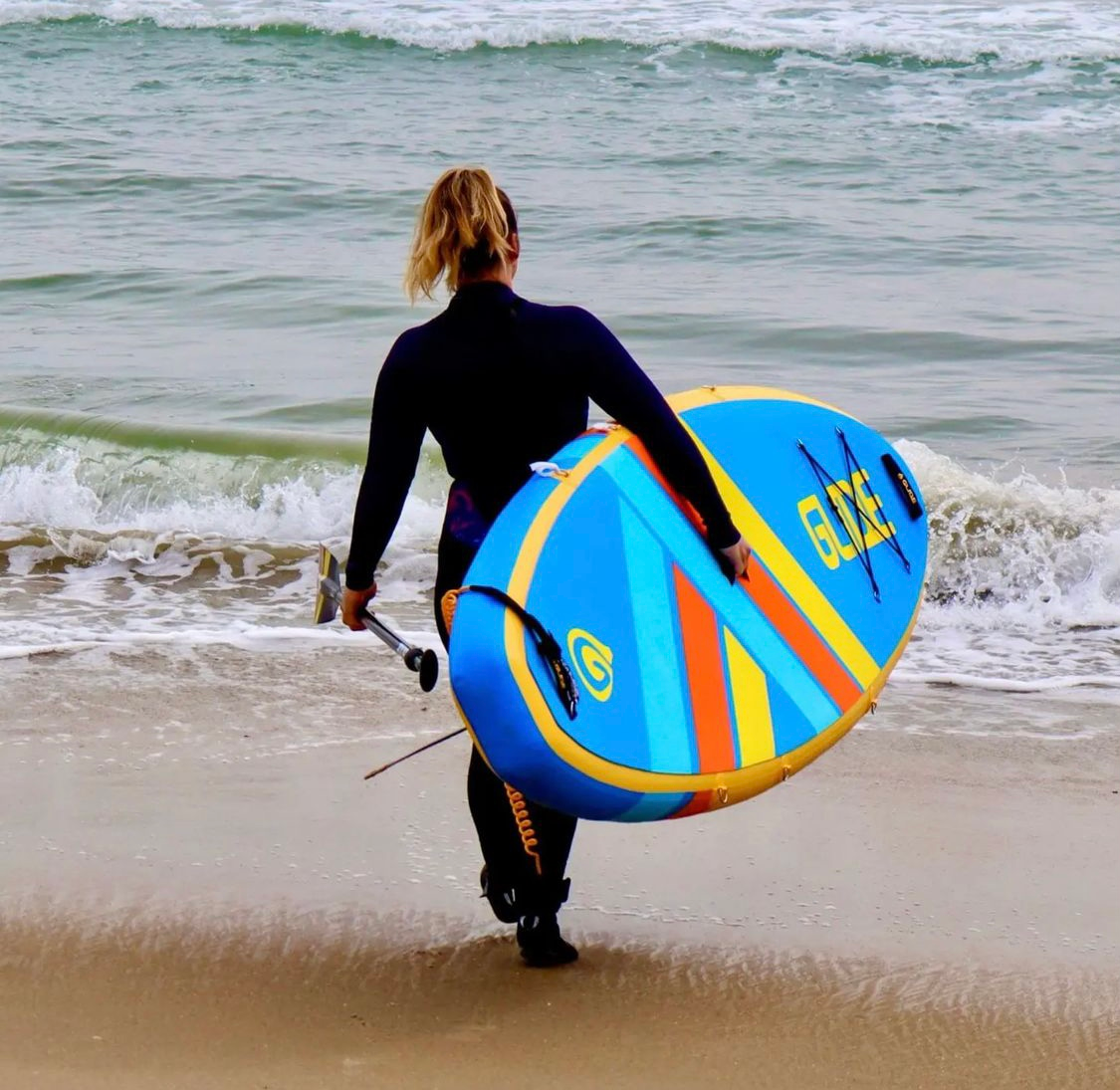 The all around board is a great place to start as it is the one board that can be used in ocean waves, slow moving rivers, for SUP yoga or to paddle long distances in flat water. Most boards that fall into the all around board category have a similar board design to the original long surfboards of the 50's and 60's.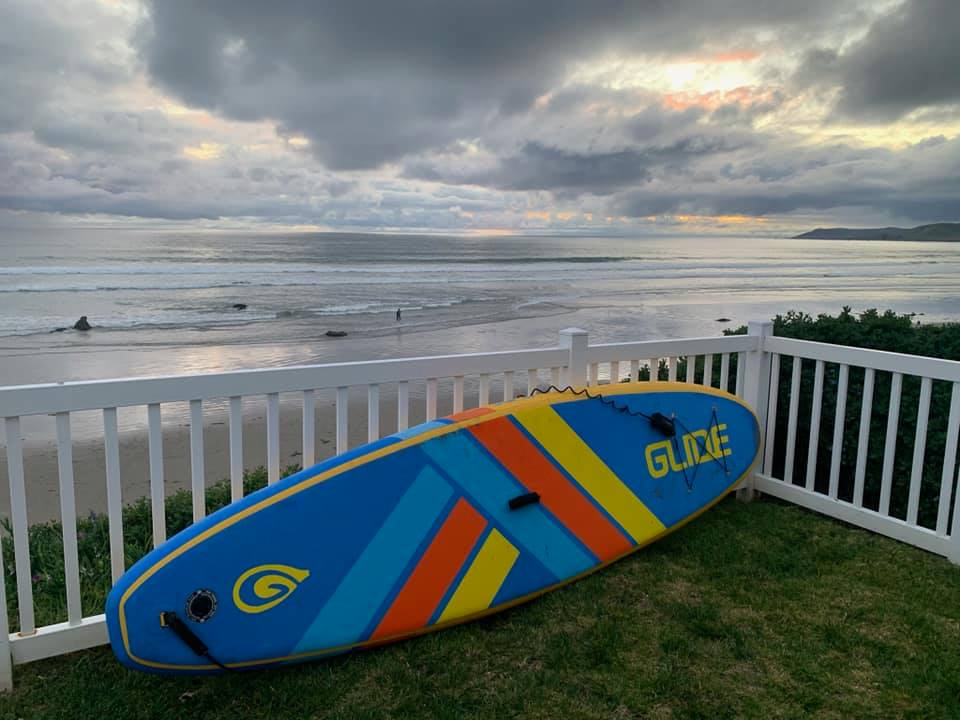 Most all around boards have a high weight capacity and are a wider board than touring boards usually are. All around boards are an ideal choice for beginners who may not be ready to determine what aspects of SUP they are most interested in. At Glide, our all around board design is called the "Retro" as it pays homage to the pioneers of stand up paddle boarding, the beach boys of Waikiki.
The Retro is a fairly light weight board as far as all around SUP boards go. In fact, it's one of the lightest boards that we offer. It's incredibly versatile and maneuverable. It works as well as smaller boards in ocean waves and river waves.
Touring boards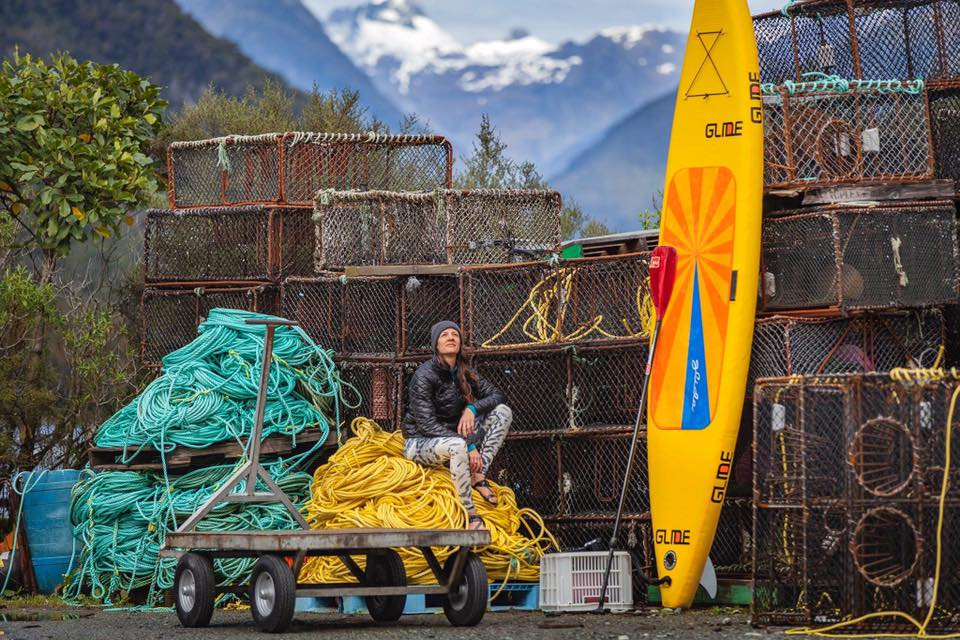 Touring boards are designed for paddling long distances on flat water. You typically can expect this inflatable SUP board to be a longer board with a pointy nose that helps it cut through chop that can develop on normally calm waterways.
Because it's a narrower board design, touring boards are usually favored by more advanced paddlers. As an inflatable SUP board goes, it's not the most stable board out there but it does cover long distances rather quickly.
Most boards in this category have a lower weight capacity, so if you weigh more than 200 lbs, you will want to err towards a longer board when purchasing. The narrowness of the board affects the weight limit, so a longer board will help counteract this.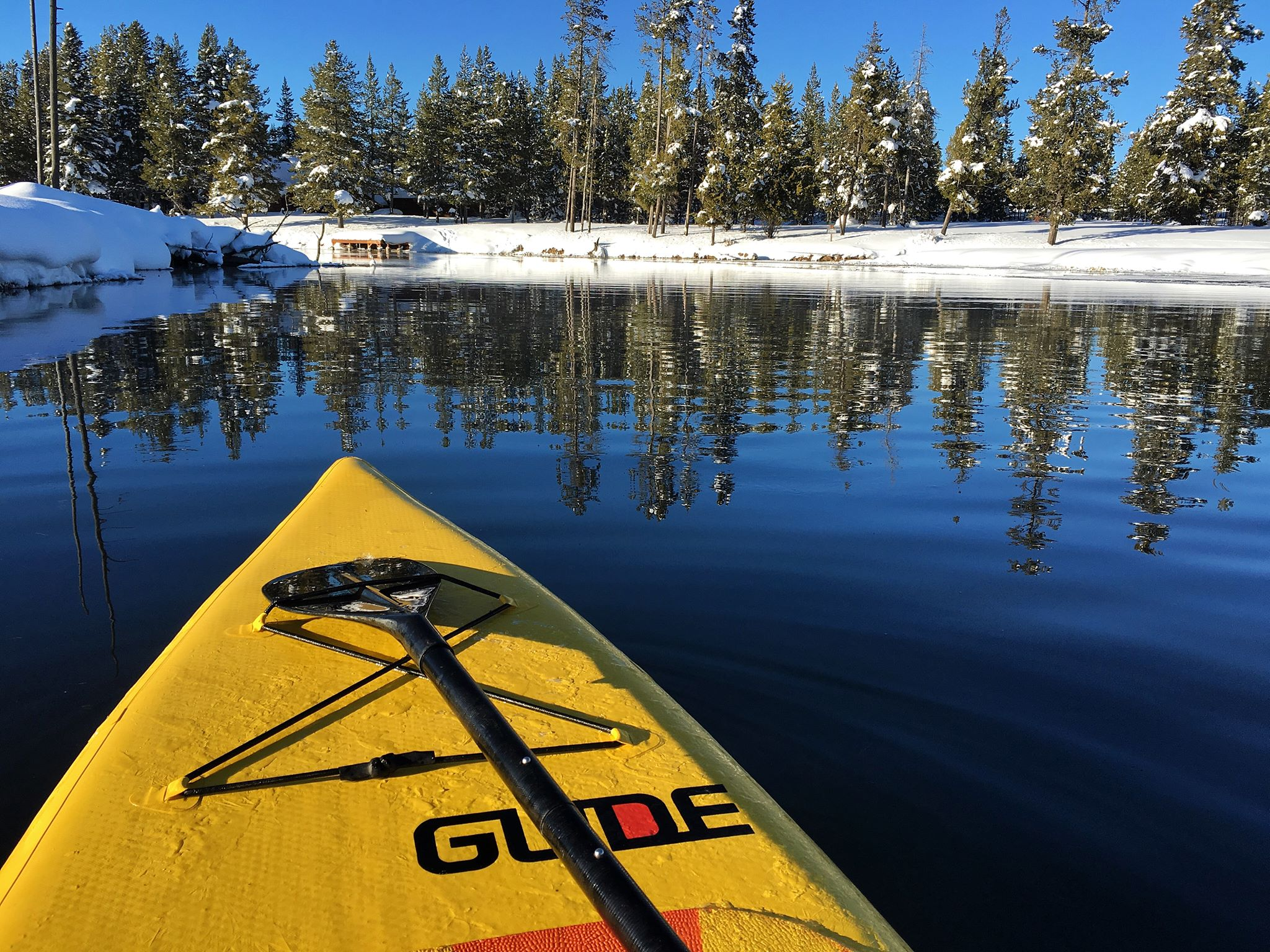 Because the touring boards are shaped more like a kayak then a long surfboard, kayak seats work quite well on them. Before you install your kayak seat, remember that you will want either a kayak paddle or a kayak conversion kit for your SUP paddle. The kayak conversion kit converts your SUP paddle into a kayak paddle.
The best inflatable paddle board brands out there will typically have a version of their touring board in both and inflatable and fiberglass paddle board version becausing touring SUP enthusiasts often want a hard paddle board version for their local and an inflatable SUP for trips.
Yoga SUP board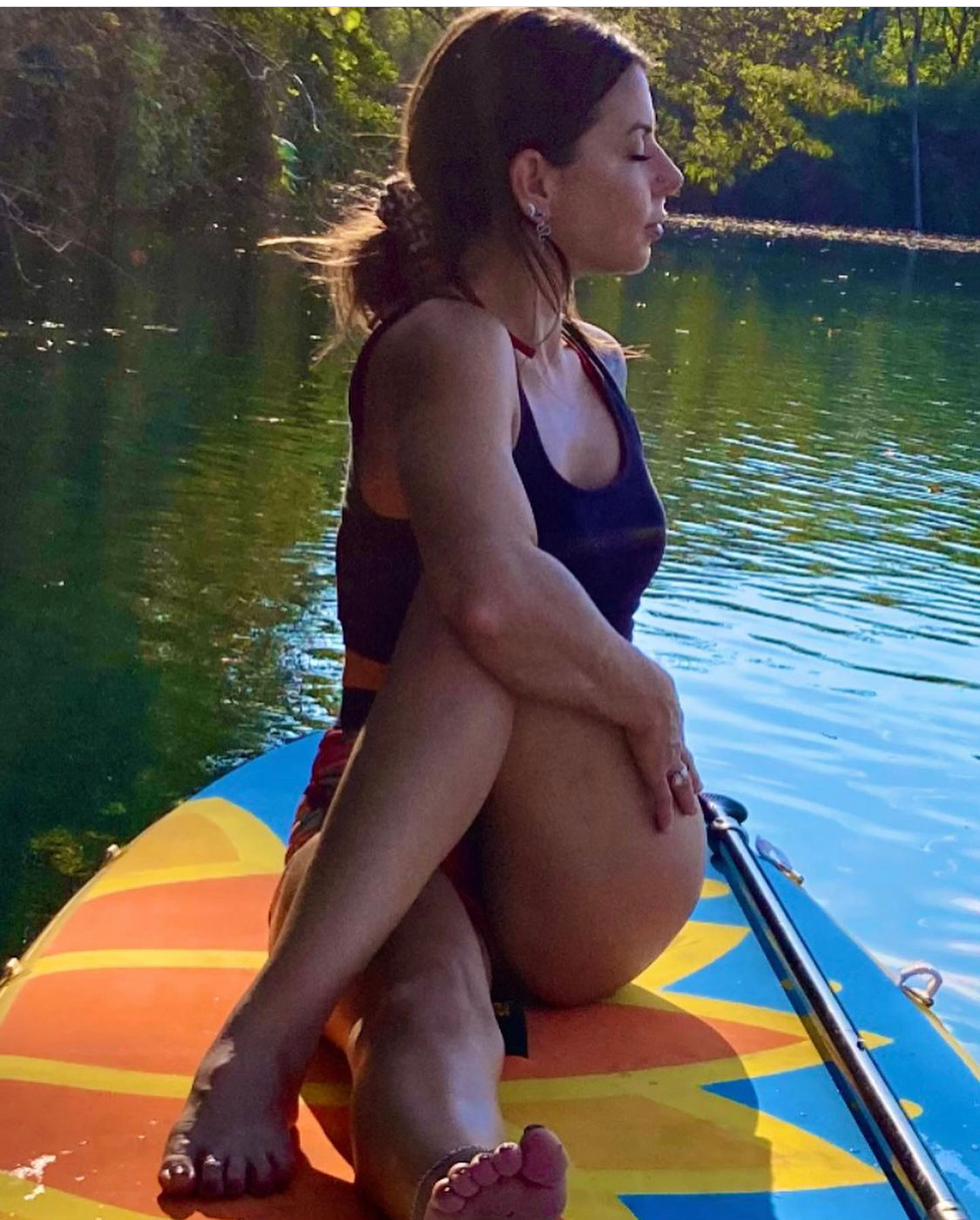 That's right, yoga on your inflatable stand up paddle board is really a thing. There are several differences between an inflatable stand up paddle board that is designed for yoga and other boards.
Even though a yoga inflatable SUP board is a lightweight board, it is almost always a very stable board. You definitely will want a stable board as you attempt to move your yoga practice out to the water!
The best inflatable paddle board for yoga will have a full length deck pad that is both smooth and soft. You will want the deck pad to be at least the same size as a yoga mat or your practice will become constrained. Stay away from an inflatable SUP if it has bumps or ridges on the deck pad as you will find them quite uncomfortable when doing your poses.
The Glide Lotus is our contribution to the SUP yoga space. Lotus solid boards have been around for over 10 years.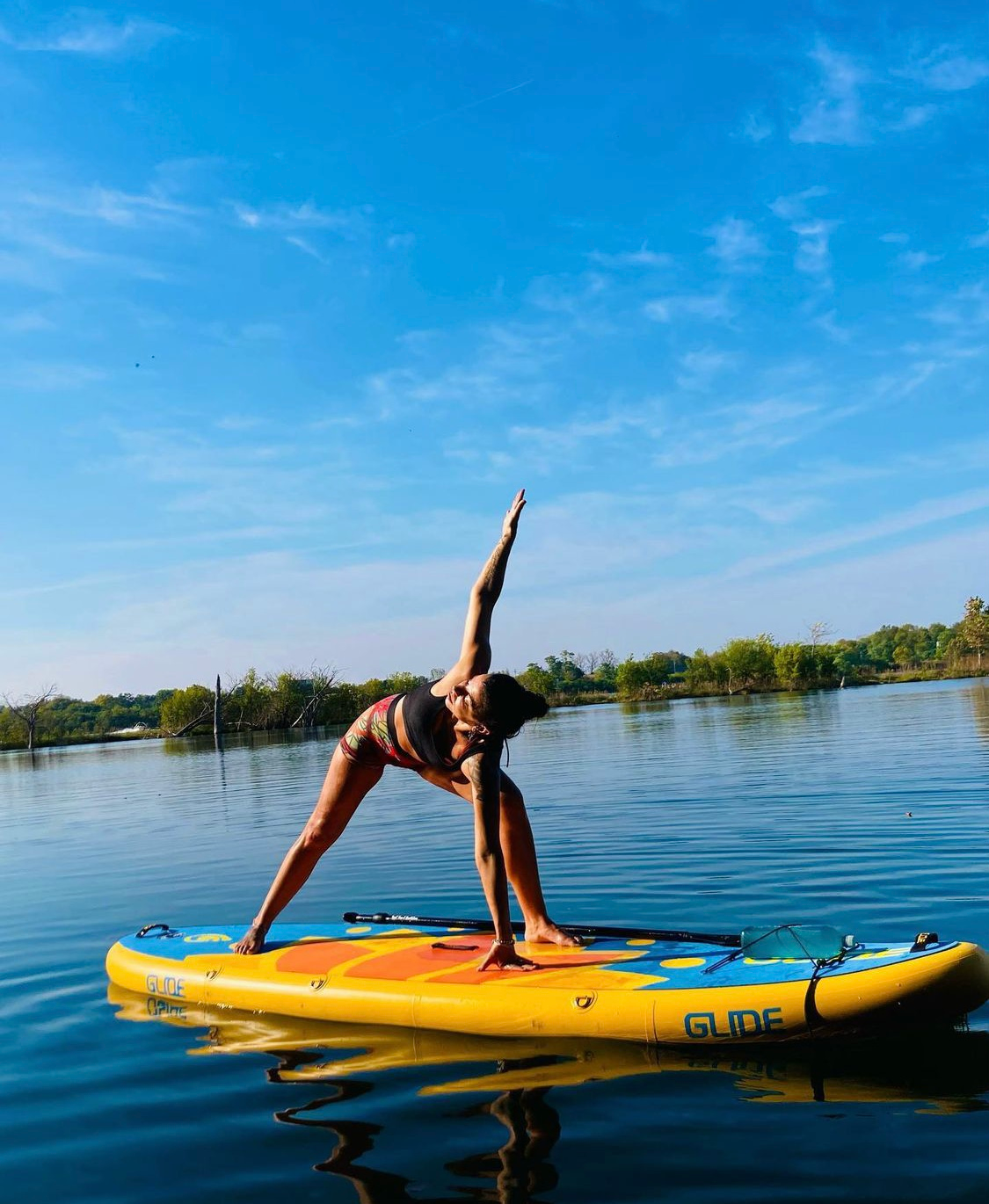 We introduced our inflatable SUP board version of the Lotus 6 years ago and it's developed a passionate following. Yogis show up to SUP yoga classes with the board in it's carrying bag and then inflate the board using the electric pump that the instructor provides.
The Lotus is a lightweight board that has a high weight capacity because even though it's only 10 feet long, it's 35 inches wide. You will want to stay away from the lightest boards in this space as many are using single later PVC construction which means that they won't be rigid enough to support yoga poses.
Stand up paddle boards for fishing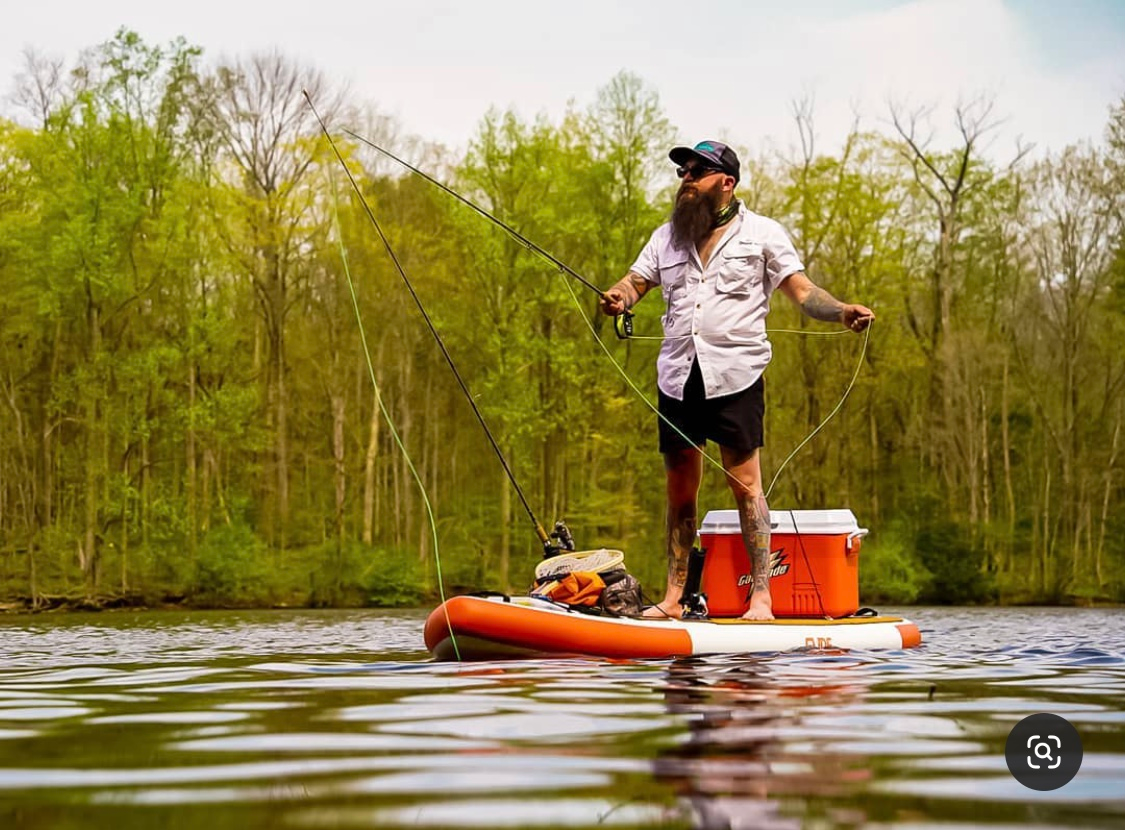 An inflatable SUP board for fishing? That is correct. This inflatable SUP was designed to compete with fishing kayaks which have become incredibly popular in recent years.
An inflatable SUP board is designed to be the most stable board in a SUP company's quiver. They are usually both a longer and wider board than the other boards that the company offers because anglers need a board with a high weight limit to accomodate all of their fishing gear.
An inflatable SUP board for fishing has multiple attachments to accommodate "scotty mounts" which allow the paddler to mount their fishing rods, depth finders, cooler, etc. In addition to a fishing rod holder, most boards also have a paddle holder so that the angler can focus on angling.
Glide's fishing inflatable SUP board is coincidentally called the "Angler". It has a weight limit of 400 lbs which is far and away our highest weight capacity.
Whitewater inflatable SUP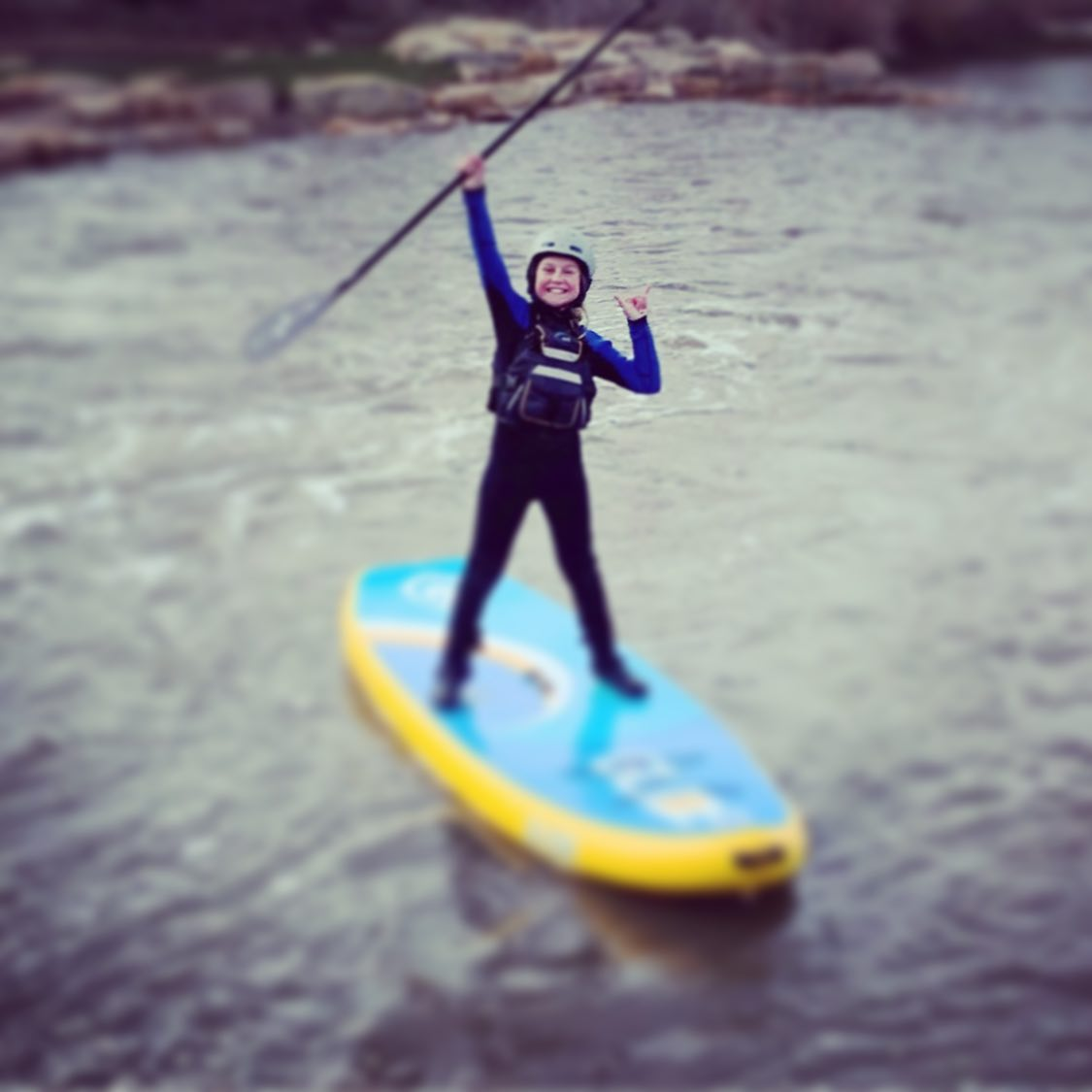 When you are ready to take your inflatable SUP game to the next level, check out a river near you. You will want to start with slow moving rivers and once you get bored with them, progress to true whitewater SUP.
Before even attempting river rapids on an inflatable SUP, you will want to invest in the proper safety gear. You will also want to learn about river dynamics and how they affect a stand up paddle board.
Smaller boards are typically used in rivers to give the paddlers more control although the boards tend to be a bit wider to add stability. It's also critical that you inflatable SUP board has quite a bit of rocker built into the bottom of it to help the paddle maneuver it quickly.
The Glide Lochsa is our dedicated river SUP board. It is 9 feet long and 36 inches wide so it's our shortest and widest board. It's also pure fun!
Conclusion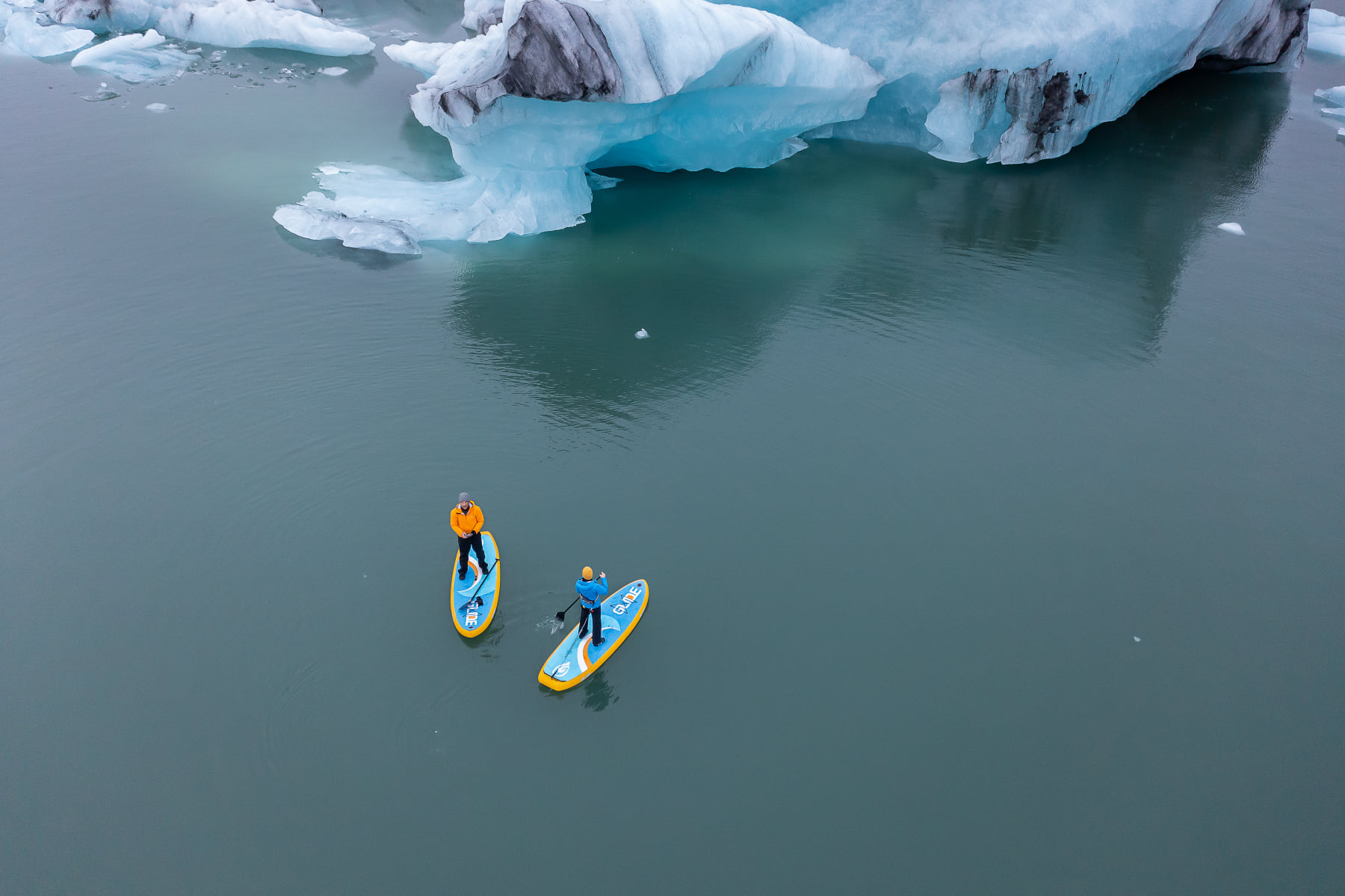 As always, if you want more expert advice on how to find a paddle board that is well suited to your needs, please give us a call, send us a email, or hit us up on chat. You will save money, in the long run by buying a quality board from the start and we will help to get the best deal possible!
Related Topics
Things to Consider When Buying a SUP
The Ultimate Guide On Finding Places to Paddle Board Near You
Can I Leave My Paddle Board Inflated?
Hard VS Inflatable Paddle Board