Fishing Paddle Boards | Design Talk
Hello beautiful readers! Today I wanted to talk about fishing paddle boards and how we came up with the design for the O2 Angler paddle board, so grab a snack and drink, and let's talk SUP fishing. I will try to keep all the fish jokes to a minimum, but I can't promise, even though most of them will flounder! Ok let's jump into why we created a fishing paddle board, it's a whale of a tale!
A fishing paddle board makes an ideal platform for fishing off. They are big and stable (well they should be...), they have a very low draft in the water, they are lightweight, and they can carry all your angling gear to places that you can't walk into, or you can't boat into. If you are an avid fisherperson you really should add a fishing sup board to your quiver, you will not regret it.
And it does not matter if you are fly fishing or bait casting, or spinning a paddle board will take you on a fishing adventure you will not forget. Ok, so you're hooked! And you want to know what to look for when purchasing inflatable fishing sup and how we came up with the design.
When we set out to design the best fishing paddle boards the market has ever seen here were the criteria that I wanted in a fishing SUP.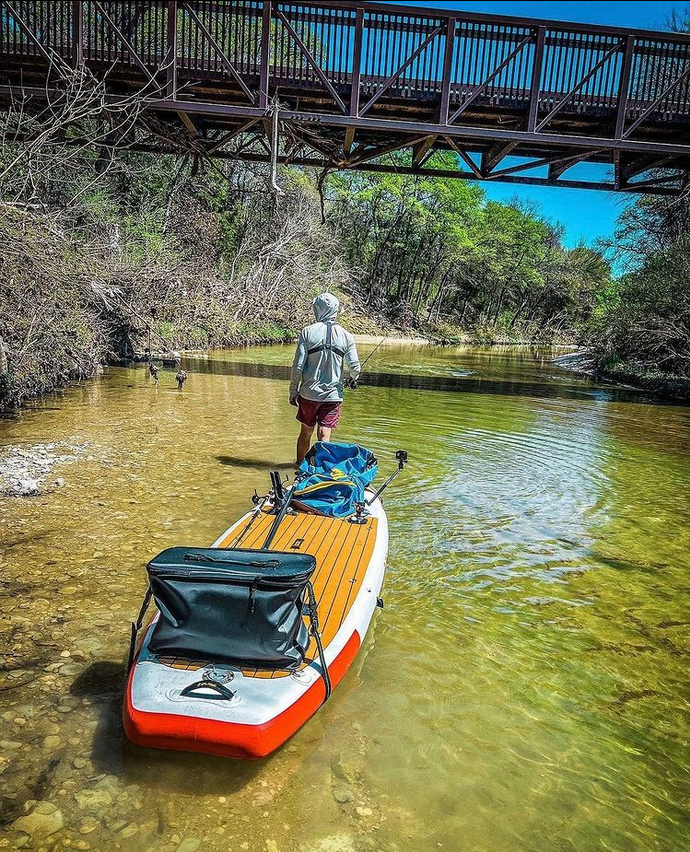 Stability
If the platform you are fishing off of is not stable you will not have a great time, and probably won't catch fish. So the number one priority was to create the most stable paddle board in our line. So I knew we wanted the O2 Angler to be very wide, how wide you say? 36". That will give great stability and a large platform in which we can carry a lot of gear. Learn all about the benefits of a wide paddle board here.
Fun to Paddle
I know that fishing is the priority for this paddle board, and having a stable board will be the heavy lifter for that goal, but at the end of the day has to be more than just a floating dock, it has to be fun to paddle.
A wide board is very stable, a wide board is also slower and harder to maneuver. Which does not sound super fun to paddle. So a big challenge of the design process was to make an ultra-stable fishing paddle board that is also fun to paddle.
A wider board will typically be slower than a narrow board, and the longer the paddle board it is typically faster than a shorter paddle board. So to give the best balance of speed and stability we chose to have the O2 Angler be an 11' footboard. At 11' this makes the board relatively quick for its width, but still keeps it short enough to be easily maneuverable even in a tight spot.
We added kick rocker to the nose and tail, this makes it so the board has the most amount of contact with the water increasing stability and speed, but gives you rocker to get over waves and the rocker in the tail makes it so the board can turn on a dime, ok well maybe a quarter...
So not only is the O2 Angler a great fishing paddle board it is also a great paddle board that is fun to paddle. Most people are surprised at just how quick the board is and how stable it is.
Fishing Gear Mounts
Ok Anglers we can all agree we have a problem, we love fishing gear, and we like to take it with us when we go fishing. So naturally, fishing sups have to have the ability to carry a lot of gear.
The beautiful thing about the O2 Angler and it being an eleven-foot by-there-foot wide board is that it gives us a huge deck in which we can add rod holders, gear mounts, cooler tie downs etc.
Important items for paddle board fishing are fishing rod holders, D rings, gear storage, sand spear sheath, and a bungee storage area. We use Scotty Bob mounts on
the O2 Angler and it does come with two-rod holders, for the front star mounts. And the rear plates are naked so you can add anything you would like to them, like a fish finders fish stalker or other accessories. The rod holder we use is generic enough that can hold almost any type of fishing rod and reel.
The deck pad is also important as you want to have a lot of grip so you can concentrate on reeling in fish and not slipping off the board. But also as important is you want the traction pad to work in conjunction with the d rings so that when you add a fishing cooler you do not have to worry about it slipping around the deck.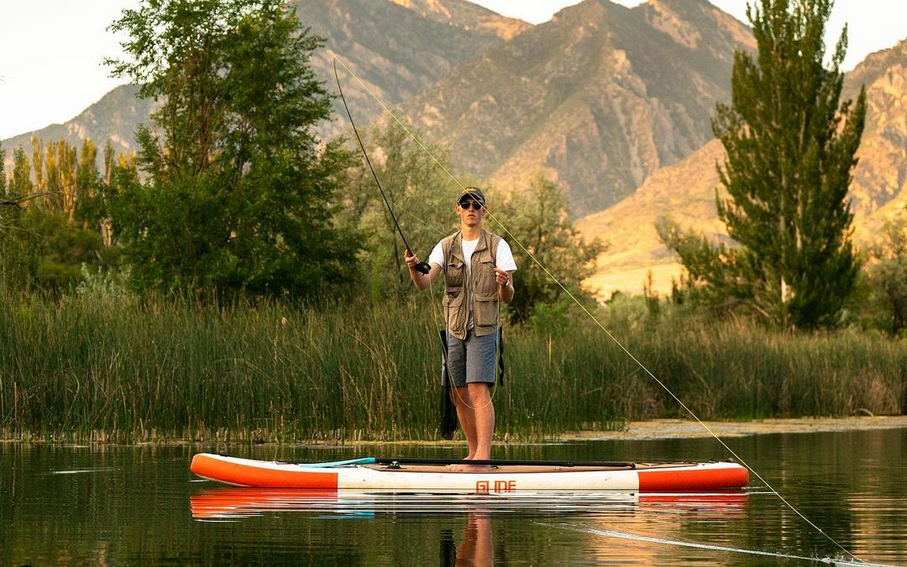 Portability
Most fishing paddle boards are hard boards, but we feel inflatable paddle boards have the advantage over hard boards for a few reasons. First, when you are headed on a fishing trip you want to maximize the amount of gear you can take with you. An inflatable fishing setup that is able to all fit inside a travel bag that takes up very little space and keeps your gear rack empty of other things is great.
Also, inflatable paddle boards are lighter than a comparable hardboard. This makes a huge difference if you have to carry the board down to the water, or portage while on the water to get to a secret fishing spot. This is also one of the main advantages of fishing boards over a fishing kayak is the weight. Fishing kayaks are heavy! Look I am biased on paddle boarding I know, but when you see a fishing kayak show up on a trailer and unloaded on the boat ramp like a boat, well, you might as well be in a boat... And if your "paddle board" has an outboard motor mount or a trolling motor then it's not a fishing board anymore it's a boat! Look I said it kayaks are basically poor man's boats and a fishing stand-up paddle board is just a better option for any time you would consider taking a kayak out.
Quality
This really should be the first item on the list of what fishing enthusiasts should be looking for in quality inflatable boards. We have a lot of articles on how to choose the best paddle board, so I won't go into too much detail here. The best paddle boards for fishing will be made out of woven drop stitch, have a thick PVC outer shell, and have a removable center fin with a US-style fin box. They should also come as a complete package. Which includes.
The fishing paddle board

High-Pressure Pump

Adjustable Paddle

Carrying bag with backpack straps (hiking into remote fishing spots is incredible.)

Repair kit

Rod holders

Gear Mounts

A lot of D rings
We really did pour our heart and soul into making what we feel is the best paddle board on the market into the O2 Angler. Other paddle boards just do not compare in quality or features to the O2 Angler as a fishing isup and we know that once you try it for yourself going back to shore fishing, boat fishing or heaven forbid kayak fishing will be very hard to do!
If you have any questions at all on our fishing paddle boards or on inflatable paddle boards in general please give us a call, shoot us an email or connect with us on chat we would love to talk with you and help you find the perfect paddle board for all your adventures.