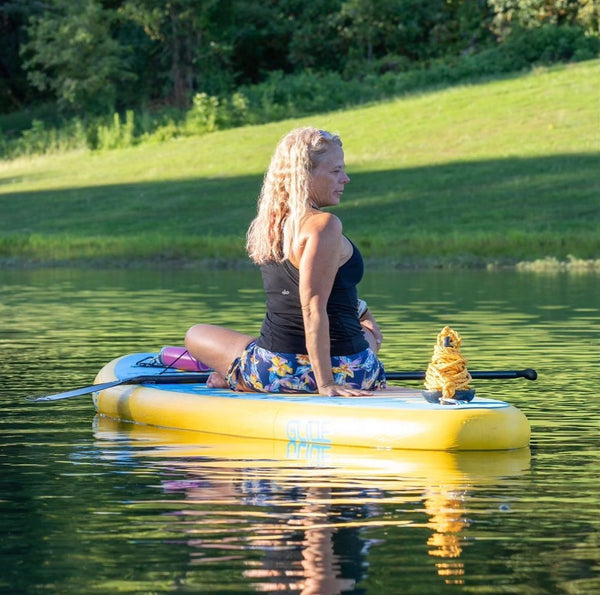 Inflatable SUP Boards and Yoga: Why Inflatable Boards Could Be Your Best Bet for SUP Yoga
Inflatable paddle boards have become quite popular for SUP yoga.
Stand-up paddleboarding (SUP) is a versatile sport that caters to a range of activities, from recreational paddling to racing, and even yoga. The world of SUP yoga is growing, and inflatable SUPs are increasingly seen as the ideal platform for this activity.
Why Choose an Inflatable SUP for Yoga?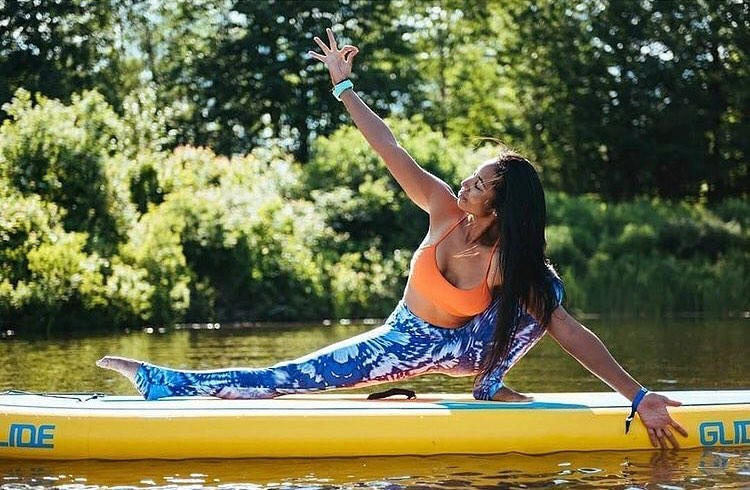 Stability
One of the primary reasons to choose an inflatable paddle board for SUP yoga is the stability it offers. Quality inflatable boards often have a wider and thicker design, offering a more stable platform compared to narrower or solid boards. This stability is crucial when performing yoga poses on the water, as balance is key. A solid board is not usually the most stable board compared to an inflatable SUP.
Deck pads on inflatable SUPs also enhance stability. These plush pads provide excellent grip and comfort during yoga sessions, setting inflatable boards apart from solid paddle boards when it comes to SUP yoga.
Portability and Convenience
Inflatable stand up paddle boards are incredibly portable. They can be deflated, rolled up, and easily transported in a backpack or the trunk of your car. This convenience allows you to take your inflatable paddle board to a variety of locations, broadening your SUP yoga horizons. On the other hand, transporting solid boards can be more challenging without a roof rack and other accessories.
Durability and Maintenance
Inflatable paddle boards are typically made from military-grade PVC and quality materials, making them remarkably durable. This durability, combined with easy maintenance, makes them a practical choice for SUP yoga, especially for beginner paddlers. If your inflatable SUP gets a puncture, most come with a repair kit, enabling you to quickly fix the issue and get back on the water.
Choosing the Right Inflatable SUP for Yoga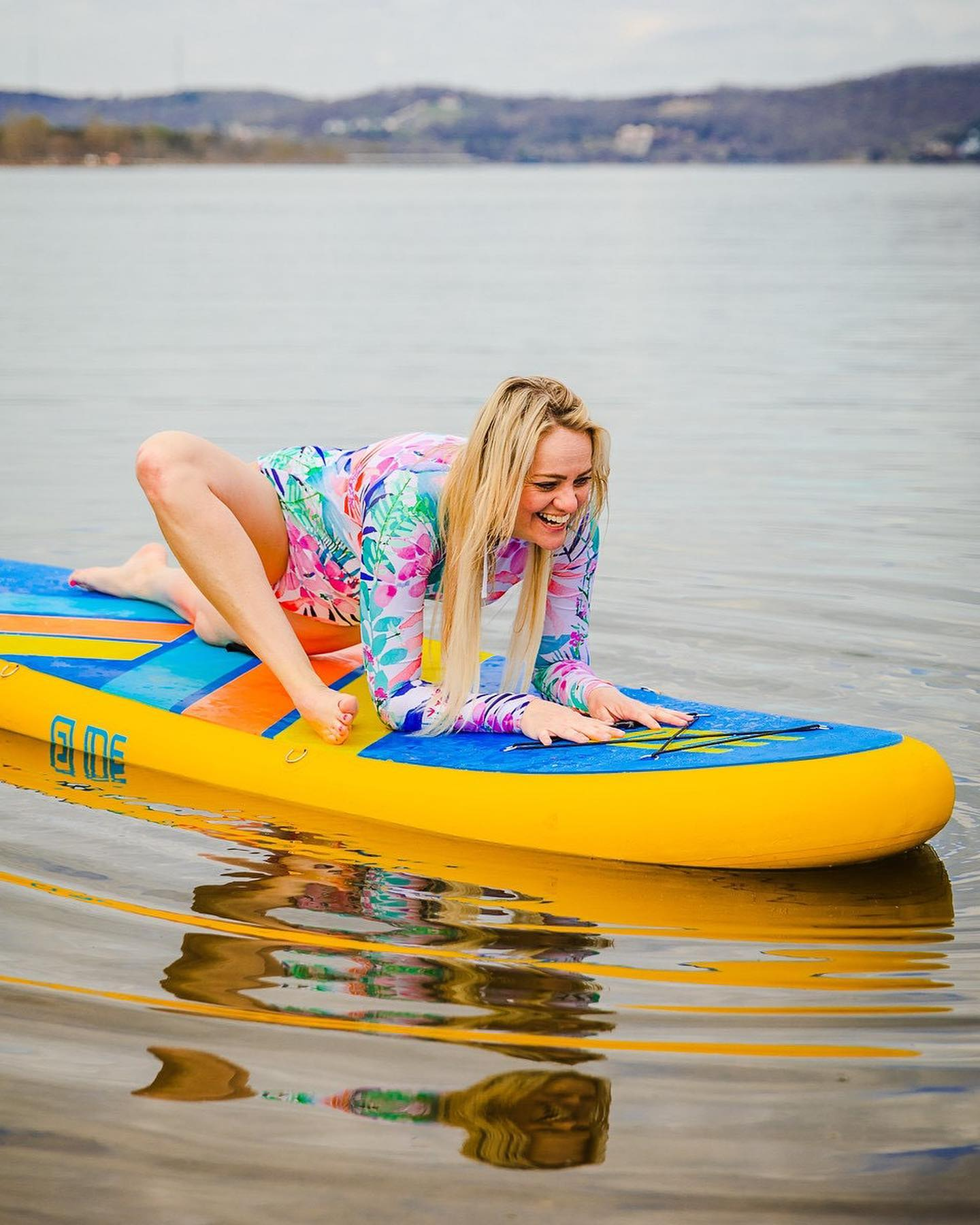 When selecting the right inflatable paddle board for yoga, there are a few key features to consider:
Board Volume and Weight Capacity
The board's volume and weight capacity are crucial in determining its stability. In general, a larger board volume and higher weight capacity will offer greater stability, an essential aspect for performing yoga poses.
SUP Board Design
The design of the board plays a significant role in its performance. Inflatable SUPs with a planing hull are generally more stable and better suited for SUP yoga. On the other hand, boards with a displacement hull are designed for speed and might not offer the same level of stability.
Additional Features
Finally, consider additional features like D-rings and attachment points, which can come in handy for securing your gear or even attaching a kayak seat. Kayak seats can be handy if you are too tired to stand on your paddle board on the way to the dock. Budget boards don't typically come with kayak seats.
Mastering the art of SUP yoga requires practice, patience, and the right equipment. By choosing a quality inflatable SUP, you can enjoy a stable, convenient, and durable platform that enhances your SUP yoga experience.
Glide Lotus Inflatable Stand Up Paddle Board
The Glide Lotus is a versatile, all-around SUP board that's excellent for SUP yoga. It boasts a wide and stable design, with a large center fin for additional stability. The deck pad provides excellent grip, and the numerous D-rings offer plenty of attachment points for your gear or a kayak seat.
Glide O2 Inflatable Stand Up Paddle Board
The O2 Inflatable SUP by Glide is a great option for SUP yoga enthusiasts. It's not only stable but also has a plush deck pad that provides ample cushioning for various yoga poses. Its wider design and solid construction make it a reliable choice for practicing yoga on the water.
Remember, inflatable SUPs offer a variety of advantages, particularly for SUP yoga. They are lightweight, portable, and often more stable than solid boards, making them the ideal choice for both beginners and advanced paddlers. Plus, they often come as a complete SUP package, including a paddle, manual pump, repair kit, and even a kayak conversion kit in some cases.
Consider factors such as board volume, weight capacity, and hull shape before making a purchase. With the right inflatable SUP, you'll be able to enjoy a serene and enjoyable SUP yoga session on the water, all while improving your physical fitness and emotional well-being.
Conclusion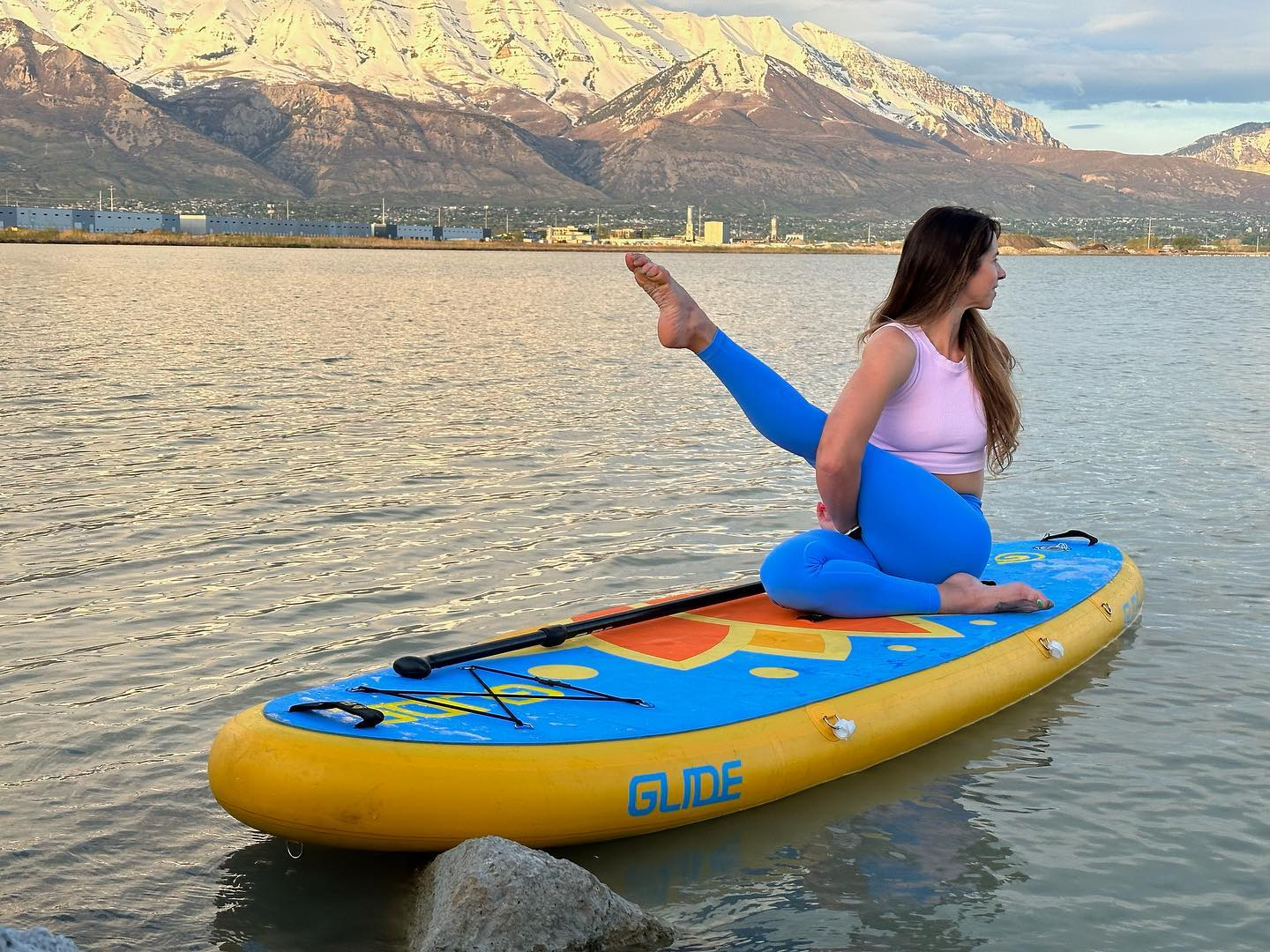 Inflatable SUPs and yoga are a match made in heaven. With the stability, portability, and adaptability offered by inflatable paddle boards, SUP yoga becomes an exciting and accessible activity for everyone, regardless of age or fitness level.
Whether you're looking for a new way to enjoy yoga or seeking to add a twist to your paddle boarding routine, SUP yoga on an inflatable board is a fantastic option. With the right inflatable SUP—considering factors such as stability, deck pad, center fin, and quality board materials—you can confidently take your yoga routine to the water.
Remember, the goal is to find harmony between the movement of your body and the rhythm of the water. So, why not embrace the challenge and serenity of SUP yoga on an inflatable paddle board? It might just become your new favorite way to practice yoga.
Embark on your SUP yoga journey today, and experience the unique joy and benefits it brings. Happy paddling and Namaste!