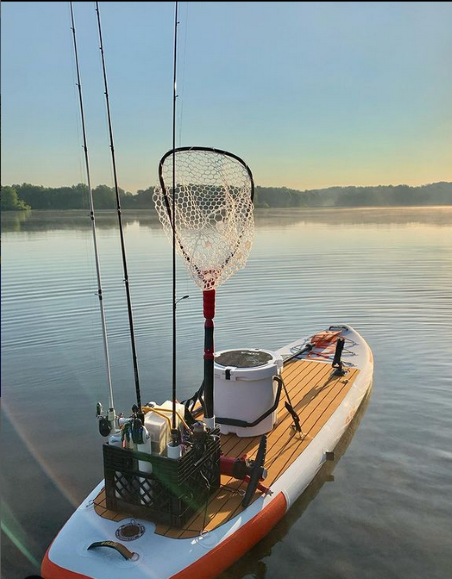 The best fishing paddle board is?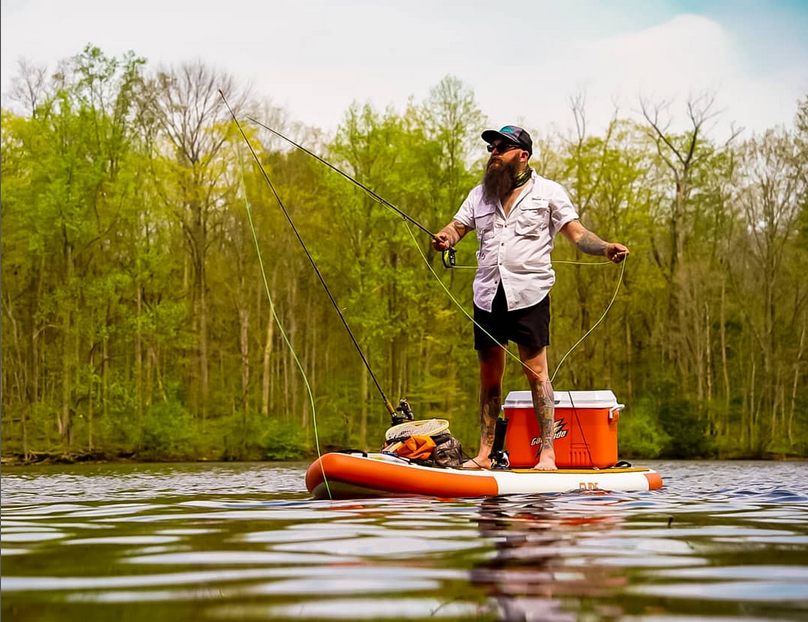 Can you fish from any sup? Yes for sup fishing almost any sup will do, the same way almost any bike will do on a mountain bike trail, even road bikes. The difference will be your enjoyment, success, and safety while doing so and if your gear comes back in working condition. Some boards are poorly made even if designed for sup fishing. This is why an ultra durable paddle board made for sup fishing is the best bet. And if a specialized fishing paddle board is not possibility at this time then keep to the ultra durable paddle boards.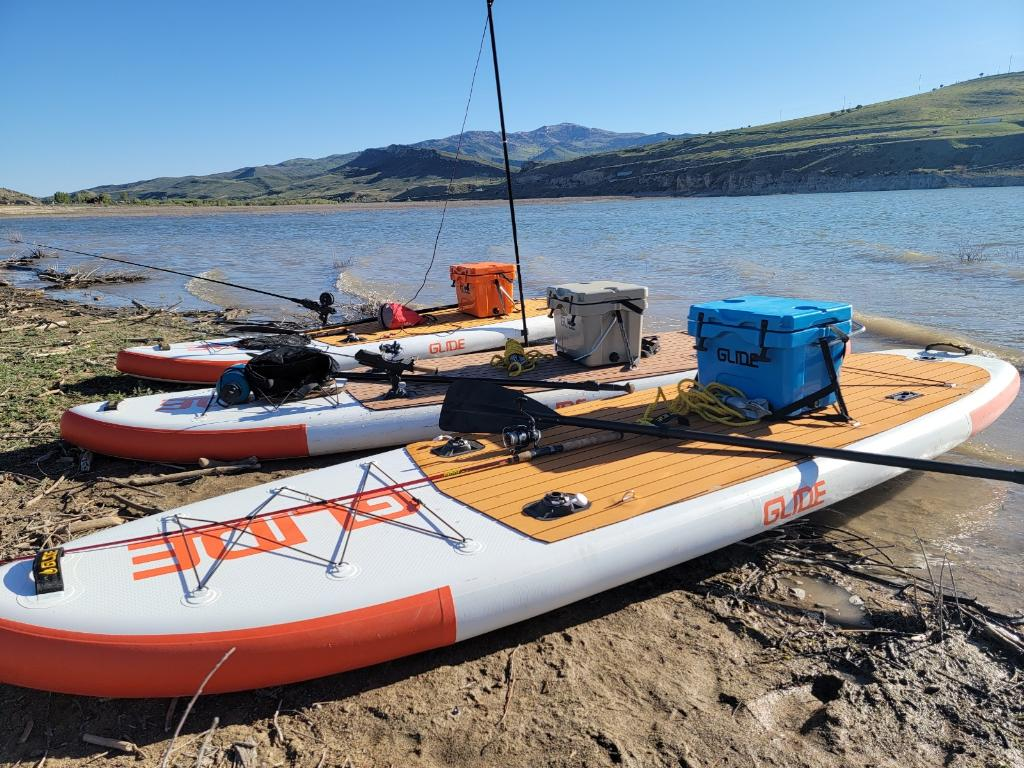 The Best fishing paddle board is the Glide 02 Angler.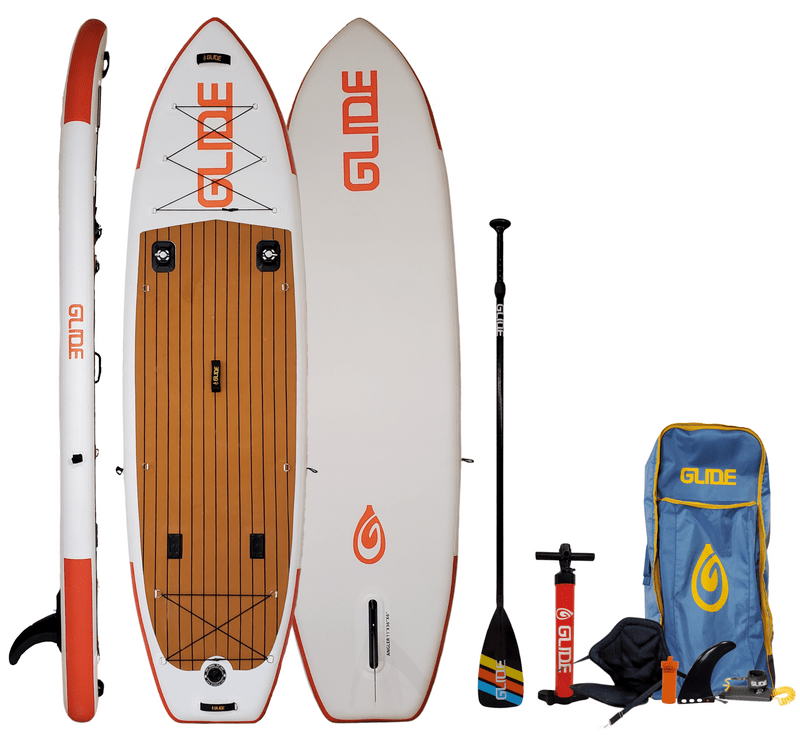 The good news is here at Glide we want every one to be included and be able to use one of ultra durable paddle boards. So we got together with some of the world's best fishermen to create this epic paddle board for fishing. Check out the best fishing paddle board Glides 02 Angler.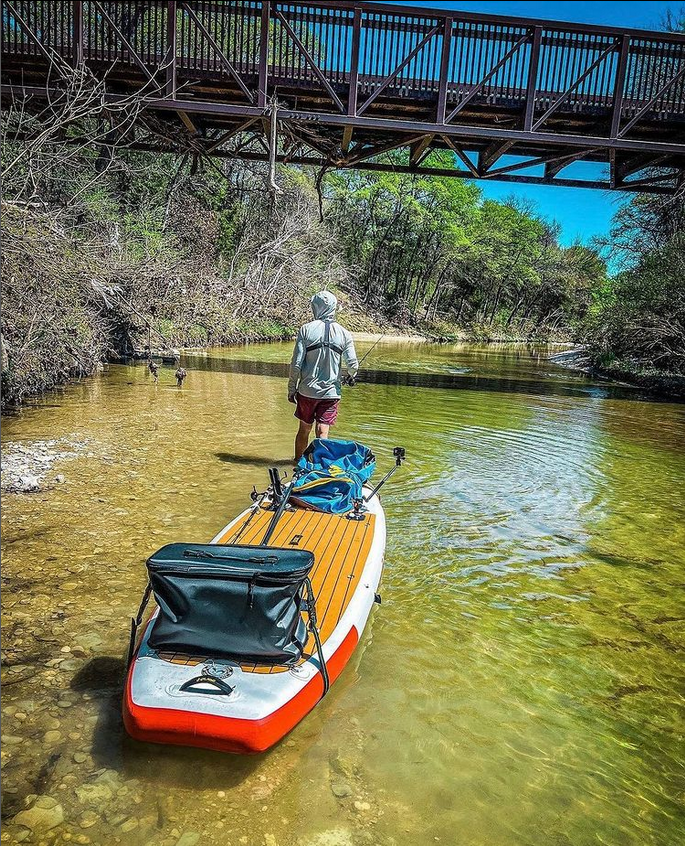 This inflatable fishing sup is made from premium materials to Glides exacting standards. Ensuring your fishing trip will be fun even if you don't catch anything. We make the best boards, creating the best fisherperson is on you.
This wide board features a deck pad that is easy to clean and will provide a secure and stable grip when you are suping or reeling in the catch of the day. The fishing paddleboard comes standard with two rod holders, gear mounts, extra d rings, and bungees for storage to stow all your gear and one of the if not best weight capacity in a sup. Especially when it comes to a sup with great performance, speed, maneuverability, and performance. Fishing enthusiasts worldwide are touting this as one of the best inflatable paddle boards, and must-have dedicated fishing sup.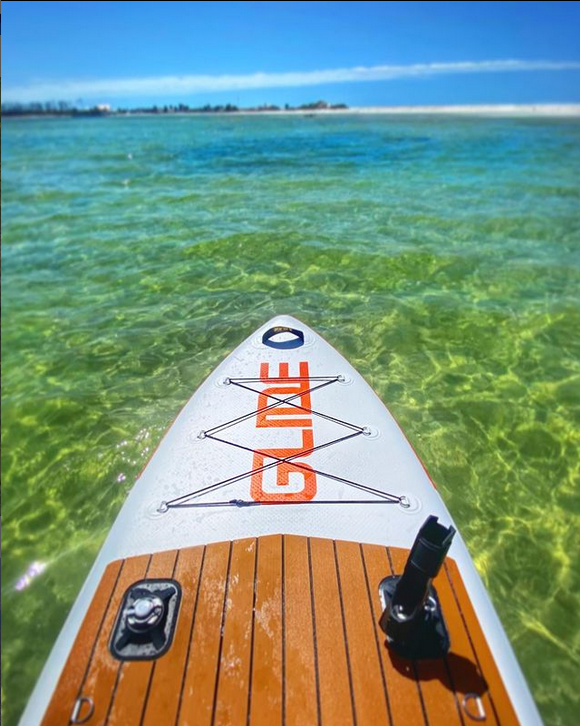 Where ever your favorite fishing spots are the 02 Angler will get you there and grant you the best chance at success. This fishing sup board is a great board for anyone and does not need to be relegated to life solely as a dedicated fishing paddleboard. It is fast and stable enough to be enjoyed by all and is well suited for bringing along your furry friend or child. The wide board, weight capacity, and center fin make this a perfect sup for anyone from yoga, cruising, shallow water, and lazy river paddle enthusiasts. With the added benefit of being a dedicated fishing sup.
The best paddle board is one that is ultra durable, dedicated to its job, and affordable with great features, this is why the Glide 02 Angler is considered to be the best fishing paddle board. And just all around one of the best paddle boards. Starting in 2022 we currently include a free kayak seat and carry strap. A high pressure pump, adjustable paddle, repair kit,leash, back pack with wheels, and the Fin. The fin is a removable center fin ensuring you can get where ever your fishing trip is going to take you. The board features enough d rings and mounts for any accessories you may want to bring along, from fish finders to dry bags and any of our other amazing accessories to make your fishing sup board suited for any fishing trip.
Glide Anchor Pole.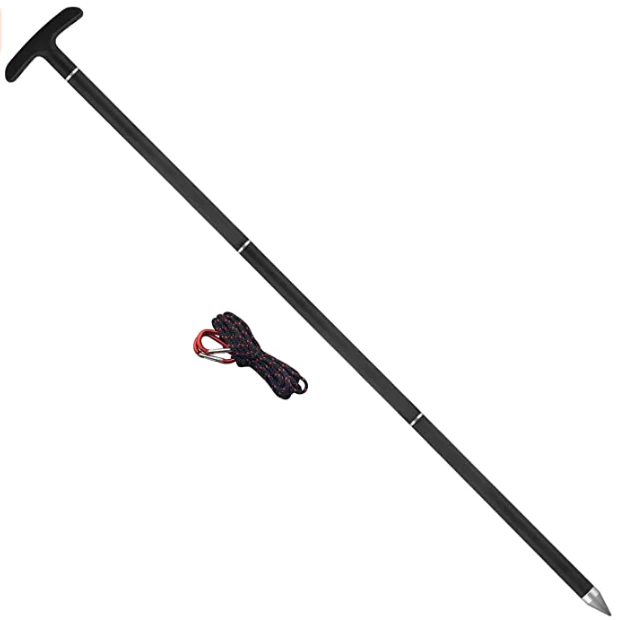 The perfect accessory to keep you at your favorite fishing spots, or anchored in a serene spot to do some sup yoga. When you need to stay anchored the Anchor pole has you covered.
Glide 15gt Cooler Seat.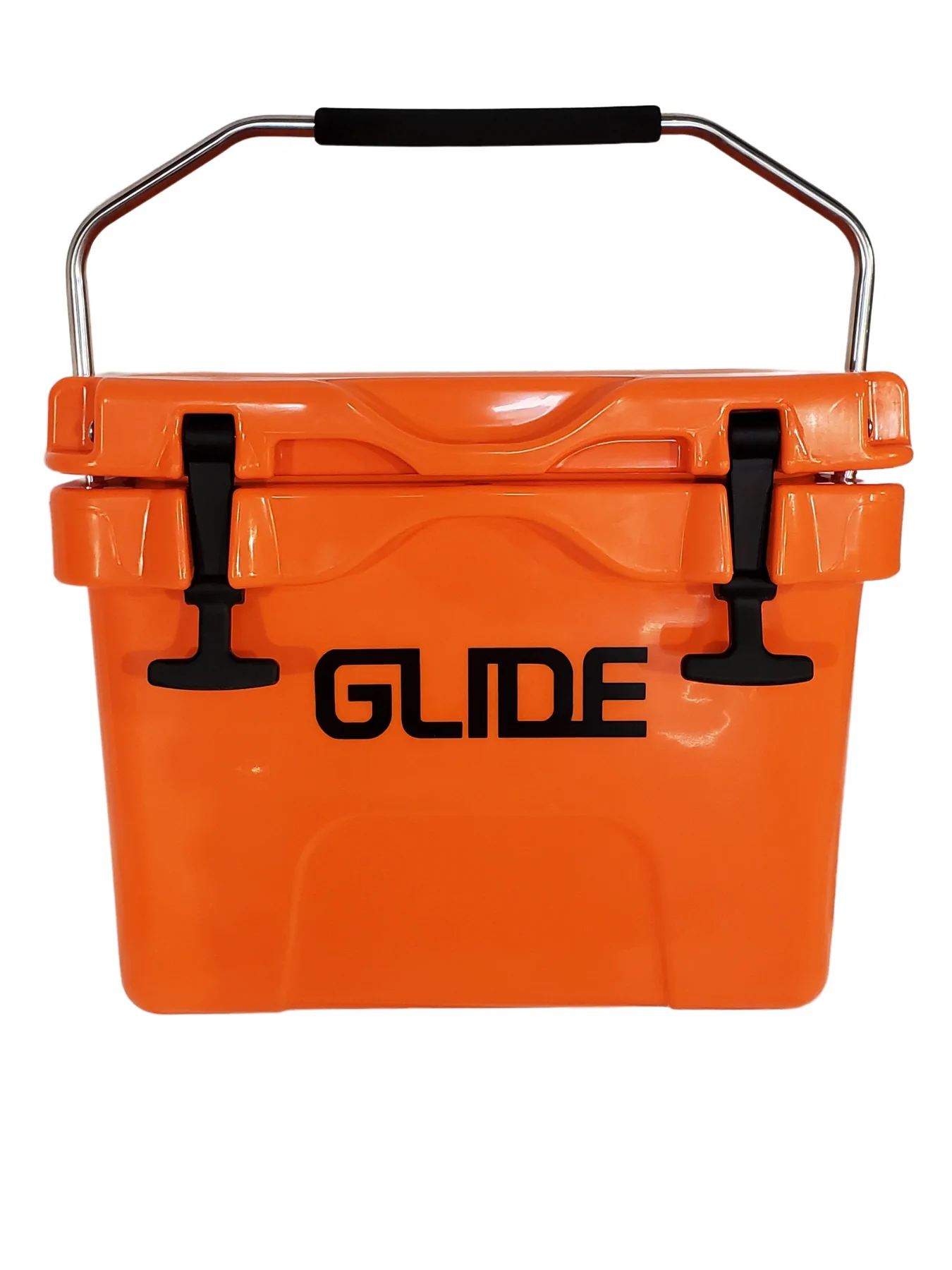 This 15qt cooler is built with heavy-duty/stay dry technology to keep your food and drinks colder longer. It is also designed to be used as a seat and has molded tie-down slots with nonslip feet to keep your cooler where it is meant to be. The current color line of the coolers are Orange, Tan, White, and Blue.
Glide Outdoor Master Shark II Electric Pump.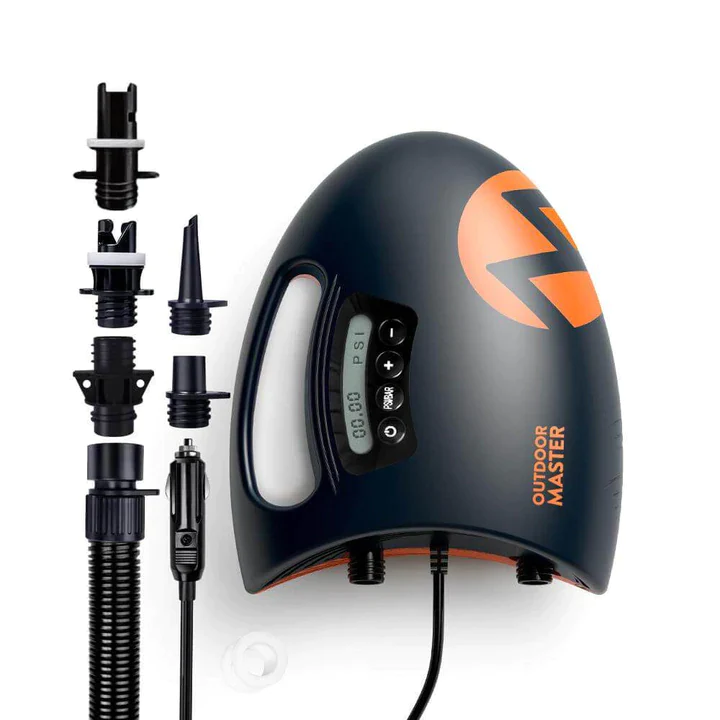 For those who want to get on the water faster, this is a perfect pump for you. Inflating your isup in under 10 minutes.
Glide Electric Pump Battery.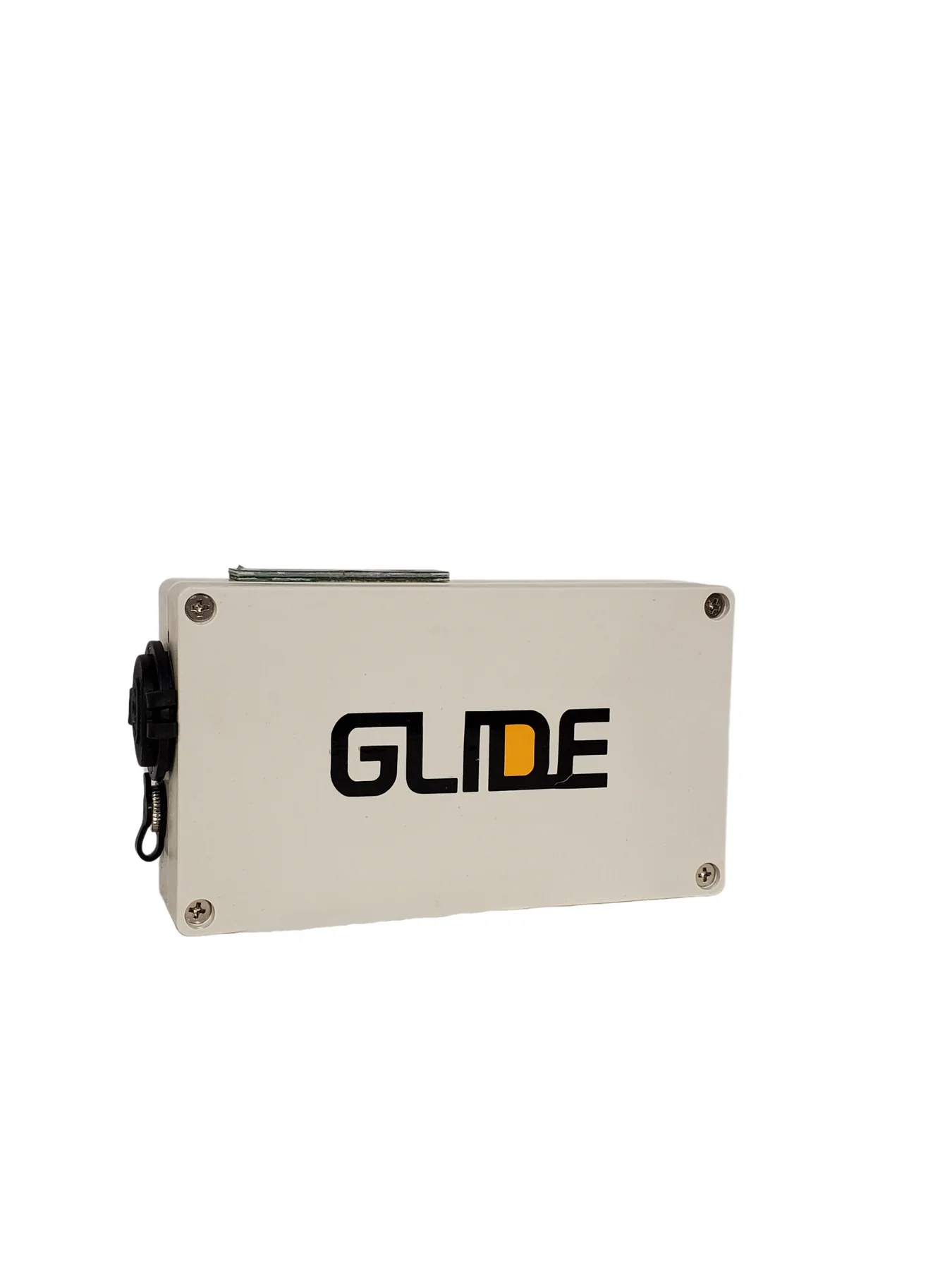 This is the perfect accessory to our Shark II electric pump. Especially if you are paddling with a lesser quality board than a Glide board. Bring the pump and battery pack along to inflate any water toys or camp pads you may want on your fishing trip. Combined with the pump these are the perfect accessory for anyone with inflatable sups.
Glide Bamboo Life Guard Hat.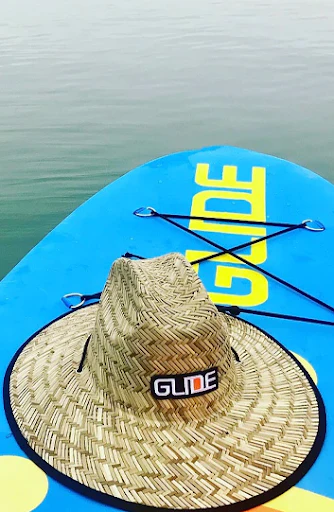 A perfect companion for any sup. Keep the sun and heat off you with this stylish bamboo hat. Eco-friendly sun protection.
Specs on the Glide 02 Angler Fishing Sup.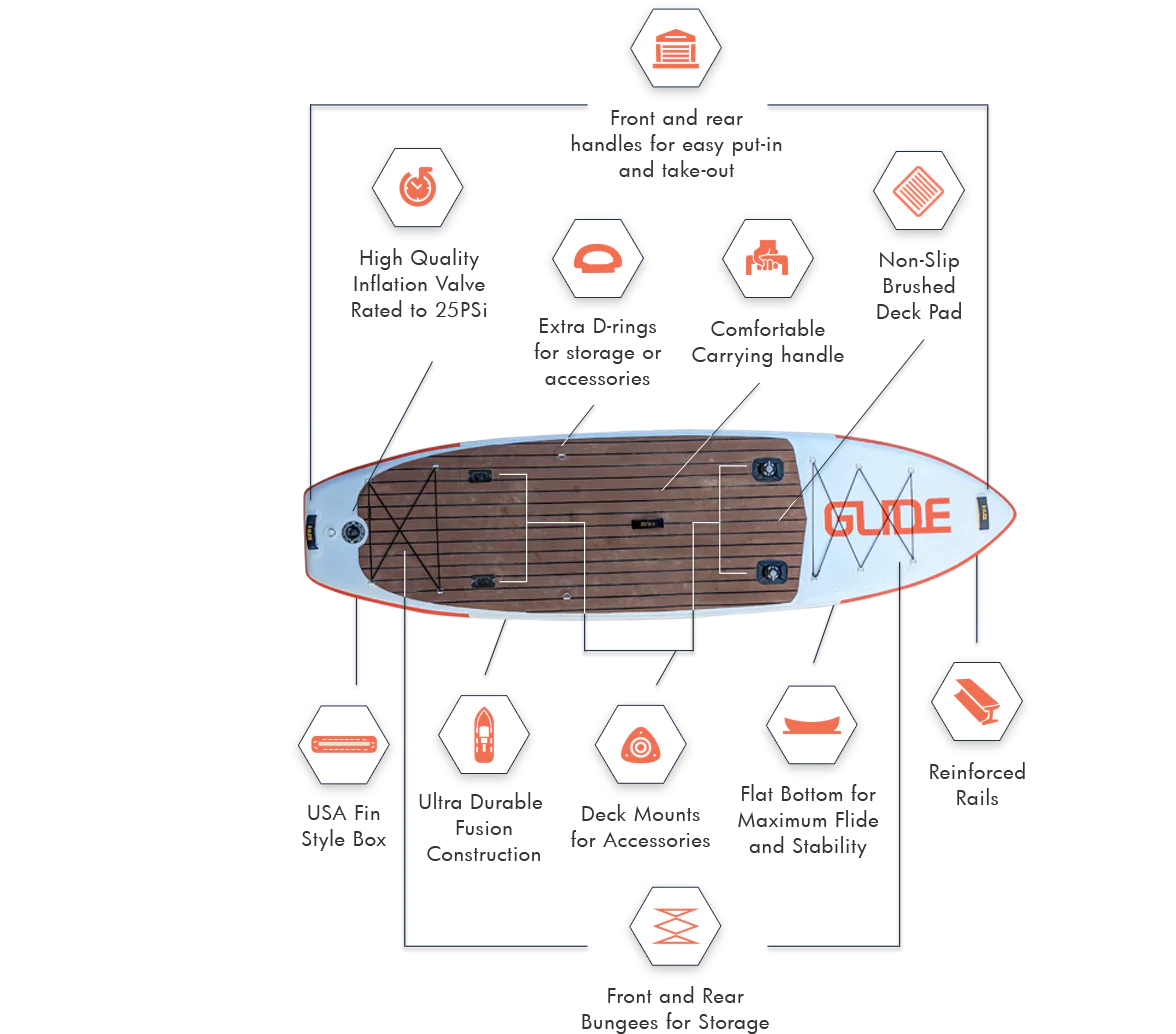 Paddle boarding should be fun for everyone and this fishing sup checks that box.
The length of the board features an impressive 11 feet, this helps create one of the most stable boards for paddle board fishing and fiving room for all your fishing accessories.
The width on this fishing sup board is 36 inches wide another reason this is one of the best and most stable paddle boards for fishing. It also makes it well suited for sup yoga, and as a sup board for dogs. This board does not need to be locked into sup fishing.
The weight on this fishing sup is a mere 25 pounds, and yet this fishing sup has an unprecedented weight capacity of 500 pounds, while other lesser inflatable fishing paddle boards have limits of 300 pounds or even less.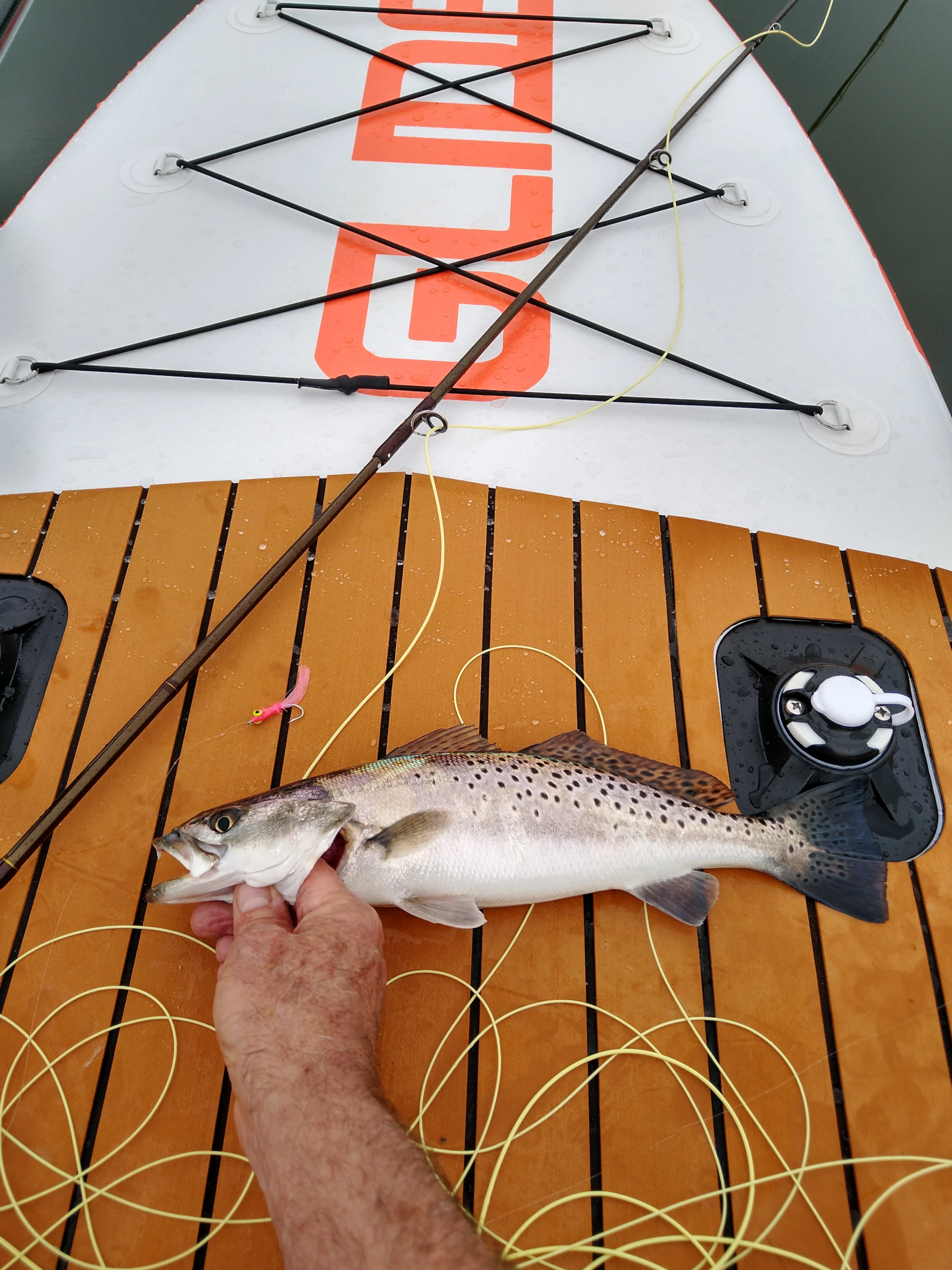 Even if you do not catch a fish,(learn beginner sup fishing tips)  we are certain you will love the memories you catch while on the Glide 02 Angler. This inflatable paddle board offers more than just fishing, memories and exploration come naturally when on a Glide Sup.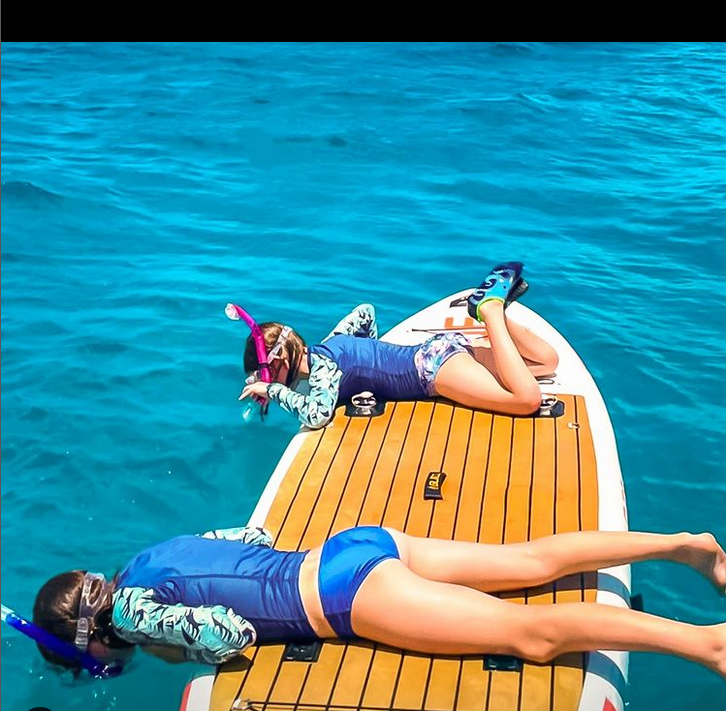 Have fun and let us know where your Glide 02 Angler took you and what you caught #glidesup on Instagram.