The best inflatable paddle boards of 2021 are now the best inflatable paddle boards of 2022.
The best inflatable paddle boards of 2022

Are Glide Paddle Boards really the best inflatable paddle boards made? Yes, they absolutely are and have been year after year. Inflatable paddle boards come in many different designs, some are like a pinto where any little bump may make the thing go boom and ruin your day. Then you have the industry's #1 company Glide whose boards are sleek and well designed like a Lamborghini with the ability to handle anything with extreme durability and performance of a military humvee. For your inflatable paddle board, get the best and go with an ultra-durable high-performance paddle board from Glide that is both eco-friendly and financially wise. Other boards try to imitate us although none can deliver the quality of a Glide inflatable paddle board even if they name their boards a glide or try for the yellow color our rigid boards are so well known for.
The industry's best inflatable paddle board for an all-around board is the Glide 02 Retro 10'6".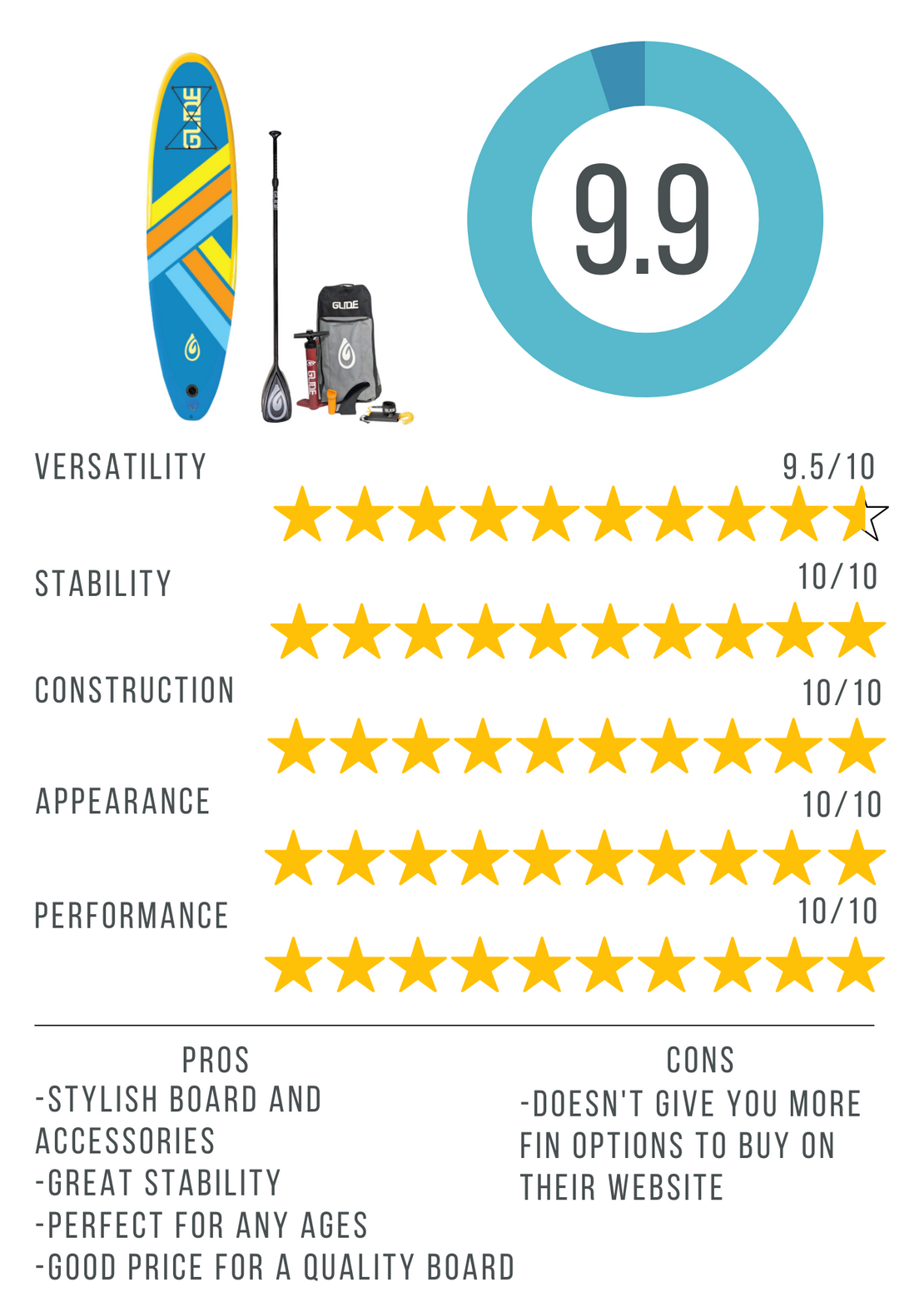 When you want an inflatable paddle board that can handle whatever you decide to do then you want a Glide 02 Retro. The best inflatable paddle board for all-around use. This all-around board features a length of 10'6" inches helping to make this all-around board an extremely stable board. The width of this inflatable paddle board is 33 inches and has an impressive weight capacity of 400 lbs. While other lesser all-around boards are claiming a weight capacity of 350 pounds or lower with the inflatable paddle board weighing more. Some all-around inflatable sup boards also claim not suitable for rivers or rapids. While the best inflatable paddle board for all-around use can handle class I and class II rapids.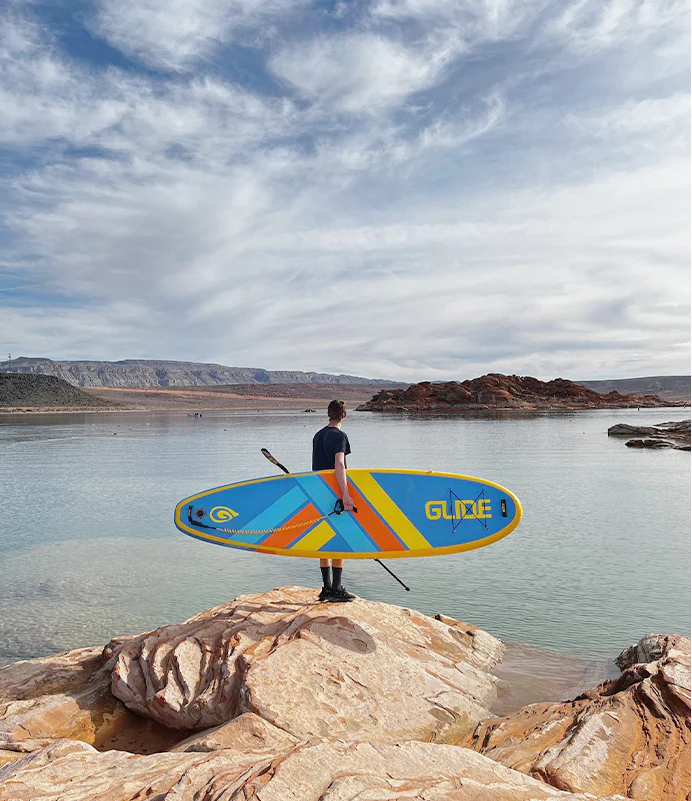 This is a very stable board, and for inflatable sup, you will not find a better all-around board. No matter what the fancy ads they are paying you to read will claim.What they will get you are lesser-made inflatable paddle boards at a higher price point to help cover the cost of the ads. You will also get a bunch of hype from them about their inflatable paddle boards. Sadly hype does not equate to the best inflatable paddle boards on the market. So for a lightweight board that can handle whatever you want to do look no further than the Glide 02 Retro.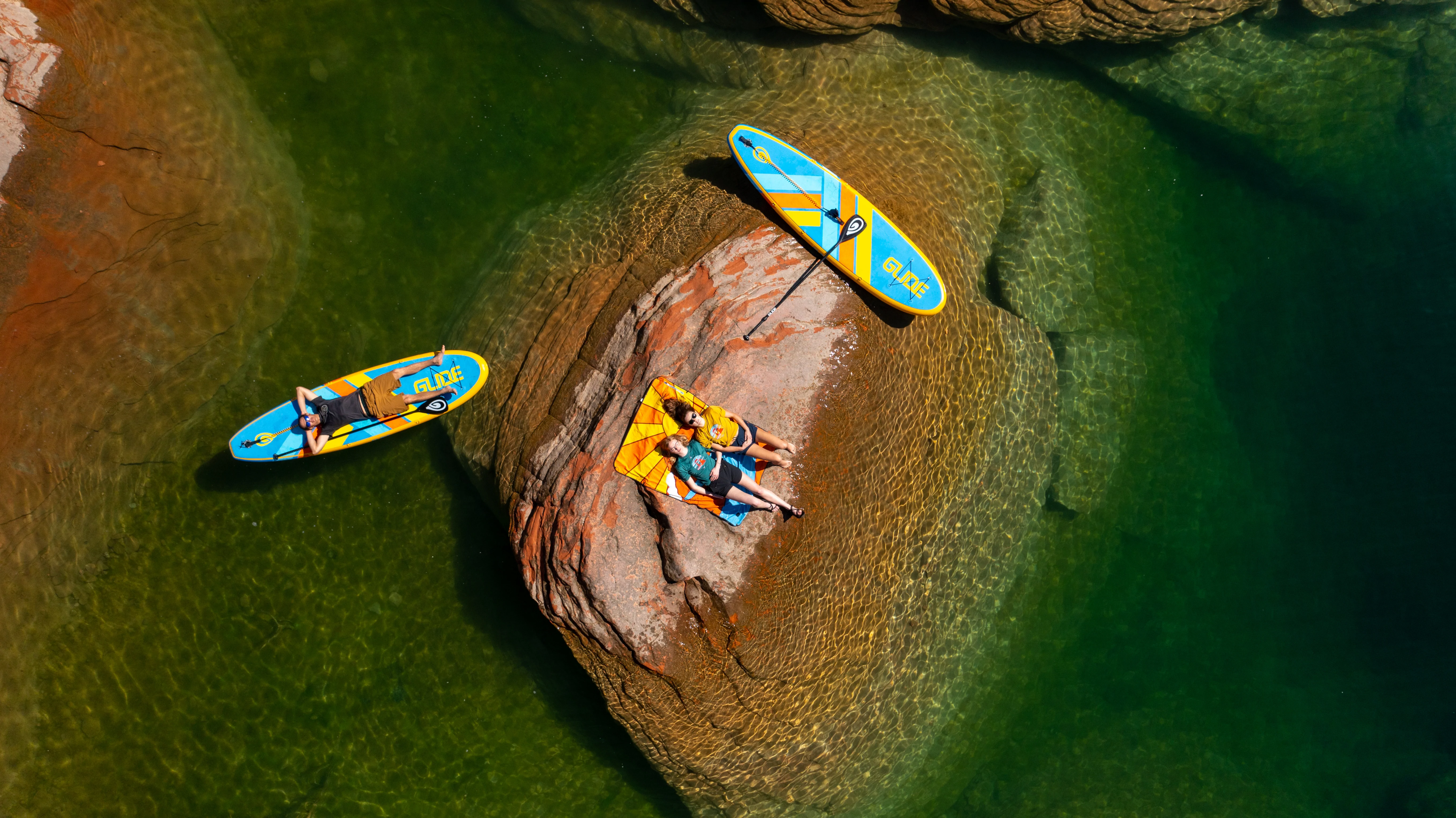 The industry's best inflatable paddle board for fishing is the 02 Angler fishing sup board.
This sup fishing inflatable paddle board is a favorite of anglers worldwide. And is regarded the best inflatable paddle board for fishing and sup fly fishing boards. This board was specifically designed for the challenges of a fishing sup board by renowned anglers. This fishing inflatable paddle board can handle where ever you like to fish. Do prefer sup fishing a lake trolling with a lure, or when it comes to sup fishing do you prefer to do sight fishing from your fishing sup? Or do want to do long casts from the best inflatable paddle board for fly fishing? Or are you after monster fish in the Gulf of Mexico or bonefish in the Florida keys? Or other saltwater fishing destinations. This fishing sup is the board you want to be on. This industry best fishing sup has a weight capacity of 500 pounds. This weight capacity will ensure you, your fishing gear, and cooler with ice and beverages will still have plenty of weight capacity left over for those monster fish, and the dog.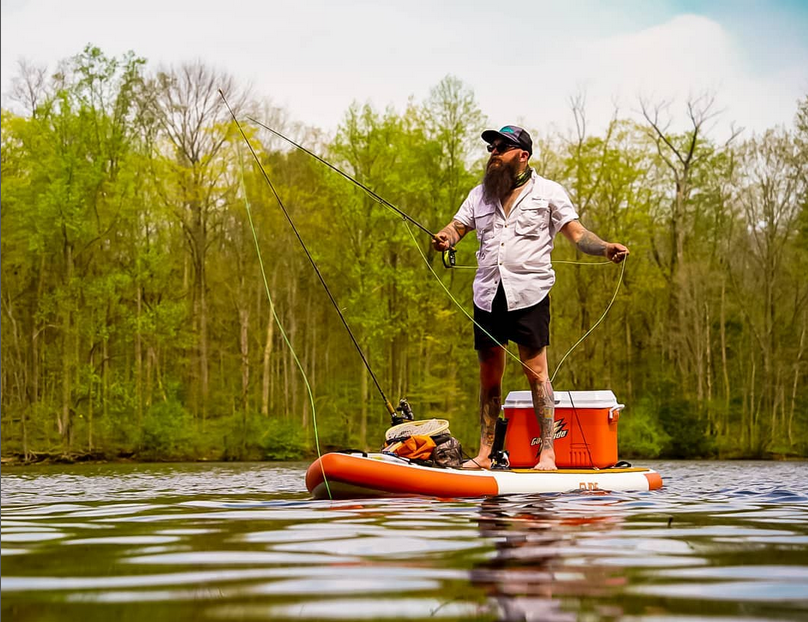 The board features an impressive 36-inch wide deck, a length of 11 feet, and a soft easy-to-clean deck pad. The bottom of the board is flat, to help give this board the rating of the most stable board for fishing. The fin box is a US-style fin box with a removable fin. This will let you get into the shallows or glide smoothly over the roots of mangrove trees as you hunt for the next fishing spot. With plenty of d rings to hold all your gear, mount fish finders, and more. Other accessories are available for the Angler fishing sup. Some of the other accessories include a Glide cooler, electric pump, and battery pack. We have what you need to have an amazing fishing trip.
The Glide 02 Angler best inflatable paddle board for fishing is a friendly-priced board. With the quality build, the board features, and the ability to accessorize for a complete package this is hands down the best inflatable paddle board for sup fishing. The quality materials and impressive design alone earn the board this claim. And then the added gear for free that comes with the board, including but not limited to. The best sup pump offered, two fishing rod holders, leash and kayak seat plus carrying strap. Lightweight high-performance adjustable paddle and sup bag with wheels and capable of being worn like a backpack. The rod holders are perfectly suited for fly rods, to larger sea rods. The rod holders will keep your poles secure and protected.
Show the world you love yourself, and your loved ones by getting the best inflatable paddle board for sup fishing. Unlike other boards with a dual-layer PVC construction, we incorporate three layers and a special Glide stiffness technique in our production of these sup fishing boards. This will also give your board better protection than those with simply a dual-layer PVC construction, ensuring the repair kit can remain stowed safely without seeing use.
The Industry's best inflatable paddle board for yoga is the 02 Lotus sup yoga board.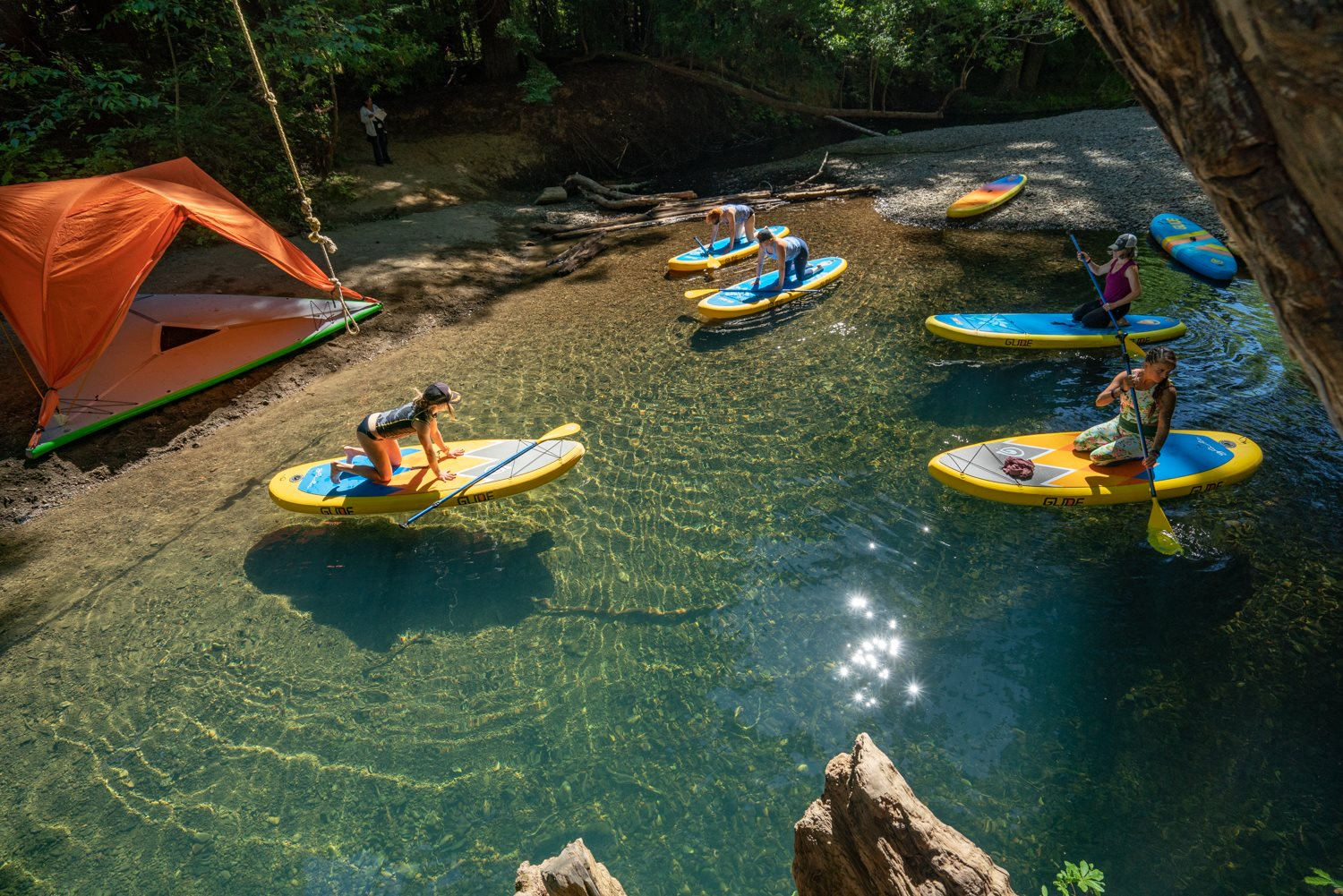 When the Lotus was introduced it revolutionized the yoga industry, particularly the sup yoga world. And the 02 Lotus has proven itself to be worthy of the hard sup yoga boards legacy.
The o2 Lotus sup yoga board features a full-length deck pad that will help you relax and find inner peace as you move through your yoga routine. The 02 Lotus sup yoga board comes in at 10 feet with a width of 35 inches and a weight capacity of 400 lbs. You want stability in yoga inflatable paddle boards and the Lotus is an extremely stable board. This yoga sup board is the best inflatable sup board for yoga and functions great as a flat water cruiser.
With the o2 Lotus, it does not matter if you are a beginner to sup yoga or are a sup yoga veteran who practices acrobatic yoga. This inflatable stand up paddle board is such a stable board that you can easily practice solo yoga, yoga with a partner, or even with the kids and family dog onboard.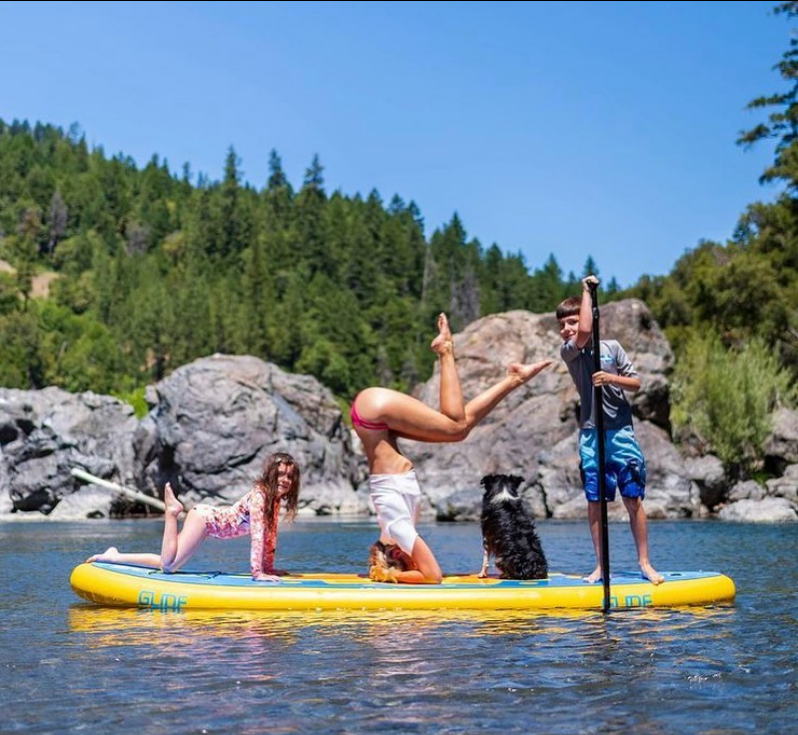 You will find our inflatable yoga boards throughout the world beloved by yogis. Our durable board features what you want in a yoga board and is one of the reasons why so many sup yoga studios insist on the Glide Lotus line of paddle boards for their studios. If you have not had the chance to paddle the best inflatable sup for yoga we apologize for what you are missing. You truly owe it to yourself to get on the best inflatable sup yoga board.
The industry's best inflatable paddle board for touring is the 02 Quest touring sup board.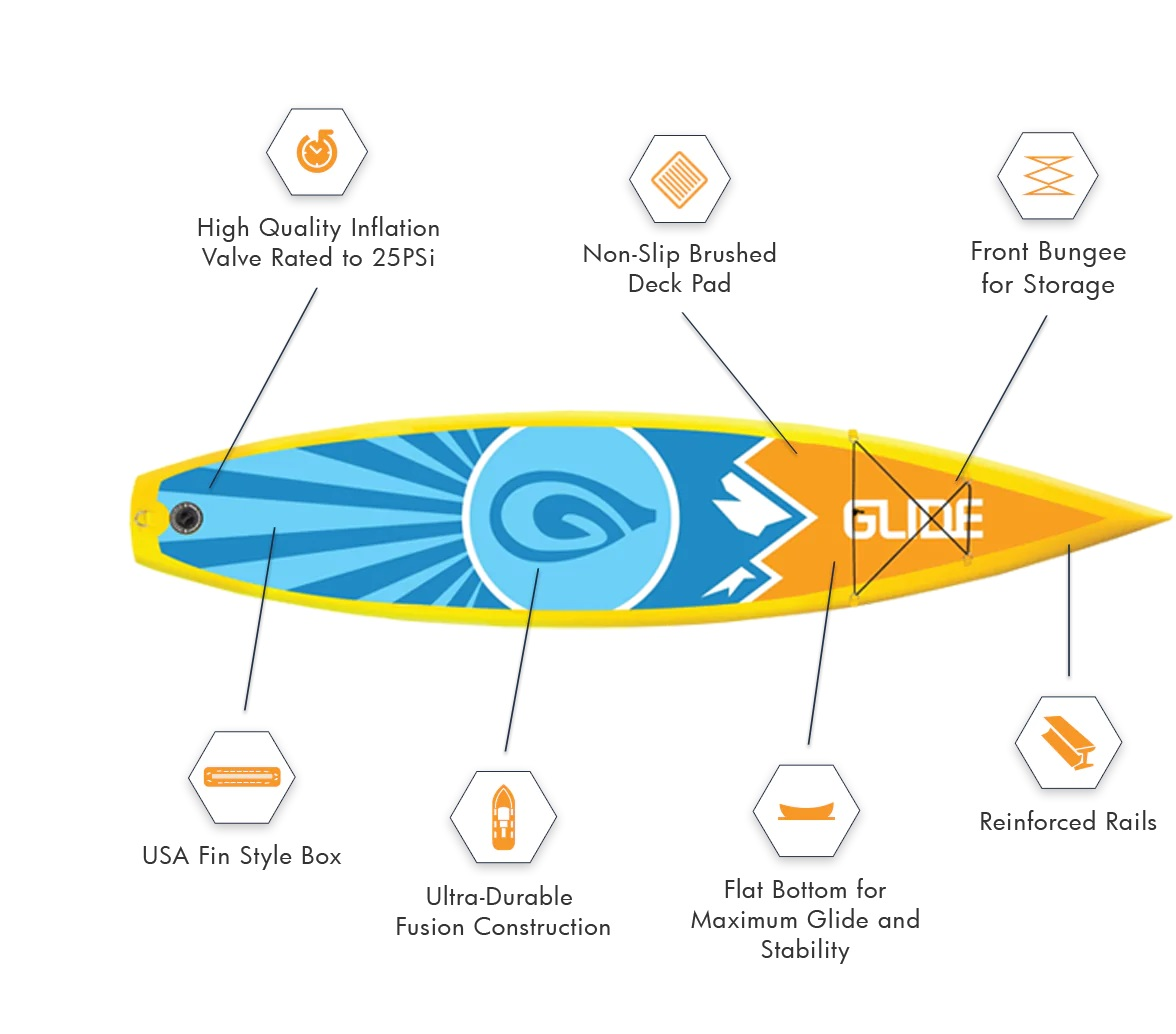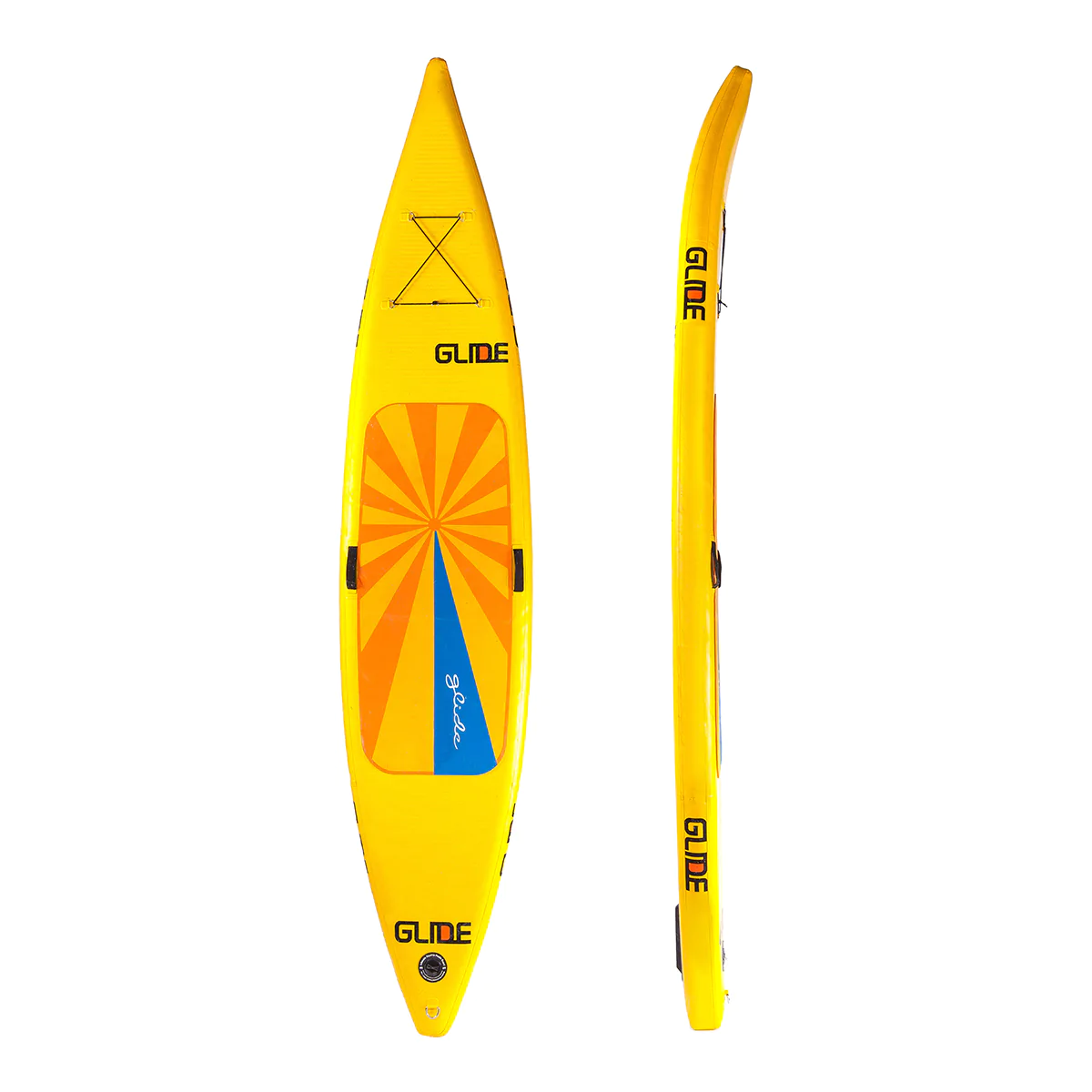 The 02 Quest is a high-quality touring board with features that make it one of the fastest inflatable paddle boards on the market, not just in the touring board category. This inflatable paddle board is constructed with a specialized technique giving it Glide's unique stiffness giving it a performance closer to a rigid board. This touring board features a sleek design that allows you to cut through the water effortlessly. The touring board features a narrow nose and tail. The pin tail will help execute fast turns. The 02 Quest best touring inflatable paddle board is 12'6" long, 30 inches wide at the center, and a narrow 10 inches at the tail. A longer board helps create a more stable board and the Quest is proof of this. Besides being the best inflatable touring sup board the Quest is a remarkable race board.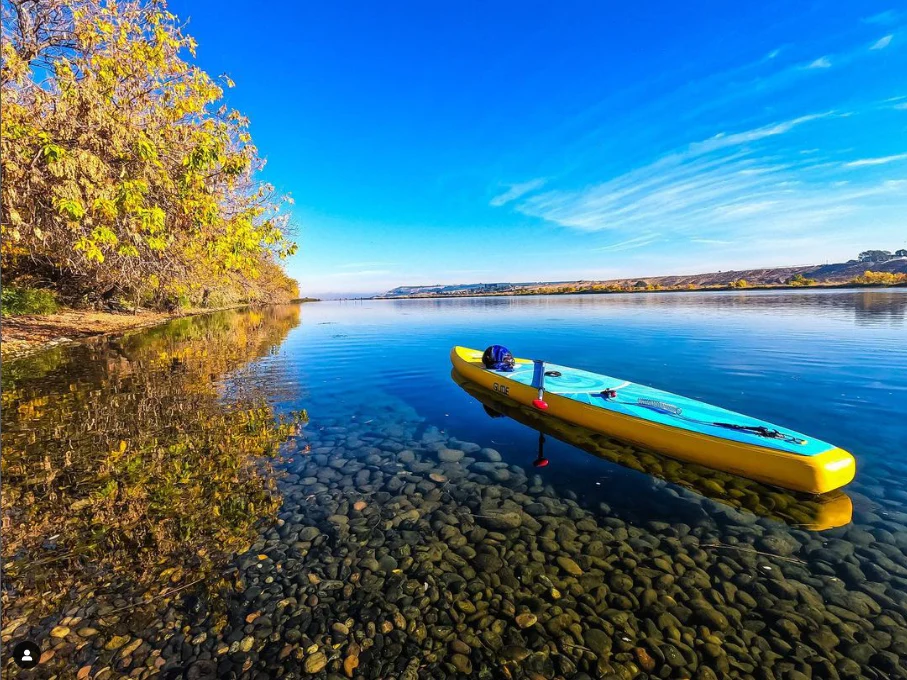 If you want to cover a lot of distance fast and with minimal effort, this is the touring board you want. The 02 Quest has enough deck space to carry your gear no matter what the adventure is, from day exploration to multi-day excursions. When it comes to touring boards no other boards come close to what this touring board offers in performance, reliability, and function. This inflatable board is suited for beginner and advanced paddlers. It performs so well and is so stable that I have had first-time paddlers doing cartwheels on this board it brought that much joy to them and was stable enough for them to land the cartwheels without problems. There are other touring boards on the market, although none of them will give you the quality, performance, or reliability you will get when you paddle board the best inflatable touring board in the market.
The industry's best inflatable paddle board for whitewater is the 02 Lochsa whitewater sup board.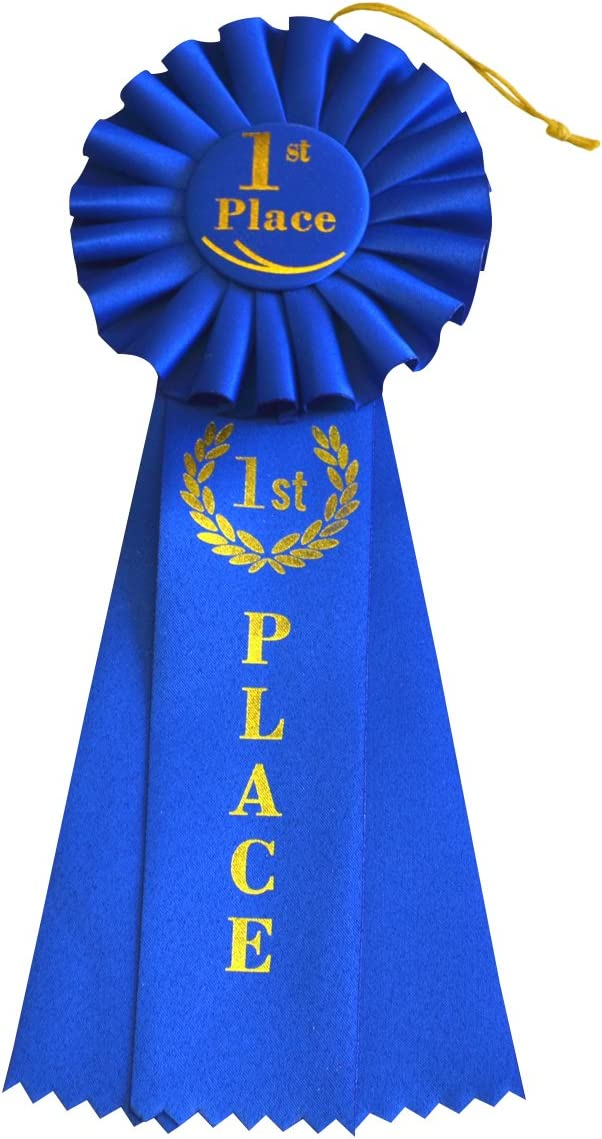 When it comes to whitewater sup bords you want the best inflatable paddle board on the market. The 02 Lochsa just happens to be the best whitewater inflatable paddle board. This board was designed by professional whitewater paddlers with over 25 years of experience shooting rapids and making first descents worldwide. With its specially designed rails and rockers, this whitewater sup board will glide like a dream through class I, II, and III rapids.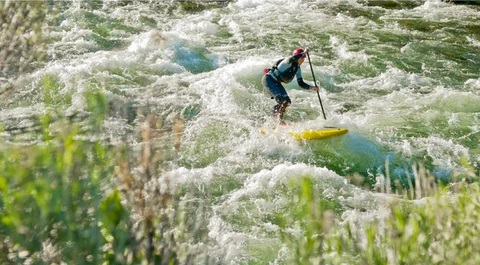 When it comes to the best inflatable paddle board for white water the Lochsa has routinely come out on top. And is one of the few boards that meet the requirements to paddle board at the U.S. Whitewater Center.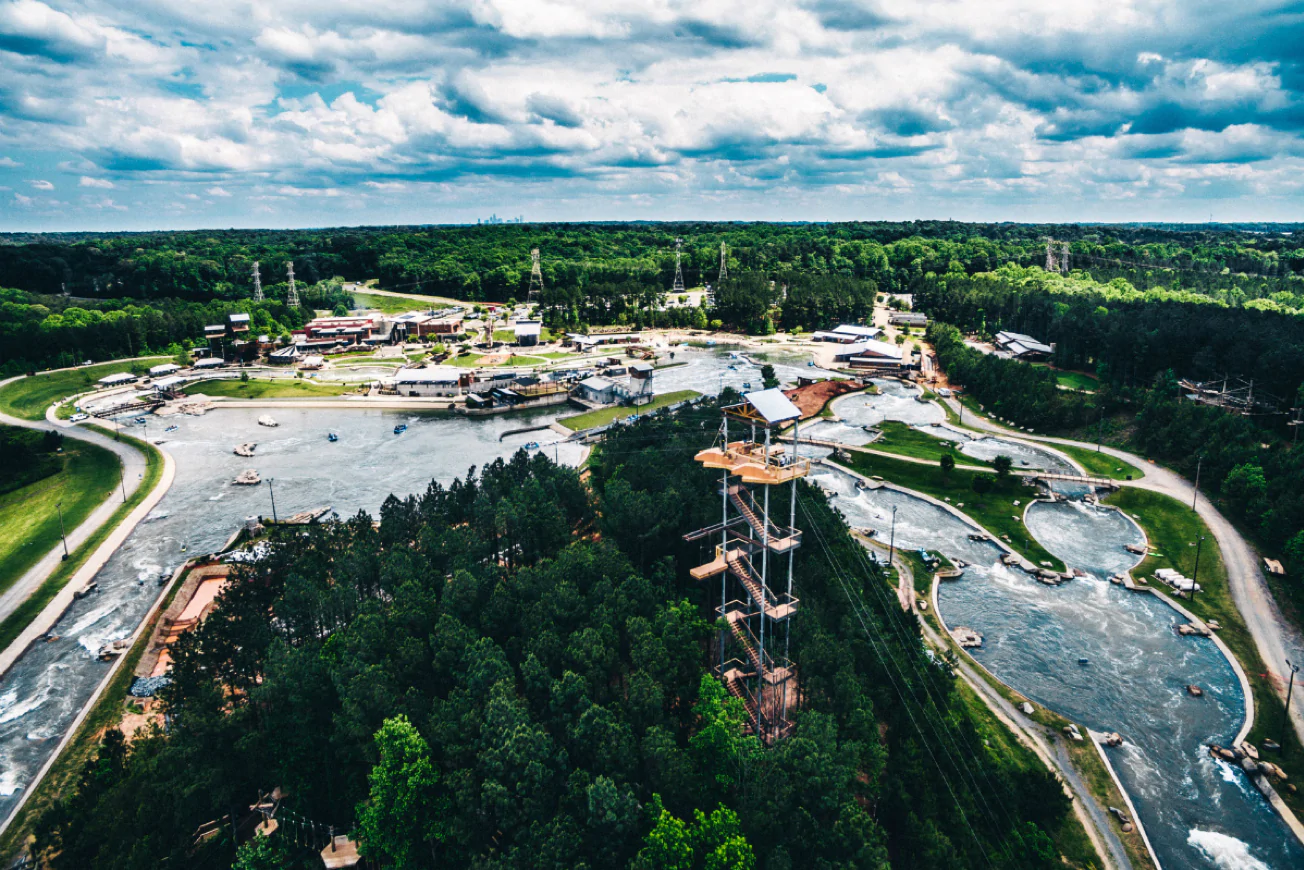 The 02 Lochsa whitewater sup is recognized year after year for the best inflatable paddle boards for whitewater. Although that is to be expected for a board that translates to rough water. This whitewater sup will keep you steady shooting through rapids or boofing off of waterfalls and other drops. The whitewater sup will keep you in a straight line on the river ensuring you hit the line you want to take and avoid the rapids you feel like skipping.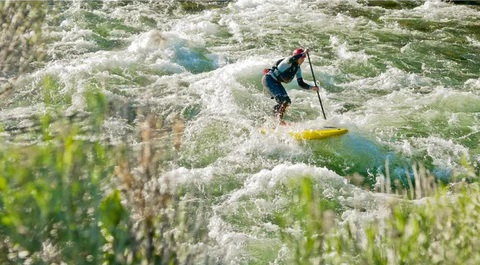 This 10 ft whitewater sup is made from a quadruple layer military grade PVC – woven drop stitch core and features a full-length deck pad that functions as an excellent traction pad. Can hold 400 lbs and is a capable flat water cruiser as well.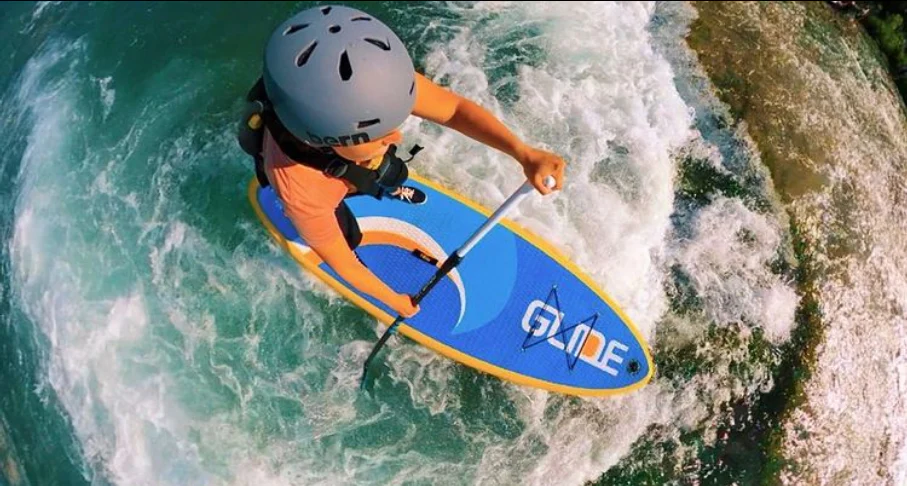 Experienced paddlers and those new to whitewater sups will quickly see why the 02 Lochsa is the best inflatable paddle board for whitewater.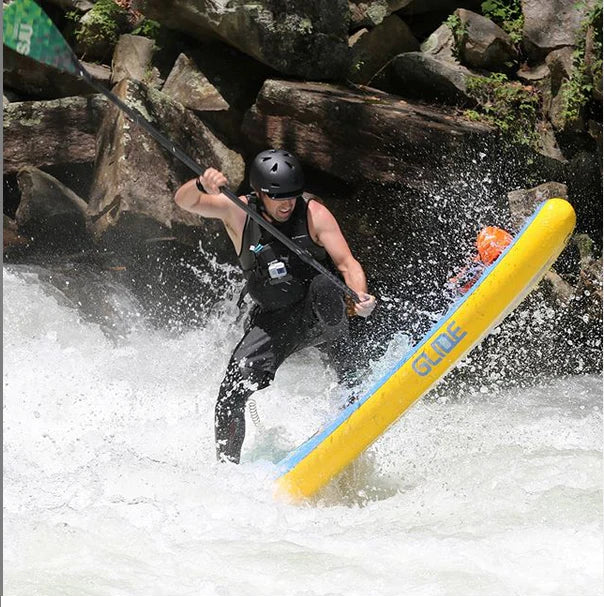 Wondering if you have one of the best inflatable paddle boards ever made?
That is simple, look for the Glide logo. If you have it on your board then you are in fact paddling the best inflatable paddle boards ever made. If you do not, the answer is no. Some of the things that help Glide make the best inflatable sups is the knowledge of our staff and design team. You do not spend years as a professional athlete and not learn what makes for the best inflatable paddle boards and hard boards. With Glide we are like Michael Jordan, the best with incredible knowledge of the sport knowing what it takes to be the best, with the others you get the geriatric father filling in for the local little league coach. Make sure to get the best inflatable sups on the market, buy Glide, and paddle happy.
Each of our inflatable paddle boards comes with a high-pressure pump that will outperform a standard dual chamber pump. Quality and durable full-length deck pad, other than the Angler with its partial deck pad. Lightweight board, with high-performance adjustable paddle. A carry bag that has wheels or can be worn like a backpack to make transporting your paddle board a simple affair. A kayak seat other than with the Lochsa. Carry strap and industry-leading customer service based here in the United States. Industry-leading warranty to go along with the best inflatable paddle boards, and of course the best inflatable paddle boards that will last you year after year. You will also be supporting a company that has the most eco-friendly products available who bring you the best inflatable paddle board designs and build quality without the empty hype found elsewhere.
No matter what brand of the board you choose for your inflatable paddle board or hard paddle board, we at Glide hope you are making great memories and are able to get out on the water often. Take care of our waterways and wildlife and go paddleboard.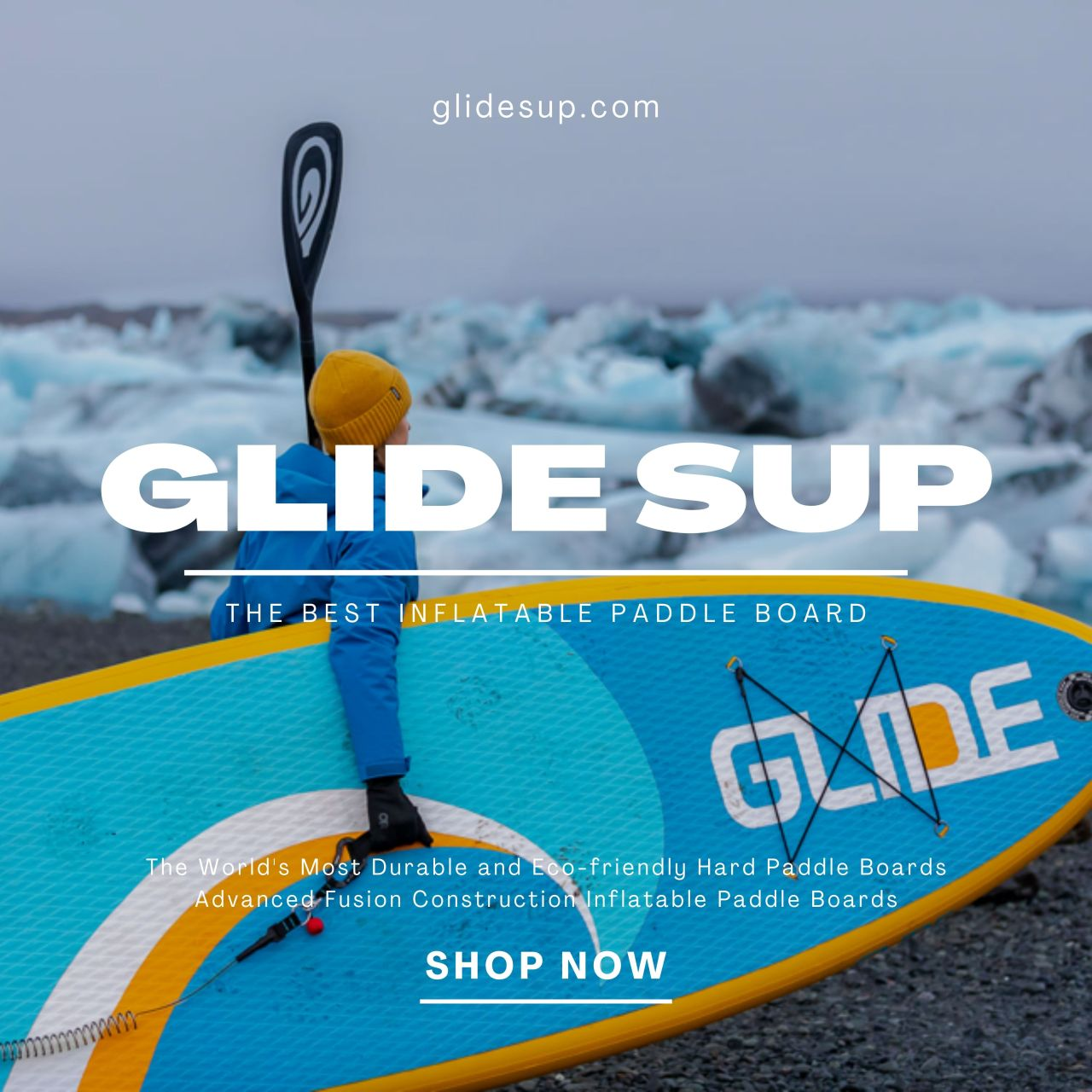 Let us know where you chose to paddle board, and if you paddle on an inflatable stand-up paddle board or a hard paddle board at #glidesup on Instagram. Glide is happy to celebrate another year of being the goat of paddle boards.