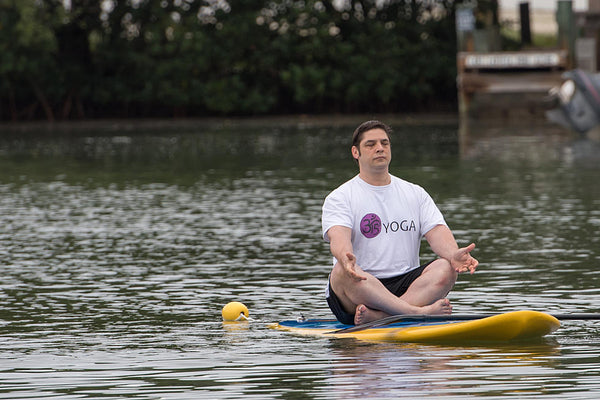 Scenic Stand Up Paddle Boarding In New York
Everyone knows there's a lot to do in New York State, but it's not all concrete jungles. There are plenty of places to go Stand-Up Paddle Boarding. 
Whether you have your own paddle board to bring or you need a rental, we have laid out the best of both worlds just for you.
When most people think of stand up paddle boarding in New York, they picture "The Big Apple" - New York City. As it turns out, there are a plethora of beautiful spots around the state to get your SUP on.
Black River
Black River is a historic body of water that flows from the northwestern Adirondacks, through the Tug Hill Plateau, and into Lake Ontario.
There are over ten dams and waterfalls on this lengthy river, so hikes, portages, and camping will be necessary to navigate the river in its entirety. The river ranges from a small mountain creek to a sandy river and even whitewater rapids depending on the time of year.
There are launch sites at Lyons Falls, Burdick's Crossing, Glenfield, Beach's Landing, Castorland, and Carthage. There is also a handicap-accessible fishing deck on the river on Waters Road in Lowville.
If you want to try your hand at whitewater SUP, you may want to stop by B.O.B. Rafting for your paddle board rental.
Fulton Chain of Lakes
The Fulton Chain of Lakes is a historic, scenic, and incredibly wonderful place. Each of the eight lakes has a storied past, and today, the lakes are great places to recreate. The famous 16-mile Fulton Chain is a heavily traveled route.
From First Lake to Fifth Lake, the waterway is continuous and lined with summer cottages. Sixth and Seventh Lake are also connected.
At the edge of Eighth Lake, a one-mile carry connects you to Raquette Lake and northern routes. Old Forge Ponds marks the start of the Northern Forest Canoe Trail.
Pick up your paddle board rental at Rivetts Marine.
Hudson River & Manhattan's Waterways
When in New York City, there are many truly spectacular areas to SUP. With over 500 acres of park area, Hudson River Park offers a range of water
sports experiences, including SUP rentals from Manhattan Kayak. Offering free to guided tours (recommended if you are a new paddler), Manhattan Kayak is one of the most popular and well-respected paddling companies in the city.
Hudson River Park is one of the most iconic places to go stand up paddle boarding in NYC, offering sweeping views of the skyline.
If you are nervous about paddling on higher-speed waters, Manhattan Kayak +SUP offers guided kayak and SUP tours from Pier 84 ranging from 3 to 30 miles, depending on how far you want to adventure. And with views of the Statue of Liberty from downtown and the Empire State Building from Midtown, you may never want to stop adventuring.
Niagara River
When it comes to getting out on the water, Niagara's options are endless. From the calm waters of the Welland recreational canal to the often-wavy shores of Lake Erie, there's something for paddlers of every level.
It's very good, provided what you're interested in day trips. Niagara doesn't provide any opportunities for overnight trips like what you'll get when you travel further up north, but in terms of pure variety it's excellent," said Jamie Bingham, author of a local guidebook Paddling in Niagara.
Niagara SUP rentals has paddle boards for rent.
Delaware River
Above the Pepaction reservoir you can paddle the slow moving East Branch into or out of Lake Wawaka in Halcottsville for a quiet scenic tour.
SUP rentals are available at Mauka Nalu Pilates & Stand Up Paddleboarding. Below the Pepacton Reservoir, water releases that keep this river flowing steady even during dry summer months.
Release water is very cold, which helps the healthy population of wild trout, but can make for painful swimming or wading in bare skin, at least in the upper stretches.
A classic 5-mile SUP trip is from Rt. 206/30 bridge just above Downsville to the bridge in Shinhopple. And the scenery is truly eye-popping!
Conclusion
So on your next trip to the Empire State, make sure that you don't limit your paddle boarding to NYC. The state has so much beauty to offer when you head upstate as well.
Related Topics
Whitewater Paddling in Alberton Gorge, Montana
3 Important Reasons That SUP is Superior to Kayaking
Why Your Rental SUPs Should Be Glide