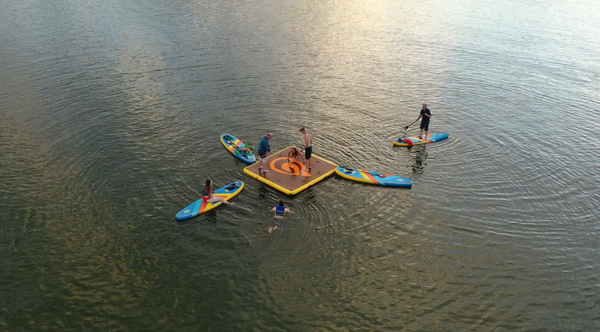 19 Perfect and Unique Gifts For a Paddle Boarder
In this article, we cover 19 perfect gift ideas for a paddle boarder in your life. The gift suggestions are ranked from most expensive to least, and we include all links and the reasons why they'll love it, for those who aren't paddlers themselves.
Don't stress. Just think about your loved one you're gifting to and read on. You're guaranteed to find the perfect gift right now.
When Holiday season or even a Birthday rolls around, it can be difficult to choose the right gift for your friend or family member that is a paddle board fanatic. Stand up paddle boarding (SUP) can be an expensive activity and maybe they already have their own paddle board which leaves you stumped on what to get them. There are plenty of affordable and tasteful gifts that will really light your loved one up! 
Thankfully, paddle boarding has all types of various activities and extensions you can even add to the board itself. It's best to start with identifying what specific branch your loved one enjoys most. Some examples of that could be Fishing on a SUP, Whitewater paddle boarding, Touring around Oceans or Lakes, SUP Surfing, SUP Yoga, SUP Camping, taking their dog or friends out on the water, just to name a few!
So, enough chat. Let's get into our guide for the perfect gift for the Paddler in your life! Sorted by category (to make it easy for you).
Prices listed are not guaranteed, and are subject to change at any given time
An Inflatable Paddle Board
I know, I know. I almost didn't include this, but I have to state the obvious!
If your person rents paddle boards all the time, owns only a hardboard or is always using one board but hints they want another to take you and others out on the water with them (that's a true friend right there) then we have to consider gifting them a Glide Inflatable Paddle Board.
Stand up paddle boards can be incredible expensive, including ours here at Glide Paddlesports ($899/each), but that's for good reason. You should really read our Glide vs Competitors article that does a deep dive on the construction of our boards, and everything included in your inflatable SUP purchase compared to our competitors.
Spoiler alert, we're quality and they're quantity, if you know what I mean.
To summarize that article and give more information about us, we, Glide, are a locally owned Stand Up Paddle Boarding company who designs SUPs by hand and has been making inflatable and hard paddle boards since 2010. Our Owners are paddlers themselves, and they put everything into creating the best product out there. Updating every year to get our boards to perfection.
These eco-friendly paddle boards are made to last with their 3 layers of PVC and the woven drop stitch to guarantee a ultra-durable iSUP waiting for you to attempt to damage it. Our inflatables are full deck pad which means comfortability, and stability no matter where you step.
We have a 2-year warranty, and a 30-day guarantee. We also include a fin, leash, backpack with wheels, 3-piece adjustable paddle, high-capacity SUP pump, repair kit, carry strap, and a kayak seat in your inflatable paddle board purchase, and we do free shipping to the contiguous US.
I don't know what else you could ask for. Oh wait. Actually, I do.
We make paddle boards that are created for specific, but not limited to, diverse SUP hobbies. We made the first Yoga Inflatable Paddle Board in this industry, the O2 Lotus, which has been continuously featured in the Mammoth Festival, the Wanderlust festival, and more SUP Yogi celebrations. 
We have the O2 Angler which is a Fishing Paddle Board. The O2 Inflatable Lochsa made for shredding Whitewater. The O2 Quest is our speed crazed, adventure, touring paddle board.
The last inflatable is our All-Around SUP, the O2 Retro. This board truly excels on every body of water. Such as, surf, rivers, ocean, flat water. It's our #1 best-selling inflatable paddle board.
Be assured that you will stand out on the water, being the only yellow SUP out there. Not to mention it looks great in pictures.
 If you're interested in having a deeper dive into what each board can do you can read all about it here.
Okay, really I'm done now. Let's move onto gear that you can buy them.
Functional Board Gear 
Let's go over some gifts that would make any paddle boarder shriek from joy when they open it!
Electric Pump
For an inflatable paddle boarder, this is an absolute must have. If you're paddler friend does not have this we strongly suggest giving the gift of a seamless setup that will help them get out on the water faster. It'll save them so much energy that can now be focused on the actual paddling.
Where to buy it:
Price:
$130
The Glide Electric Paddle Board Pump inflates to 12 PSI in less than 10 minutes, and deflates the board for easy packing post-paddle. It simply plugs into your car's cigarette lighter and will stop automatically when reached to set PSI.
Electric Pump Portable Battery
As we just mentioned, having an Electric Pump is essential for any paddle boarder with an inflatable. The Electric Pump Portable Battery is an add-on accessory that will allow paddlers to inflate and deflate their paddle board anywhere such as, near the water, on a hiked location, etc. To explain it simply the Portable Battery acts as your temporary car battery.
Where to buy it:
Price:
$75
We know this can come across too confusing to non-paddlers, but to answer the question in your mind, no, the portable battery does not need to be purchased for the Electric Pump to work. The Electric Pump will simply just plug into your car if no Portable Battery was in possession. If you want to see how it works check out our quick YouTube tutorial.
Waist Personal Floatation Device (PFD)
Every State in the US has various laws and regulations for PFD's for stand up paddle boarders. Most States will fine you a large sum of money if you get caught paddle boarding without your life jacket. If you're interested to learn more about lifejacket laws then check out our SUP Safety Requirements Mandated by Law in the US article.
Where to buy it:
Price:
$67 
This is an especially good gift for those who do SUP Yoga, and relaxed flat water paddle boarding, as it won't be restrictive or in your way during either activities.
Dry Bag
This is a great gift that most paddlers don't realize how much they needed it until they have it. Dry bags are waterproof bags that provide a peace of mind that nothing else can do. Most, if not all, dry bags will not only keep your things from getting wet, but will also float for a moment that will give you time to grab in the case of the bag falling off your board. 
Where to buy it:
Price:
$10-40
In cases like having your board tipped over, this is what will save you and your valuables from suffering a big loss. There are so many options for Dry Bags on Amazon that vary on color, function, and looks. Some have straps so it's a back pack, some have extra storage spaces to put something like your water bottle secure, etc.
4-Piece Kayak Paddle

There are many paddlers who thrive on paddle boarding sitting down with the kayak seat attachment or on their knees and find that it would feel more convenient if their paddle was like a kayak paddle to move swiftly like each stroke.
Where to buy it:
Price:
$33
This is a great gift for fishing paddle boarders, people with kids, or paddlers interested in relaxing flat water exploration.
Cooler
Stand up paddle boarding can be a hazardous activity if you don't stay hydrated. Having a cooler with ice, drinks, and snacks to share, and that's made to attach to your iSUP is highly underrated. 
Where to buy it:
Price:
$139
Our Glide coolers can hold up to 16QT (15L) and come in 4 different colors, Blue, Orange, Tan, and White. With so many options to choose from, I don't see how you could go wrong.
Anchor Pole
This Anchor Pole attaches to your inflatable paddle board with the rope and carabiner, the sharp end of the pole will be stuck in the ground with the handle side sticking out of the water for your adjustments. It can be broken down into 3-pieces for storage.
Where to buy it:
Price:
$89
This is the perfect gift for paddle boarders who love SUP Fishing, paddle board yoga, or hanging out with friends on SUPs. 
Fishing Rod and Reel Combo
SUP Fishing entails a lot of the right equipment. If you paddler is interested in getting into fishing on a paddle board you can gift them this starter kit. If you want to know more of what it takes to become a SUP Angler on a stand up paddle board you can check out our article here.
Where to buy it:
Price:
$60
This easy assemble, start fishing kit will do wonders for your paddler to ignite that Angler spark. 
Storage Wall Mount Hanger 
For Paddlers who have one or more stand up paddle boards (inflatable or hard), this is a great gift to help them stay organized and easily accessible in their garage or basement. 
Where to buy it:
Price:
$33
These wall mounts will fit any sized SUP, and has rubber to protect the boards from any potential damage from putting them up or taking them down.
Outdoor Electric Rinse and Shower Kit
After paddle boarding, your SUP can get messy with any lake residue or dirt from transporting it from your water to vehicle. Not to mention, some waters have a certain smell to them that can and will linger on your board if you don't wash it down with clean water, and possibly some soap.
Where to buy it: 
Price:
$126
This would make post-paddles so convenient with having this chargeable, portable rinse and shower kit. It can hold up to 5 gallons of water which we estimate to clean at least 3 inflatable paddle boards, or 5 hard boards.
Paddler Empowerment Accessories / Toys
Now that we've covered favorable gear that just about any paddle boarder would love you forever for. Let's get into some fun, and functional accessories or toys that you could gift them.
Waterproof Phone Case
This is a budget friendly gift idea that also provides a lot of various options to choose from. This is great idea since most paddlers should have their phone on them when they go paddle boarding, but get nervous that it might slip and sink to the bottom of a lake. Just make sure you get the right sized case for their phone.
Where to buy it:
Price:
$10
An additional add onto this idea would be to get a Floating Strap that they can attach the waterproof phone case to prevent any sinkage. Floating Straps usually cost around $10.
Waterproof Speaker
If your paddle boarder loves going out to unknown SUP spots, uncrowded bodies of water, or paddle boards with friends, then you have got to get them a Waterproof Speaker. 
Where to buy it:
Price:
$50
My personal favorite Waterproof Speaker brand is JBL and it's the one I use nearly every time I go paddle boarding. However there are other options on Amazon so check that out if you want a cheaper speaker.
Waterproof Headphones
These are best for paddlers that often go solo-paddle boarding, SUP Fishing, or Touring around. These waterproof headphones are made for swimmers, and they don't go directly in your ears which is a safety precaution for your physical health, but it's also important to make sure you're not unable to hear your surroundings when you're solo paddle boarding.
Where to buy it:
Price:
$70
As mentioned before, these are made for swimmers so there will be no problems with it being in the water and will have good grip as to not fall off.
GoPro Waterproof Action Camera
Coming in as the second most expensive item on this list, but is still a great spoil or have a group of friends or family pitch in on as a gift. The camera itself is waterproof so you wouldn't need to worry about purchasing a waterproof case for it.
Where to buy it:
Price: 
$400
You can also additionally add a selfie stick/tripod for them to be able to create content with themselves in it.
DIY Essential Paddle Board Kit
This is a "Do It Yourself" kind of gift. You can gather items that are essential for every paddle boarder and put it in a cute box, or purchase a bag with the items to hold all of them. Items could include things like, sunscreen, 20 oz. leak-proof water bottle, small bug spray can, a whistle (very important for those who go solo-paddle boarding), hat, sunglasses, etc.
Where to buy it:
Price:
$30-65
Remember this would be items that the paddler would want to take with them so get smaller sized versions of these things so that it doesn't take too much space in their bag.
Friends and Family Inclusive Fun
Here's a few ideas that can be fun not only for the paddlers, but those who join the adventure.
Waterproof Card Games
Nothing is compares to playing card games on a paddle board with your friends. There are plenty of waterproof card games available on Amazon that you can easily purchase, or you could commit to buying their favorite card games and laminating all the necessary pieces as a thoughtful and light hearted gift.
Where to buy it:
Price:
$5-20
This is certainly a unique gift that can benefit even outside of paddle boarding as it could be played with by the pool, or even your living room.
Light Attachments for SUP
These lights are underwater, waterproof lights that can be put on the bottom of a stand up paddle board to illuminate the water around them and create a beautiful glow that's awesome for pictures.
Where to buy it:
Price:
$26
A paddler that would love this gift is a night-time paddle boarder, SUP Yoga, or someone who enjoys sunset paddles.
Dog Water Bottle 
Last, but certainly not least on this list is for a human's best friend, the cute dog. It's really important to stay hydrated for the human's, but dog's use a lot of energy when playing in the water and relaxing in the sun on the paddle board with you. 
Where to buy it:
Price:
$15
This is a popular water bottle brand that everyone loves. It'll keep the clean water in so that you don't get any lake, ocean, bay, river, or whatever body of water it is mixed in with the drinking water.
Conclusion  
You don't have to break the bank when it's time to shop; there are tons of gifts out there that fit within budgets big and small. Talk to your friends and family to get an idea of what they need or want and communicate with others in the group to make sure everyone is on the same page. Either way, if you look closely enough at their interests, you're sure to find the best gift for your avid adventurer.
Check out our other blog posts like, "Things to Consider When Buying a SUP" if you're interested in joining the cool kids club.
Related Topics
Improving Fitness on Paddle Board
How Inflatable Paddle Board Technology Changed The SUP Industry
Your Comprehensive Guide to Inflatable Stand Up Paddle Boards