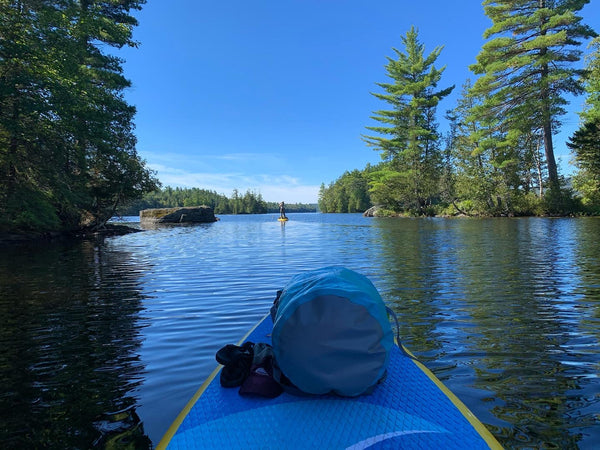 5 Tips to Prepare for Your First SUP Camping Trip
Trying something can feel daunting, but we're here to give you our best tips for your first SUP Camping excursion!
It can be hard to know where to start when planning to go SUP camping. Where to go, how much to pack, how to stay safe and other questions may be racing through your mind. We've put together a few helpful tips to get you started on planning the perfect SUP campout.
Packing
Luckily an inflatable stand up paddleboard can fit all of the gear you could ever need for a multiday trip.
No need to pare down your pack like you would on a backpacking trip, in fact the extra weight will help make your board more stable and less affected by the wind.
For me, I always pack a dry bag or duffle bag on the back of my board and a cooler on the front. I always like to bring all of the water that I need for the trip rather than filtering it myself. Many lakes and rivers have really silty water that can clog up a filter if you don't take the time to let the silt settle out of the water.
There are really only a few key differences to packing compared to car camping or backpacking.
The first is waterproofing your gear which I discuss in another post found here.
Another is to always bring a piece of rope with you to tie up your SUP while you sleep. If the wind picks up in the night it could potentially pick up an unloaded board.
The last is bringing gear to care for your paddle board while you are away.
Glide's inflatable paddleboards are made with woven drop stitch fusion construction which makes them incredibly durable, but I always like to bring at least one patch kit and pump with my group when I go camping on my paddleboard.
I've never had to use them before but the added peace of mind is worth carrying a little extra gear.
Picking the Perfect Place
When I go camping with my inflatable Angler SUP I like to go somewhere that I would never be able to get to by car. I keep an eye out for potential spots whenever I go out on a day trip fishing or paddling.
Another go to for me is to just get on google maps satellite view and look for small lakes and reservoirs in my area. From there I can look up the names of the reservoirs and check forums and state websites to see if there are good places to paddle and camp in that area.
Sometimes it's ok to show up to a lake and find somewhere to camp the day of but I like to at least have an idea of where to look based on satellite images and reports from other paddlers.
Check your local laws
Before you go out, it's always important to make sure that you're actually allowed to camp in that perfect place. Make sure that wherever you plan to go isn't private land.
Many cabin owners aren't too keen to find a group of campers on their front steps. If it's public land, find out what agency it is run by so you can check their camping rules.
Here in the west, a lot of the land surrounding waterways is run by the BLM and you can find maps of land that they manage here on their website. 
Another very important thing to check is your state's life jacket laws. Every state is different and there can even be differences for each body of water or different sections of the same river.
Make sure that you find the correct laws for where you choose to camp. When in doubt, always err on the side of wearing your life jacket. There is more information you can find about lifejackets here.
Safety Safety Safety
The most important part of planning any camping trip is safety!
Along with wearing your lifejacket and packing the right gear outlined above, it's important to always let someone know where you are going and when you plan to get back. 
Consider using an app to share your location with them for a bit so that they can tell when you get there and are on your way back without you having to update them.
You can even look for areas that have cell service so you can check in with a friend or family member to let them know that you are ok.
Another tip is to pick somewhere that has a decent amount of traffic if you are worried about safety.  Even in a busy area, you won't have to fight for camping spots on a paddle board because you'll be able to reach places no one else can. That way you can find a great, secluded camping spot and still never be far from someone that is able to help if anything goes wrong.
The More the Merrier
Whether it's for added safety or or just because you love having your best friends with you when you camp, find some buddies to bring on your trip!
Paddling trips are always more fun with more people. Bringing more people along means that you can share gear, rely on each other's expertise and do things that you would never be able to do alone!
It's great to have a mix of boats to take with you. If everyone has inflatables, you can quickly fill up the trunk of your car without having much room for gear and there are only so many boards and boats that can be strapped to a roof rack without things getting sketchy. Having a mix of both means that you can maximize the packing space in your car and you can try out something new on the water by trying out each other's vessels.
Whether it's that one best friend or a whole group, having others along for the ride is always more fun.
Conclusion
If you're looking for the perfect board to take camping with you this summer, check out Glide's O2 Angler. It's stability and high carrying capacity make it the perfect board for loading up with gear and going on an adventure.
Related Topics
Improving Fitness on Paddle Board
How Many Calories Does SUP Burn?
3 Balance Practices To Improve Your SUP Balance