Cold weather paddle boarding tips
Cold weather lovers and paddle board lovers unite! Mixing both can be quite the experience, Here are your tips for your winter sup adventure!
Introduction:
Are you just itching to try out your paddle board in the cold weather? The winter months can seem long when you aren't able to do your favorite activity, but the truth is that cold weather paddle boarding is elite! You may be put off by the cold, but winter paddle boarding can be just as fun as summer paddling, and sometimes even more surreal! The snowy mountain views on the cold water can be so refreshing. If you're wanting to give cold-weather paddling a try, there are some things you should always remember before you go.
While winter paddling can be so much fun, so beautiful, and peaceful, it also poses some extra dangers that summer paddle boarding does not. It is important to remember these helpful tips as they could make all the difference to your winter weather trip. grab your paddle board and get this ice, ice baby!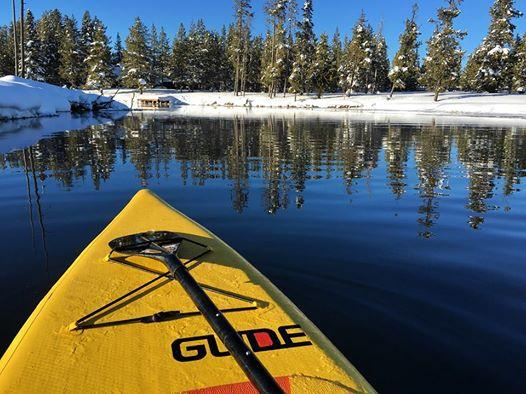 Check the weather:
Before you leave or plan a winter season trip to the waterfront, you must absolutely check and double-check the weather forecast. You'll want to check the air temperature and the water temperature for the destination. Will there be low visibility outside? How much of a wind chill?
You never know when extreme winds or snow will affect your trip. You don't want to be out in a bad ice or hail storm, that's for sure. Check the weather to be sure the conditions won't be too harsh to paddle or drive-in. Cold air is great, but below-freezing temperatures could be a big risk, not only for paddling but for driving.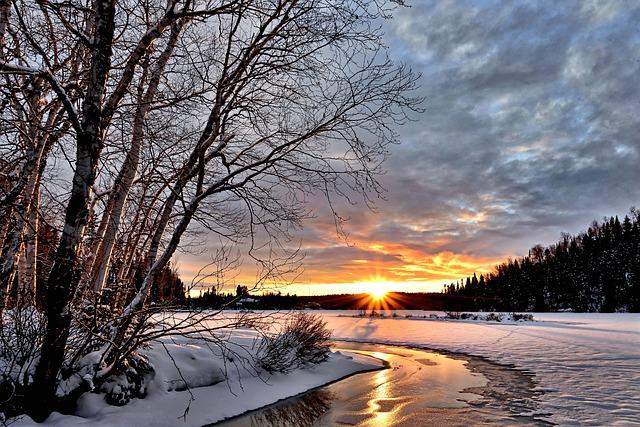 Be prepared with the right clothes and gear:
When you are out in the cold weather, The most important thing will be dressing in warm clothes. You'll want to have the proper gear to keep you as cozy as possible when winter paddling. There are plenty of examples of winter sup clothing that will keep you from freezing your toes off.
Wool socks

Durable Boots

Gloves

Warm hat/earmuffs

Waterproof pants/Jacket

A good Wetsuit
There are a few options for each item of clothing, find what works best for you and always remember to bring extra clothing in case it gets too chilly. You can remove layers, but if you don't bring extra layers, you're going to have to head home from your cold water sup adventure quite quickly! Staying warm and staying prepared for any paddle session in the cold is a priority. You are also going to want to avoid wearing anything cotton, as it is super absorbent and will stick to your body when wet. Stay dry and make sure you are wearing as many water-resistant items as possible.
It's also important to have the right gear for cold weather. Safety gear can make such a huge difference and should always be used when winter paddleboarding.
Dry bag

You'll want a dry bag to protect your safety items and personal items. This should be with you at all times.

Water-resistant cell phone cover

A waterproof cell phone cover can be very helpful in making sure you have your phone with you, yet secure.

Thermos

Take a thermos with water. You might remember to guzzle down water in the summer months, but in the cold, you might not think you need it. Filling it with hot or warm water would be ideal and quite soothing

Leash

You will want to have a leash hooked up to your board, if you don't already, buy a leash before visiting the great lakes.
Keeping the leash:
When paddleboarding in the cold, you'll also want to keep the leash on your ankle. The ankle support leash will keep you tied to your board. Paddleboarding can be very fun, but you'll want to be safe in every way you can. You should always make sure to wear your leash even in warm water. We all want to be on our boards, but in case of a fall, you'll be able to easily reach your board again. The last thing you want is for the board to float away from you if you do fall. Winter sup requires a bit of extra precaution while enjoying the great outdoors. Small price to pay in our opinion.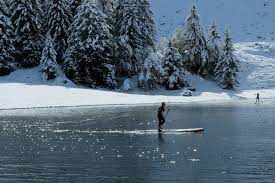 Stay close to the shore:
When winter paddle boarding you will want to make sure you stay close to the shore. The water can get quite freezing in the cold temperatures. The chances of hypothermia increase intensely when in colder weather, so staying close to the shore is very important. You'll want to stay within 15 feet of the shore when using your board. Water temperatures should always be considered even in the warmer months.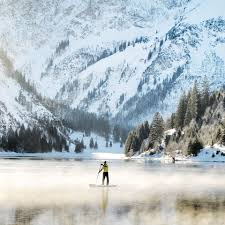 Avoid ice:
You're going to want to stay far away from the ice when out on the water. Ice can be very unpredictable and sharp. Especially careful if you are on an inflatable board. No popping or falling off onto the hard ice. If the water is iced over in any way, this can also show the further dangers of hypothermia. Stay warm and stay away from the ice.

Do not paddle in the dark:
Common sense is to not use your paddleboard in dark spaces. This is obviously dangerous for so many reasons, but, low visibility is not great and can lead to many many issues with your experience. You do not want to fall into the dark water at night, especially in the cold. This would make it extremely hard to locate you in the water for rescuers or even travel companions. It is not ideal for any rescue situation. So make sure to plan on getting out of the water about 30 mins before sunset.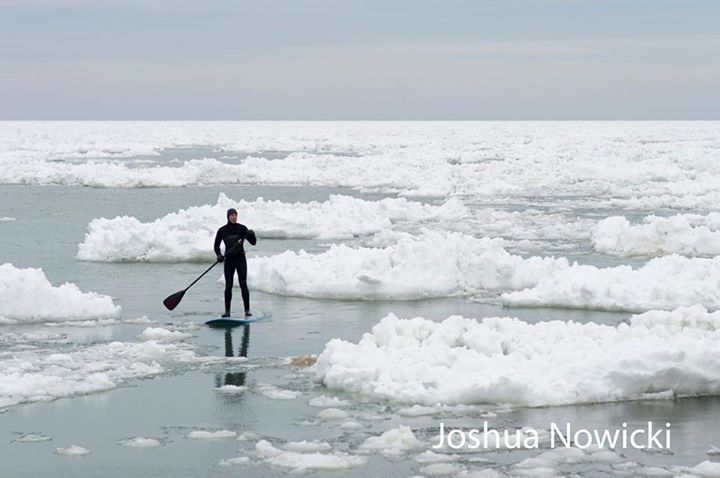 Tell a friend:
When going paddle boarding in the winter months make sure to tell a friend! You'll want to have at least someone to know where you will be and what time you plan to come back if you are going alone. Wouldn't thoroughly recommend going alone in the winter or not when first starting out. You should let someone close to you know, just in case. Make sure to keep them updated on when you'll be back if you can! Maybe they would like to join you in winter paddling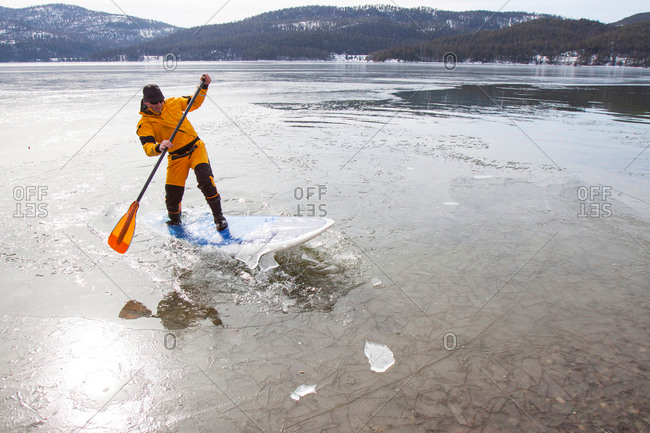 Pack clothes for afterward:
You're gonna want to pack some warmer clothes for after the paddling, just in case you need something warmer, or in case of a fall, those are essential to getting into something warmer, and out of those cold wet clothes of yours. You can also pack hand warmers and blankets for when you get back to the car, or when it gets colder after dark. You should want to have some backup clothes though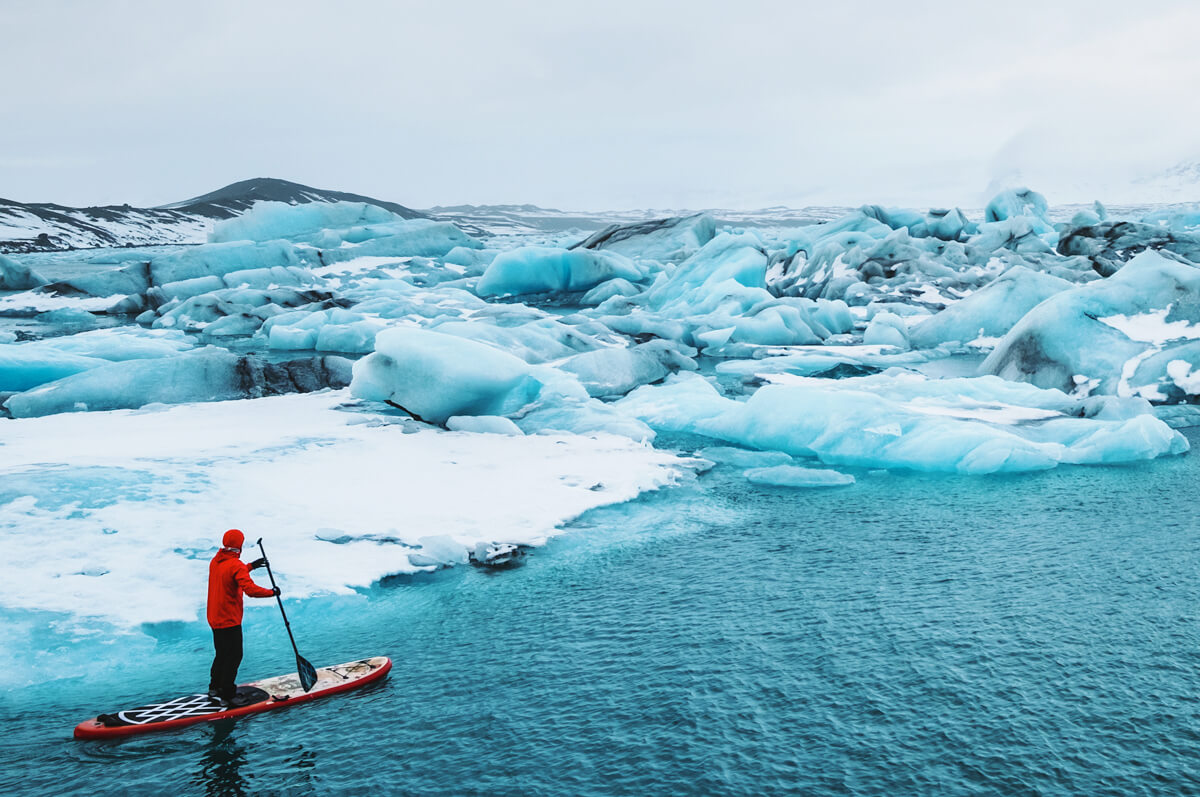 Conclusion:
While there are some risks and extra safety precautions, cold weather paddling boarding is truly so much fun. The brisk air and the snowy views are worth it. Some of the coolest paddling photos are taken during the winter wonderland months. Give it a try and have fun! The views of the world from a paddle board are some that you'll never forget!