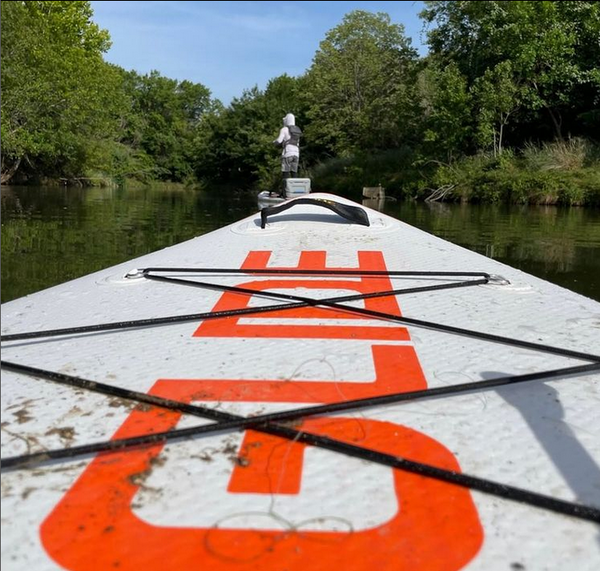 Glide Angler fishing paddle board.
Looking for a fishing paddle board and wondering what the best fishing paddle board is?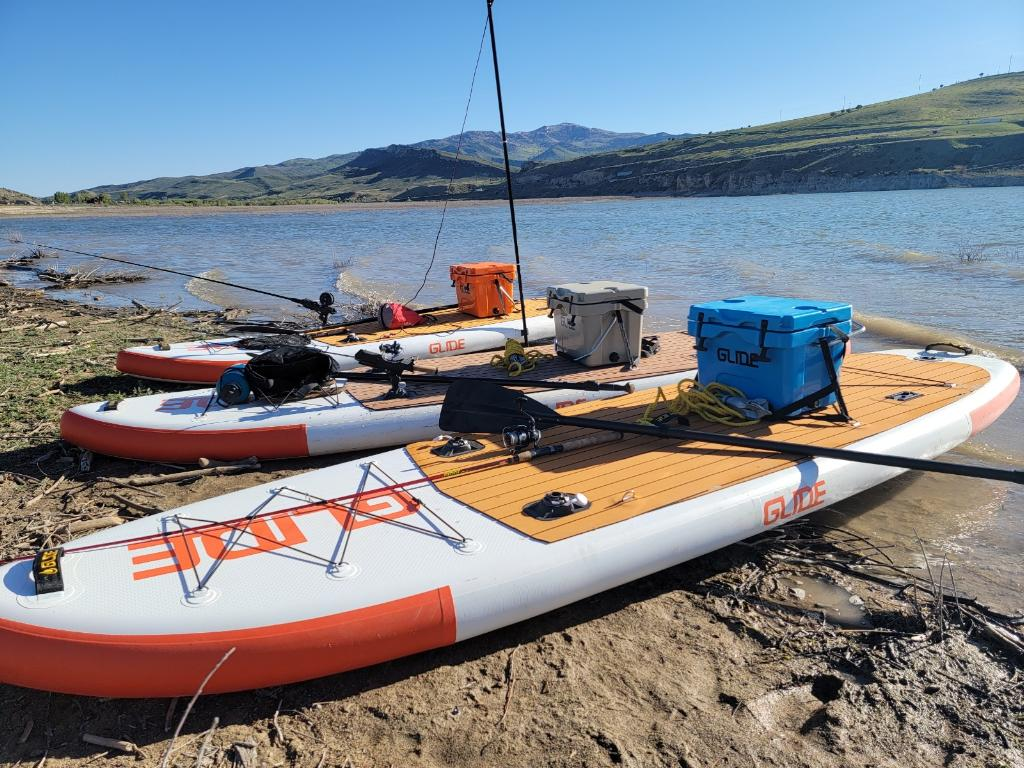 A good fishing paddle board is the difference between making happy memories to last a lifetime or sitting on the sidelines repairing or recovering gear from an unstable fishing paddle board. Luckily for you, the Glide 02 Angler solves all your fishing woes. This great fishing paddle board has been voted the best fishing paddle board, as well as the best fly fishing paddle board ensuring your fishing adventure, will be one that makes happy memories.
About the Glide 02 Angler fishing paddle board.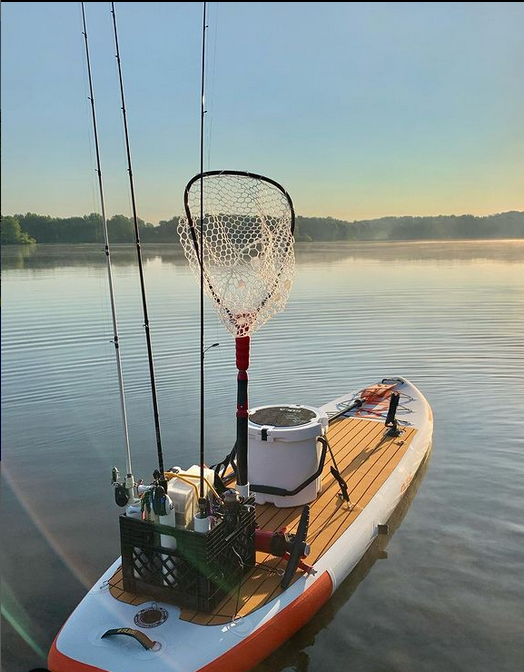 A great article on this fishing sup is here and if you are ready to purchase the best fishing paddle board it can be found here the Glide 02 Angler, lets look at the fishing sups design.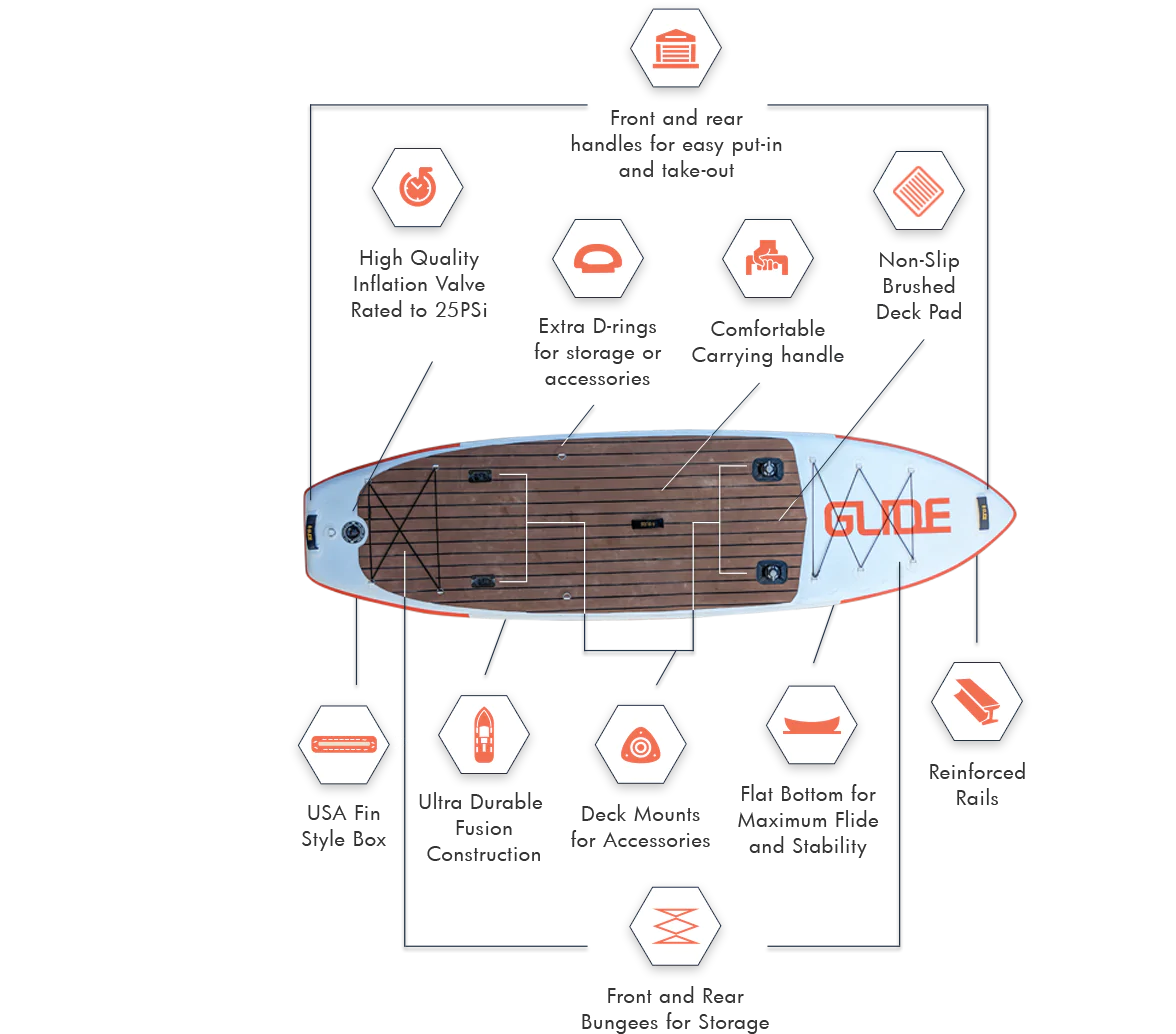 This fishing paddle board was designed with pro anglers to handle whatever fishing you want to do from stand sup fishing, sight fishing, fly fishing offshore fishing, and spearfishing. This fishing sup board won't let you down on the way to your fishing hole or once you reach that special fishing spot.
The fishing sup is extra wide with a flat bottom giving this inflatable fishing sup its first place placement for stable board platforms. This fishing board has extra d rings, gear mounts that are scotty mount compatible, and an unprecedented weight capacity of 500 lbs. Ensuring you can bring all the fishing gear you want as well as a furry friend and still have enough capacity to bring home even monster fish.
With front and rear bungee cargo areas, the Glide Angler has room for all the gear you would want to bring. The extremely generous amount of d rings allows for easy attachment of fish finders and your complete fishing setup.
The Glide Angler fishing paddle board has a sand spear sheath on either side of the board, the d rings can be used to attach a normal anchor set up if you are not wanting to use the sand spear sheath or are in deeper waters.
The Glide Angler also has tie-down locations to hold a fishing cooler in place, and our specially designed Glide fishing cooler has molded tie-down spots and rubber feet to ensure the fishing cooler stays where you want it to. The cooler also serves as a seat.
The Glide Angler has an easy-to-clean durable deck pad that acts as a traction pad and includes two fishing rod holders, the rod holders work well for trolling and hold fishing poles securely while paddle boarding and fishing even in the roughest of waters.
The removable center fin and flat bottom ensure you will be able to take the Glide Angler wherever you want to fish, from gliding over the roots of mangrove trees looking for bonefish, to shallow rivers. With the center fin in place and the flat bottom, you will be stable enough to fish in chop or ocean waves.
Specs of the Glide Angler Inflatable fishing paddle board.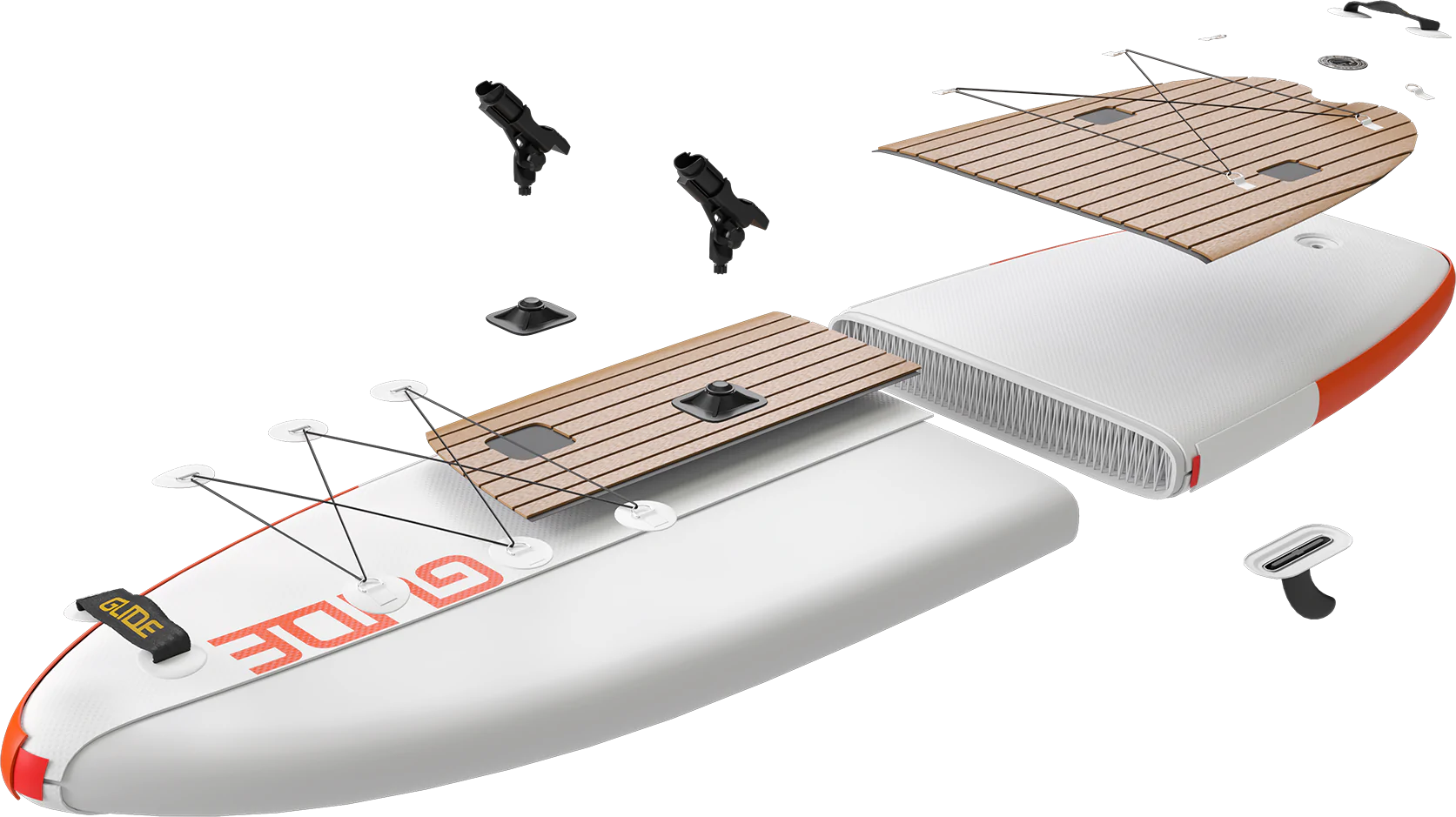 Glide 02 Angler Fishing paddle board specs.
Length 11 ft
Width 36 "
Weight 25 lbs
Thickness 6 "
Tail width 18 "
Weight capacity 500 lbs.
Unlike other fishing paddle boards this one was designed with pro anglers and is the number one fishing sup for paddle board fishing. The inflatable paddle board is constructed with a quadruple layer military grade PVC – woven drop stitch core. While most fishing paddle boards only have two layers some as high as three. The four layers that Glide uses in our inflatable fishing sups means you do not have to worry about your fishing gear causing damage, meaning you will likely never have to use the included repair kit.
It also allows us to infuse the fishing paddle board with Glides unique Glide stiffness allowing the fishing boards to perform closer to a solid paddle board.
The wide and stable fishing paddle board allows you to get a better view than possible from a fishing kayak. Fishing enthusiasts have voted the Glide Angler fishing paddle board as one of the best paddle boards for sup fishing. Fishing paddle board reviews also show this fishing sup is more than just a dedicated fishing paddle board. Although is also the best paddle board for a multi night fishing trip to exploring and paddle boarding with a dog.
Whats included with the fishing stand up paddle board?
The fishing isup comes with a complete setup.
Travel bag / Backpack with rolling wheels for easy travel
Adjustable Paddle
2 Rod Holders
Coil Leash
High-capacity SUP pump
Fin
Repair Kit
Kayak Seat
Carry Strap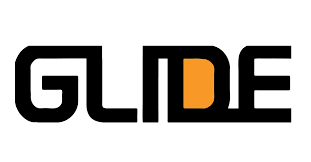 We hope you have had the chance to paddle our fishing sup, once you have you will understand why it is the best fishing paddle board on the market. For fishing tips and other information be sure to check out our blog. And don't forget to check out our amazing accessories. Let is know what your catch of the day was at #glidesup on Instagram and have fun out on the water no matter what you paddle.