Glide Quest Touring Paddle Board best rated touring sups.
Glide Quest Touring paddle board lineup.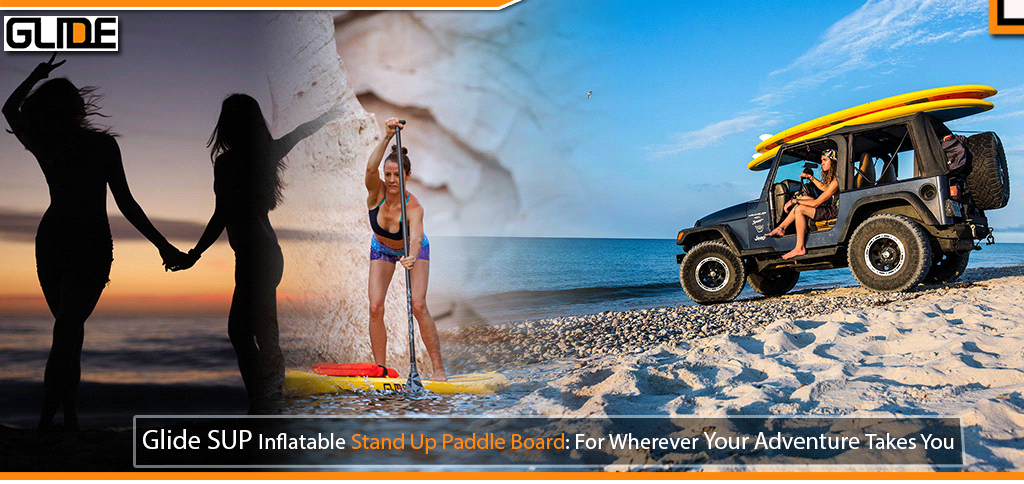 There are many touring paddle boards on the market, so why is it that Glide's Quest lineup is voted best touring paddle boards year after year? From a racing board to overnight touring, camping trips, and epic adventures these lightweight touring sups are making memories of a lifetime worldwide. Let's look at these incredible touring paddle boards.
Glide Quest Solid Touring paddle board.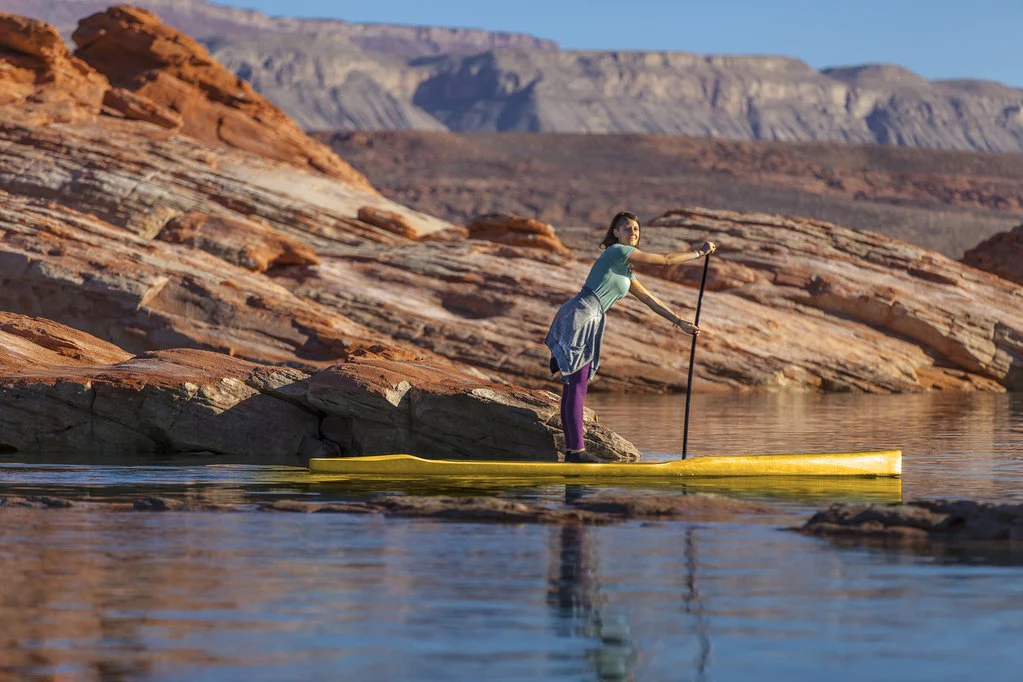 This is our original touring stand-up paddle board, which quickly became a favorite among advanced paddlers wanting to do sup racing and not purchase a dedicated race board like the Godspeed MK. II and still wanted a touring paddleboard that would actually work as a touring sup and handle camping gear and paddle distances quickly while carry gear. And was quickly voted the best touring paddle board.
The Quest touring board has a US-style fin box, with a single center fin that allows for great performance and straight-line tracking. The fin can easily be removed and replaced with another fin option on the touring sup to accommodate your preference when paddle boarding. For more info on fins and how they can help you when paddle board touring check out this article.
The Quest touring paddle board has a full length premium deck pad, and recessed deck and is ain the long paddle boards category coming in at 12'6" and with a board width of 30 inches. This helps create a very stable touring board not seen in most touring paddle boards. As a thinner board it helps shed some weight while remaining one of the most durable touring paddle boards in the world, check out will it break Wednesdays on youtube to see what other boards are lacking.
The Quest touring sup board is suitable for paddlers of all levels and is the touring paddle board you will always want to use no matter how advanced you become, this board will grow with you and be reliable and fun enough to paddle it will be one you always keep.
With it's special Glide coating and superb design this touring paddle board will cover more distance quickly with less effort per paddle stroke.
Fitness paddling enthusiasts and those looking for a touring paddle board that can compete with racing boards will love the Glide Quest touring paddle board. Those who are just wanting an amazing touring paddle board will love to take this out for a stand up paddleboard session and can bring along all the touring gear they would ever want.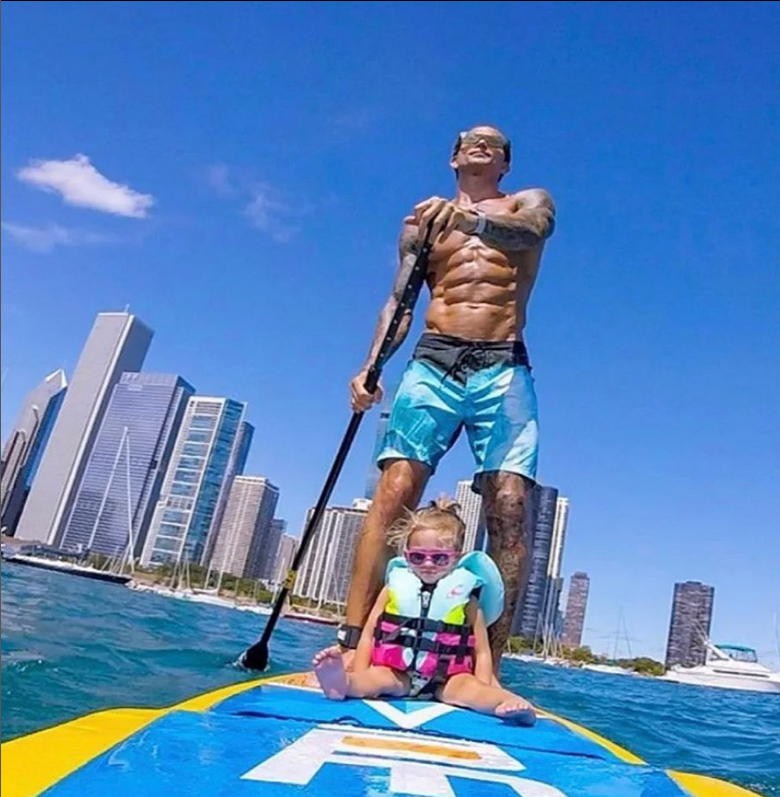 As seen above the Glide Quest is a great board for fitness paddling that can include the whole family.
Glide Quest 02 Inflatable touring board.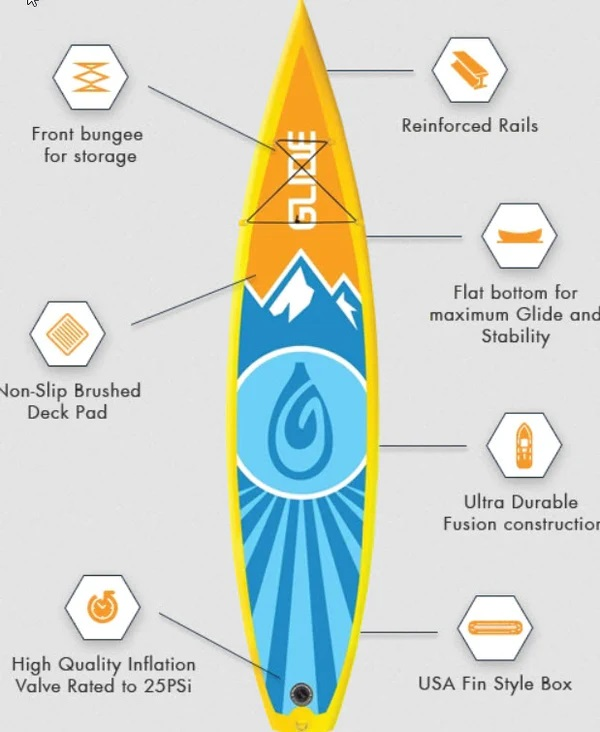 When it comes to inflatable touring sups no other company makes a touring board that comes close to the excellent performance and capability of a Glide inflatable touring paddle board. This touring paddle board is designed to embrace the explorer in you.
The narrow nose and pin tail along with Glide's unique stiffness combine to make this one of the fastest inflatable paddle boards on the market making this light weight touring sup board one of the preferred boards in sup racing.
This great touring board has a board length of 12'6" with a board width of 30" helping creat a stable board that is not found in most touring boards. The tail width is a 10" pin tail. The inflatable sup has a removable center fin housed in a US-style fin box, this style of fin box means you can easily find the right fin for you if you do not want to use the included center fin.
The Quest inflatable sup boards come with the following.
Backpack with rolling wheels for easy travel
Hight performance adjustable paddle
Leash
High-capacity SUP pump
Center fin
Repair kit you will probably never use.
Kayak seat
Carry strap
The Quest inflatable paddle board also has a full length EVA deck pad, with a composition centered around a quadruple layer military grade PVC – woven drop stich core. It is also one of the lightest touring board on the market, although has one of the highest weight limits of any touring sup board at 400 lbs. The touring paddle board is also one of the boards that is recommended as a dog paddle board making this a great board for any occasion.
With the amazing weight capacity you can be sure to enjoy any sup touring activity from epic adventures, camping trips and overnight touring adventures. This touring paddle board is the right board for any one who has a sense of adventure. The glide Quest touring paddleboards will allow you to get to places safely and with ease that most touring paddle board would not even want to try. Like paddling up river to find some epic waterfalls.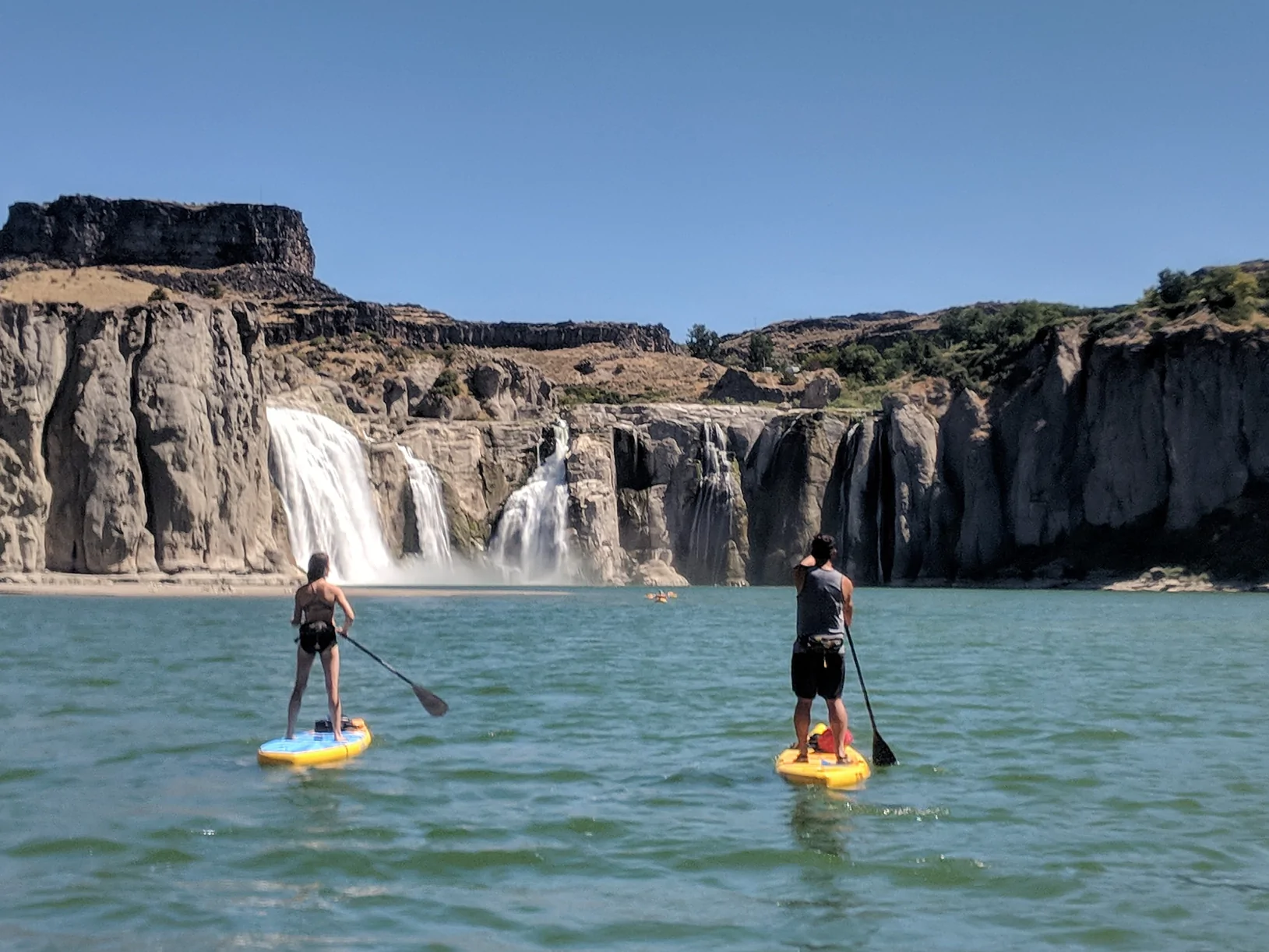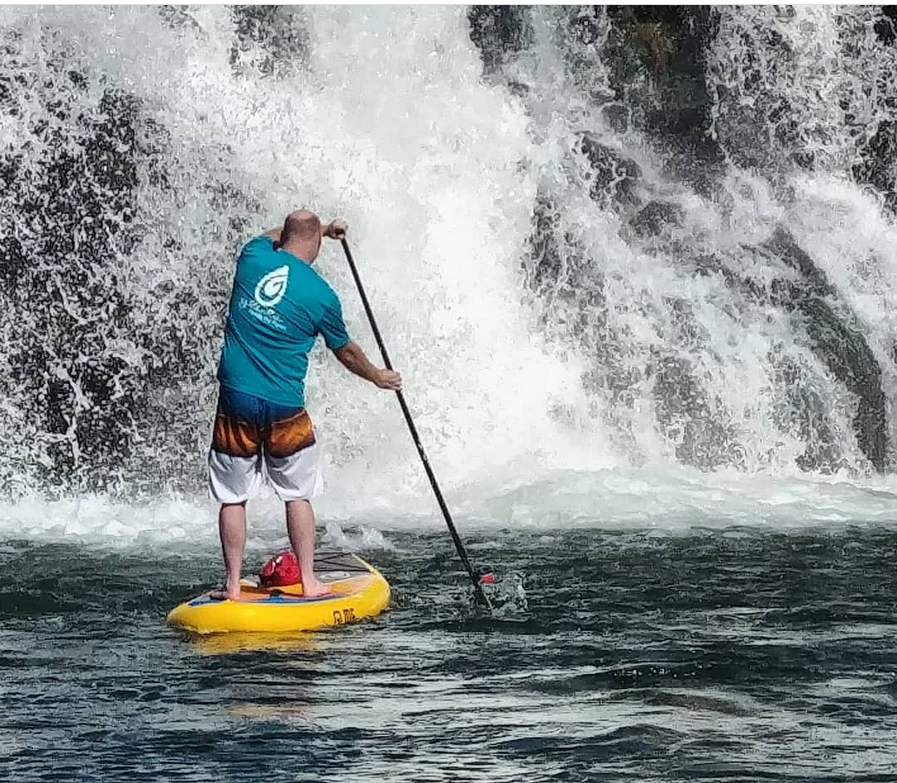 The touring sup boards stability, innovative board design and ease of paddle boarding have earned it a spot as the best touring paddle boards on the market, sharing a spot as the best touring paddle boards with the original Glide Quest touring paddle board. There are good touring paddle boards on the market that will let you have fun sup touring. Although why not get the right board and go with the best touring paddle boards? Pick up a Glide Quest sup touring board today and enjoy the best touring paddle board.
Our inflatable sup touring paddle boards will have you on the water paddling with confidence no matter the weather. Unlike other touring paddle boards, ours will handle even the coldest freezing waters.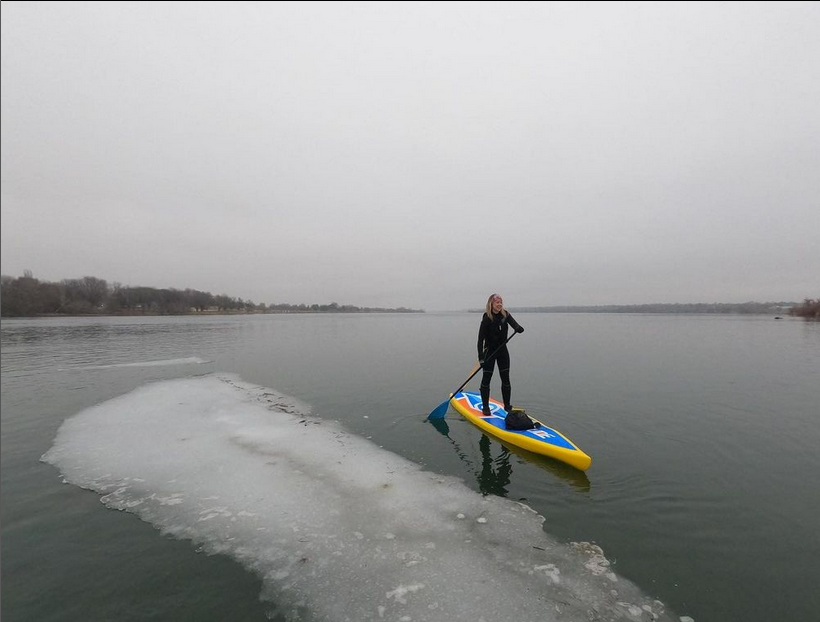 If you want a narrower board than a Lotus or Angler and are looking to get into sup touring then the Glide Quest lineup is the right sup board for you. A narrow board width of less than 30 inches will result in a less stable stand-up paddle board. And remember when you want the best touring paddle boards you want a Glide Quest, other touring boards are calling them selfs Glide something or the other, although their inflatable paddle board is just an imitation of the best touring paddle boards made and will leave you wondering why anyone would want touring sups.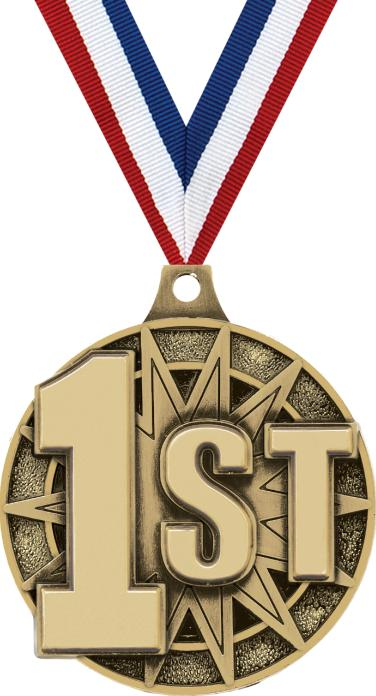 Here at Glide, we are hoping that you have had some amazing adventures lately, no matter what touring paddle boards you are using. From inflatable sup touring paddle boards to hard touring paddleboards, we are wishing you the best time ever under the sun. Let us know where your touring paddle boards took you recently or your other paddle boards.