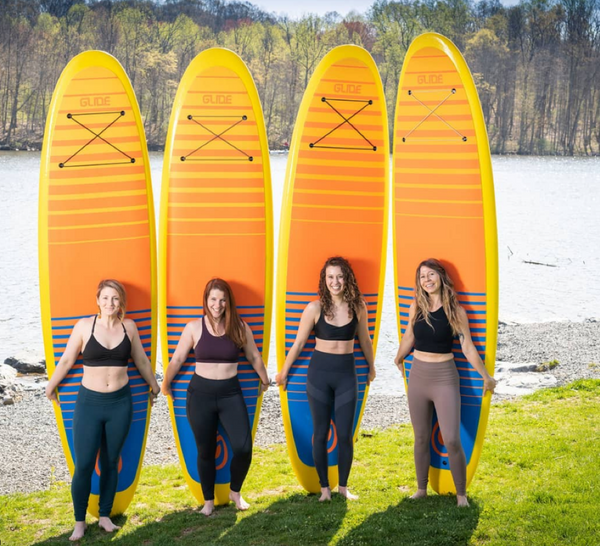 How is a Paddle Board Designed?
Today we are going to go over how the design process works at Glide to create our paddle boards. The process is very similar in the planning and design phase for both hard boards and inflatable paddle boards. Today we are going to look at the O2 Retro inflatable board.
The Retro board is our most popular model in both inflatable and hard versions. It is an all-around board that is super fun to paddle, and works well for all types of paddling. It is a great all around SUP that has been in our lineup for over 10 years now, and will be around for another 10 years. 
The first few years the board evolved the most year to year, and for the last few years it is more minor tweaks to the shape, and new feature additions.  For 2022 the O2 Retro will be getting additional D rings which can be used to attach the included kayak seat, or to attach other accessories.
Step 1: Brainstorming 
The first steps in creating a new board for our lineup is a creative brainstorming meeting. We bring together the design team, marketing, and production to talk about the new SUP. For the Retro we wanted a classically shaped board that would be good for all around paddling, something a beginner will feel comfortable on but also an advanced paddler will enjoy.
After we define the product we go nuts for donuts and let the ideas fly. This is the wish list of features on the new paddle board. Nothing at this point is off limits.  
Some of the wish list were:
Surfs Great
Easy To Carry
Durable
Fun to Paddle on Flatwater
Torpedo's
Lots of Storage
Stable
And the list went on and on…
Now that we have a clear idea of what we think the board should be like we then move on to the next step.
Step 2:  Customer Research
Step 1 and 2 really go hand in hand. Sometimes our customer service team gets so many requests for a certain type of board we decide to add it to the lineup.  And then we start with the brainstorming. And sometimes like the with the Retro we knew it was  a SUP we wanted to add to the lineup and we then talked to our dealers to find out what features they want in a an all-around paddle board  and how can we set ourselves apart from other boards they are currently carrying.
We look at key metrics such as age of the paddler, gender, geography, needs and wants of the customer. A paddle board like the Retro is a very hard board to get this right, as we are casting such a wide net and want it to appeal to as many people as possible. This makes it critical to get as many features on the wish list and customer ideas as possible.  We know that with such a broad market it will be hard to please everyone, but strive to meet or exceed most people's expectations.
Step 3: Sketching and Modeling
I have to be very upfront and honest here, I am not an artist, and sadly I do not think I will ever be a great sketcher.  That said before I get to work modeling the new paddle board I do like to make simple sketches and show it to everyone in the office. This step insures we are all still on the same page. And then from the sketches it gives me a starting point in which I can start to design and model the board.
Once the initial sketches are done then it's time for the fun to begin.  And as much as challenges it can be to get the features in and try incorporate all the features on with list, it really is a fun process.  What I like to do is to make a list of the features on the wish list I am going to include and jot a few notes down about my ideas on how to transfer them from paper to the design.  Let me show you a few examples.
Surf's great.  That is a great place to start; it gives a clear goal to work towards and gives me a starting place. First think is we want it to catch waves from knee high rollers to steep fast overhead waves.  A great length of board for that is 10'6".  And then to make turning quick and easy, 30" wide is about perfect.  Then I wanted to add a double concave up on the nose, a deep vee in the tail for quick rail to rail turns, and a steep nose rocker to help dropping in.  This will make a super fun board to surf!
Now the problem is this board will not be great for beginners or paddling on flat water.  The board is a pretty narrow for a first time paddler, and the rocker for fast steep waves is not great for cruising around on flatwater.   
At this point, we start to make compromises to pack as many features and performance into the SUP while making sure the primary market for the board is still being taking care of.  We know from our customer research that the Retro will be used primarily by families and inland paddlers and surfing will be a much smaller percentage.
At this point I will build the initial model and get to work balancing the board to make in an ideal all around paddle board.
Now that the initial model is created we solve the biggest problems first. Which is how to make a board that will surf great and still be stable and fun for someone to paddle on a lake?  I could get ubber nerdy right now but I will keep it brief.  The first thing I did was to make the rocker as friendly for both surfing and flatwater paddling as possible. This was done by adding kick rocker to the nose and then quickly transitioning to a flatter rocker in the middle of the board and then adding a healthy amount of tail rocker.  The kick rocker will help the board on the initial drop to not perl. The flat rocker in the middle of the board is the best rocker for paddling on flat water.  Blending the two rockers we can make the Retro surf great and still be loads of fun to paddle on flat water. 
There is a lot more that can be done in the design phase to leak out as much performance as possible while still keeping the board user friendly.  We can pull in the tail so the board is still quick edge to edge for smooth and fun turns, and then keep the waist of the board wide for maximum stability so a beginner paddler will be comfortable standing for the first time. 
Step 4 and 5: Prototyping and Graphic Design
Step's 4 and 5 start to happen hand and hand so I am going to lump them together.  Now that we have a very good model of the paddle board that we would like to build, it is time to produce a series of prototypes.  Once the initial porotype is built it will get paddled by everyone at the factory, and then it will usually take 2-3 more porotypes to get it where we want amongst everyone at the factory. At that point we invite dealers and the public to test it, after that we will produce the final prototype and get it ready for production. 
From the initial porotype the marketing nerds will start to work on the graphic design of the board. They will go through an entire process of getting feedback from everyone here in the factory to then opening it up our ambassadors.  I think we have it hard in the physical design of the product it is nothing like what they have to endure in the graphic design phase.  Everyone has an opinion and everyone all the sudden is Martha Stuart or a member of Queer Eye. Marketing, as much as I think you guys just like to make things up, I do feel for you in having to come up with graphics that not only everyone like's, but fits the company theme. Yikes!
Step 6: Production
It can take an idea a full year before it makes it to production! And there is nothing more exciting for us to ship the first production boards to dealers, and then the icing on the cake is to then have our social media channels tagged in photos of our customers out living there best lives and using our products to make that happen.  
Conclusion 
We have both hard and inflatable paddle boards for everyone, so please if you have any questions at all reach out over chat, email or the phone and we will help you pick out the prefect board for your next adventure.
Related Topics
Things to Consider When Buying a SUP
Improving Fitness on Paddle Board
Can I Leave My Paddle Board Inflated?
Hard VS Inflatable Paddle Board