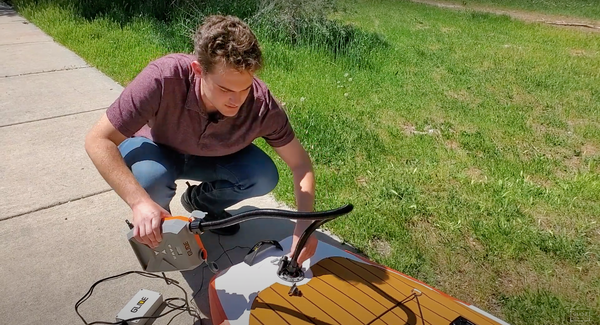 How to use the Glide Electric Pump and Battery
In our opinion, Electric Pumps are where it's at if you own an inflatable paddle board.
Luckily, with the Glide Electric Pump and Portable Battery you can inflate your board anywhere and in under 10 minutes! 
Here is our guide on how to use it properly!
Are you tried of pumping up your inflatable paddle board? Does inflating it makes your arms so sore that you lose your energy before you even hit the water? Do you hate having to awkwardly lay on your board to deflate it? Do you wish there was a solution to this madness?
Have we got great news for you! We're happy to present you with our Glide Electric Pump. This Electric Pump simply plugs into your cars cigarette lighter and will inflate as many boards as your car allows (in our experience that's until your cigarette fuse blows, we've pumped up 10+ and still haven't replaced the fuse), or another option is our Glide Portable Battery that is rechargeable, and can inflate up to four paddleboards!
Now that we've sold you on it, let's get into how to use it properly. If you are a verbal learner we have YouTube tutorial of it as well.
Assemble
When your Electric Pump arrives it will come a box with the pump and the hose detached. You will find on the Electric Pump that there are two sockets with protectors on it, above them each have some text titled "Inflate" and "Deflate". These are for easy identification of which one to attach your hose to. 
Important Step: Make sure to keep both socket protectors OFF. This is help the air flow. Your Inflatable Paddleboard will struggle if you keep one of the protectors on.
You will obviously attach the hose to the "Inflate" socket with the end of the hose that has a large chunk on it (as featured in the photo below). You will screw it in clockwise until your are no longer able to easily keep turning.
Once, you've successfully tightened the hose to the pump enough you will plug your Electric Pump into your cars cigarette lighter or the optional Glide Portable Battery. Make sure that you have pushed it in enough for the pump to get power, you will be able to tell if it is by looking at the little screen on the Electric Pump to see that it is on and working.
If you are using the Battery you will simply put it in the socket and the Electric Pump should automatically turn on.
Important Step: If you have the Portable Battery you will need to make sure you charged it before. Each Battery purchase comes with it's own charging cord that plugs into the wall.
Pump it up!
Now that the assembly is done we can move onto the fun part, attaching the hose to the board. If your Glide Electric Pump is brand new then we want to disclaim that the first few times the hose will be really tight and hard to handle.
When you're attaching the hose to the board you have to make sure that the valve stem in UP not down, as that will keep it sealed once you detach the hose from the board at the end.
PRO TIP: For those of you with tight hoses, the trick to making it fit every time seamlessly is attaching the hose to your Paddle Board FIRST, and then attaching the hose to the Electric Pump SECOND.
You will then direct your attention to you the top of the Electric Pump. There are "+" and "-" that will let you control your set PSI. We recommend 12-15 PSI.
Once you have it on your desired PSI you will begin inflation by pressing the power button.
Now it's time to just wait! During this period we typically start setting up the rest of our stuff, such as, building the 3-piece paddle, putting on your life vest, attaching your leash to your board, and any other items you'd like to get done in the meantime. 
When your inflatable paddle board has reached the set PSI it will automatically stop. You'll detach the hose from the board, screw the valve cover back on and you're set!
Deflation 
You've gone and played on the water and now you're ready to pack it all up and head on home. To start this you will unscrew the cap on the valve of your board and press down and twist on the valve stem to begin releasing air.
While the air is naturally getting released, plug your Electric Pump into your cars cigarette lighter or into the Glide Battery and detach the hose from the "Inflate" socket and into the "Deflate" socket. 
Attach the other end of the hose to you board and press the power button and it will start sucking all the air out of the board. Unlike inflating, during deflation the Electric Pump will not automatically stop when it's deflated enough. You will have to keep an eye on it, but there no harm in any amount of complete deflation.
Once it's deflated to your satisfaction you will turn the pump off by pressing the power button again. 
That's it!! You did it. Now just pack your stuff up and you're done!
Let us know if you have any questions or concerns by commenting below, emailing us at info@glidesup.com, calling at 888-927-9405 or DM us on any of our social media accounts.
Related Topics
Improving Fitness on Paddle Board
How Inflatable Paddle Board Technology Changed The SUP Industry
Your Comprehensive Guide to Inflatable Stand Up Paddle Boards