Lightweight paddle boards for sup camping.
Looking for a lightweight paddle board for a sup camping trip?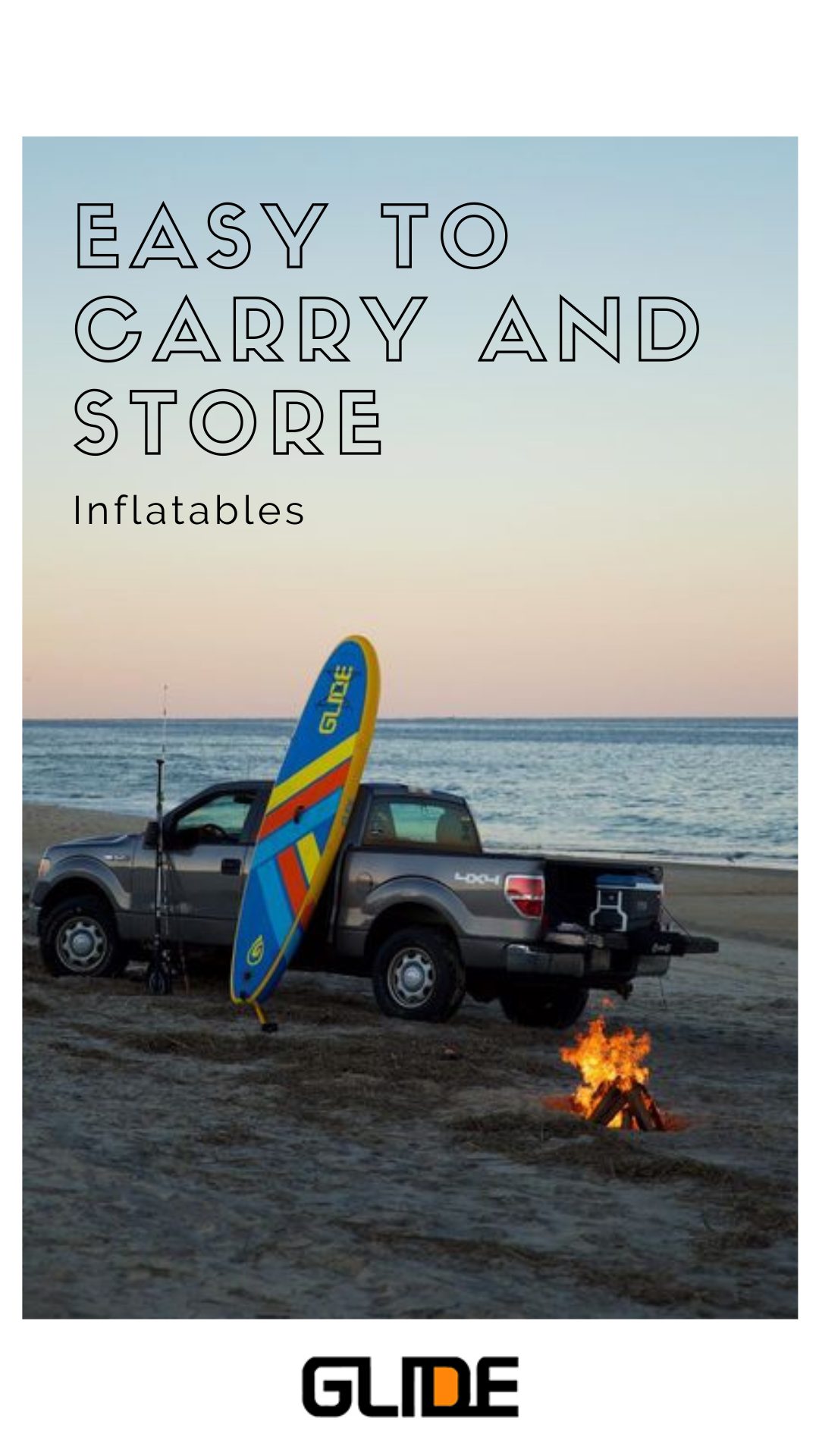 Then you have come to the right place, Glide paddle boards are some of the lightest sups on the market, and have been voted best sup for hiking and sup camping. A few other sups out there may be slightly lighter, although they do not hold up in the real world. Let's explore these lightweight sups and sup camping.
Wanting a new board and looking for the lightest paddle board that will last more than one sup camping trip?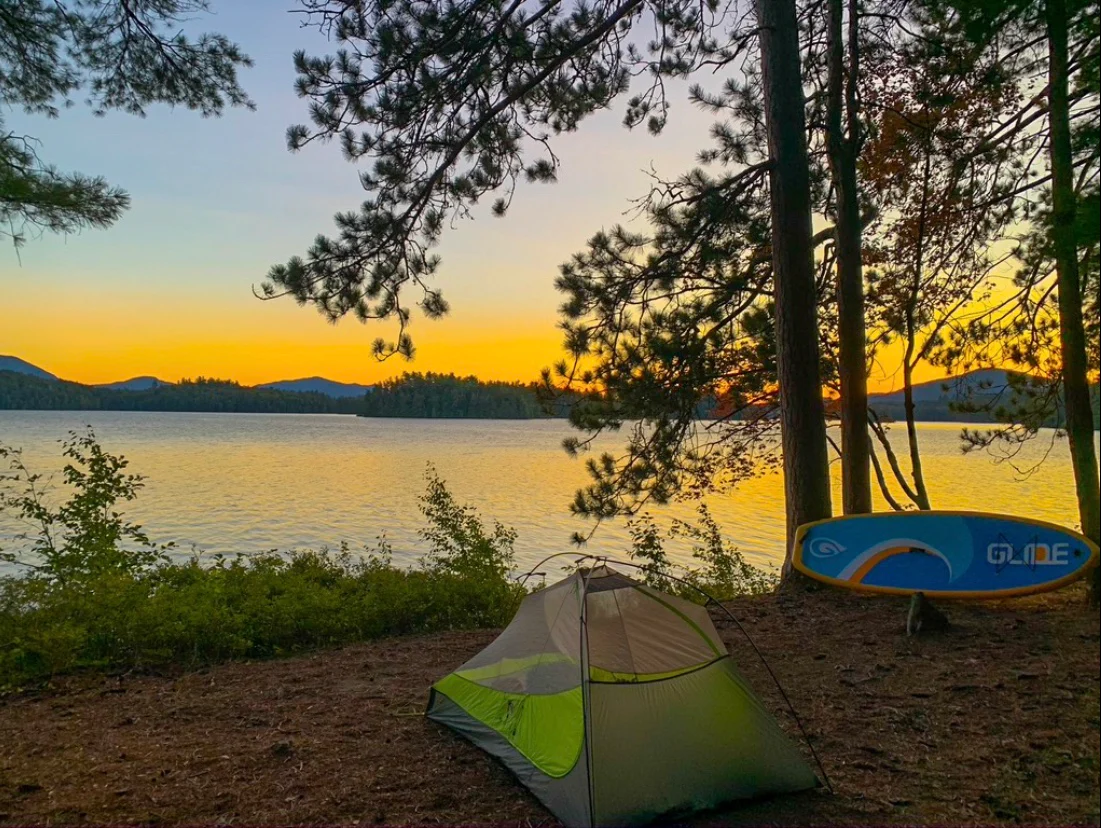 Then look no further than these incredible paddle boards. Both of these boards are stable enough that you and your camping gear will arrive at the campsite dry and safe. Nothing is worse than a wet sleeping bag or lost gear. Even if you are a bit unstable on a paddle board loaded with gear for your first trip these boards will install confidence for everyone from beginner paddlers to seasoned sup camping enthusiasts.
If you are wanting something in the longer boards category that is also one of the fastest boards on the market then the Glide 02 Quest is the board for you. Glide also offers the original Quest in its touring boards lineup if your personal preference is a hard board.
The light weight super stable touring board goes beyond a double layer of protection and is constructed with a quadruple layer military grade PVC – with a woven drop stitch core and has been voted one of the best touring boards on the market. The construction method we developed also lets us infuse the touring board with Glide's unique stiffness allowing this board to perform more closely to a solid board than an inflatable paddle board, while helping make this one of the fastest touring paddle boards on the market and a favorite for those wanting to do sup racing.
The sup camping touring paddle board has a weight capacity of 400 lbs, making this an ideal sup camping paddle board for anyone from heavier paddlers to those with lots of camping gear. The touring board will allow for paddling long distances with minimal effort, even if traveling upriver to an epic waterfall or campsite. Bungee cords at the nose of the paddle board create a great storage spot once you have your gear packed in dry bags.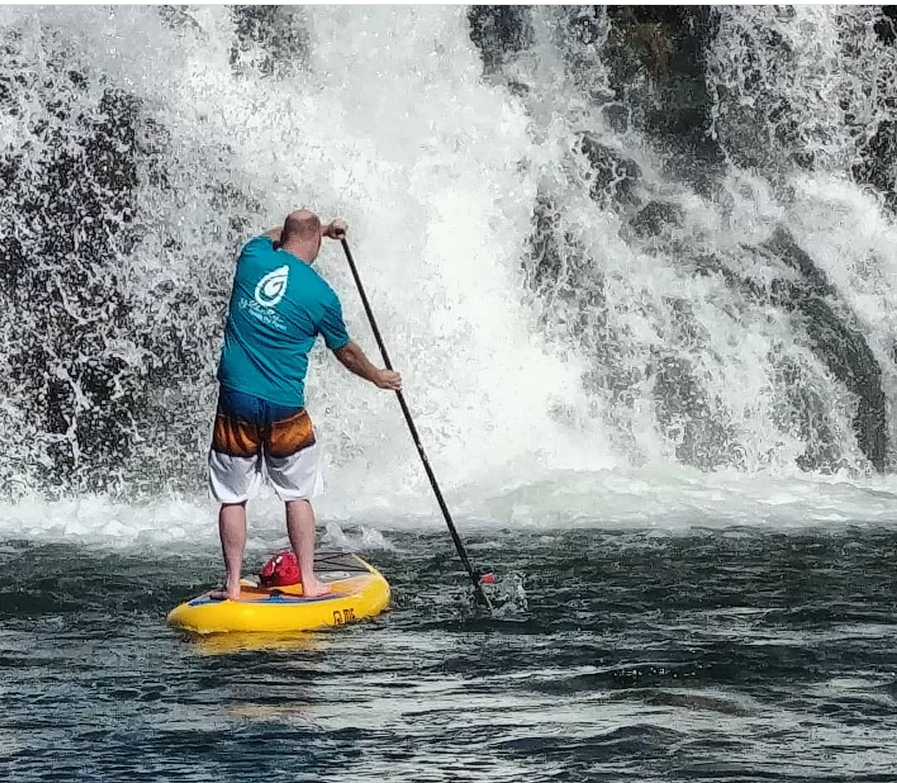 The premium quality deck pad is a durable full-length deck pad, that offers the comfort wanted when long-distance paddle boarding, while replacing a traction pad. Giving you and your dog the traction needed no matter where you are on the touring board. The deck space leaves room for you, your children, and a dog plus camping gear.
If a shorter board is what you prefer to take on a sup camping trip then Glide 02 Retro is the right paddle board.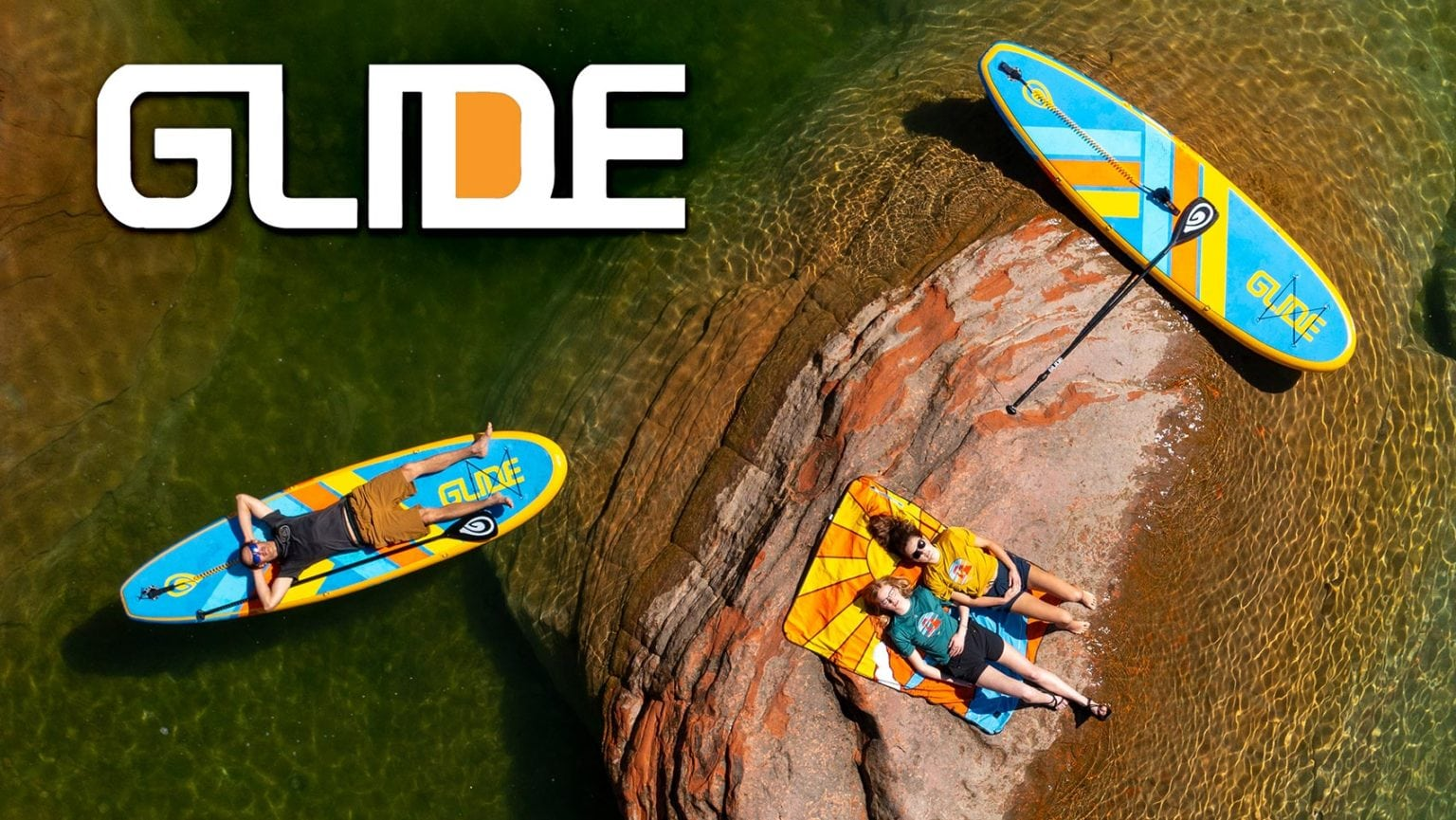 This lightweight sup is awesome for hiking into remote locations or launching from a site and heading out for some sup camping. This lightweight paddle board comes in at 10'6" long and has a board width of 33 inches. The Glide Retro all-around camping sup comes in two versions of rigid paddle boards if you prefer a solid board to take on your sup camping trip.
This lightweight paddle board has a front storage area with a weight capacity of 400 lbs, meaning you can talk all the gear you want when paddle board camping, and is considered one of the best lightweight paddle boards on the market. The board weight is only 23 pounds which is incredible for such a durable board with these amazing features. It also sports a full deck pad to help make the best paddle-boarding experience possible.
What's included with these two lightweight paddle boards?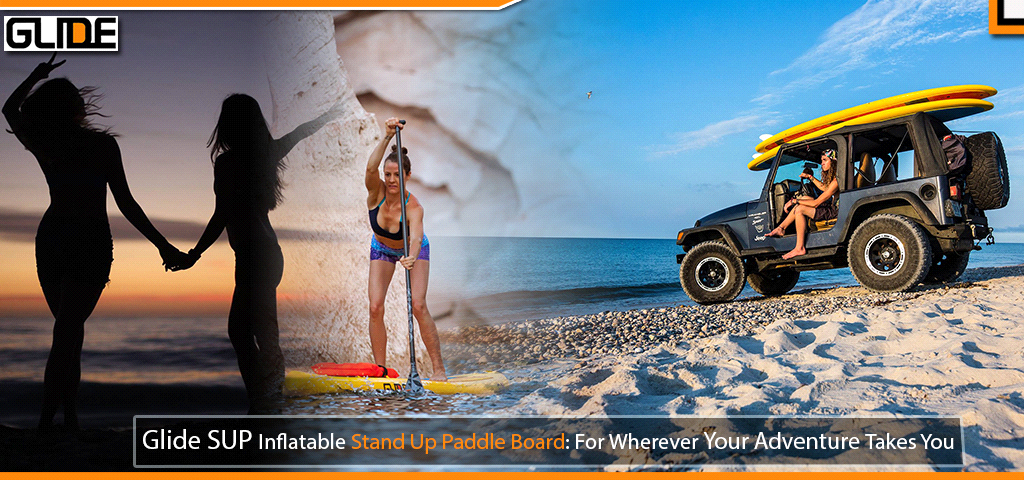 Board bag backpack with rolling wheels for easy travel
Adjustable Paddle
Coil leash
High-capacity SUP pump
Center fin
Repair Kit
Kayak Seat
Carry Strap
Bungee tie-downs on the boards.
Things that may help make the most of your sup camping trip!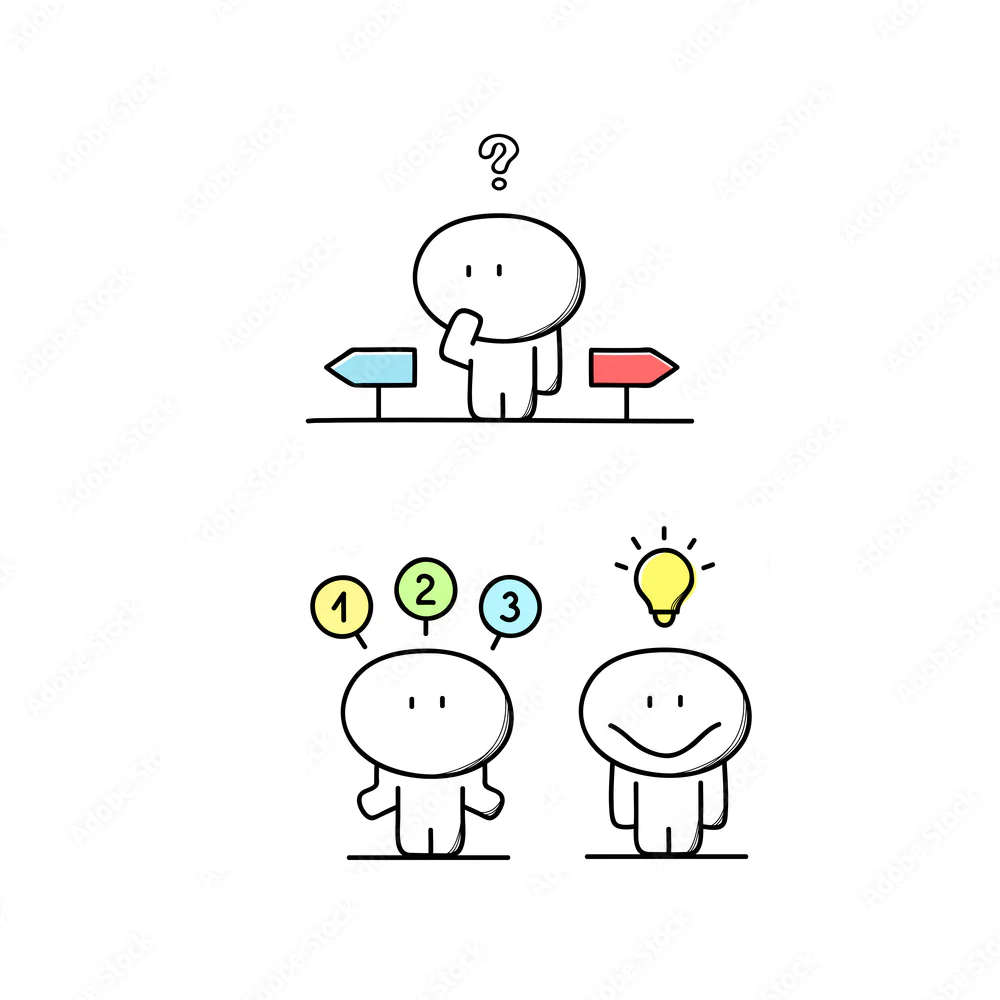 Regardless of whether you are going to a campground or doing wild camping aka dispersion camping, the following may prove helpful as well as this article.
Create a packing list once you know where you will be going. Some things to always have on the packing list should be the following.
Personal flotation device or life jacket and a dog life jacket if you will be bringing a pup along.
Drinking water.
Sun protection.
First aid kit and other safety gear packed in a waterproof dry bag.
A route planned out to avoid private land and to leave with friends or loved ones.
Camp stove.
Firewood.
Backpacking meals or one-pot meals.
Insect repellent
Shelter, tent, etc.
Sleeping bag.
Repair kit.
Dry bags.
After this, you can customize your sup camping gear to where and when you will be going. And remember the lightest paddle board may not be the right board for you and often won't be. You will want a lightweight paddle board that is also durable, avoid anything with only double-layer construction the best paddle boards are lightweight and durable so they can be used in the real world.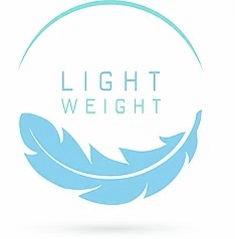 Stick with a Glide light weight paddle board and you will know you chose the right board for every occasion. For more on lightweight paddle boards check this article out. No matter what you choose to take sup camping we hope it was an amazing camping trip. Let us know on Instagram where you went sup camping #glidesup.