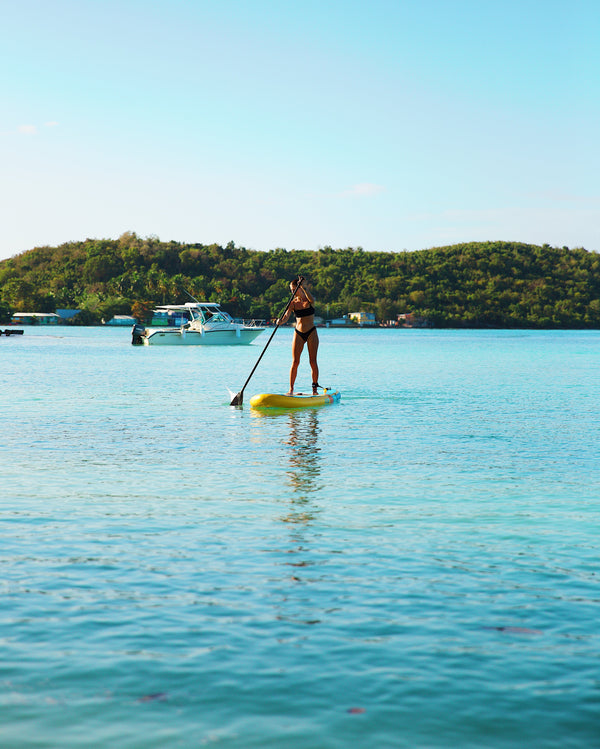 SUP Tips for Beginners
Stand up paddling is a great way to get out on be on the water with friends and family and explore new areas. Here are a few tips to get you started and out on the water enjoying your new paddle board.
We all start somewhere and hopefully, these few SUP tips for beginners will help you get started on the right track.
SUP or standup paddle boarding is a great way to enjoy the water. You'll be able to reach new parts of old lakes and travel efficiently while getting a solid workout in.
Not to mention, a fine suntan. Just kidding, in SUP tips for beginners, #1 is to wear sunscreen.
Whether you are considering getting a board or have yet to try the new one you got for Christmas. Follow some simple guidelines in the beginning and you'll develop good habits in paddling. This will make the next year on your board more fun and possibly even help you avoid some injuries.
Board Choice
Go wider and longer when it comes to choosing your first board.
Get something that you can grow into as a paddler but that will also cater to your newbie status.
An all-around inflatable SUP like the Glide O2 Retro will allow you to paddle on almost any form of water by lending itself to stability more so than any specific performance.
The wider the board the more stable it is, the narrower the board the faster it is.
When looking for you first board you will want a board that is nice and stable, but still fun to paddle. The O2 Retro is a perfect blend of stability and speed for a first board.
We have a complete line of inflatable paddle boards for every activity you want to do on the water.
That being said if you are determined to be a racer because you love the idea. Find a stable touring board that's longer and narrower. The O2 Quest is the perfect choice to get started in touring and racing.
The learning curve may be rough at first but in the end, you should get the board you want. Just remember it might be nice to have two boards anyway in the future to teach a friend or family member how to paddle.
Start Slow
There's no need to rush it here, even if you have to start on your knees for a day or two. An all-around SUP tip for beginners is to go at your own pace.
Shenanigans in the beginning can lead to poor form and even overuse injuries of the wrong muscles. Think about where you are pulling from, where you are standing on the board, and find your sweet spot.
The sweet spot to stand on is to have the handle of the board between your feet (or knees).
As you get more comfortable try reaching out more, turning smooth, and reading what the water is doing beneath you. Slow is smooth and smooth is fast.
Get Some Coaching
There's no substitute for coaching and most standup paddlers are friendly even if they don't know you. Ask questions and don't be afraid to sound silly about it. Those people were beginners once too.
I've found that some are intimidated to stand up initially, but once they do. they kick themselves for not trying it out sooner. That little extra push from a buddy or coach might be what you need to fast-track your success.
You can find lots of popular places to paddle board on our blog.
Learn to Paddle Efficiently
We do want to get a workout here but in the correct way. SUP tips for beginners 101 is to paddle efficiently. You'll still get a solid workout in but you can do so and cover more distance. Here are some paddling techniques to constantly focus on.
Keep your core engaged and your arms straight, think torso twist
Instead of pulling the paddle through the water, pull the board in front of the paddle
Reach out about 2 feet in front to paddle forward and switch sides to stay straight
Keep the paddle vertical to hold the board in a straight line, this will lessen the number of times you need to switch stroke sides
We have a ton of articles on ways to improve your fitness paddle boarding, go check them out!
Learn to Fall
It's inevitable and can be refreshing but learning to fall is a good skill to have.
Especially if you have a rigid paddle board. The last thing you need is to conk your head in the middle of a lake.
So learn to fall away from the board.
You have a leash on hopefully and you'll only make a splash. Seems simple but worth noting.
An inflatable paddle board does provide a bit softer of a surface if you do crash down on the board, but the disadvantage to and inflatable board is they are taller, so they are slightly harder to get back up on than a ridged board.
If you want more of a breakdown of the difference of a Hard Board vs. Inflatable SUPs make sure to check out our breakdown.
For safety, in the beginning, paddle with someone or at an area where there are other paddlers. You will learn faster, make new friends, and have some people looking out should something go wrong.
Remember to have fun, you may find it easy or you might have to work at it. We are all different but I think we can all paddle.
Explore all SUP has to Offer
Paddling boarding will open up an entire new world to you on the water!
One of the best parts of paddle boarding is finding new ways you can use your board. You can explore your local lake, run a white water river, surf, or take a SUP yoga class.
We have boards for everything you can imagine and as your skills grow take advantage of all the opportunities that come with owning your own paddle board. And if you own a inflatable paddle board you will be able to take it with you on trips and explore areas you would not have had access to before.
And remember tip #1 don't forget your sunscreen. Seriously, wear sunscreen.
Let us know if you have any questions at info@glidesup.com or at 888-927-9405.
Related Topics
Improving Fitness on Paddle Board
How Inflatable Paddle Board Technology Changed The SUP Industry
Your Comprehensive Guide to Inflatable Stand Up Paddle Boards