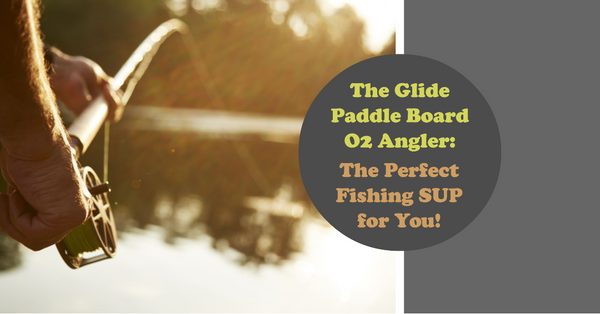 The Glide Paddle Board O2 Angler: The Perfect Fishing SUP for You!
Introduction: When it comes to fishing, having the right equipment is crucial to enhance your experience on the water. The Glide Paddle Board O2 Angler is a remarkable fishing stand-up paddleboard (SUP) that offers anglers a unique and unparalleled fishing adventure. In this article, we will delve into the detailed features and accurate reasons why the Glide Paddle Board O2 Angler is the ideal choice for all fishing enthusiasts.
Unmatched Stability:

The Glide Paddle Board O2 Angler is designed with stability as a top priority. It features an extra-wide and elongated platform, ensuring superior stability even in choppy waters. This stability allows anglers to stand confidently on the board without the fear of tipping over, providing a solid foundation for casting, reeling, and landing fish. The Glide O2 Angler is also considered one of the best if not the best inflatable paddle boards for fly fishing. If you want to get into sup fly fishing this article is for you.

Durable Construction:

 

Constructed with high-quality materials, the Glide Paddle Board O2 Angler is built to withstand the rigors of fishing expeditions. The board is crafted from durable and impact-resistant polyethylene (PE) material that can withstand accidental bumps or scrapes without compromising its integrity. This rugged construction ensures that the SUP will endure countless fishing trips, maintaining its performance and longevity.

Fishing-Specific Design:

 

The O2 Angler boasts a fishing-specific design that caters to the needs of anglers. It features multiple attachment points strategically placed on the board to secure various fishing accessories such as rod holders, fish finders, and tackle boxes. Additionally, it is equipped with a spacious deck area that allows anglers to move freely and store their fishing gear conveniently. The board also comes with dedicated bungee storage areas for securing additional equipment and gear.

Versatile Stability System:

One of the standout features of the Glide Paddle Board O2 Angler is its versatile stability system. The board incorporates an adjustable fin that enhances tracking and stability, providing better control and maneuverability on the water. Anglers can customize the fin setup based on their preference and the conditions they encounter, ensuring optimal performance in any fishing scenario.

Excellent Weight Capacity:

The O2 Angler offers an impressive weight capacity of 500 lbs, allowing anglers to bring along all the necessary gear for their fishing expeditions. With a generous weight limit, you can comfortably carry coolers, bait buckets, and other essential fishing equipment without compromising the stability or maneuverability of the board.

Comfortable and Adjustable Seat:

To further enhance your fishing experience, the Glide Paddle Board O2 Angler features a comfortable and adjustable seat. The seat allows you to switch between standing and sitting positions, providing relief during long hours on the water. The adjustability ensures that you can find the perfect position for casting and reeling in fish without sacrificing comfort. Or better yet get our optional cooler and seat combo.

Easy Transportation and Storage:

The O2 Angler is designed with convenience in mind. It is lightweight and features a built-in carry handle, making transportation to and from the water a breeze. Additionally, the board comes with tie-down points and bungee cords to secure your fishing gear during transportation. When it comes to storage, the O2 Angler is compact and easy to store, fitting into most standard storage spaces.
Conclusion: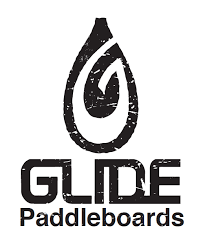 For fishing enthusiasts seeking a top-of-the-line stand-up paddleboard specifically designed for their needs, the Glide Paddle Board O2 Angler is the perfect choice. With its unmatched stability, durable construction, fishing-specific design, versatile stability system, excellent weight capacity, comfortable seat, and convenient storage options, this SUP delivers an exceptional fishing experience. Invest in the Glide Paddle Board O2 Angler and elevate your fishing adventures to new heights.
Glide Paddle Boards SUP Fishing Tips.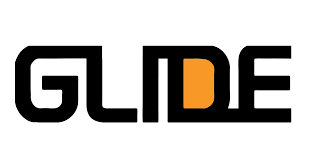 Paddle board fishing a comprehensive guide. 
The Glide O2 Angler. Fishing sup board perfect for your next fishing adventure. Glide makes the right paddle board for all your paddle boarding adventures.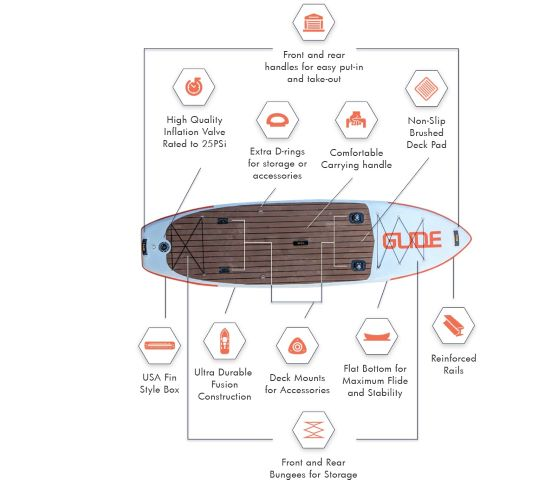 Glide beginners tips to sup fishing. 
Paddleboard fishing, can you fish from a sup?
Landing fish while SUP fishing: Tips and techniques.
Fishing from a Paddle Board: Tips and Tricks for a Successful Experience!
What do I need to start sup fishing?
How to Fish from a Paddle Board: A Beginner's Guide to Spring SUP Fishing.