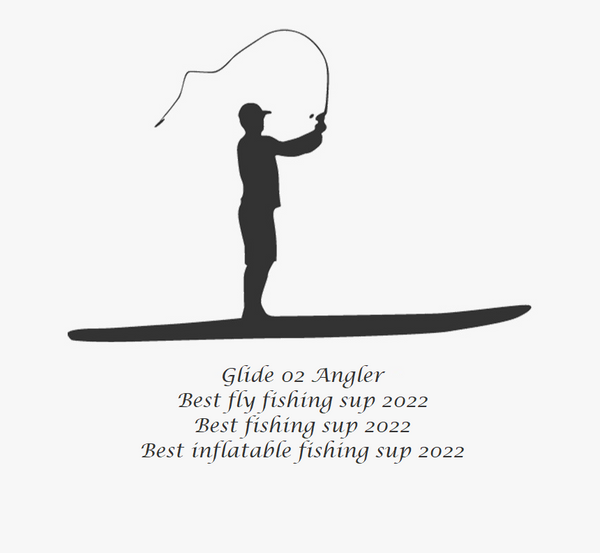 The best inflatable fly fishing paddle board and inflatable fishing sup board as a whole is?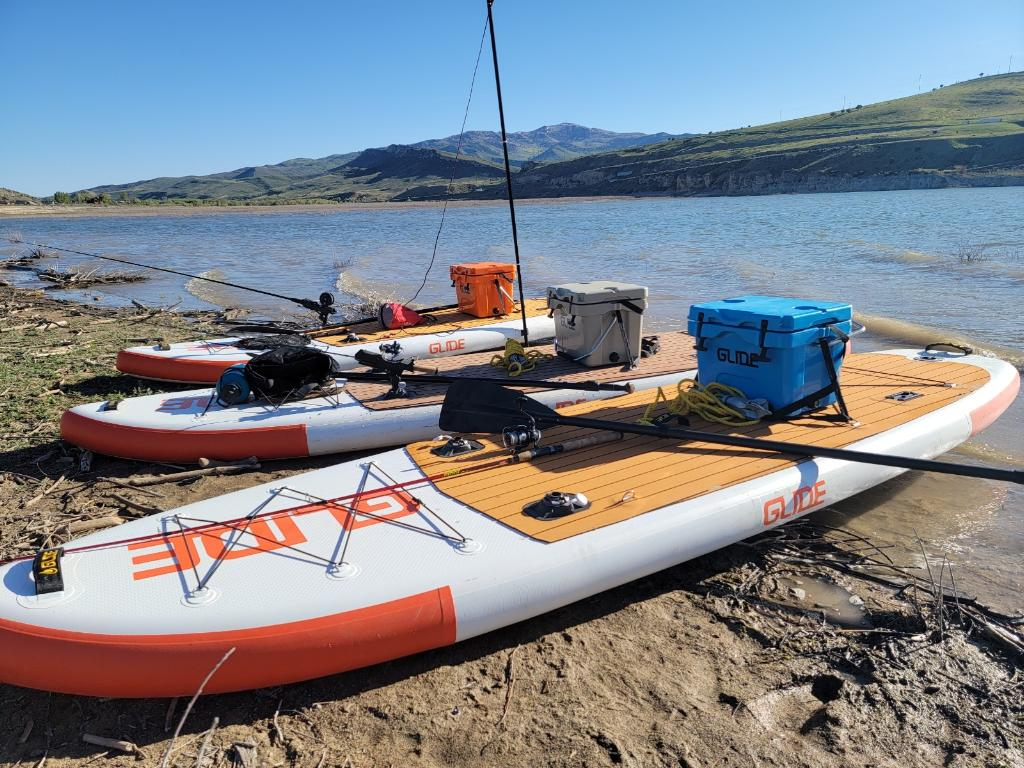 If you have made it to this article then you probably already know it is the inflatable fishing sup 02 Angler by Glide paddle sports. This is  the best fishing paddle boards on the market. It is superb for sup fly fishing, lure fishing, trolling, and open water fishing. With the incredible 500 pound weight limit and included fishing rod holders, this fishing sup will get all your fishing gear to your favorite fishing spots.
02 Angler Fishing sup specs.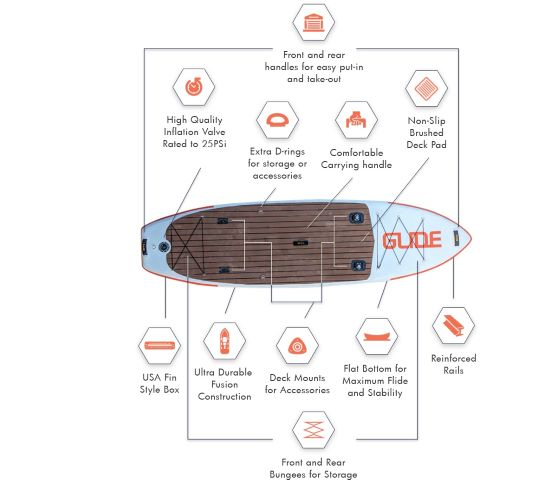 This inflatable paddle board is 11 feet long, having a longer length helps give increased stability which you will be happy for when paddle board fly fishing or just sup fishing. It also helps ensure you have space for all your fishing gear.
The sup fishing board has a width of 36 inches, the wider width also helps with making this an incredibly stable board, especially handy when casting while fly fishing, and when fighting to and big fish. It also provides plenty of space for the gear mounts, d rings, front and rear storage areas, and attachment points for other fishing gear.
The 02 Angler Sup fly fishing board also has a flat bottom and removable fins in a USA-style fin box. The flat bottom also helps promote stability when sup fishing, and landing your prize once you catch fish. It also helps ensure you can traverse shallow water to reach your favorite fishing location on your next fishing adventure.
The fishing paddle board also has handles on the front and rear of the board for easy put in and take out. Unlike other fishing sups, the Glide 02 Angler has been carefully crafted to be the ultimate fishing sup. And is capable of carrying you and your favorite fishing rig plus coolers, ice, and a pup or two.
Is the 02 Angler only for paddle board fishing?
The Angler is a great board for those who want to paddle something a bit more stable than other paddle boards, or will be bringing a fishing buddy with them (child, dogs etc) on the next fishing trip.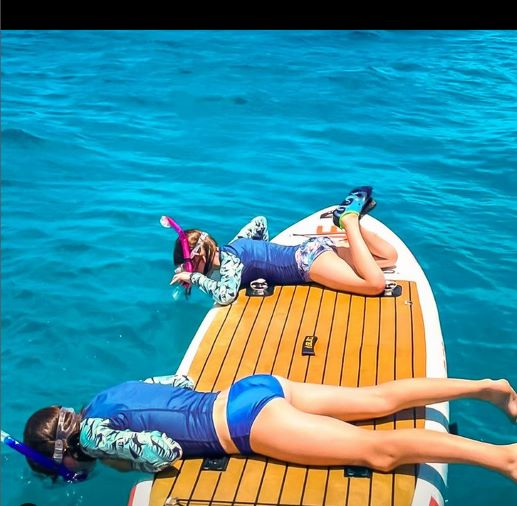 Unlike other stand-up paddle fishing boards, this light weight fishing sup is a great choice for paddle boarding with dogs, or doing extended trips. The extra d rings for additional gear and attachment points for sup anchors make this an ideal board for adventure seekers. And being a Glide paddle board fly fishing you know this inflatable paddle board will be extremely durable. Making the chance of ever needing the included repair kit nearly 0. Murphy's law tells me that I say you never will need the repair kit then you will need it for sure. Although it is nice to bring with you, as you never know when you will need to fix another brand's less durable fishing paddle board.
My fishing experience.
My first fishing trip was long ago as a child, behind an old locale restaurant in Wanship Utah, named the Spring Chicken in. My rod holder at the time was Betty W, a family friend and neighbor who took the family out to dinner and my first fishing trip. We fished the river behind the restaurant for Rainbow Trout. And I remember when I landed my first fish, I thought it was a big fish, pretty sure it was a monster Rainbow. Even to this day it remains one of my favorite fishing spots. The river is also a fun spot to stand up paddle board, and is perfect for inflatable paddle boards.
One of the things I love about fly fishing from this fly fishing sup is talking with other fly anglers when they see me on the board fishing and checking out the fish I have landed. From the standing position, I am able to spot fish that would go unnoticed from the lower fishing position inside a kayak letting me do some really fun sight fishing. I also love the full-body workout I get when paddling and the extra excitement of being on a fishing sup when reeling in fish that are putting up a fight.
The two rod holders work great for a fly fishing setup as they allow one of my fly rods to have a different fly line weight and fly than the main one giving me the best chance to catch fish with a complete sup fishing rig. Sometimes they are picky and not biting on the fly you would think is appropriate. Having the two-rod holders means I can quickly swap my fly rod and see which fishing setup is going to be best for this fishing trip.
The front bungee storage is where I keep my fly box when sup fly fishing and my tackle box/tackle bag. Dry bag, with first aid kit and hand pump. And I use the Glide cooler to store drinks, snacks, and my fish of the day, when sup fly fishing or sup fishing. The cooler also is designed to work as a seat and comes in multiple colors ensuring one will fit your personal preference.
My fly fishing sups set up.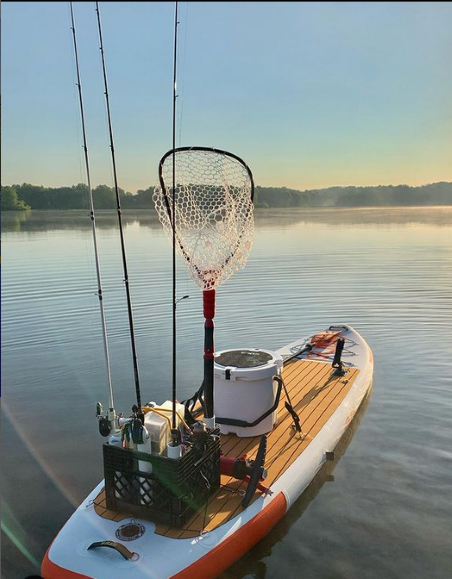 The great thing about inflatable sups is the ease of transporting, ability to reach water that is not nearly as feasible with epoxy boards or other hard boards.
When sup fly fishing on freshwater I use a Sage fly fishing Foundation fly rod with half wells and Reddington classic trout rod in a 5wt 8'6" set up for sup fly fishing for trout.
When I am fly fishing in saltwater I use an ST, Croix Imperial Salt Water Fly fishing rod. And a Thomas and Thomas Zone Fly fishing rod. I am trying to see if I like one rod better than another when fly fishing.
I am also experimenting with the weights of the fly line I prefer when fly fishing. Especially when going for the longer casts from mid-board. Being on one of the 02 Angler fishing paddle boards has also made me realize that even if I didn't land a fish, just being out on the fishing paddle boards makes for a perfect day to fly fish.
For a tackle rac I made a custom one based on a tackle rac photo I have had customers send me. I am loving the larger boats in our inflatable sup fishing paddle board the 02 Angler. Even when I am not inflatable fishing from this stand up paddle board it has become a favorite. Amd the puppy nephews love having enough room on the stand up paddle board for the pack.
What is your go-to fishing gear and setup?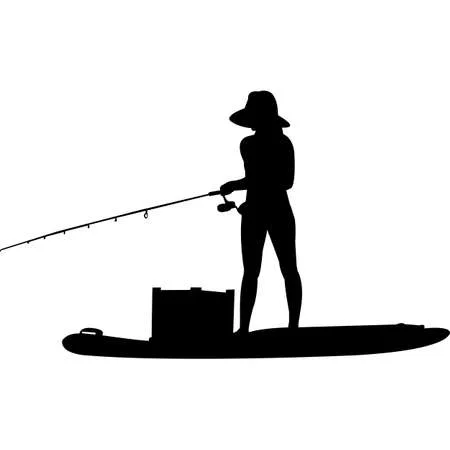 When you are fly fishing are you targeting trout, or bass or another target species. Have you built a custom tackle rack for your stand up paddle board? And do you fly fish in fresh water mainly or is salt water where you prefer to fly fish? Or is brackish water fly fishing that gets you out sup fishing? Do you use your inflatable fishing paddle boards for things other than fly fishing or sup fishing? Show us your custom tackle rack and fishing location at #glidesup on Instagram.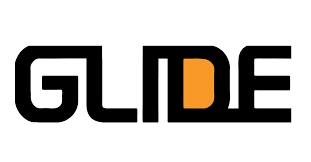 .Glide Paddle Boards SUP Fishing Tips. 
Paddle board fishing a comprehensive guide. 
The Glide O2 Angler. Fishing sup board perfect for your next fishing adventure. Glide makes the right paddle board for all your paddle boarding adventures.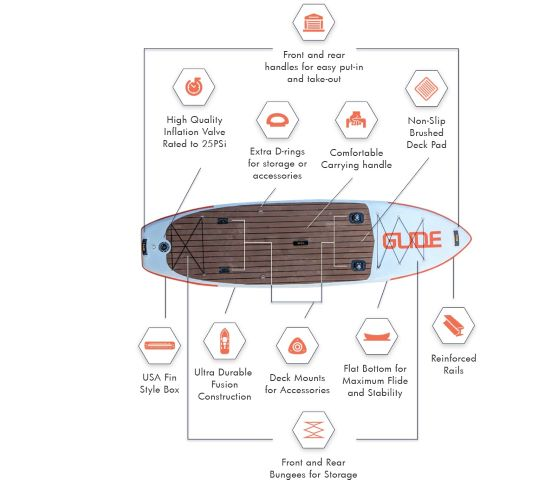 Glide beginners tips to sup fishing. 
SUP fly fishing tips for trout.
Landing fish while SUP fishing: Tips and techniques. 
Paddleboard fishing, can you fish from a sup?
Good luck and happy fishing! Let us know about your latest sup fly fishing adventure at #glidesup on Instagram.