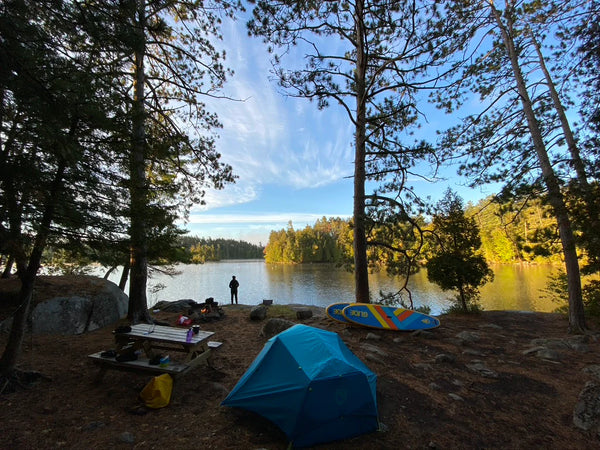 Hiking paddle board and sup camping.
Looking for a backpacking paddle board?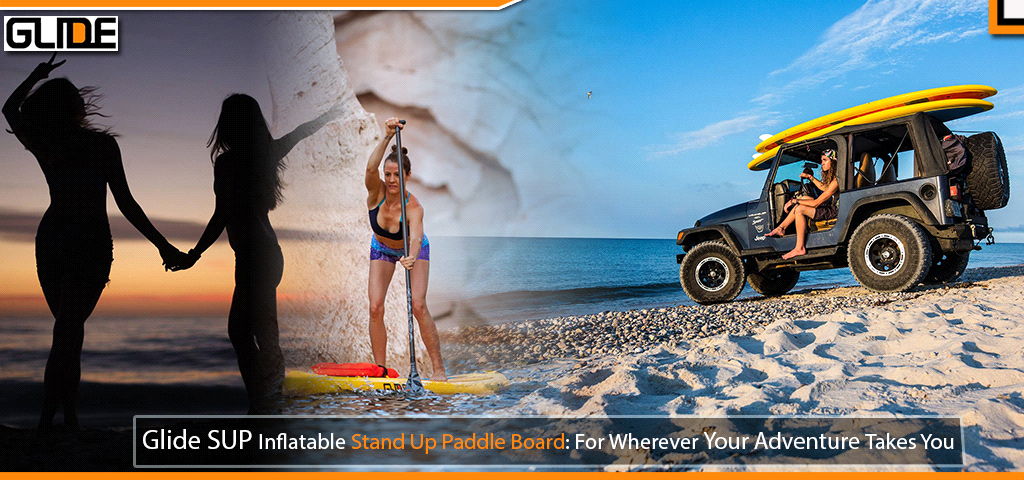 For a high-performance super lightweight inflatable paddle board that has the durability, you need in a backpacking paddle board Glide has you covered. Our two super lightweight paddle boards are the perfect choice for reaching isolated mountain lakes, going on a sup camping trip, or even running an isolated stretch of river. With the durability and reliability that Glide is famous for, means you won't spend your trip sitting on shore wishing you had brought a board better suited for the real world.
The Glide 02 Quest.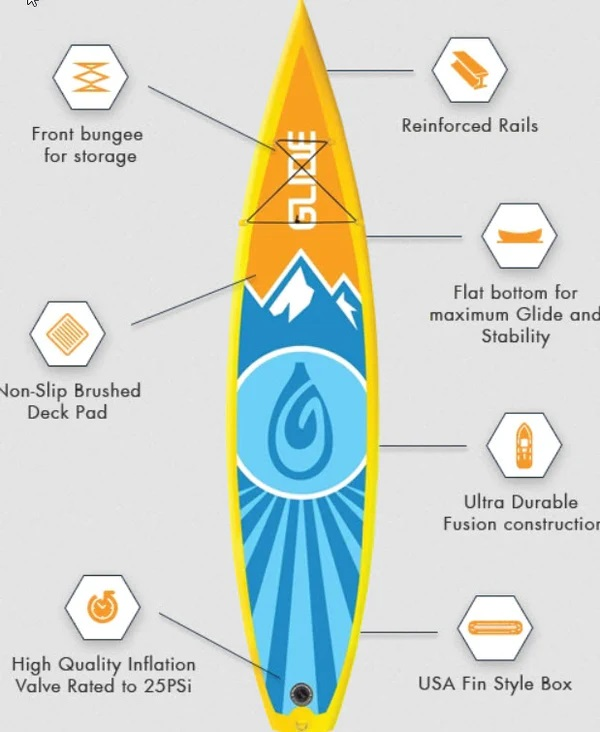 This super light touring inflatable paddle board has extra stability, letting you feel comfortable paddling on even the coldest mountain lake.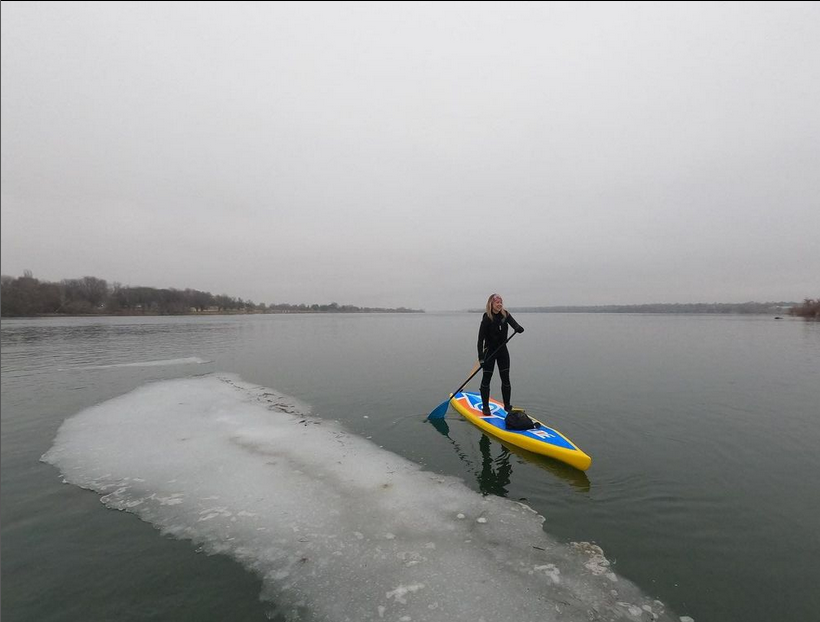 Paddlers of all skill levels will find this to be the best touring paddle board for hiking and having fun under the summer sun. The board is 12'6 long and 30 inches wide, with a removable center fin. The board has a load weight of 400 lbs meaning that it will easily accommodate all your accessories and camp gear. The stable board will make sure that when you reach camp your tent and other gear will still be where you placed them, and be nice and dry ensuring your camping trip is a fun and memorable one.
The quest has room at the front of the board to store dry bags, camping gear,tent and what other gear and accessories you want to load up with for your adventures.
The Glide 02 Quest has a full-length EVA deck pad, front storage and US-style fin box with removable fin. This board is made with a unique fusion technology that creates Glides unique stiffness allowing this lightweight sup to perform more like solid boards. The composition of the board is a quadruple layer military grade PVC – woven drop stitch core. This ensures the board is durable, and reliable no matter where you decide to go paddle boarding. From the local pond to remote lakes.
Included with the 02 Quest is everything you need for a lifetime of memories.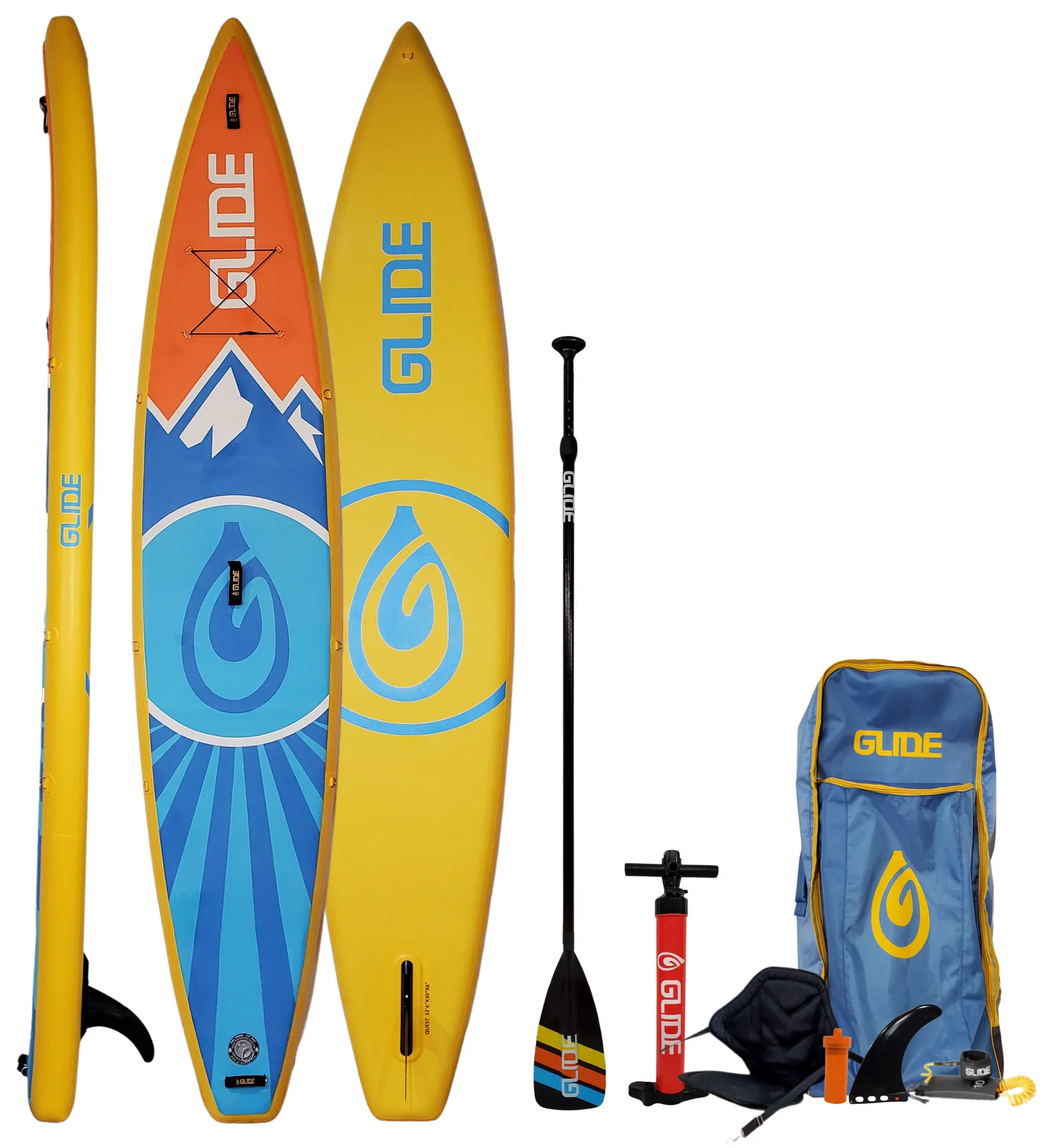 The complete package includes a backpack-style carry bag with wheels. This backpack is comfortable to wear and designed carefully to help ensure comfort when hiking. You will notice a huge difference in the quality and comfort of sup backpacks over other sup backpacks. Allowing you to go long distances and still feel comfortable as you hike to the remote lakes, rivers or campsites. This backpacking paddle board will exceed all your paddle boarding needs and will have you looking forward to hitting the trail.
Take a look at the lake below, this is just one of the many lakes you could be stand up paddle boarding on with the 02 Quest backpacking paddle board.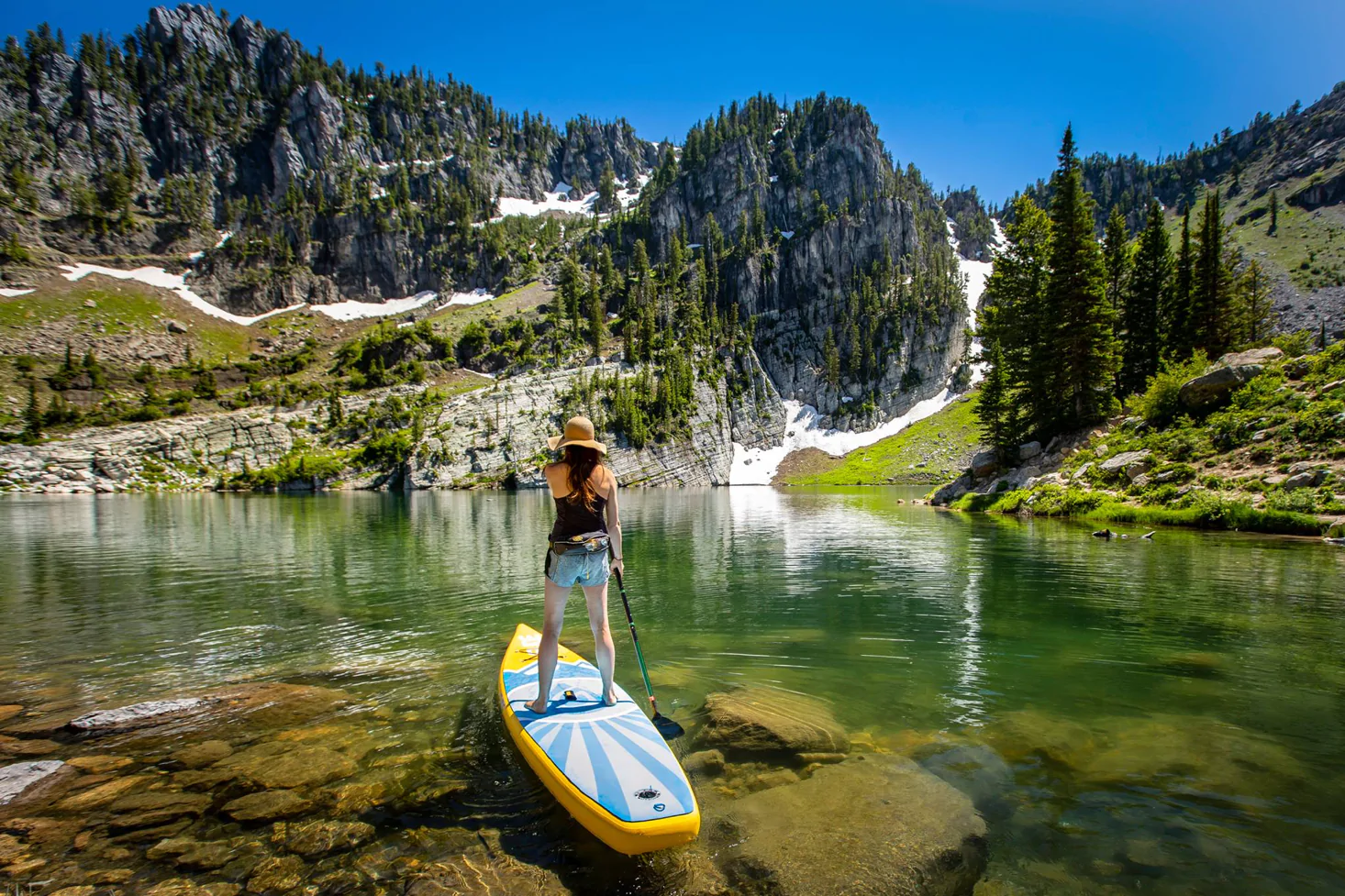 The Glide 02 Retro all-around camping paddle board.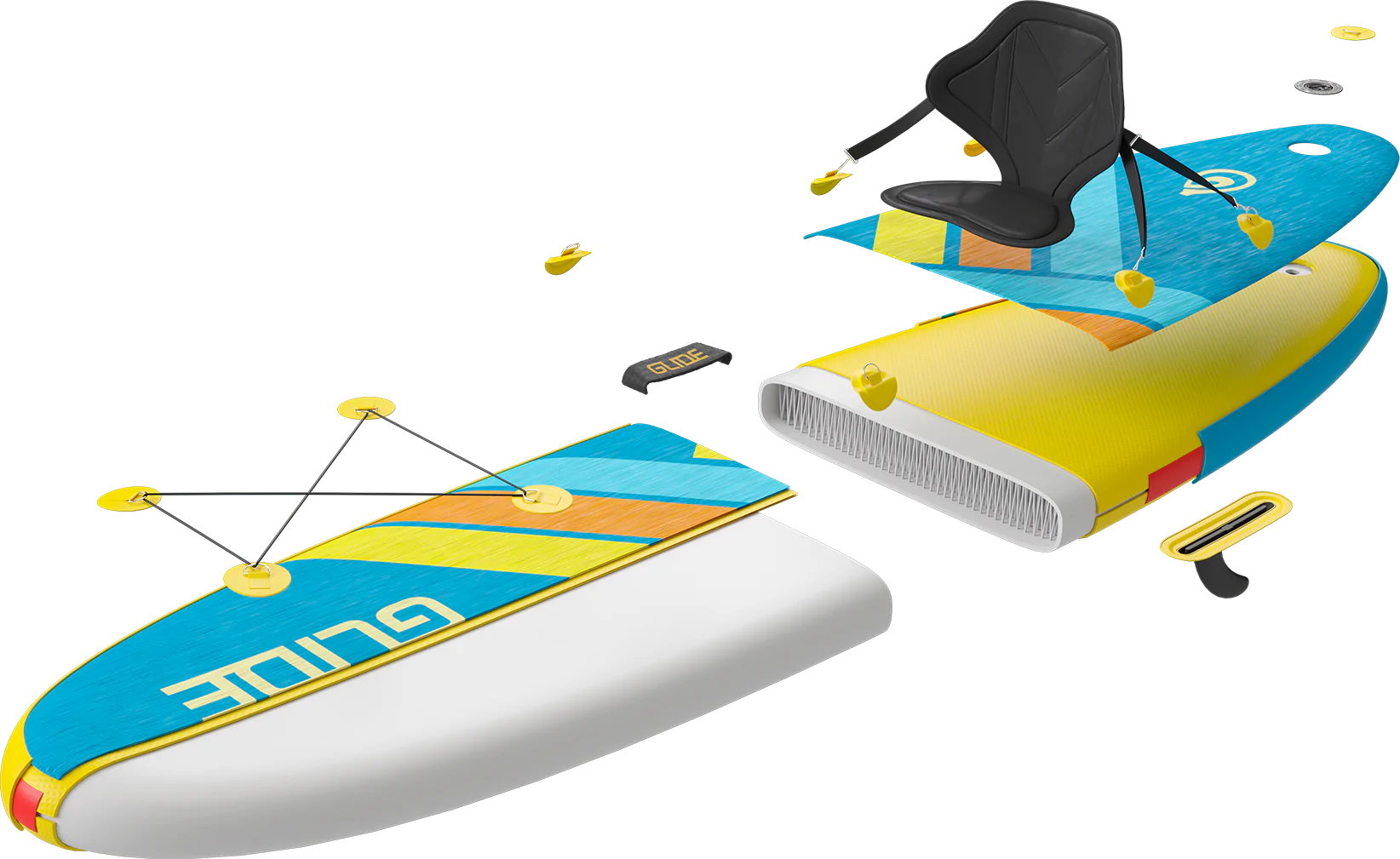 The Glide 02 Retro is the ideal inflatable paddle board for those who want to be able to do a bit of everything, from catching waves at the beach to river waves and river running or hiking to remote rivers and mountain lakes. The Glide 02 backpacking sup can accommodate what ever you want to do.
At ten feet 6 inches in length and width of 33 inches, this is a great board for a sup camping trip, from a single-day trip to multi-day sup camping adventures this is the right paddle board for you.
The durability of this board is outstanding and is one of the boards recommended for dogs. It is one of the boards I most often use when hitting remote locations as it will allow for me to run class I and II rapids, has enough room for my dry bag, and the room for me to paddle board with more stuff. Having the ability to have a lightweight yet durable inflatable paddle board that does not make me hate the trail and have to constantly rest is a blessing. This is largely due to the pack that is included with the paddle board. And the ultra-lightweight high-performance paddle.
The weight capacity of this board is 400lbs, with a bungee cords storage system at the nose of the paddle board. The width and stability of this board make it a great paddle board for paddlers of any skill level. From short in and out day trips to sup camping. It has enough room to carry whatever gear you want at the lake, through ocean waves or downriver. And will give a different perspective than those attempting to kayak on those same waters. When you carry this paddle board you will soon appreciate how comfortable and well-designed the pack is for a hike or simply pulling up to the water's edge from a vehicle.
When I leave the office today this is my packing list. Puppy nephew, a smaller backpack for him to carry his kibble and dog bed. Water, camping gear, and a durable tent to withstand dog paws. pfd including puppy life jacket, jetboil stove, and food with other clothing and camping gear.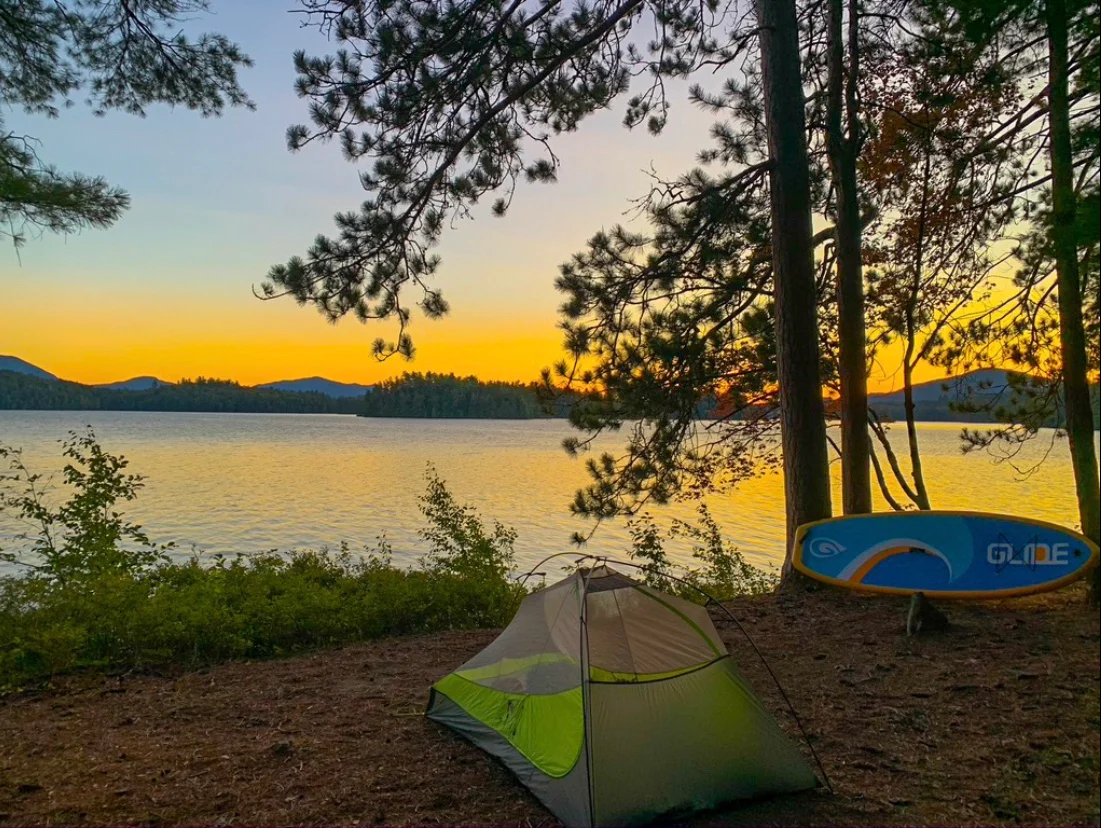 Let us know where you like to explore and about your sup camping adventures at #glidesup on Instagram. This article can help you prepare for sup camping. And this article will show you 5 amazing spots to hike your isup into.