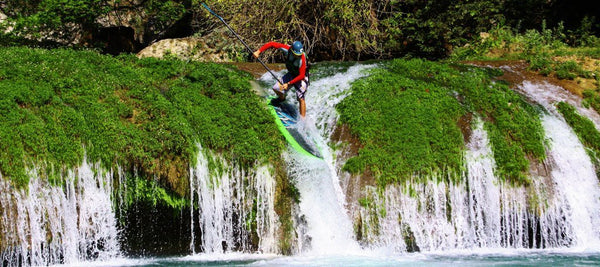 River SUP Gear
It's safe to say that we have experience with whitewater paddle boarding. 
Here is the run down of what gear you'll actually need.
Introduction
It's safe to say that we have experience with whitewater paddle boarding.  Whitewater SUP is a lot of fun but can also be a dangerous challenge for whitewater paddlers so you are going to want the most cutting edge gear available.
Following is a run down of the whitewater accessories you'll actually need.
Our History
When Glide started out back in 2010, our entire premise was to create ultra-durable paddle boards that we could use for whitewater.  Our founders used to head down rivers in kayaks so why not try a SUP board?
After breaking many a paddle board in half on river rocks, we were finally able to create a formulation that made our hard boards the whitewater SUP of choice from the Payette River in Idaho to the White Nile in Uganda.  
When the river hard SUP board trend shifted to inflatables several years ago, we created the most durable iSUP on the planet with four layers of military grade PVC fused together. You will still see hard boards out there but by and large, the trend is towards whitewater inflatable sups.
What you will need
River running on a whitewater SUP is not for the meek. You will want to have a high SUP skill level before attempting it.  
The sport can be extremely dangerous if proper safety precautions aren't taken.  For starters, you will need the proper gear before you even want to think about pointing your board down your local shallow river. 
White water paddle board
Most river paddling is done on an inflatable SUP board these days whether you are charging down shallow rivers or simply river surfing. Ideally your river board will be specific to whitewater SUP.
Typically a whitewater SUP will have a nose that is rounded but slightly pointed and a wide tail. There are several different board designs for the various challenges rivers provide.
River surfing
River waves are river features that are created when the rapids head over an obstacle like a rock and then shoot up causing a perpetual wave. SUP boards designed for river surfing tend to be smaller in length and more maneuverable rather than being built for stability.
These boards also tend to have a smaller deck pad and a tri fin setup meaning that there is a center fin and two smaller fins on the sides. These give the paddler a little more control as they tend to shift their weight more in the river wave. The fin set on a stand up paddle board designed for navigating rivers tends to be a little different.
The nose of the river surf SUP tends to be more rounded as the sport demands a lot of turning. Most rivers tend to produce waves in their deeper sections so paddle boarders encounter few of the dangers found in shallow waters. 
Whitewater inflatable paddle boards
An inflatable paddle board for running rivers tends to be slightly larger than a river surfing SUP as more stability is needed to charge down a river. Stability is the most important thing with these inflatable paddle boards.
To find the best inflatable sup for paddling rivers, make sure the company you buy from has experience in the sport as they really need to understand the nuances of the river to design inflatables that will perform in it. To date, there are very few SUP boards in the world that can handle rapids as most are designed for a lake or the ocean.
The deck of a proper whitewater inflatable SUP should have quite a few d rings on it so you can put any essentials in dry bags. A full deck pad is one of the features we recommend on these inflatable SUPs as it will cushion your falls a bit more.
Nine feet is a good length for a river paddle board and it should have a nose that is somewhat rounded with a slight point. Make sure to check the weight limit before purchasing a river paddle board.
The fin setup tends to just be a center fin that is flexible in case you hit a rock in shallow waters. You can also opt for a center fin that has a lower profile.
Paddle boarding head protection
Helmet - First and foremost, make sure that you are protecting your head with a proper helmet as the odds are quite good that you will land on your share of rocks.  Our friends at Shred Ready have made some of the best river helmets available for many years. Rocks in a shallow river can cause great harm and a helmet could make all the difference.
Personal Flotation Device
Personal Flotation Device or PFD - Most of us tend to tuck our PFD under the bungees or wear one around our waist that we can inflate by pulling a ripcord while we are lake or ocean paddling to comply with Coast Guard laws.  You definitely want to be wearing a life jacket that doesn't inflate and deflate when you are whitewater paddle boarding.  Astral has a large selection of life vests that will give you full mobility for paddling. 
Specific whitewater paddle board leash
Quick Release Leash – This is a really important key to your safety on the river.  Rather than using an ankle leash that you might use on a lake or the ocean, you will want to invest in a leash belt to wear around your waist that also has a quick release. 
The idea here is that if you fall off the board and get your foot stuck between rocks you will want to rid yourself of your inflatable stand up paddle board as quickly as possible so that it doesn't pull you under.  Having the leash around your waist makes accessing the quick release much easier to access than if it were around your ankle. 
Northshore makes a great whitewater paddle board leash. Your other option is to use a quick release leash that attaches to your PFD.Dress Accordingly
Dress accordingly
Clothing – Depending on the time of year and the temperature of the river water, you will want to consider a wet or dry suit. There are very few river paddles where you won't be going for a swim.
In addition, you will want a solid pair of water shoes with arch support like the Astral Brewer 2.0.  It's also recommended that you invest in some super stable knee and elbow pads like G-Form makes.
Conclusion
As we have mentioned a few times now, paddle boarding on a river is quite a different venture than fishing on a lake. All all the places you could SUP, the river is the most dangerous so paddlers should understand the nuances of each river that they SUP and buy the proper equipment and accessories to make sure your river venture is a safe one.
Now that you are properly geared up, stay tuned to our blog space for tips on how to navigate a river near you.
Related Topics
Paddleboarding Workouts in Off-Season
Paddle Boarding with Your Pet for the First Time
Techniques for Paddling on A SUP