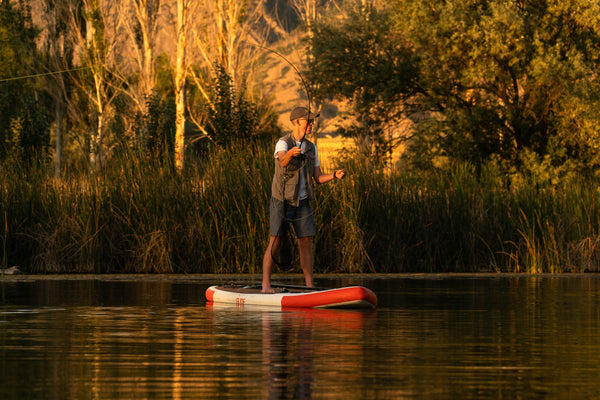 Five Great Winter SUP Fishing Spots
You love SUP fishing in the spring and summer so why should the winter be any different?  These five spots have been handpicked for paddle board winter fishing because the temperatures are still manageable, and the fishing is as good or better than any other part of the year.
For serious paddle board anglers, winter doesn't have to mean putting your SUP and rod away.  There are many parts of the country that have excellent fishing during the winter months.
The beauty of winter is that only the most dedicated fishing enthusiasts will be out there which means there are more fish to go around. 
We've scoured the country for the best fishing spots for you and your SUP.
Lower Sacramento River, CA
The Sacramento River is the largest in CA and has many excellent spots to paddle board.
Starting below the Sundial Bridge in Redding, the Lower Sacramento River is known throughout the country as a spot where they can catch trophy rainbow trout in any season. The quantity and quality of these native trout and the opportunity to catch winter steelhead truly set this fishery apart from others in the west.  
Winter highs in the area average between 58 and 62 degrees depending on the month.  The water temperature in winter averages 48 degrees so we recommend wearing a dry suit in the off chance that you were to fall of your SUP. 
The 16 miles between Redding and Anderson are typically fished from a drift boat so a paddle board works well here as the rapids are minimal.  The wild rainbows are large, tough, and plentiful.  
The terrain changes quite a bit as you head downriver.  Closer to Redding, travel through the city, office buildings, parks, golf courses and backyards.  Farther down river, you will paddle through epic canyons and designated wildlife areas.  
The depressing, drizzly days of winter can often mean some of the best fishing of the year with some of the heaviest trout being caught during these months.
If you're interested in learning of more places to SUP in California then make sure to check it out.
Lake Havasu, AZ
Lake Havasu is a large, fairly deep reservoir that is located 193 miles from Phoenix on the western edge of the state between Arizona and California.
It has an average depth of 35 feet with the deepest section at 90 feet and is spread over 19,300 acres when full. Havasu is also home to the London Bridge which was disassembled in London and reassembled in Havasu City, AZ.  
The lake is world renowned as a college, spring break party lake but thanks to habitat improvement that was done in the 1990's Lake Havasu has some of the best bass fishing in the country. 
Largemouth, smallmouth and striped bass all grow quite large here, so your SUP balance is going to be tested. The air temperature is between 64 and 71 degrees in the winter so it's quite pleasant while the water temperature is 53 degrees at it's coldest.  
Havasu is consistently ranked as one of the top bass and redear sunfish fisheries in the country.  Bass tend to clump together in "wolf packs" in the winter and if you happen upon one of these wolf packs, you are likely to catch more fish in one day than you would all year.  
Fishing from a paddle board in winter is much more enjoyable in the winter as there are far fewer boat wakes so you can focus on catching fish.
Crystal River, FL

Crystal River serves up some of the best winter fishing in the state of Florida. 
A combination of record-breaking bass, redfish. sheepshead, black drum, seatrout, and tarpon have all been caught on the river.  Many of these species put up quite a fight which makes the challenge of fishing from your SUP all the more exciting.  
The river has some of the best saltwater, in-shore flats in the state.  The flats are fed by the Gulf of Mexico, thermal springs and several freshwater rivers and become impassable for many fish during low tides which means that many of the tropical fish that have been searching for warmer water become trapped in great quantities there. 
The phrase "shooting fish in a barrel" comes to mind here.  Crystal River is also a habitat for the almost mythical manatee or "sea cow".  These gentle giants are so unique to watch, especially from the vantage point that your SUP gives you.
If you want more suggestions of where to SUP in Florida check out our blog breakdown of it!
Sabine Lake, TX  
Sabine Lake is a saltwater estuary on the Texas, Louisiana border that is roughly 14 miles long and 7 miles wide and covers about 90,000 acres.  
The lake has a ship channel that connects it with the Gulf of Mexico. Deeper lakes like the Sabine tend to be warmer on their floor, especially when they have a muddy bottom which traps the warmer water.  Trout, redfish, and flounder can all be caught 365 days a year on the Sabine.  
Winter air temperatures fluctuate between 47 and 60 degrees the water tends to be around 59 degrees. The wind can blow up to 25 knots in the winter so if you end up on the lake during windy conditions, you will want to paddle your SUP to the Neches or Sabine Rivers that feed the lake as they are both natural wind breaks and you will find lots of trout and redfish hiding out there.
Learn more places to SUP in Texas!
Jordan Lake, NC
When the weather gets crappy, you are going to want to pack up your paddle board and head to North Carolina to catch some crappie! 
Jordon Lake is a reservoir that has 180 miles of shoreline and an average depth of 22.6 ft.  Air temperature in winter ranges from 48 to 60 degrees and the water temperature is about 54 degrees. 
Anglers travel from out of state to catch the 2-to-3-pound black crappies that Jordan Lake offers. The area that is just downstream from the Farrington Bridge is where the crappie fishing tends to get hot in the winter. 
There are plenty of spots nearby to launch your SUP.  You will want to fish a lot deeper in the winter to catch crappie then you would in the summer.
North Carolina has so many Fishing spots to offer, found out some more of our favorite spots to paddle board in North Carolina. 
Conclusion
Sure, it may be tempting to spend your winter weekends watching football and hockey while sipping on a hot toddy and reliving your spring and summer SUP fishing exploits but that inflatable paddle board that you deflated in October will transport you just as well as it ever did in January. 
The air and water temperature may be a bit cooler than you are used to but the SUP fishing action that you will get when exploring these fisheries will surely keep you warm and content.
If you have any unanswered questions fishing on you SUP we have a breakdown of FAQ's just about that you can find right here! 
If you want to learn more about our own Glide Inflatable Angler Paddle Board make sure to check it out and let us know if you have any questions at info@glidesup.com.
Related Topics
Beginners' Guide to SUP Fishing
How Inflatable Paddle Board Technology Changed The SUP Industry
Your Comprehensive Guide to Inflatable Stand Up Paddle Boards
Are Inflatable Paddle Boards Worth It?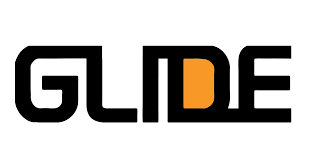 Paddle board fishing a comprehensive guide. 
The Glide O2 Angler. Fishing sup board perfect for your next fishing adventure. Glide makes the right paddle board for all your paddle boarding adventures.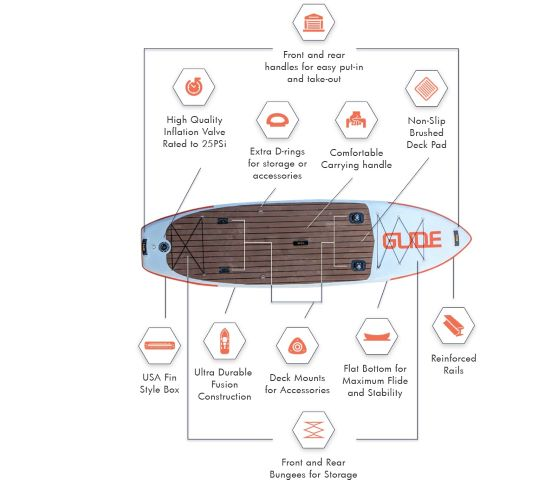 Glide beginners tips to sup fishing. 
Paddleboard fishing, can you fish from a sup?
Landing fish while SUP fishing: Tips and techniques.
Fishing from a Paddle Board: Tips and Tricks for a Successful Experience!
Tips for Spotted Seatrout SUP Fishing.
The Ultimate Guide to Light vs. Dark Colored Lures: Maximize Your Fishing Success.
What do I need to start sup fishing?
How to Fish from a Paddle Board: A Beginner's Guide to Spring SUP Fishing.