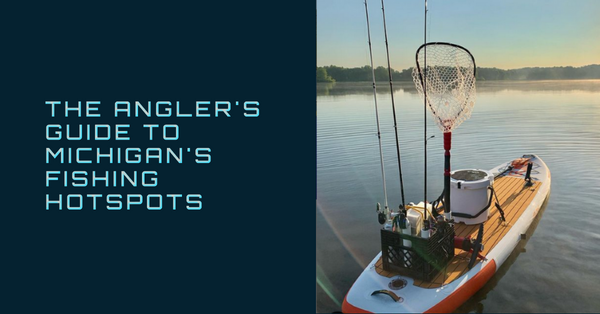 The Angler's Guide to Michigan's Fishing Hotspots
The Top Spots for Slingin' Line in the Great Lakes State
Michigan is an angler's paradise, with thousands of miles of shoreline and countless fishing holes to drop a line. From the famous trout streams of the Upper Peninsula to the many productive lakes across the Mitten, here are 20 of the top spots to hook a lunker in the Great Lakes State:
Au Sable River.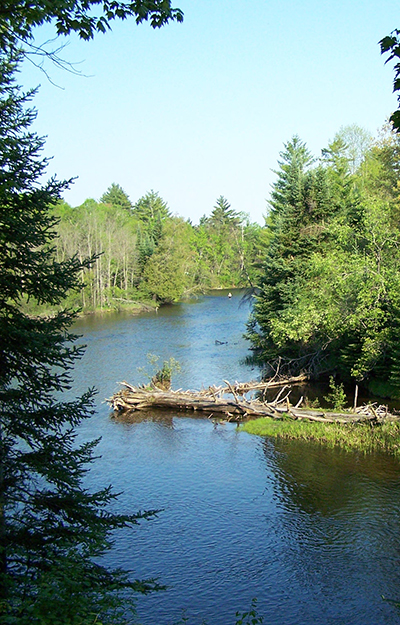 The "Holy Waters" section of the Au Sable River near Grayling offers some of the best trout fishing east of the Rockies. The cold, clean waters regularly produce brown trout over 20 inches. Ideal tactics include drifting a fly or casting spinners near the many fallen logjams and submerged trees along the banks that provide cover. In these prime lies, trophy brown trout cruise for prey. The Au Sable brown trout record stands at over 17 pounds caught in 1962 by local legend Dan Gapen Sr. The upper and lower sections also hold nice rainbows and brookies for anglers. Spring and fall are peak fishing times on the Au Sable when trout are more active and angler pressure is lower. Access the river at numerous public parks along its length.
Tippy Dam on the Manistee River.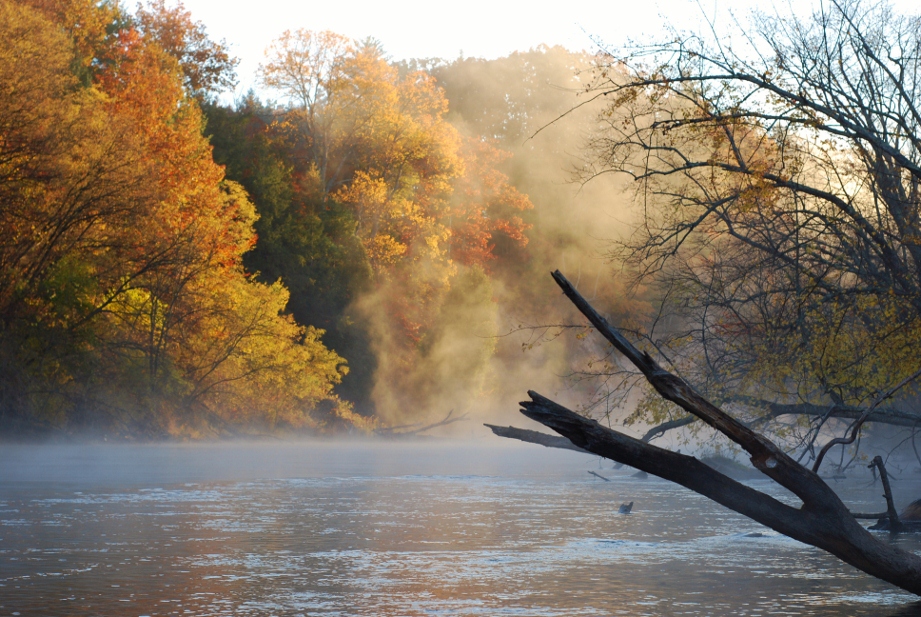 The stretch of the Manistee River below Tippy Dam is revered by anglers across the Midwest for its incredible salmon and steelhead fishing. Kings and steelhead running up from Lake Michigan congregate in the pool below the dam, especially in late summer and fall. Casting spoons, spinners, and streamers can yield trophy 20+ pound fish here on light tackle. Drift fishing skein under a bobber downstream of the dam also produces fish. The Chinook salmon state record of over 46 pounds was set here in 1988 by an upriver angler. The area below the dam sees heavy pressure during peak times, but offers easy public access and consistently yields big fish.
Lake St. Clair near Metro Detroit.
Lake St. Clair near Metro Detroit offers world-class fishing for monster smallmouth bass. Renowned for producing smallmouth over 6 pounds, drifting weedlines and casting to structure with tubes, jigs, and soft plastics puts fish in the boat. The best months are May through July when the bass spawn and aggressively feed up shallow. Anglers also catch big pike, walleye, perch, and muskie here. The lakerecord smallmouth was just over 9 pounds caught in 2021. With massive size and numbers, Lake St. Clair gives bass anglers a chance at the fish of a lifetime withouthaving to travel. Public ramps dot the shores and charter captains are available.
Au Gres River.
The Au Gres River, where it empties into Saginaw Bay, is a walleye paradise during the spring spawning run. Nighttime trolling with crankbaits spreads out multiple fishing lines to cover water and catch active fish. Vertical jigging bladesbaits in the river mouth or casting swimbaits to adjacent shoreline structure also produces. A 15 pound walleye was boated here in 2020. April and May are the best times to target trophy walleye as they move up into the river. Shore fishing access allows anglers without a boat to get in on the action.
Fontinalis on the Little Manistee River.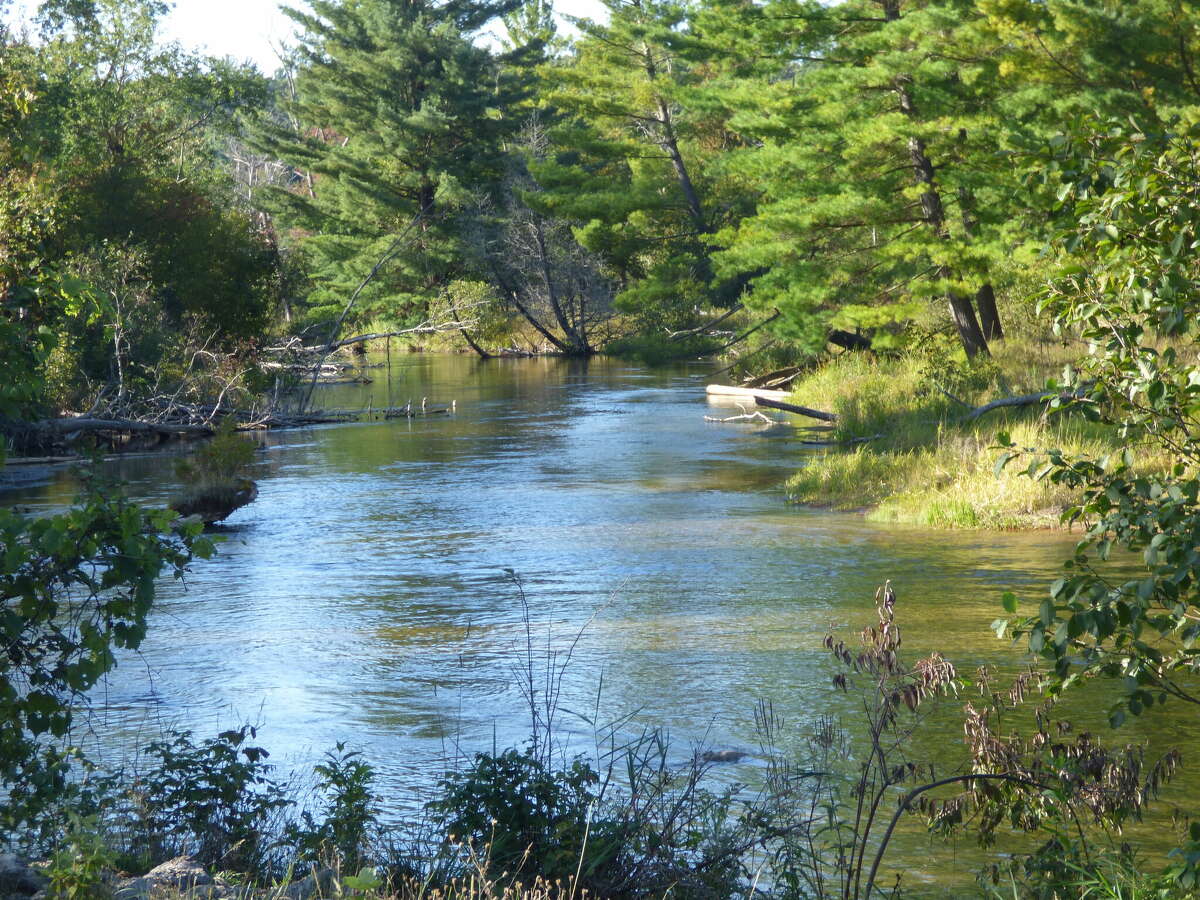 An Upper Peninsula gem, "The Font" offers fly fishing for wild brook and brown trout in a gorgeous forest setting along the Little Manistee River. Small dry flies imitating blackflies, mosquitoes, and terrestrials work well in the summer months. Brookies range from 6 to 11 inches, while browns reach over 2 feet long here. Visiting anglers must make the long walk to access the remote section. But it's worth it for the chance to fool fish that seldom see lures. Late spring through fall it fishes well before winter ice halts the action.
Lake Leelanau.
This scenic inland lake in Leelanau County harbors jumbo yellow perch along with smallmouth bass upwards of 6 pounds. Spreading out and still fishing with live minnows, perch over 14 inches are common, giving this lake one of the best perch fisheries in the state. For giant bronzebacks, fish the many weedlines and sharp drop-offs with tubes, wacky rigs, and other finesse presentations. Early summer before the weeds top out provides the best open water fishing. Anglers also catch walleye, pike, and rock bass here.
Lake Michigan at Ludington.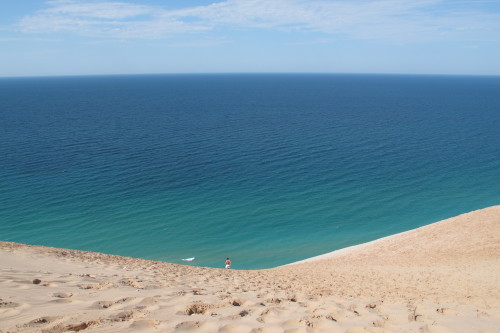 The port city of Ludington offers Salmon Fishing on West Michigan's Lake Michigan shoreline from spring through fall. This port city has become a salmon fishing mecca, where anglers can catch King Salmon over 30 pounds trolling offshore with downriggers and spoons, flies, and meat rigs. Lake trout over 20 pounds also swim these big water waters. Peak fishing is in the summer and early fall. Charter boats leave daily during fishing season. For shore anglers, the piers, breakwall, and nearby Pere Marquette River offer fishing options.
Grand Traverse Bay near Traverse City.
Grand Traverse Bay near Traverse City offers a diversity of fishing opportunities for anglers. Fishermen target walleye, smallmouth bass, lake trout, yellow perch, and salmon in the fertile waters off Traverse City. Trolling harnesses, spoons, and crankbaits from spring through fall puts fish in the boat. In early spring, lake trout move shallow to spawn. Late summer and fall sees salmon runs into the bay. The bay record Chinook salmon topped 36 pounds in 1994 during the fall bite. Charter boats provide seasoned anglers an edge in learning the bay. Public access sites dot the shoreline as well.
Lake Gogebic.
Situated along the Wisconsin border in the far western Upper Peninsula is Lake Gogebic, one of the best walleye lakes in the state. Its massive size gives fish plenty of space to spread out and find prime habitat. Jigging live bait rigs tipped with crawlers, leeches, or minnows along mudflats and trolling stickbaits over offshore rock piles and humps puts walleyes over 10 pounds in the boat from late spring through fall. Anglers also hook jumbo perch here. Several public boat launches provide access.
St. Joseph River.
The St. Joseph River in southwest Michigan offers fantastic fishing for smallmouth bass as well as pike, walleye, catfish, and panfish. Wading anglers cast inline spinners, crankbaits, and soft plastic swimbaits to rocky cover and overhanging trees. Good shoreline access allows fishing without a boat. Fish of 5 pounds or more are common, with far bigger fish possible. Spring through fall sees great fishing, with the best action from May through September as species become more active in warm water.
Paint Creek.
Paint Creek near Rochester is one of the most popular trout fisheries in southern Michigan. Stocked brown, rainbow, and brook trout rise readily to flies, in-line spinners, and live bait drifted through the cold creek waters. Sizable fish over 20 inches are landed here each year by drift boat anglers and wade fishermen. Spring and fall are peak fishing times when trout are more aggressive and visit the creek on spawning runs. Easy public access is available in town and at multiple parks along its course.
Lake Bellaire.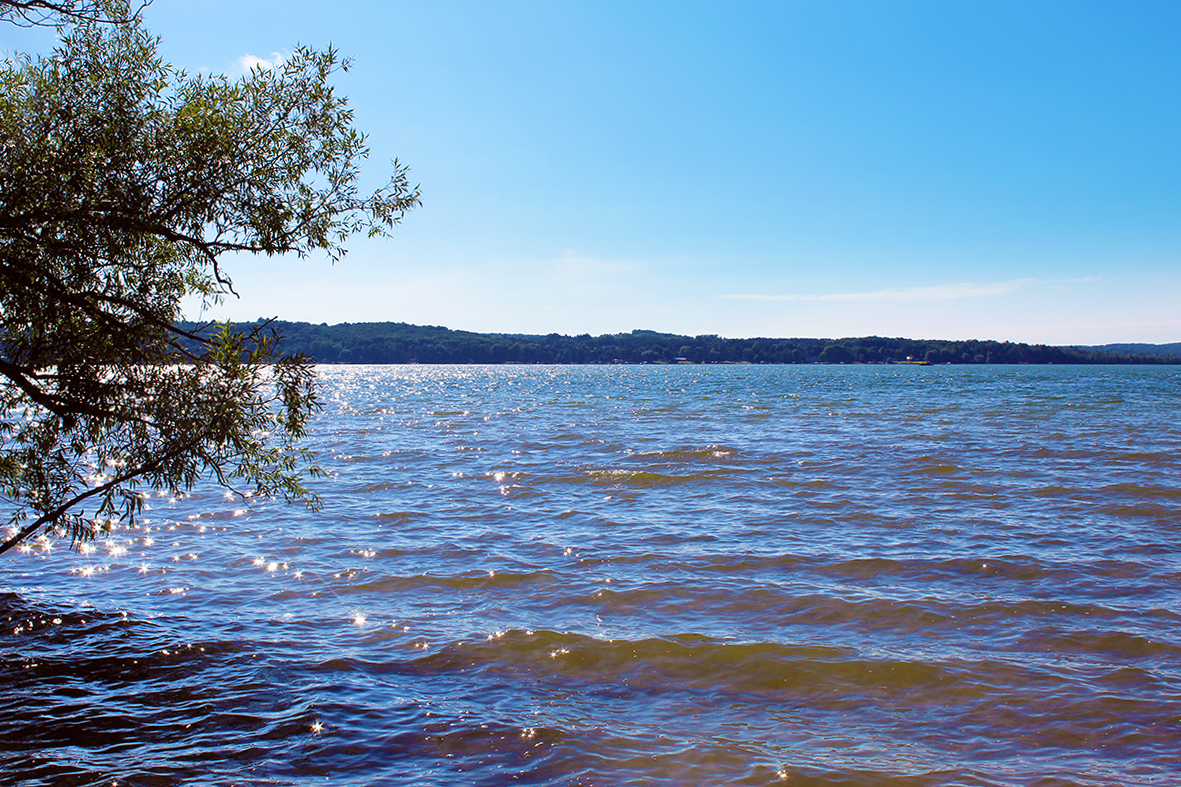 In Antrim County, Lake Bellaire is known for its two story fishery of lunker brown trout down deep and slab crappie up high. Early spring through fall, trolling deep diving crankbaits or still fishing minnows 30+ feet down picks off trophy trout including fish over 10 pounds. Later in spring, casting small jigs around docks and woody cover connects with crappie topping 14 inches. Loaded with baitfish, Lake Bellaire gives up big fish of multiple species all year long.
Lake Ovid.
Lake Ovid near Sleepy Hollow State Park boasts some of the best muskellunge fishing in the Lower Peninsula. Weedbeds and lily pads harbor fish over 50 inches long. Casting big rubber baits like Medusas or trolling large jerkbaits along the weedlines and drop-offs can turn out toothy trophies. Mid to late summer is prime time to hook into a true monster here. The lake record is a 59 inch beast caught in 1999 that surely tested the angler's grip and nerves.
Detroit River.
This mighty river linking Lake St. Clair and Lake Erie gives up walleye, bass, yellow perch, muskie, trout, salmon, northern pike, and more to metro area anglers. The Detroit River sees an incredible spring walleye run in late March through April with thousands of fish caught trolling bottom bouncers or vertical jigging blades near the mouth of the river. Shore fishing access allows anglers without a boat to get in on the action. This versatile and productive fishery keeps rod bent year round near the big city.
Black Lake near Onaway.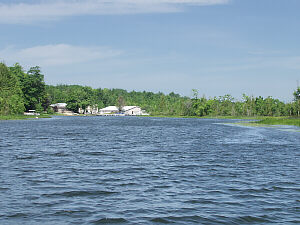 Up in the northeast Lower Peninsula near Onaway lies Black Lake, one of the most productive waters for monster muskellunge in the state. Weedy flats and sunken Islands dot this shallow lake, holding 47+ inch skis. Trolling large jerkbaits and glide baits over open water and flipping large rubber muskie baits around cover can produce fish over 50 pounds. Mid to late summer is the best time to tempt these giants.
Lake Margrethe.
Near the town of Big Bay deep in the Upper Peninsula is Lake Margrethe, home to hard fighting muskie and walleye. Weed growth rings the lake, giving stalker muskies the ambush cover they need. Casting heavy bucktails, crankbaits, and jerkbaits over deep weedlines turns out 40+ inch fish. Jigging live bait along breaks nets walleyes over 20 pounds. The lake fishes well from late spring through fall before winter ice halts the action.
Manistee Lake.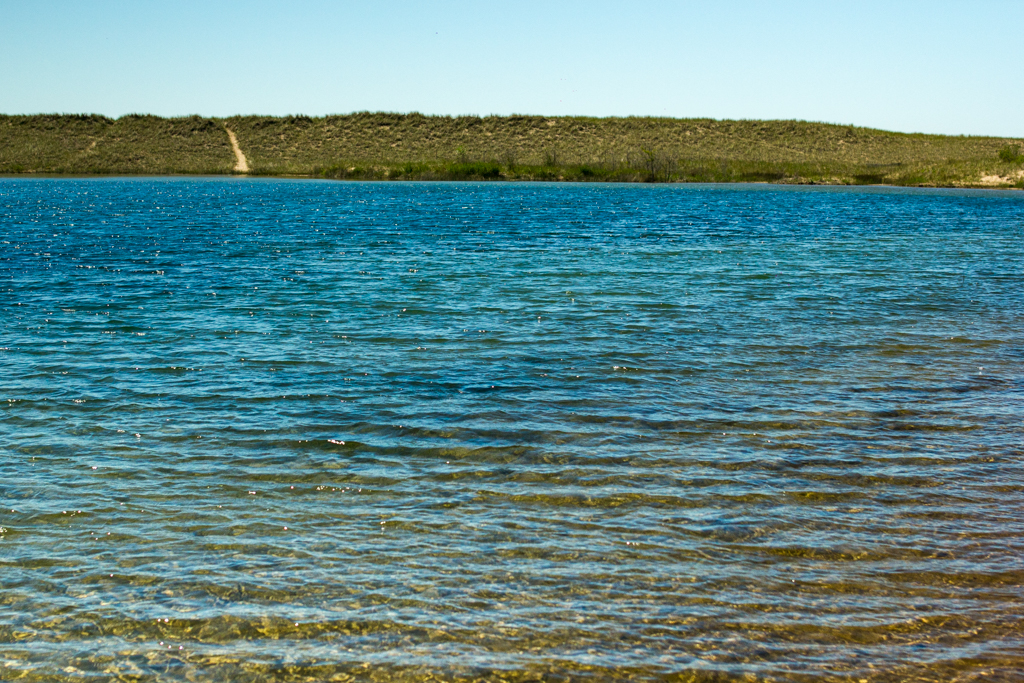 Near the mouth of the Big Manistee River, Manistee Lake holds walleye, smallmouth bass, northern pike, and jumbo perch. Still fishing crawlers on the bottom or casting bullet weights rigged with plastic creatures hooks walleyes, smallies over 5 pounds, and hard fighting pike. Spring, summer, and fall all see good bites. Public access sites allow shore fishing or launching boats. Manistee Lake perfectly mixes big water and small water fishing.
Lake Charlevoix.
The deep, clear, glacial waters of Lake Charlevoix are home to lunker lake trout over 20 pounds and jumbo smallmouth bass. Local anglers troll the open water main lake depths for trout and brownfish. Shallow crankbaits, tubes, and jigs tempt huge smallies along rock piles and weedbeds. Late spring through summer offers the best action. Public launches provide access to this deep inland waterway.
Elk River Chain of Lakes.
In Antrim County, the chain of 14 lakes linked by the Elk River provides awesome panfish action, especially for crappie and sunfish. Using small jigs or bobbers and live bait along weedlines, docks, submerged timber, and other cover yields quick action. Big slabs over 12 inches are common. Every lake holds populations of quality fish with Torch Lake being the gem. Spring and fall are go-to times. Shore anglers do well at public parks.
Burt Lake.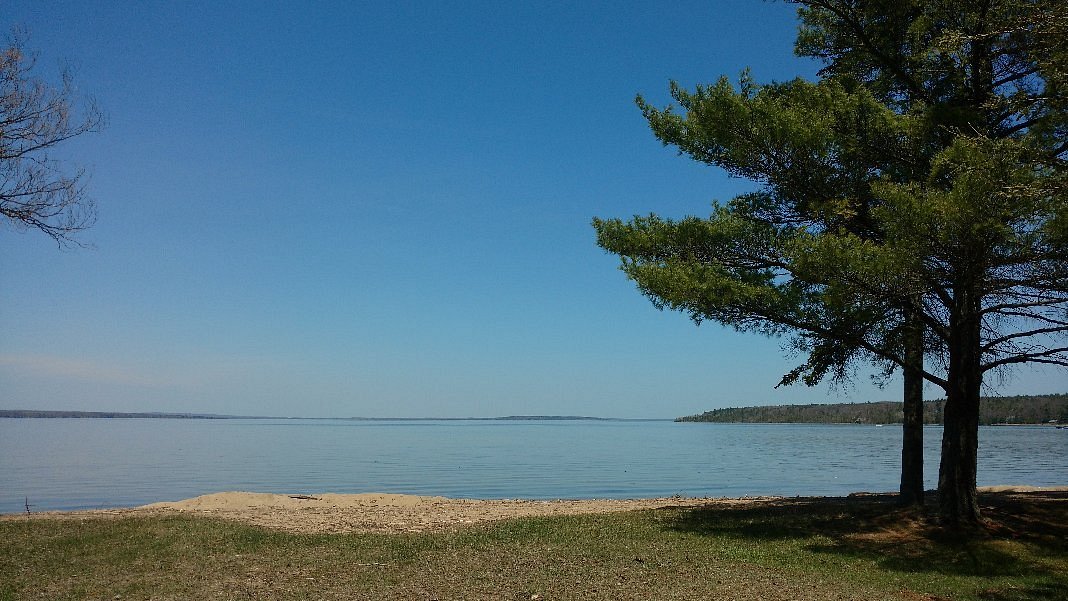 Located south of the Straits, Burt Lake connects to Mullett Lake and boasts excellent fisheries for walleye, pike, smallmouth bass, and yellow perch. Weed growth rings the shallow lake, so slowly trolling spinner rigs and shiners along the edges produces. Perch gather in schools topping 10 inches. Several public launches provide access. Burt Lake also offers fun summer boating and winter tip-up fishing.
Conclusion:
In conclusion, Michigan offers tremendous variety in fishing opportunities across the state. From legendary trout streams to the massive Great Lakes, countless places allow anglers to catch the fish of a lifetime in the Great Lakes State. With diverse seasons, techniques, and species to target, Michigan is a bucket-list fishing destination across North America and beyond. So make plans to cast a line in Pure Michigan.
Glide Paddle Boards SUP Fishing Tips.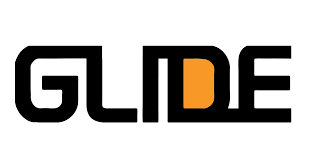 Paddle Board Fishing: A Comprehensive Guide.
Learn all about paddle board fishing with our comprehensive guide. Whether you're a beginner or an experienced angler, we've got sup fishing tips for bass and much more. Discover the perfect fishing sup board for your next adventure with the Glide O2 Angler.. Glide offers a range of paddle boards suitable for all your paddle boarding needs.
New to sup fishing? Don't worry, we've got you covered with beginner tips from Glide. Find out if you can fish from a sup and learn the best techniques for landing fish while SUP fishing. Our article on Fishing from a Paddle Board provides tips, tricks, and insights for a successful fishing experience will help make the most of your sup fishing adventure.
Curious about what a fishing sup is? We've got the answer! Discover everything you need to start sup fishing, from the equipment to the techniques. Our Beginner's Guide to Spring SUP Fishing will help you get started on the right foot.
If you're interested in wildlife tips, be sure to check out our blog. We also have an informative article on the Beginners Guide To Bird Watching. For those who enjoy stand-up paddle boarding and wildlife encounters, don't miss our article on Stand Up Paddle Boarding and Wildlife Encounters.
Looking for the best paddle boarding spots in the United States? We've got you covered with The best places to paddle board in the United States a state by state tour of where to paddle board with Glide Paddle Boards. Explore our recommended locations and make the most of your paddle boarding adventures.
If you're in search of international paddle boarding spots, we've got two articles to help you out. Our Check out the ultimate guide on finding places to paddle board near you provides tips and tricks for discovering exciting new locations. For a global perspective, check out Epic Spots Globally To Paddle Board.
 What is SUP fishing and why is it popular in Michigan?
SUP fishing stands for Stand-Up Paddleboard fishing, which involves using a paddleboard to navigate and fish in lakes, rivers, or other bodies of water. It has gained popularity in Indiana due to the state's abundance of scenic lakes and waterways, providing a unique and peaceful fishing experience.
Did we miss one of the spots you feel should be included for the best spots for SUP fishing in Michigan? If so let us know @glidesup on Instagram